Manchin's Proposal Cuts Campaign Finance and Ethics Reforms From S1
Joe Manchin seeks to strip the For the People Act of a public campaign financing option, conflict of interest rules, and key criteria for preclearance of election procedures.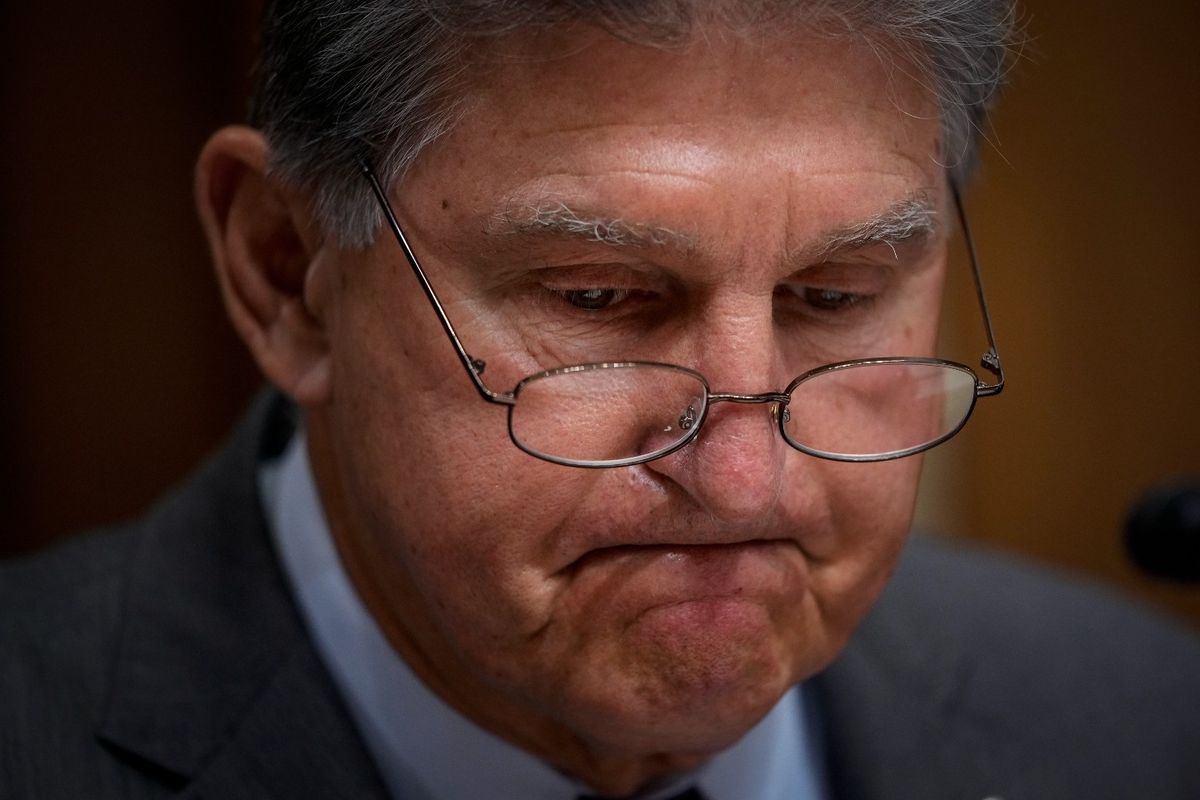 On Wednesday, the office of Sen. Joe Manchin (D-W.V.) released a memo detailing the provisions of the major Democratic ethics, campaign finance, and voting bill, the For the People Act (S.1), that he would support.
Politico reports that Manchin will continue his appeals next week to Republican senators in his effort to drum up GOP votes for his pared-down version of the package, which is scheduled for a Senate vote next week.
The sweeping reform bill is unlikely to receive the 10 Republican supporters it would need under regular Senate rules to reach cloture, but new comments by Manchin open up the possibility that he's willing to vote for his version of S. 1 without any GOP votes. Unified Democratic support could build pressure to advance a version of S. 1 outside of the legislative filibuster, though any Democratic senator could still withhold their vote to block the bill.
Manchin is proposing to cut ethics and campaign finance reforms from the bill that are meant to limit big donor influence and prevent legislators from working for their own financial gain.
On ethics reforms, Manchin does not mention supporting S. 1's provisions that would bar U.S. representatives from serving on boards of for-profit companies, a practice in which over a dozen representatives currently engage. He leaves out language that S. 1 would add to federal statute prohibiting lawmakers from working on bills primarily for furthering their financial interests. Sludge has found several cases where representatives introduced legislation, which passed into law, that may have benefited their private companies, underscoring the need for stronger conflict-of-interest prevention measures.
Manchin's draft does not include S. 1's provisions requiring candidates to disclose whether a particular donor is a registered lobbyist or requiring individuals who make independent campaign expenditures to disclose if they are a registered lobbyist in their own FEC filings. It is also silent on S. 1's proposed rules that would require federal government employees, like congressional fellows, to disclose compensation from outside entities, which would help ensure that staff are not working on policy that benefits their sponsoring organization.
Manchin also drops any mention of measures in S. 1 that limit presidential inaugural committee donations to $50,000, require all donations over $1,000 to be disclosed within 24 hours, and prohibit inaugural committees from raising or accepting donations from corporations. For the Biden inauguration, which was held mostly online due to the coronavirus pandemic, major government contractors Boeing and Lockheed Martin gave the $1 million maximum and other corporations including Amazon, AT&T, Bank of America, Comcast, and Pfizer also chipped in.
Manchin's proposal prominently cuts the option for a public campaign financing program for congressional candidates, which could benefit outsider challengers seeking to oust incumbents. Under the public financing option in S. 1, participating candidates who gather $50,000 in small donations from at least 1,000 individuals qualify for further campaign contributions to be matched at a 6-1 ratio with public funds, while agreeing to disclosure requirements and voluntary donation limits.
Manchin's compromise would still include legislation to trace the source of large donations to "dark money" groups that spend money on elections (the DISCLOSE Act) and strengthen funding transparency behind online ads (the Honest Ads Act), among other measures, like creating a "coordinated spender" category that applies to super PACs with close ties to the candidates they're supporting.
Included in the For the People Act are measures to restore the full protections of Section 5 of the Voting Rights Act that the Supreme Court killed off in the Shelby County v. Holder decision of 2013. This legislation, introduced in the previous Congress and passed by the Democratic-controlled House in Dec. 2019, was renamed the John Lewis Voting Rights Act in 2020. The legislation would set criteria for preclearance, which according to the nonpartisan Brennan Center for Justice, would require "states and jurisdictions with a proven historical record of discriminatory voting practices to obtain certification before making changes to election procedures that the proposed changes were not discriminatory."
Manchin's memo includes an item to "ban partisan gerrymandering," which under preclearance would be more likely to be reviewed for approval by the U.S. Department of Justice or a three-judge court in Washington D.C. In a section titled "Updated John Lewis Voting Rights Act," however, Manchin would remove a consent decree—a settlement without admission of guilt—as a violation that would count toward requiring federal preclearance, though consent decrees were included in the version of H.R. 4 passed by the House in the previous Congress. After calling for "objective measures for determining whether a state or locality has a pattern of discrimination," Manchin's memo closes, "There needs to be clarity on how states or localities exit out of preclearance."
Manchin was formerly the West Virginia chairman of the right-wing American Legislative Exchange Council (ALEC) and a national director of the secretive group, which has been a major driver of Republican efforts to retain partisan gerrymandering of legislative districts.
On voting access, Manchin floated new provisions on making election day a public holiday and requiring voter ID with allowable alternatives like utility bills. He expressed his backing of provisions allowing for automatic registration through the DMV with an option to opt out. However, Manchin did not include support for a national option to vote by mail in federal elections, also called "no-excuse-required" absentee voting, part of S. 1. Studies have found that offering an at-home voting option increased state voter turnout between two and four percentage points, and nationwide voter turnout reached record highs in the 2020 election as more states expanded mail-in voting programs. Manchin's memo does mention a requirement for states to send absentee ballots under as-yet-undefined "eligible circumstances," but many Republican-controlled state governments are moving to restrict voting access.
---
Read more coverage: