Stripe and Donorbox Face Calls to Cut Off Jan. 6 Rally Organizers
Both companies have terms of service that prohibit organizations that encourage violence.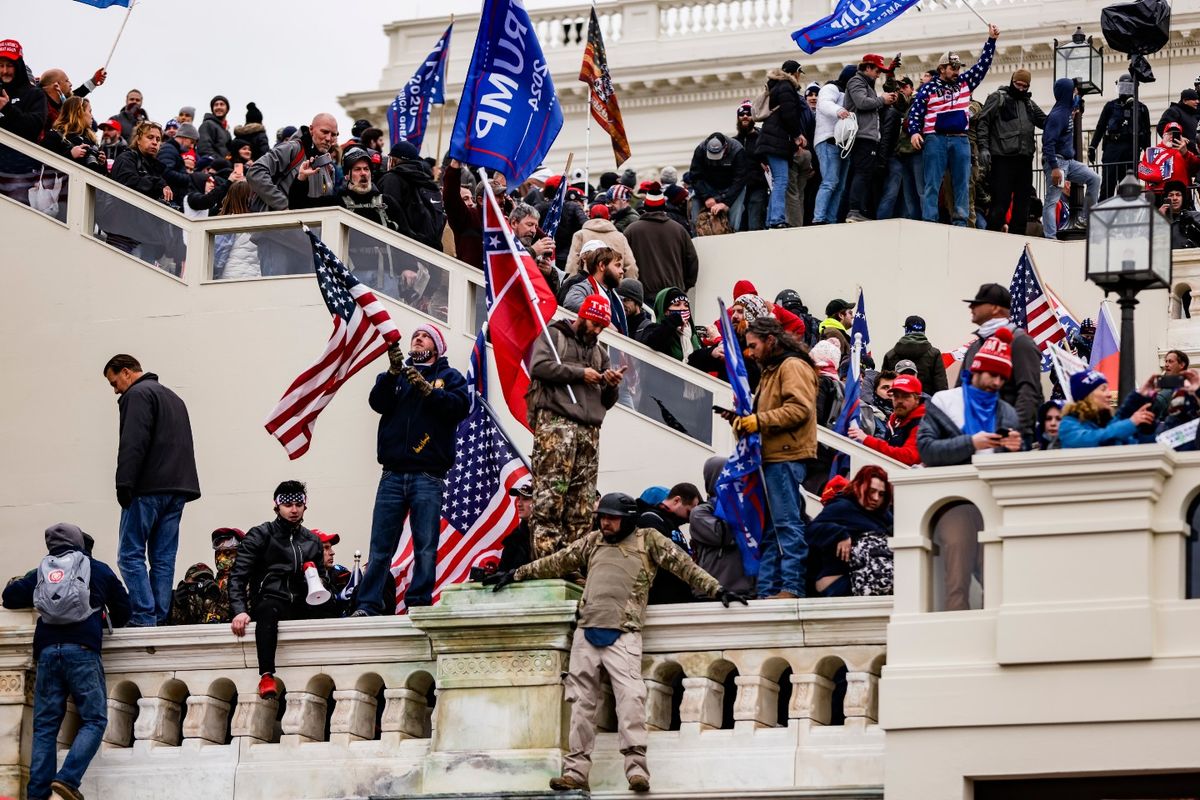 In the days following the January 6 "March to Save America," online payment processor Stripe cut off President Trump's campaign website, saying the campaign violated its policy against encouraging violence. Stripe's website says it prohibits any organization that "engages in, encourages, promotes or celebrates unlawful violence or physical harm to persons or property" from using its service.
But months later, several of the groups that helped to organize the rally that precipitated the deadly invasion of the U.S. Capitol Building are still being serviced by the company.
Four groups that were listed as participants or coalition partners on the "March to Save America" rally website are currently customers of Stripe, Sludge has confirmed. The groups are the Tea Party Patriots, the Phyllis Schlafly Eagles, Peaceably Gather, and the Black Conservatives Fund.
Another rally participant and coalition partner, the Eighty Percent Coalition, uses the payment service Donorbox to take in online donations. Like Stripe, Donorbox's terms of service say the company prohibits organizations that encourage violence or harm to persons or property.
A leader of the Eighty Percent Coalition also coordinated event planning for a January 5 rally in D.C. with media figures like far-right operative Ali Alexander, the leader of the national "Stop the Steal" campaign, and conspiracy theorist Alex Jones, who had for months been promoting a false narrative of a stolen election and the night before the rally said, "We declare 1776 against the new world order.… We need to understand we're under attack, and we need to understand this is 21st-century warfare and get on a war-footing…."
Stripe and Donorbox were alerted to the fact that these groups are using their services last week by a letter from watchdog group Accountable.US, which is calling on the companies to cut them off.
"These companies play a big role in how groups involved in the Capitol insurrection raise money—and their choice to continue doing business with them is a poor reflection of their corporate values," said Accountable.US President Kyle Herrig. "They shouldn't wait for a public backlash before breaking ties with these fringe groups that don't just spread hateful and seditious rhetoric, but act on it."
Planning the 'March to Save America'
The Jan. 6 rally at the Ellipse in President's Park had 11 participating organizations and ten coalition partners, according to archived versions of the event website shown by the research group Documented, from before the MarchToSaveAmerica.com website was taken offline.
In addition to prominent activist groups like the Tea Party Patriots and Turning Point Action, the March to Save America was organized by conservative Washington insiders such as the Republican Attorneys General Association (RAGA), whose advocacy arm the Rule of Law Defense Fund (RLDF) was listed as a participant. Former Trump campaign fundraiser Caroline Wren and five other former Trump staffers assisted with rally logistics, along with far-right operative Ali Alexander. The rally received roughly $300,000 in funding from Republican megadonor Julie Jenkins Fancelli, arranged by conspiracy theorist Alex Jones.
The Washington Post reported that the organizers of the rally first mentioned a protest at the Capitol Building on their website on Jan. 3. As of the next day, the National Park Service event permit stated that no march was to be held, but on Jan. 5, the permit's organizers updated the event information: "Some participants may leave to attend rallies at the United States Capitol to hear the results of certification of the Electoral College count." 
Get the Sludge newsletter—our muckraking, and money-in-politics links from around the internet.
On Jan. 10, Stripe cut off service for the Trump campaign's website, saying the campaign violated its policy against accepting payments for any organizations that "engages in, encourages, promotes or celebrates unlawful violence or physical harm to persons or property," according to a report in The Wall Street Journal. Stripe's decision mirrored a move by online store builder Shopify, which the day after the Jan. 6 riots shut down two Trump campaign web stores for condoning violence.
While Stripe and Donorbox continue processing payments for the groups, other companies have already taken action to cut off groups that were involved in the protest. On Jan. 7, PayPal stopped processing payments for pro-Trump group Joy in Liberty, which had been using its platform for fundraising to cover expenses of Capitol protestors. Joy in Liberty is currently accepting donations through its website that are processed by Stripe.
Stripe did not respond to Sludge's inquiry as to why organizers of the March to Save America do not run afoul of its policies against accepting payments for groups that encourage violence.
A Donorbox spokesperson told Sludge the company would undertake a detailed review of the Eighty Percent Coalition. "As a nonpolitical and non-partisan platform used by more than 35,000 organizations from across the ideological spectrum, Donorbox takes its terms of service seriously and goes to great lengths to apply them fairly," the spokesperson said.
Donorbox's terms of use prohibit those "engaging in, encouraging, promoting, or celebrating unlawful violence or physical harm to persons or property." The terms of use of both Stripe and Donorbox allow the companies to vet business information, require that use of their services be lawful, and state that use of the platforms may be revoked at any time at their sole discretion.
Rally Organizers Using Stripe
The Tea Party Patriots' donation page, which uses Stripe, says the group is working "to hold our lawmakers accountable for their actions." After Election Day, as ballots were being counted and the Trump campaign promoted baseless claims of election fraud, the group helped organize "Protect the Vote" rallies in Georgia, Arizona, Michigan, and Pennsylvania.
Initially organized by conservative advocacy group FreedomWorks around 2009, the Tea Party Patriots took in nearly $4 million to its advocacy arm in 2019 and over $1.1 million to its 501(c)(3) organization that same year, according to its most recently-available tax documents. Republican megadonor Dick Uihlein donated nearly $4.3 million to the group over the past five years.
Tea Party Patriots co-founder Jenny Beth Martin promoted her speaking role at the Jan. 6 "Stop the Steal" rally on Twitter and shared its link to RSVP. The website for the rally created by the Stop the Steal campaign, called WildProtest.com and since taken offline, showcased Martin as a speaker alongside election objectors Rep. Lauren Boebert (R-Colo.), Rep. Marjorie Taylor Greene (R-Ga.), Rep. Paul Gosar (R-Ariz.), and right-wing activists such as Roger Stone and Ali Alexander. Martin had previously tweeted, "We will not allow them to steal this election!", though without specifying the implicated parties. In a statement to the Washington Post, Martin later said, "We condemn the violence. We are shocked, outraged, and saddened at the turn of events on January 6."
The Phyllis Schlafly Eagles, a conservative group that says it supports American sovereignty and the deployment of an anti-ballistic missile defense, promoted the Jan. 6 event on its website and social media, comparing it to D-Day in one post. Led by its president Ed Martin, a right-wing political operative, the group was part of the "Stop the Steal" campaign that was organized by Alexander to promote the false narrative of voter fraud and to stop vote-counting in states.
Another Jan. 6 rally participant was the group Peaceably Gather, which was founded by Brian Gibson, pastor of the Kentucky-based HIS Church. Gibson also took part in a Jan. 5th event that was promoted as both an evangelical Christian worship service and a rally for Trump. Gibson took a selfie with the recognizable "Q Shaman" who stormed the Capitol, but says he was not among the rioters. From the pulpit in the days after the insurrection, Gibson floated the debunked theory to his online viewers that there were instigators among the Capitol insurrectionists, saying, "So now I know some, some bad actors went in and I believe potentially there were antifa up there." The website of Peaceably Gather, which says it has raised "$190,232.00 of $5000,000.00" [sic], uses Stripe to take online donations, as do the websites of four locations of HIS Church.
A Rally Group With Deep Ties to Pro-Trump Operative
The Black Conservatives Fund is a shadowy PAC with no election fundraising or expenses last election cycle that promoted the Jan. 6 rally to its 80,000 Facebook followers and was listed as a participating group. The group's website donations are processed by Stripe.
Previously, the Black Conservatives Fund's largest financial supporter was the conservative Republican megadonor Robert Mercer, who gave it $150,000 in the 2014 election cycle. With his family members, Mercer has funded a number of right-wing projects like Breitbart News, social media platform Parler, and the anti-union Center for Union Facts. Though the group does not have a public leader, its website says, "We are liberalism's greatest fear—a grassroots organization dedicated to reaching ALL Americans with the message of conservatism."
The Black Conservatives Fund is closely tied to Alexander, who in 2014 was a Louisiana Republican activist, then known by his legal name Ali Akbar, and controlled the group, according to an investigation in the Bayou Brief. Akbar used the fund's Twitter account to raise his profile as its spending went dormant in 2016. The fund still holds over $214,000 in cash on hand, according to its FEC disclosures, and its top expense in the 2018 election cycle was the fundraising agency Active Engagement, followed by the Alexander-tied firm Vice and Victory, which Mother Jones reported directed online donations to Alexander. Alexander told his social media followers in a since-deleted video weeks before the Jan. 6 riots that he devised the "Stop the Steal" effort with three pro-Trump GOP House members: Reps. Andy Biggs (Ariz.), Mo Brooks (Ala.) and Paul A. Gosar (Ariz.).
The Black Conservatives Fund's treasurer is Patrick Krason, who is also the treasurer of the Stop the Steal Political Action Committee, which was registered in November with Alexander's associate Daniel Bostic. After the Jan. 6 riots, Krason would not tell CNBC the names of the fund's leaders.
A Newly-Formed Rally Organizer Using Donorbox
The Eighty Percent Coalition, named after a rule from President Reagan about the importance of unity among conservative groups, was founded by conservative activist Cindy Chafian just weeks before the March to Save America events. Chafian was an early organizer of rallies that were held on Jan. 5 at Freedom Plaza and what became the March to Save America on the Ellipse near the White House on Jan. 6. Chafian facilitated a speaking role for far-right media figure Alex Jones at the Jan. 5 event, after he secured the large donation toward the reported $500,000 in Jan. 6 rally costs.
The Eighty Percent Coalition says on its website it is "a 501c3 non-profit organization dedicated to eradicating the socialist policies that harm all families, businesses, schools, and churches." The IRS does not list an organization under that name, and no further information is available on the group's website about affiliated groups. The group uses a Donorbox widget for its online donations page, which contains no other information and displays no tax ID of the receiving organization. Chafian was previously a leader of the group Women for America First, which in February 2020 was recognized by the IRS as a 501(c)(4) organization.
The Eighty Percent Coalition organized pro-Trump rallies in November and December, and in January called for members of Congress to vote against the Electoral College certification. Speakers for the group's November rally in D.C. included Sebastian Gorka, a former Trump counterterrorism adviser with ties to far-right groups in Hungary, as well as Republican election objectors including Reps. Mike Kelly of Pennsylvania, Paul Gosar of Arizona, and then-Rep.-elect Marjorie Taylor Greene.
Calls to Cut Ties
Stripe and Donorbox have previously faced calls to cut off right-wing groups such as Southern Poverty Law Center-designated hate groups, as covered in a report last year by the nonprofit Center for Media and Democracy.
Nandini Jammi, a brand safety advocate who co-founded the activist group Sleeping Giants, tells Sludge that tech companies often don't respond to reports of illegal user activity until after a violent event has occurred.
"Until the insurrection, there was a sense among tech companies that we should not make judgement calls on how people are using our services, or that it's not our business unless it's illegal," Jammi said, "Now, after we've seen the effects of how these services boost and fuel these activities, every tech company needs to think about what their line is, because over and over we're seeing that norms are being violated and communities are not able to stay safe because bad actors are able to access these platforms and grow their influence."
"Stripe's acceptable use policy is geared toward illegal behaviors… but there are many steps before inciting violence that are dangerous to public safety," said Jammi. "PayPal has outlined what their line is. They have a clear stance against racism and threatening behavior, and Stripe is several steps behind PayPal on that." She recommended that payment companies have an abuse hotline and abuse email address allowing members of the public to flag dangerous individuals.
Stripe's homepage features major tech company partners that have banned pro-Trump groups such as Amazon, which cut off web hosting for Parler, and Google, which pulled the Parler app off Google Play. Both tech giants said after the Jan. 6 riots they would be changing their PAC giving, Amazon by suspending donations to Republican election objectors, and Google by freezing all of its PAC contributions while it reassesses its policies.
---
Read more: