Not Just Exxon: Paul Weiss Defends Many Rogue Corporations
From Big Tobacco to opioid crisis profiteering, Paul, Weiss, Rifkind, Wharton & Garrison LLP has made millions from defending some of the most repugnant corporate villains of recent decades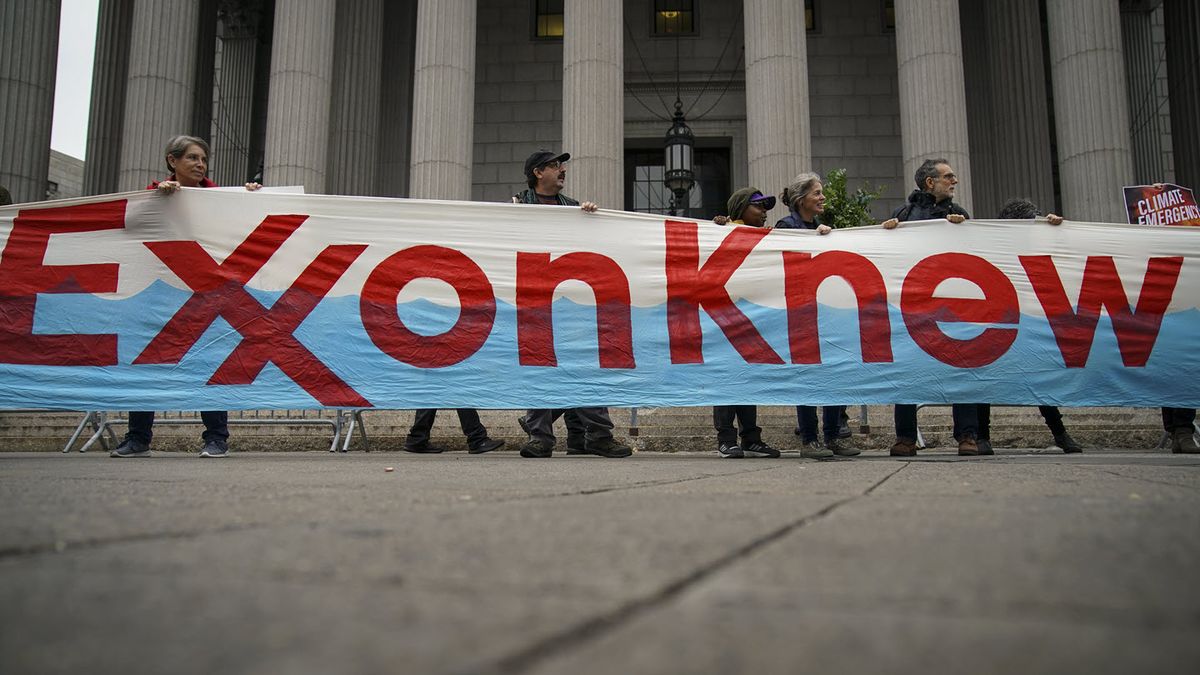 This article by Gin Armstrong and Derek Seidman was first published at Eyes on the Ties, a news site by LittleSis.org
There's no doubt about it: Paul, Weiss, Rifkind, Wharton & Garrison LLP is one of the most prestigious law firms in the U.S. Its attorneys rake in millions representing some of the most powerful corporate actors in the world. Its leaders serve as donation bundlers for major presidential candidates and Trustees for some of the nation's most prominent universities. Last year, The American Lawyer named Paul Weiss "Law Firm of the Year" and "White Collar Litigation Department of the Year." The firm's New York City headquarters are just a skip away from Rockefeller Center and the Museum of Modern Art.
Coming out of law school, you'd think that snagging a cushy job at Paul Weiss would be every law student's dream. But a growing number of law students are pledging to refuse to work for Paul Weiss – or even to interview with the firm – until it drops ExxonMobil as a legal client.
The campaign is called #DropExxon. It announced itself last month when Harvard Law students disrupted a Paul Weiss recruitment event at an upscale Cambridge, Massachusetts restaurant. Paul Weiss attorney Ted Wells is Exxon's lead attorney and also a Harvard Corporation Trustee.
The next disruption was three weeks later at Yale, and, days later, at New York University. This week, University of Michigan law students joined the protests. Barely a month old, the campaign is set to spread to other campuses.
Paul Weiss has served as lead counsel for ExxonMobil for years, representing the Big Oil giant against a host of climate lawsuits. Most recently, the firm successfully defended Exxon against a $1.6 billion lawsuit, brought by the State of New York, alleging that the company mislead investors over the risks of climate change. It was only the second climate change lawsuit to ever reach trial in the U.S.
Overall, Paul Weiss has defended Exxon in at least a dozen climate liability cases brought about by states and municipalities. The firm's legal tactics on Exxon's behalf have been labeled everything from "blatantly obstructionist" to "disingenuous" by different state attorneys general.
Exxon is the biggest oil company in the U.S. It raked in $20.8 billion in profits in 2018. As the world faces a growing climate emergency, Exxon recently announced its intent to ramp up oil production by 80% in the world's busiest oil field to 1 million barrels per day. This comes as a startling new report just revealed that the level of methane emissions released by fossil fuel companies is likely much worse than we previously thought.
In 2015, a wide-ranging series of investigations uncovered that, for decades, Exxon had conducted internal research on global warming and knew about the dire impact of its fossil fuel production in driving our growing climate crisis. All this was happening at the same time Exxon was funding climate denialism and working to crush attempts to regulate carbon emissions.
Now the public is aiming to hold Exxon accountable for this deception – and Paul Weiss is trying to defend Exxon from this.
Big firms like Paul Weiss face tight competition to recruit talent from top law schools. Organizers with #DropExxon see where they have leverage – Paul Weiss does not want to become the poster child for Big Law's complicity with our climate crisis, a stigma stuck to its name among thousands of rising law students nationwide.
The campaign isn't saying that corporations that destroy our planet should be denied lawyers – but rather, that young attorneys who care about justice have other options than to go work for these firms.
Moreover, when it comes to Paul Weiss, ExxonMobil is just one of the worst of its many questionable clients. From Big Tobacco to opioid crisis profiteering, Paul Weiss has made millions from defending some of the most repugnant corporate villains of recent decades:
The list could go on.
Paul Weiss does not have to defend rogue corporate actors – it chooses to do so. Law firms have taken moral stands in the past against toxic clients. For example, in 1985, Covington & Burling, the largest law firm in Washington, D.C., dropped South African Airways after the firm faced boycotts from law students from Harvard, Yale, NYU, and other schools, who opposed the firm's complicity with South African apartheid. More recently, attorneys at Davis Polk were allowed to decline representing Big Tobacco clients if they had moral or ethical objections.
Law students have options that don't involve representing climate crisis profiteers. As the nation's top legal talent graduate into a world of intensifying climate emergency, the pressure is mounting on firms like Paul Weiss to make a break with Big Oil.
---
Related: