Reps Who Will Question Zuckerberg Own Stock In Facebook
Four Democratic members of the House Financial Services Committee are personally invested in Facebook as CEO Mark Zuckerberg will testify before them on Wednesday.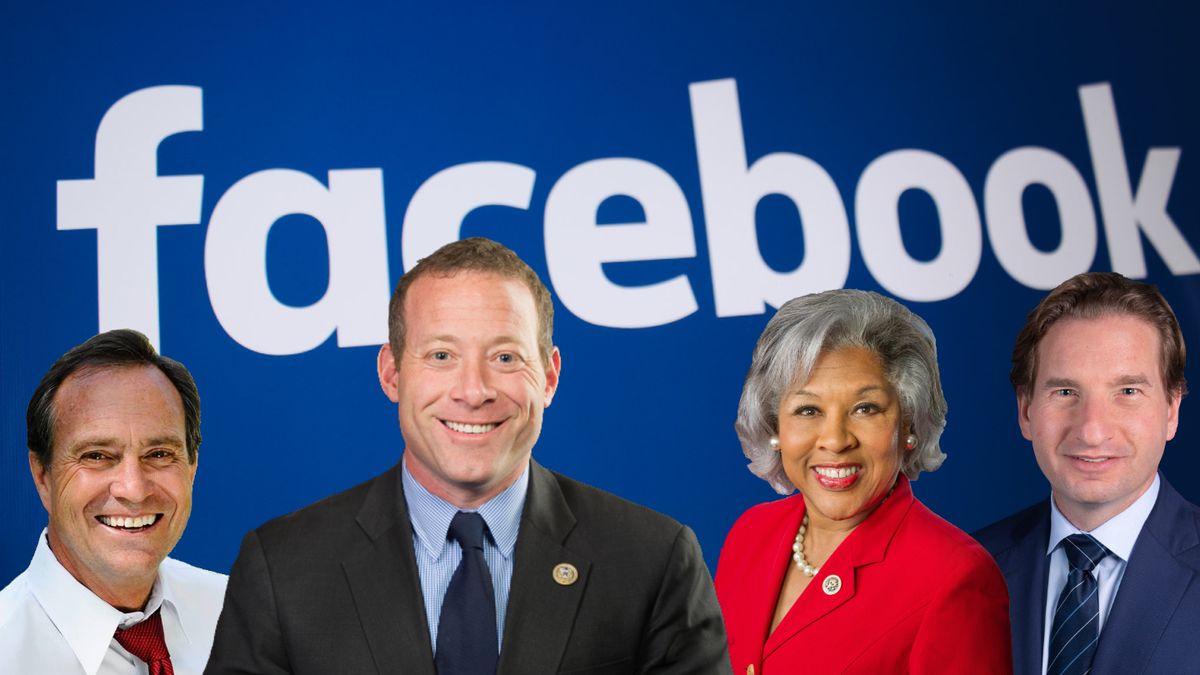 Tomorrow, Facebook CEO Mark Zuckerberg will appear before the House Financial Services Committee to answer questions about Libra, the digital currency that his social media company wants to launch, and the company's impact on the financial services and housing sectors.
As they prepare to question Zuckerberg, four members of that committee, all Democrats, have potential conflicts of interest. Reps. Joyce Beatty (D-Ohio), Josh Gottheimer (D-N.J.), Ed Perlmutter (Colo.), Dean Phillips (Minn.) and/or their spouses all own thousands of dollars worth of Facebook stock. Beatty also owns stock in Uber, which is partnering with Facebook on the Libra initiative.
According to the most recent financial disclosures, the four representatives and their spouses have a total of between $126,000 and $365,000 invested in Facebook. (Congressional financial disclosures present the value of members' investments in ranges, not exact amounts.)
Beatty owns between $15,001 and $50,000 in Facebook stock (and between $15,001 and $50,000 in Uber stock, which she purchased in May).
Gottheimer and his spouse own between $95,003 and $250,000 in Facebook stock.
Perlmutter's spouse owns between $1,001 and $15,000 in Facebook stock, which was purchased in June.
Phillips owns between $15,001 and $50,000 in Facebook stock.
While there's no evidence of corruption, this stock ownership is a clear-cut example of a potential conflict of interest, given the representatives' role in writing legislation that directly impacts a company in which they are personally invested.
Democrats on the committee have already drafted legislation, the Keep Big Tech Out of Finance Act, that would bar Facebook and other "large platform utilities" from getting into the cryptocurrency business. It has not yet been formally introduced or voted on.
Brendan Welch, communications director for Phillips, told Sludge that Phillips is "still reviewing the bill."
Welch told Sludge that Phillips, who first joined Congress in January, "is in the process of setting up a blind trust for all of his assets to avoid even the possibility of a conflict of interest. It's an extraordinarily complicated process, but he is making every effort to ensure it's done by the end of the year. It would include the Facebook stock that you mention."
Phillips' Facebook investment "will not impact his potential questioning of Zuckerberg on Wednesday, nor has it ever influenced his policy positions," said Welch.
Phillips has a strong record on fighting the influence of corporate money in politics; he refused money from corporate and all other PACs during his 2018 campaign and co-sponsored H.R. 1, a strong Democratic campaign finance reform bill, this year.
Gottheimer, on the other hand, has additional conflicts of interest, including hundreds of thousands of dollars worth of finance industry investments. The New Jersey rep is a favorite of Wall Street; in the 2020 election cycle, he's received the third-largest total—over $660,000—of campaign contributions from individuals and PACs in the finance, insurance, and real estate sector, behind only Rep. Seth Moulton (D-Mass.), who raised extra money because of his short-lived presidential campaign, and House Minority Leader Kevin McCarthy (R-Calif.). Gottheimer is a member of the committee's Task Force on Financial Technology.
Ashley Verville, communications director for Perlmutter, told Sludge in an email about this article was first published, "Ed is on record questioning Facebook and holding the company accountable."
The offices of Beatty and Gottheimer did not return Sludge's requests for comment.
Speaker of the House Nancy Pelosi's (D-Calif.) husband, venture capitalist Paul Pelosi, is also a Facebook investor, owning between $550,000 and $1.1 million worth of stock in the company. Former Pelosi staffer Dean Aguillen, now a senior vice president at Ogilvy Government Relations, lobbied the House of Representatives for Facebook in the third quarter of 2019 on immigration reform and workplace diversity.
The wife of Rep. Bradley Schneider (D-Ill.), health insurance executive Julie Dann, owns between $350,000 and $750,000 worth of Facebook stock, making Schneider, who is not on the Financial Services Committee, one of the House's biggest Facebook investors.
Congressional stock ownership and trading have recently come under the scrutiny of Democratic senators. Sens. Jeff Merkley (D-Ore.) and Sherrod Brown (D-Ohio) introduced a bill, the Ban Conflicted Trading Act, in late 2018 that would prevent members of Congress from buying or selling stock and from serving as an officer or member of the board of any for-profit entity. Sen. Elizabeth Warren (D-Mass.), a presidential candidate, has an anti-corruption plan that would prevent members of Congress, Cabinet secretaries, federal judges, White House staff, senior congressional staff, and other officials from owning or trading individual stocks.
Zuckerberg's testimony comes just after Facebook had a big quarter in terms of lobbying spending. The company, which is lobbying Congress on a number of issues including blockchain policy, is on track to break its all-time annual federal lobbying spending record this year.
The Facebook chief executive will likely appear before Congress again in the near future, as the House Small Business Committee has invited Facebook, along with Amazon, Apple, and Google, to discuss their platforms' effects on small businesses.
Libra is a proposed blockchain-based digital currency that would be exchanged primarily through Facebook's apps. Unlike most cryptocurrencies, Libra is not being designed as a decentralized project, so it would not be censorship-proof or transparent. Several major companies have recently pulled out of the Libra Association, including Ebay, Mastercard, PayPal, Stripe, and Visa, as lawmakers and regulators in multiple countries scrutinize the plan and potential antitrust issues.
Facebook recently revealed that it may change course and peg its cryptocurrency to established national currencies rather than a synthetic unit based on several fiat currencies and government bonds.
This article was updated to reflect that Rep. Perlmutter's spouse, not Perlmutter himself, owns the Facebook stock.
---
Related: