Turning Point USA Blurs the Line Between Charity and Pro-Trump Political Group
TPUSA President Charlie Kirk attacked several of Trump's potential 2020 opponents at an official event hosted by his charitable nonprofit.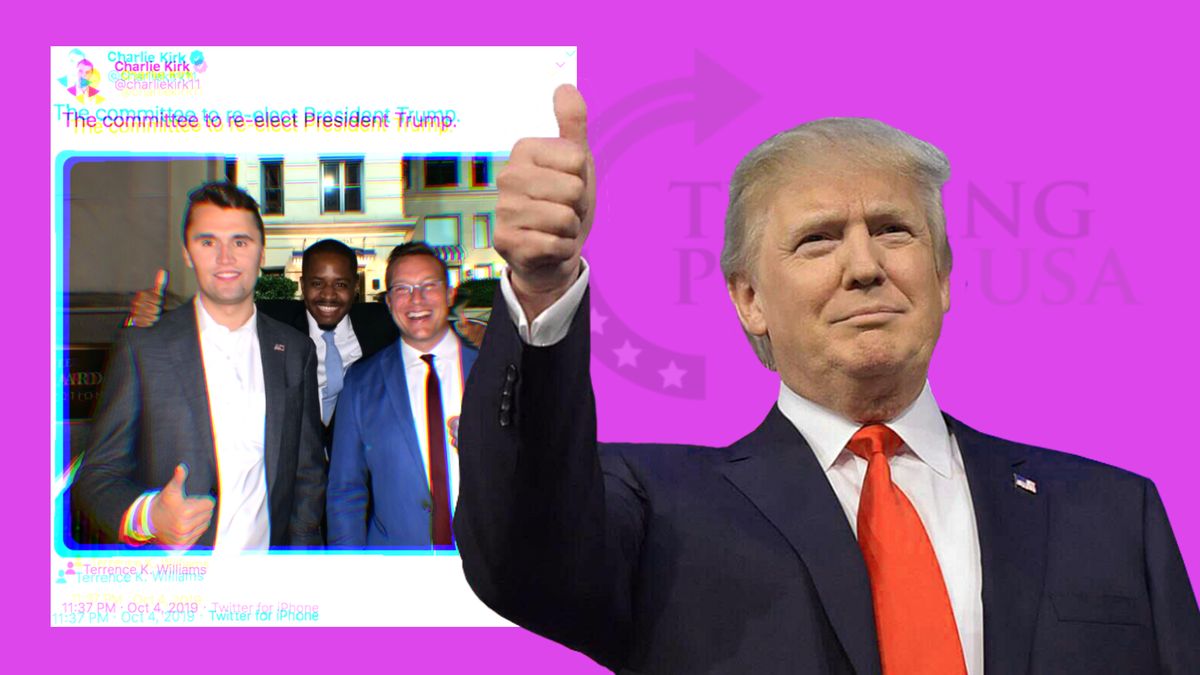 The Internal Revenue Service's guidelines for 501(c)(3) nonprofits are quite explicit about what's off limits for nonprofit officers.

"For their organizations to remain tax exempt under section 501(c)(3), leaders cannot make partisan comments in official organization publications or at official functions of the organization."

Charlie Kirk, president of the far-right student organization Turning Point USA (TPUSA), appears to be pushing the boundaries of his organization's charitable nonprofit status at official events. Onstage at the recent Black Leadership Summit, a TPUSA-sponsored conference that took place from Oct. 3 to Oct. 5, Kirk and former TPUSA communications director Candace Owens attacked multiple Democratic presidential candidates at length, including Joe Biden, Beto O'Rourke, and Sen. Elizabeth Warren (D-Mass.).

"Pocahontas!" Kirk exclaimed when Owens brought up Warren, echoing a common attack by President Donald Trump. "Robert Francis O'Rourke is more Hispanic than [Warren] is Native American, and that's pretty extraordinary because he's not Hispanic at all," he said. "We also have Biden. Is there a country he hasn't sold our country out so his son could get cash from?"

"TPUSA's leaders attacking political candidates from the stage at an official function could violate tax law's ban on using charitable resources for election activity," Brendan Fischer, director of the nonpartisan Campaign Legal Center's federal reform program, told Sludge. "It would be one thing if TPUSA were critiquing the candidates' records on issues relevant to the mission of the charity, but these comments sound like personal attacks and a critique of their qualifications for office."

A TPUSA spokesperson did not answer Sludge's question about these potentially partisan comments.

TPUSA played an intro video at the start of the session, featuring footage of Trump and black Americans including Kanye West praising him. After a scene of a Trump rally, the film shifts to a clip of Joe Biden telling his "Corn Pop" story, clearly throwing a jab at the former vice president.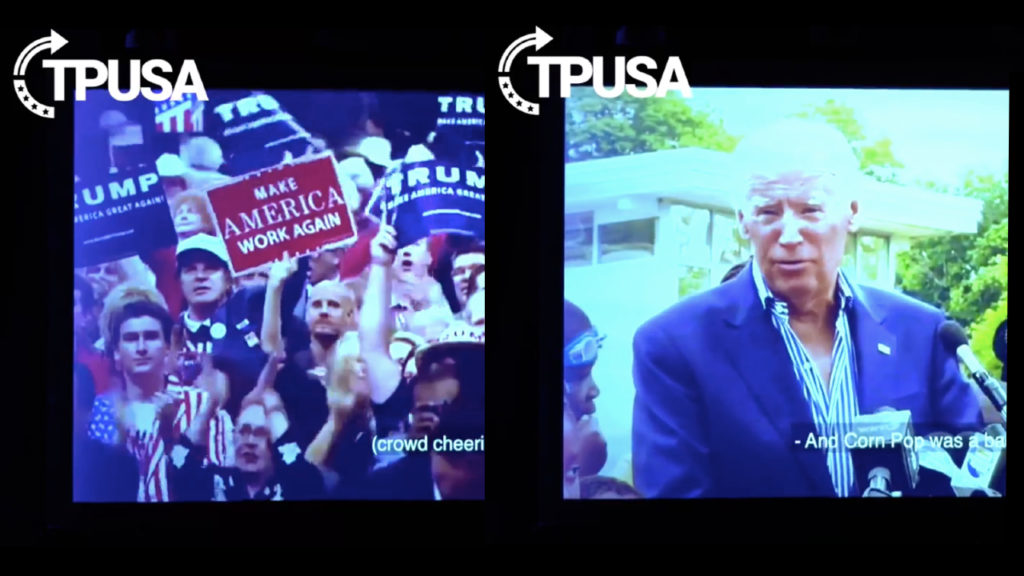 In the address, Kirk also attacked the Democratic Party, claiming that it has "kept black people down" from the mid-19th century through today. "Nothing has changed since the 1860s," Kirk falsely claimed, ignoring the civil rights movement and echoing TPUSA ally and conservative propagandist Dinesh D'Souza.

On Friday, the day that Trump addressed the Black Leadership Summit at the White House, Kirk tweeted a photo of himself, TPUSA chief creative officer Benny Johnson, and conservative comedian Terrence J. Williams with the caption, "The committee to re-elect President Trump." The photo was taken on Oct. 4, during TPUSA's three-day Black Leadership Summit, which took place from Oct. 3 to Oct. 5. Trump addressed the conference at a White House event that day.

"Under the Internal Revenue Code, all section 501(c)(3) organizations are absolutely prohibited from directly or indirectly participating in, or intervening in, any political campaign on behalf of (or in opposition to) any candidate for elective public office," state IRS guidelines. "Public statements of position (verbal or written) made on behalf of the organization in favor of or in opposition to any candidate for public office clearly violate the prohibition against political campaign activity."

The guidelines specifically point out that written statements can qualify as political campaign activity. The tweet came from Kirk's personal account, which includes "opinions here are my own" in its biography.

"The Oct. 4th tweet was a personal statement expressing Charlie Kirk's personal views, not those of TPUSA," the TPUSA spokesperson told Sludge.

The Campaign Legal Center's Fischer said that although Kirk tweeted from his personal account, he also regularly uses that account for official TPUSA business, blurring the line between personal opinion and nonprofit messaging.

"It is legally risky for the head of a charity to make electoral statements from a Twitter account used for official business," said Fischer.

Ellen Aprill, a tax law professor at Loyola Law School in Los Angeles, told Sludge, "Using the organization's account for campaign intervention is a clear no-no. Using his personal account, even during a conference, is much more of a gray area—probably passes the laugh test, although a close call."

TPUSA, which has been a cheerleader for Trump and his family for several years, also boosts Trump online. In recent days, TPUSA has tweeted and retweeted multiple posts attacking Rep. Adam Schiff (D-Calif.), the chair of the House Intelligence Committee, over his role in the House's impeachment inquiry.

TPUSA frequently tweets praise for Trump and his family members. "YES! We're So Thankful For President @realDonaldTrump," says a tweet from Sep. 4. In an Oct. 4 tweet featuring a video, Kirk spends two minutes angrily defending the president against an accusation that he condoned white nationalists who took part in the 2017 Unite the Right rally in Charlottesville.

TPUSA's support for Trump is not the group's only example of controversial political engagement. TPUSA staff helped out a pro-Ted Cruz super PAC, according to the New Yorker, and secretly funneled money into college student government elections.

Pro-Trump Affiliates

TPUSA is affiliated with another 501(c)(3) nonprofit, Turning Point USA Endowment, and a 501(c)(4) social welfare organization, Turning Point Action, which was created to explicitly take on Democrats. Social welfare nonprofits can advocate for or against political candidates as long as that work does not constitute more than half of its overall activities. (This caveat is rarely enforced by the IRS.)

"Turning Point USA Action is the only organization standing up for President Trump and conservative students across America," said one donation page.

Right Wing Watch's Jared Holt reported that a Turning Point Action campaign attacking Rep. Ilhan Omar (D-Minn.) may have violated tax laws because it distributed bumper stickers made by TPUSA to its donors. TPUSA appeared to pay for Turning Point Action Facebook ads, although the TPUSA spokesperson told Sludge that it was "an error on the part of Facebook.

"Facebook has since corrected the issue at our request," said the spokesperson. "Any accusation there is co-mingling of funds is slanderous and fallacious. Facebook ads and bumper stickers were used entirely in accordance with applicable tax-exempt legal requirements."

Facebook's ad library data still show TPUSA as having paid for 409 Turning Point Action ads, although it's unclear whether Facebook failed to correct this underlying data. Recent ads were all paid for by Turning Point Action.

Turning Point Action acquired the group Students for Trump this year, and Kirk became chairman of the latter organization. One co-founder of Students for Trump, John Lambert, was arrested on wire fraud charges in April. The other co-founder, current co-chair Ryan Fournier, hired white nationalist James Allsup, a key member of the group formerly known as Identity Evropa, as director of Students for Trump's campus ambassador program. (TPUSA has a lengthy history of staffers making racist comments.)

Turning Point Action has not filed any reports with the Federal Election Commission.

The Turning Point Endowment was formed in 2017 and, according to the only tax record that's publicly available, it scored over $1.8 million in donations in the first half of that year.

Asked how TPUSA firewalls itself from the pro-Trump activities of Turning Point Action, the TPUSA spokesperson said, "Similar to every other organization that has a 501(c)(3) and 501(c)(4), like the ACLU [and the] Heritage Foundation: separate governing documents, finances, staffing, filings, and mission statements."

TPUSA has seen its funding explode since its founding in 2012, when it took in $79,000 in total support. The most recently available tax form shows that In the 2017 fiscal year, TPUSA took in over $8.2 million. As of 2017, among TPUSA's biggest known funders were the Ed Uihlein Foundation, the charity of GOP megadonor and businessman Richard Uihlein; the family foundation of recent Republican governor of Illinois Bruce Rauner; Home Depot co-founder Bernie Marcus' foundation; and rightwing evangelical GOP donor Foster Friess. Other funders "are in the fossil fuel space," according to Kirk.

The IRS has been hobbled by Republican lawmakers and is unlikely to take any action against TPUSA, potentially allowing the group to continue blurring the line between charity and political actor.

During Trump's White House address at the TPUSA Black Leadership Summit, the president praised Kirk. "I especially want to thank a friend of mine…I can't even imagine being so successful at such a young age. What he's done in so many ways—and, really, more importantly, letting young people know that they have a voice. Charlie Kirk, from Turning Point U.S.A."

At the end of his speech, Trump told the crowd fondly, "You are my friends. I'm never going to forget you. You've been incredible. You've been incredible."

---
Related:
---