SLUDGE REPORT: Charity Scammers. Russian Assets. Secret Votes.
Your regular summary of the most shameful corruption in politics.
Welcome to the preview edition of our biweekly, members-only Sludge column to let you know about the sludgiest characters in politics!
I'm sure everyone was quite consumed by the Trump-Ukraine debacle and the surprising move by Democratic leadership to open a formal impeachment inquiry. I'm not going to go too much into this because so many reporters are, but I should point out something on which I can offer some expertise: Trump committed a major campaign finance crime on the call with the Ukrainian president.

Soliciting a thing "of value" from any foreign national is illegal. The dirt Trump wanted Volodymyr Zelensky's government to dig up would certainly be valuable to his campaign, making it an in-kind political donation. Even if Ukraine didn't come through with the requested thing of value, just asking for it is a crime. Of course, in contrast to Trump's on-air request for Russia to hack Democratic emails to help him win the 2016 election, Trump is now president, and he used the threat of withholding U.S. military aid to Ukraine as he asked for "a favor." That makes this campaign finance violation pretty damn epic.

And now, let's look at some other corrupt politicos.

10. Laura Loomer, anti-Muslim bigot

Anti-Muslim activist Laura Loomer, whose life was apparently ruined when she was booted from Twitter for racist posts, is now running for Congress in a blue Florida district. It's almost certain she'll lose the primary, but if she ends up in the House, she promises to "harass lawmakers in elevators." Apparently, however, the real purpose of her campaign is to get reinstated on Twitter. (Daily Beast)

I took a look at Loomer's FEC filings today, and unfortunately there aren't any campaign finance reports yet (but I'll be waiting for the first). The statement of organization, though, does offer one interesting tidbit: She's using the services of FEC compliance firm Liz Curtis Associates. The internet doesn't have much on Curtis, but her website shows that she often works for far-right extremist candidates, having contracted with the campaigns of esteemed bigots such as neo-Confederate Corey Stewart, neo-Confederate ally Chris McDaniel, extremist Kelli Ward, and the all-around racist and homophobe Seth Grossman. Makes sense!

9. NYC Museum Boards

What's up with these museums? Several major museums in New York City have boards populated by exploitative business executives and other ghouls. The Metropolitan Museum of Art has Trump's Social Security commissioner, Andrew Saul, and two executives from private equity giant Blackstone on its board, and until recently, the late billionaire oil man David Koch. The American Museum of Natural History somehow still has Rebekah Mercer, the daughter of GOP megadonor and Breitbart funder Robert Mercer, on its board, despite its own curators calling for her to be removed. The vice chairman is a board member of Teva Pharmaceuticals, one of the drug companies responsible for the opioid epidemic. And the Whitney has another GOP megadonor, financier Ken Griffin, and Pamella DeVos, a member of rightwing Education Sec. Betsy DeVos' family, on its board. (Vulture)

I'm including this one because Koch, who recently died, was a prime example of a destructive billionaire who whitewashed his image by funding arts organizations and cancer centers, something I wrote about at The Guardian.

8. The Bidens, who just happened to get rich while Biden was a powerful politician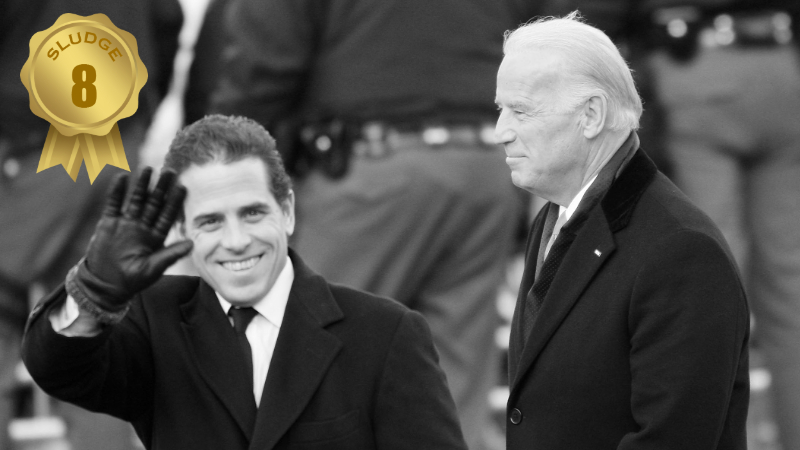 Frequent Sludge Report offender Joe Biden makes the list again this week, but not quite for the reason you might think. No, he didn't have a Ukrainian prosecutor fired because he was looking into the gas firm that had his son, Hunter, on the payroll; that's been thoroughly debunked. But how Hunter got that position is…pretty shady.

Politico's feature on the Biden family's wealth gathering, while the longtime Delaware senator and vice president maintained the image of "Middle Class Joe," is really something. Hunter and Joe's brother, James, have used their family name and Joe's status for personal financial gain. Before joining the board of Ukrainian gas company Burisma in 2014, Hunter had accompanied his dad on a government trip to China, where he met with a real estate business associate. James was a Washington lobbyist while his brother was a Senate leader, and most recently he's alleged to have, during a call with health care executives about possibly investing in their company, told them that Joe's cancer foundation would promote their products. And there's a lot more. (Politico Magazine)

7. Richard Zeitlin, shameless charity scammer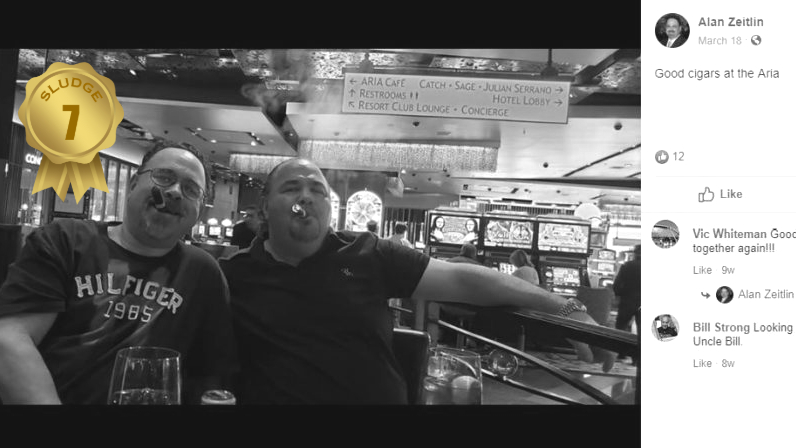 A bombshell report from the Center for Public Integrity dropped this month about how Vegas telemarketer Richard Zeitlin scammed thousands of Americans. Thinking they were donating to charitable causes like a children's leukemia fund, a breast cancer outreach foundation, or a first responders' group, donors were in fact giving money to political action committees that funnel most of their revenue back into Zeitlin's firms. Of the $153 million the telemarketers raised through his nonprofits and PACs, 87% went back to Zeitlin's companies as compensation for fundraising. (Center for Public Integrity)

6. U.S. Senators, definitely not financially conflicted in any way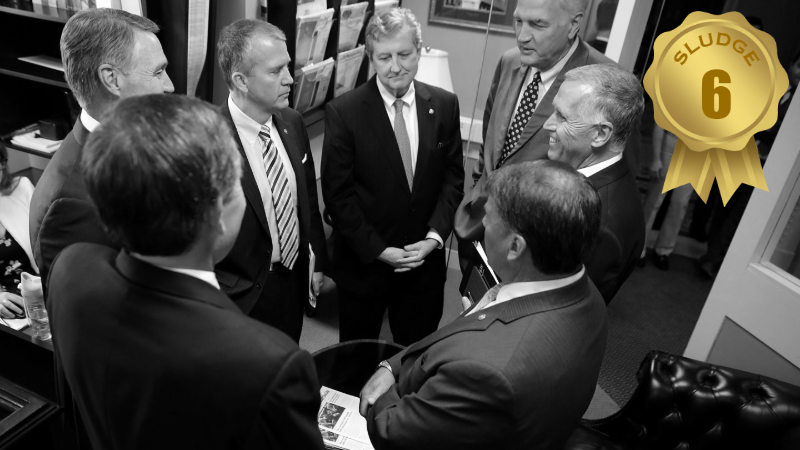 U.S. senators own stocks in five key business sectors that are central to D.C. politics: communications/electronics, defense, energy, finance and health. Sludge used its custom-designed financial disclosure scraper to extract data on all 100 senators and found that 51 of them have as much as $96 million in companies in these sectors. Sludge partnered with The Guardian to publish an overview of the companies that senators are invested in and some of the conflicts those investments present.

The investments pose potentially huge conflicts of interest as senators write legislation affecting companies in which they own stock: pharmaceutical manufacturers, health insurers, Wall Street firms, oil and gas companies, and the like. Lawmakers' financial investments aren't covered nearly enough. Check out our many interactive data visualizations!

---
SLUDGE REPORT is only available to our members..