Democrats Lose in NC-9 After Being Dramatically Outspent
The DCCC has raised $20 million more than its Republican counterpart this year, but it barely showed up to back Dan McCready in the toss-up special election race.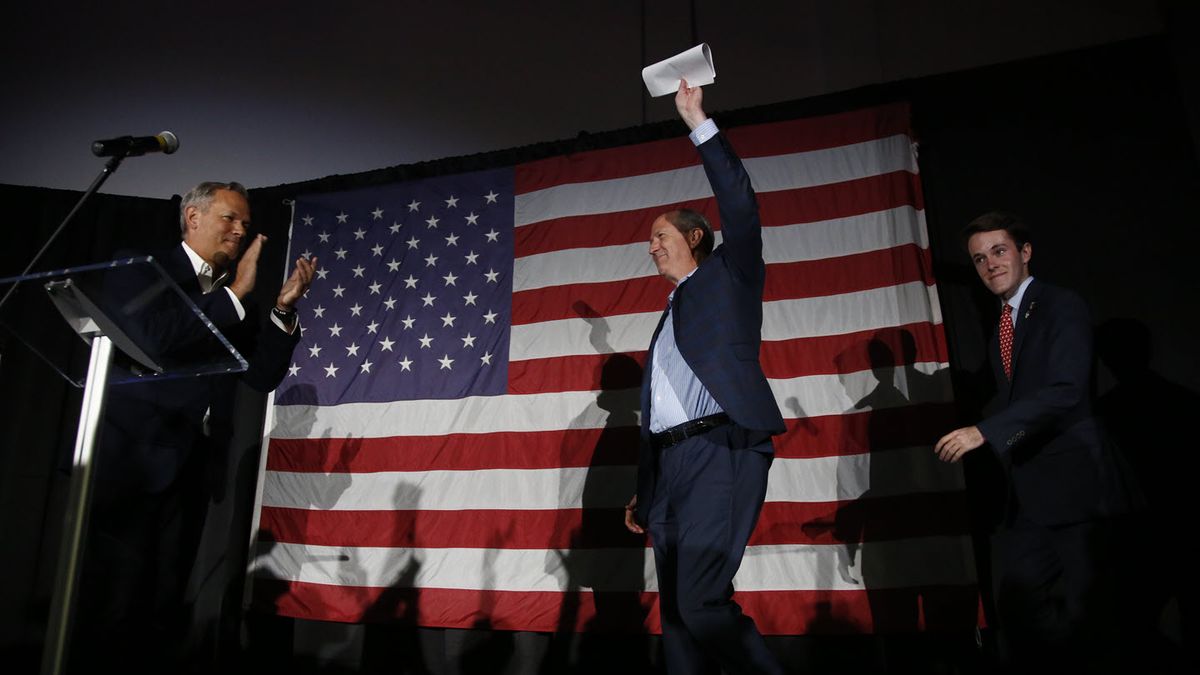 The special election for North Carolina's 9th Congressional District, widely seen as a bellwether for the 2020 presidential election, was considered a "toss-up" in the weeks leading up to Election Day. But Democratic Party and outside spending groups let themselves be dramatically outspent by their Republican counterparts, and on Tuesday, Republican Dan Bishop defeated Democrat Dan McCready by less than 4,000 votes.

Super PACs and political nonprofits backing Bishop spent $8.15 million on ads and other election-related expenses throughout the course of the race, more than twice as much as the amount spent by groups backing McCready, according to campaign finance data from the Center for Responsive Politics. The Republicans' outside spending advantage more than made up for the McCready campaign's advantage in fundraising from individuals and PACs.

Most notably, the campaign arm of House Democratic incumbents, the Democratic Congressional Campaign Committee (DCCC), spent just $1.2 million on ads benefiting McCready, while its Republican counterpart, the National Republican Campaign Committee (NRCC), spent $3.1 million aiding Bishop.

It's not like the DCCC didn't have money to spend on the race. The DCCC, which took more than $1 million from corporate lobbyists in 2019, raised nearly $69 million since January, about $20 million more than the NRCC. Its cash-on-hand advantage over the NRCC stood at about $4.5 million in its most recent FEC report, filed on Aug. 20.  
In the 2018 midterms, McCready was narrowly defeated by Repubilcan Mark Harris, but an operative tied to Harris was later implicated in a ballot tampering scheme, prompting the North Carolina election board to call for the special election. Bishop is best known for being the state senator who sponsored North Carolina's "bathroom bill," prohibiting transgender individuals from accessing restrooms that match their gender identity. He also has ties to a supporter of the hate group the Proud Boys, according to Mother Jones, and was an early investor in Gab, a social media site frequented by white nationalists.

The NRCC, the top overall spender in the special election, is primarily funded by Republican politicians, the PACs of major U.S. corporations, and prominent conservative megadonors. House Whip Rep. Steve Scalise's (R-La.) campaign and leadership PAC has given the NRCC more than $1 million this cycle, while Home Depot co-founder Bernard Marcus and his wife contributed $497,000, hedge fund manager Ken Griffin gave $248,500, and PACs affiliated with  Koch Industries, General Dynamics, and Valero Energy chipped in more than $100,000 each for the NRCC and its affiliates.   
The second-largest spender in the race was the Congressional Leadership Fund, a super PAC affiliated with Republican House leaders. The Congressional Leadership Fund has taken nearly $3.5 million this cycle from the American Action Network, a dark money nonprofit it shares an office and personnel with that received $24.6 million from a single anonymous donor in 2017 and has received more than $12 million from drug industry trade group Pharmaceutical Research and Manufacturers of America since 2009.
Democrat McCready was also supported by dark money. House Majority Forward, the dark money arm of the Democratic leadership's super PAC, the House Majority PAC, spent more than $1 million to boost McCready.
---
Read more from Sludge: