Here's How AIPAC Spends Money to Influence Congress
U.S. representatives claimed their colleague, Rep. Ilhan Omar, was anti-Semitic when she brought up AIPAC's influence over members of Congress.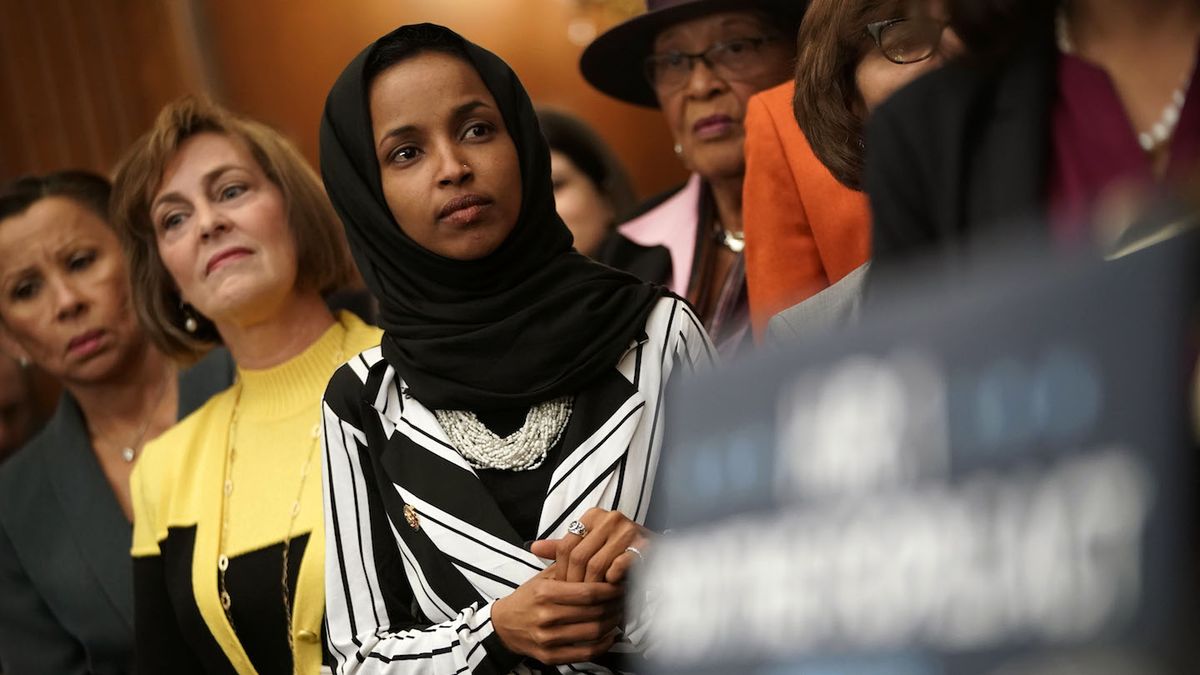 On Monday, congressional Republicans and Democrats called out freshman Rep. Ilhan Omar (D-Minn.) for her tweet alleging that money motivated House Minority Leader Kevin McCarthy (R-Calif.) to threaten to punish Omar and Rep. Rashida Tlaib (D-Mich.)—the first two Muslim women ever elected to Congress—for their criticism of the Israeli government.

While it's difficult to pin down what motivates the policy decisions of individual members of Congress, it's relevant to consider the strong influence that AIPAC has over Congress, which Omar did in a follow-up tweet. The congresswoman from Minnesota, who came to the U.S. in 1995 as a Somali refugee, did not allege that AIPAC is the only pro-Israel organization seeking to influence American politicians' actions regarding Israel. It is, however, one of the most powerful.

Does AIPAC directly pay members of Congress to vote for "pro-Israel" policies, something Omar alleged and Forward opinion editor Batya Ungar-Sargon challenged on Twitter? The short answer is "no," but the nuanced answer is far more complicated.

Here's how AIPAC spends money to influence American politics.

Donations from AIPAC Members

AIPAC is not a political action committee and does not donate directly to political candidates, but it requires its members to donate to the campaigns of certain members of Congress in order to receive exclusive membership benefits. Doug Rossinow, an academic and author of a forthcoming book on American Zionism, wrote in the Washington Post that since the late 1970s, AIPAC "has informally directed substantial campaign contributions toward chosen candidates for Congress."

The New Yorker explained AIPAC's role in the late 1980s establishing allied pro-Israel PACs, which often had AIPAC leaders in charge and "looked to [AIPAC] for direction" regarding campaign contributions. AIPAC, which has generally been allied with the Republican Party, reportedly recruited individual bundlers, who would collect AIPAC members' donations to direct them to the campaigns of senators and representatives. "The goal was to develop people who could get a member of Congress on the phone at a moment's notice," wrote the New Yorker's Connie Bruck.

On its website, AIPAC details its "Congressional Club," a group of members who commit to donate at least $5,000 per election cycle "in a clearly pro-Israel context" to "pro-Israel politics." "The Congressional Club is designed to recognize politically active members of AIPAC who support pro-Israel candidates for the House and Senate," the group says.

Progressive activist Ady Barkin wrote a Twitter thread on Monday, describing an instance in which AIPAC's political spending "was definitely about the Benjamins."

It's difficult to quantify how much money going to political campaigns each election cycle comes from AIPAC members. But prominent AIPAC booster Haim Saban is one of the United States' biggest political donors, having given considerable amounts of money to congressional campaigns and millions to super PACs and other outside groups that spend heavily on elections to support or oppose political candidates. Saban, who funds AIPAC's semi-annual Saban Leadership Seminar, donated $3.3 million to Democratic outside political spending groups during the 2018 election cycle. In the 2016 cycle, Saban and his wife, Cheryl Saban, donated $13.8 million to outside political spending groups.

Republican megadonor Sheldon Adelson split with AIPAC in 2007 after the lobbying group supported an increase in aid to Palestine, but as recently as 2014, AIPAC's fundraising arm was in business with an Adelson-controlled company. AIPAC now supports ending aid to Palestine.

Adelson and his wife, Miriam, spent $123 million on the 2018 midterm elections, all of it benefiting Republicans, by far the biggest total of any American family, according to the Center for Responsive Politics. Most of that total went to two GOP super PACs, the Congressional Leadership Fund and the Senate Leadership Fund. The couple's prodigious donations benefiting Republicans earned Sheldon Adelson direct access to President Trump and Miriam Adelson the Presidential Medal of Freedom.

Both billionaire donors have said that Israel is their chief focus.

"I'm a one-issue guy, and my issue is Israel," Saban has said.

"I'm a one-issue person. That issue is Israel," Adelson said in 2017.

Lobbying and Traveling with Congress

As the Center for Responsive Politics points out, other pro-Israel groups put more money directly into elections than AIPAC, but federal lobbying is where the group spends the bulk of its money in politics. AIPAC leads all pro-Israel groups in lobbying spending by a long shot. Each year since 2014, AIPAC has spent north of $3 million to lobby the federal government.

AIPAC has logged several victories under Trump, including the relocation of the Israeli embassy to Jerusalem, the U.S.'s withdrawal from the Obama-era Iran Deal, and cuts in U.S. aid to Palestinians.

While the organization's lobbyists try to woo Congress, AIPAC also funds annual trips to Israel for senators and representatives. McCarthy tweeted on Monday that leading congressional trips to Israel is one of his "greatest honors." According to Legistorm, AIPAC's charity arm has spent $15.7 million on congressional visits to Israel since 2000. On gift travel disclosures, AIPAC says the purpose of these trips is "educating policymakers about the U.S.-Israel relationship."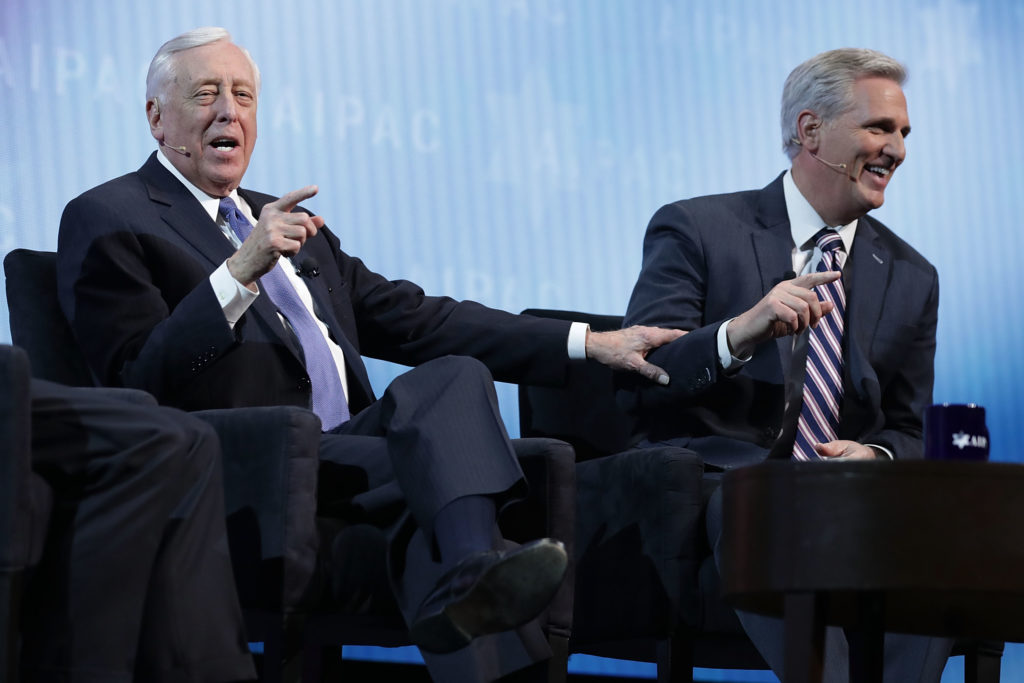 In addition to frequent lobbying and regular trips to Israel, AIPAC hosts an annual convention in Washington that many top politicians attend. According to Quartz, "AIPAC's command over U.S. politicians was evident [in March 2016], when presidential candidates Ted Cruz, John Kasich, Donald Trump and Hillary Clinton all spoke in person at AIPAC's annual convention."

At the 2018 convention, speakers included Vice President Mike Pence, then-U.S. Ambassador to the United Nations Nikki Haley, and a number of the U.S. representatives who criticized Omar for her tweets on AIPAC's political influence on Monday: Ted Deutsch (D-Fla.), now-Majority Leader Steny Hoyer (D-Md.), Engel, McCarthy, now-Speaker Nancy Pelosi (D-Calif.), Steve Scalise (R-La.), and Lee Zeldin (R-N.Y.).
The Defense Industry

The influence of AIPAC and other pro-Israel organizations impacts one of Washington's biggest special-interest groups: the defense industry. As Sludge previously reported, both defense and pro-Israel interests have donated significant amounts of money to the campaign of Engel, whose committee has jurisdiction of arms exports. The top U.S. weapons manufacturers benefit from Israeli weapons purchases, made possible in part by American financial assistance.

Engel was one of several Democrats to chastise Omar on Monday. In 2017, he co-sponsored an anti-Boycott, Divestment, Sanctions (BDS) bill in the House (Omar and Tlaib's support for BDS is at the root of their colleagues' criticisms of them). In line with AIPAC, Engel also opposed the 2010 Iran Deal and supported Trump's Israeli embassy relocation.

Despite Democratic House leaders having stymied an effort to censure the openly white supremacist Republican Rep. Steve King (Iowa) last month, they called on Omar to apologize for her tweets on Monday afternoon, which she did minutes later on Twitter.

In her apology, Omar added, "I reaffirm the problematic role of lobbyists in our politics, whether it be AIPAC, the NRA or the fossil fuel industry. It's gone on too long and we must be willing to address it."
---
Related: