Cuomo and de Blasio Aim to Help Dems, But Donations so Far are Underwhelming
Their campaigns say that donations and campaigning for Democratic candidates have increased since the late September cutoff.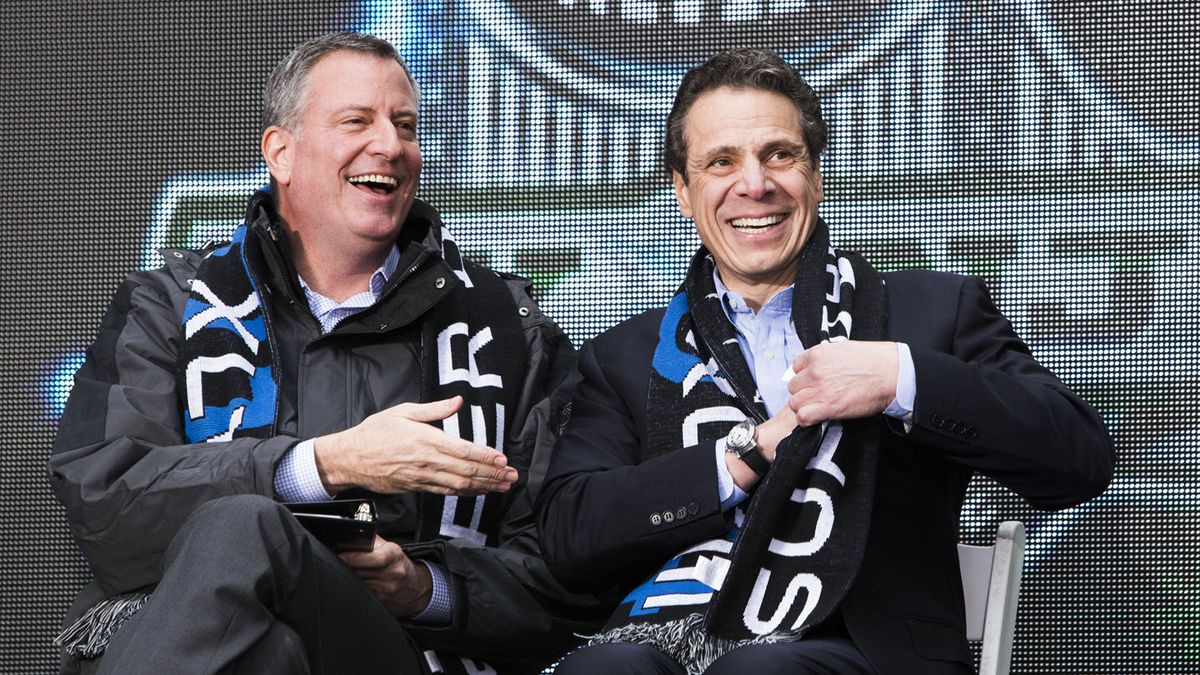 A pair of political action committees created by New York Gov. Andrew Cuomo and New York City Mayor Bill de Blasio to expand their national profiles and help elect Democratic candidates have so far made lackluster donations to candidates, recently released campaign disclosures show.  

Cuomo NY Take Back the House PAC, created by the Democratic governor to aid Democrats running in key congressional races in New York and elsewhere, contributed $27,000 to 10 Democrats in several congressional races, including some toss-ups, according to the latest quarterly filing with the Federal Election Commission, which captures activity between July and late September.  Cuomo also made a separate $6,600 contribution to Stacey Abrams, the Democratic gubernatorial candidate in Georgia, through his gubernatorial account in late September.

Cuomo's PAC, which raised $47,000 and spent $27,000 between its creation in mid-August and the filing cut-off on September 30, is an anemic fundraising haul when compared with the prolific amount of money Cuomo has raised for his own state campaign account. Between mid-August and early September, Cuomo raised $183,000 for his gubernatorial account, according to campaign disclosures filed with the state's Board of Elections. His campaign war chest amassed more than $30 million dollars in early 2018 and as of early October, Cuomo had $9.2 million heading into next month's election.

In an email, the Cuomo campaign told Sludge that the state party has also spent money on mailers for Democratic congressional candidates and that the governor has already held a fundraiser for Anthony Brindisi, with additional fundraisers for other candidates in the works. Additionally, field staff and organizers are in key districts around the state working on campaigns. The Cuomo-controlled New York State Democratic Committee launched a bus tour last week to help flip the House and State Senate into Democratic control.

"The Cuomo NY Take Back the House PAC maxed out to all Democratic House candidates across New York and will be contributing to an array of federal candidates nationwide to fight back against Trump's divisive, anti-American agenda," said Cuomo campaign spokeswoman Abbey Collins. "The Governor's federal PAC is part of the larger coordinated campaign he launched over a year ago to protect New Yorkers' rights and values and we will continue to work every day until November to flip the House from red to blue."
Due to federal contribution limits, non-multicandidate PACs, like the ones created by Cuomo and de Blasio, have a contribution limit of $2,700 per candidate during an election (a combined $5,400 for the primary and general). Their PACs could donate as much as $5,000 a year to other PACs. The New York State Democratic Committee can also donate up to $5,000 per election to candidates and PACs that contribute to federal political committees, as well as unlimited transfers to state, district and local party committees, which in turn could use some of those funds to help congressional candidates.  

Meanwhile, de Blasio's Fairness PAC—which was launched to aid Democratic candidates and cover the cost of travel for the mayor and his wife—raised $234,500 and spent $202,000, only $23,000 of which went to Democratic candidates.

De Blasio's PAC has "spent significantly on races since that filing and will continue to do so in the weeks ahead, both locally and nationally," said de Blasio spokesman Eric Phillips in an email to Sludge

The PAC's top contribution was $6,000 to Abrams in Georgia. Ben Jealous, the Democratic candidate running for governor in Maryland, came in second with a $5,000 contribution from Fairness PAC.

De Blasio's PAC made additional $2,700 contributions to four Democratic congressional candidates—Randy Bryce in Wisconsin, Gina Ortiz Jones in Texas, Lucy McBath in Georgia and Dana Balter in New York. The PAC also made a $303 in-kind contribution to Sen. Tammy Baldwin in Wisconsin in the form of travel, disclosures show.

Aside from the $106,717 transfer from the federal PAC to its state committee, the bulk of de Blasio's PAC spending—$43,000—went to legal services and consulting fees, expenses that are "typical for a new organization," de Blasio spokesman Eric Phillips said. De Blasio's PAC spent an additional $3,000 on travel costs, including a stay at a hotel in Milwaukee and nearly $2,000 on plane tickets, FEC disclosures show.