New York Special Interests Unload Outside Money to Help GOP-Aligned Dems
Unions, charter school boosters, the hospital lobby and other special interests have spent $2.2 million on independent expenditures in New York state races this year. Of the Senate spending, 69 percent is benefiting Democrats who have aligned with Republicans.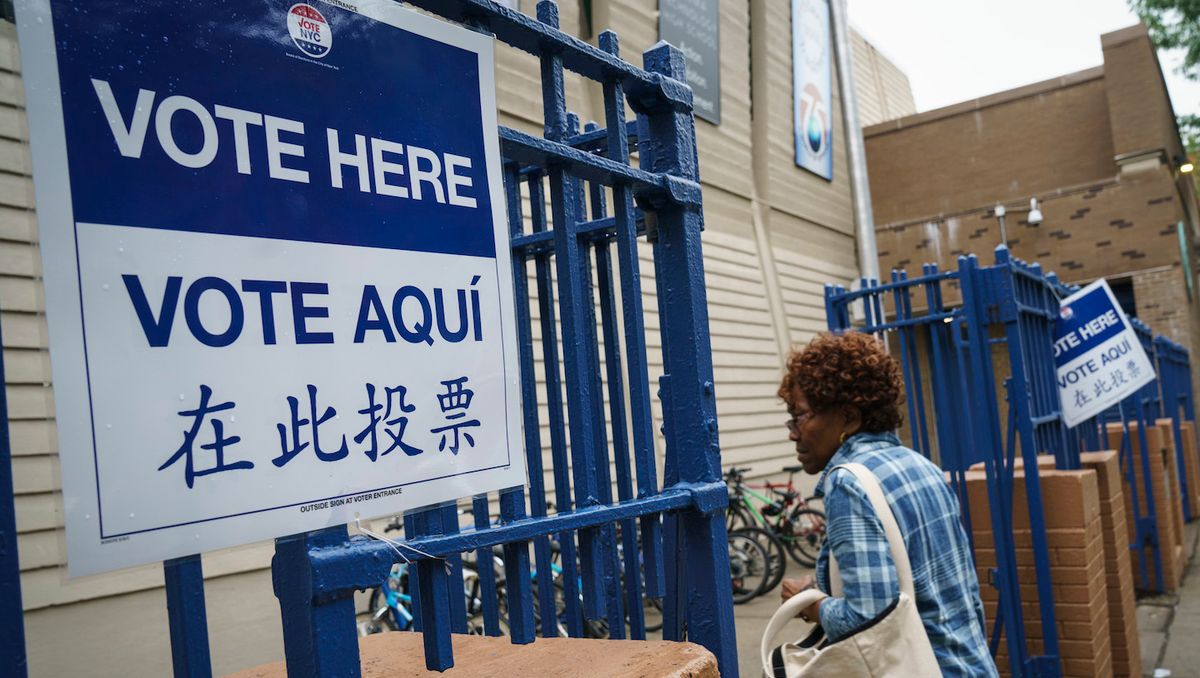 After a group of rogue state Senate Democrats disbanded their Independent Democratic Conference (IDC), which aligned with Republicans for seven years to give the GOP control of the chamber and blocked progressive legislation on voting rights, health care and abortion, support from its special-interest donors doesn't appear to have wavered.

Some of the same unions, charter school backers, hospital and real estate interests that backed these renegade Democrats when the IDC was active have continued to spend large amounts of money to boost their 2018 reelection campaigns, including Sens. Jeff Klein of the Bronx, David Valesky of Syracuse and Marisol Alcantara, who represents the 31st Senate District, covering west Manhattan.

A new Sludge analysis of state elections board data as of mid-day Wednesday has found that groups such as the Greater New York Hospital Association, and the Mason Tenders District Council of Greater New York and Long Island have committed a total of nearly $2.2 million towards independent expenditures in statewide primary and general election races this year, with 36 percent of that money supporting former IDC members.

Of the independent spending on state Senate races, seven out of every 10 dollars have gone towards ads, palm cards, mailers and other support for six ex-IDC Democrats. All former IDC members are facing progressive challengers in today's primaries.

These independent expenditures, which are not subject to spending limits and are not permitted to be coordinated with candidates or their campaigns, are just part of a multipronged effort to assist ex-IDC members by special interests in New York that like what these lawmakers have done for them over the past several years. Many of the interest groups donate directly to the members' campaigns, and as Sludge recently reported. They have also given money to political committees, which a federal judge ruled in June were illegal, that spend money to help these candidates' prospects.

Here are the special interests that have devoted the most money to independent expenditures in New York during the primary and general elections this year:

New Yorkers for Quality Health Care

The second-biggest outside spender is New Yorkers for Quality Health Care, which gets its revenue from the Greater New York Hospital Association, a trade group that represents hospitals and has been one of the most generous backers of the IDC over the past several years. Having already given $450,000 to an illegal housekeeping committee associated with the IDC since 2016, the trade group reported spending nearly $448,000 in August supporting former IDC head Jeff Klein and ex-IDC member David Valesky, both of whom face strong Senate challenges from the left, with TV and digital ads.

Here's one ad supporting Valesky:

Valesky's opponent, Rachel May, told Sludge, "My opponent continues to rely on an increasingly antiquated model of campaigning that is heavy on big-dollar advertising and expensive consultants. These outside expenditures follow the same model. I am taking a different approach. Voters do not want to be passive targets of campaigns. I believe that at this moment in particular, voters want to be active participants in our democracy."
May says that while Valesky likes to say he's a cosponsor of the New York Health Act, which would bring single-payer health care to the state, in meetings "he usually follows that up with conversations about why the NYHA would never pass and could never work.

"Given the 'major concerns' the GNYHA expressed about the NYHA right before they began their money blitz for my opponent and fellow IDC founder Senator Jeff Klein, I can only suspect they are betting that he will never support the NYHA, either by refusing to vote for it in a Democratic majority or by returning to some power-sharing agreement with the Senate GOP after the elections," May said.

The spokeswoman who has spoken on behalf of former IDC members in other Sludge stories did not respond to multiple requests for comment from Alcantara, Klein and Valesky.

"Jeff Klein has a long history of taking special interest money and delivering for those donors," David Neustadt, spokesman for the campaign of Klein's progressive challenger Alessandra Biaggi, told Sludge. "He always claims to be for progressive legislation, but never delivers if it's against the interests of his donors. For example, he's taken more than $1 million from landlords and done nothing, despite many promises, to fix the weak laws that are supposed to protect tenants."
Hotel Workers for Stronger Communities

Funded by the AFL-CIO union, the New York Hotel and Motel Trades Council, which represents hotel workers, and the Hotel, Restaurant and Club Employees Local 6 union, this political spending group injected last-minute cash into three statewide races and one state Senate contest. The group spent $820,000—the most of any group as of Wednesday—on TV and radio ads, mailers and text messages supporting the state Democratic Party's picks: Andrew Cuomo for governor ($248,000), Kathy Hochul for lieutenant governor ($76,229) and Tish James for attorney general ($248,000). The group also spent another $248,000 backing John Liu, the former New York City comptroller who is trying to unseat former IDC member Tony Avella in Senate District 11.

Laborers Building a Better New York

This political group, funded by the Mason Tenders District Council of Greater New York and Long Island, spent close to $204,000 on independent expenditures. The spending mostly went towards palm cards and mailers backing the Democratic establishment favorites for statewide races—Cuomo, Hochul, James and Comptroller Thomas DiNapoli—and nine state legislative candidates, including five ex-IDC senators and Sen. Martin Dilan, another real estate-friendly senator who, as Sludge reported on Wednesday, is linked to a potentially illegal, unregistered political fundraising group backed by major New York City real estate developers and landlords. Dilan will attempt to fend off young, leftist challenger Julia Salazar in Senate District 18 today.

Many other outside spending groups have spent tens or hundreds of thousands of dollars on outside ads:

Patrolmen's Benevolent Association I.E. Committee: $196,768 supporting three former IDC members, Marisol Alcantara, Jeff Klein and Jose Peralta, and funded by this police union.

"Once again, Marisol Alcantara's campaign is being bankrolled and assisted by real estate developers, charter school backers, and right-wing ideologues whose only interest is continued Republican control of the State Senate," Richard Fife, spokesman for challenger Robert Jackson's campaign, told Sludge. "Last week, four ugly, disfiguring mailers for Alcantara arrived care of the Patrolmen's Benevolent Association, a group that regularly opposes criminal justice reform and has fought to continue stop-and-frisk. It's easy to understand why the PBA and real estate interests would want to join these other big money interests in re-electing a Republican-empowering 'Democrat' like Alcantara to the State Senate."
Committee for Justice and Fairness PAC: $100,000 against progressive attorney general candidate Zephyr Teachout, entirely funded by real estate tycoon Stephen Ross' business, The Related Companies.

Empire State 32BJ SEIU PAC: The property services workers union 32BJ has spent $89,000 supporting Klein challenger Biaggi, the only other IDC challenger besides Liu to benefit from outside assistance, and $1,540 opposing Klein.

Parents Vote: Funded by three billionaire charter school enthusiasts, Walmart heirs Alice and Jim Walton and financial executive Paul Tudor Jones, this spending group supported former IDC members Alcantara ($55,000) and Jesse Hamilton (over $37,000) with polling, campaign literature and staff time, paid for in August.

One Voice New York: First reported by Crain's, real estate and insurance firms donated $80,000 to this spending group to back James for attorney general. The group released an ad aimed at Jewish voters and has reported spending close to $44,000 so far, mostly on the ad.

Transport Workers Union of America: This union representing New York transit workers spent $31,625 on an ad supporting Cuomo, despite the governor's neglect of the New York City subway system.

Biggest Beneficiaries

The ten candidates who have benefitted from the most outside spending this fall are:

Tish James (AG): $319,175*
Jeff Klein (S-34): $295,937
Andrew Cuomo (Gov.): $284,200
John Liu (S-11): $247,895
David Valesky (S-53): $223,725
Marisol Alcantara (S-31): $180,406
Alessandra Biaggi (S-34): $99,639
Kathy Hochul (Lt. Gov.): $80,908
Jesse Hamilton (S-20): $44,291
Aridia Espinal (A-39): $31,049
*includes one-third of the $100,000 spent against James' opponent Zephyr Teachout. (There are four candidates in the Democratic primary.)

The top ten donors to outside spending groups since the beginning of 2017:

Steven A. Cohen: $1,850,000 to New Yorkers for a Balanced Albany
Alice Walton: $1,385,000 to New Yorkers for a Balanced Albany and Parents Vote
N.Y. Hotel and Motel Trades Council: $1,150,000 to Hotel Workers for Stronger Communities
Patrolmen's Benevolent Assoc. of NYC: $1,003,381 to Patrolmen's Benevolent Assoc. I.E. Committee
Robert Mercer: $1,000,000 to Win for NY
Paul Singer: $1,000,000 to New Yorkers for a Balanced Albany
Dan Loeb $1,000,000 to New Yorkers for a Balanced Albany
N.Y. State Laborers' Organizing Fund $815,299 to Build New York Fund
Hotel, Restaurant and Club Employees Local 6 $750,000 to Hotel Workers for Stronger Communities
New Yorkers for a Brighter Future $668,744 to NY Forward and Teachers for Christine
Some of these recipient committees have not reported spending yet, implying that most or all of their spending will be focused on the November general election.