Vowing to Fight Epidemic, Delaware Senator Takes Money From Opioid Makers Sued by His State
Democrat Tom Carper, who has a primary challenge on Sept. 6, says he is committed to fighting the opioid epidemic, but he has received thousands from Big Pharma and refuses to support a bill that would fund state's efforts to treat opioid addicts.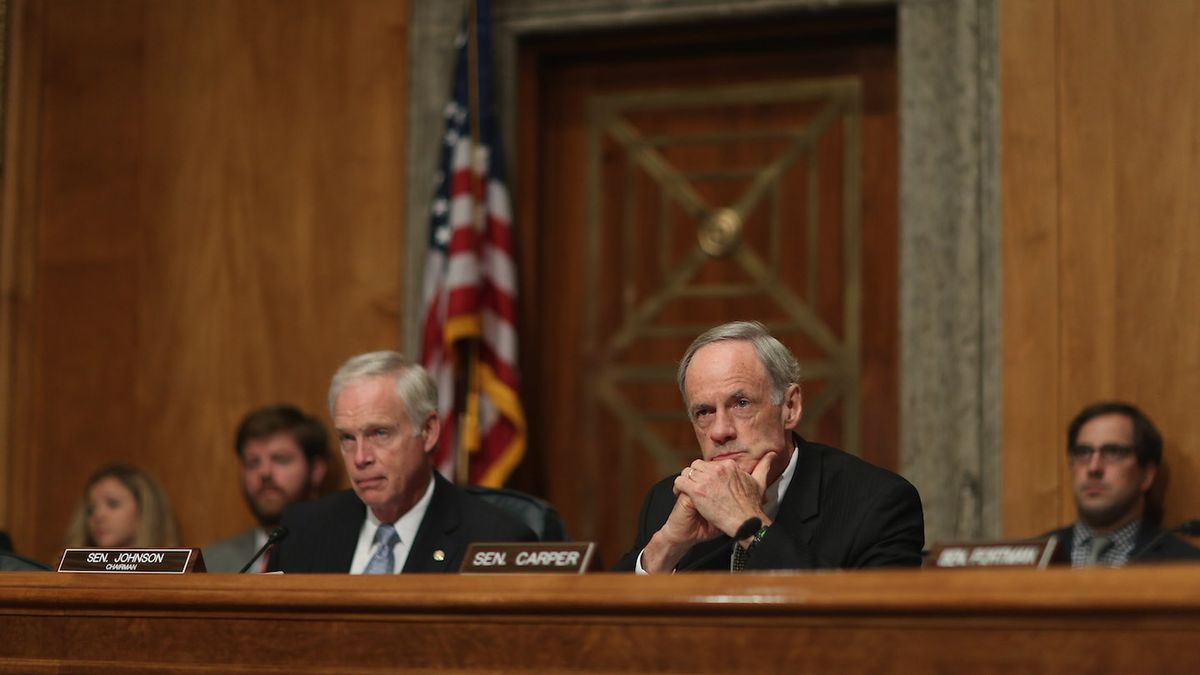 On May 25, 2017, Democratic Delaware Sen. Tom Carper said in a Senate hearing, "It's all hands on deck to fight the opioid epidemic."

Just one week earlier, the senator's campaign had accepted a $2,500 donation from the political action committee of opioid distributor AmerisourceBergen, which his state is now suing for having fueled opioid addiction in Delaware. And a few months later, his campaign accepted $2,500 from the U.S. branch of Teva Pharmaceuticals, an Israeli opioid manufacturer also named in the lawsuit. The year before, Carper had also taken in $2,500 from the company.

While Carper proceeded to sponsor bills to combat the opioid crisis, he continued to accept campaign donations from the political action committees of additional opioid manufacturers and distributors named in other lawsuits including Johnson & Johnson, according to a Sludge review of Federal Election Commission data.

Sludge has also found that Carper's wife, Martha Ann Stacy, owns as much as $185,000 worth of stock in five pharmaceutical companies, including opioid manufacturers and drug retailer CVS Health, which Delaware is suing for misrepresenting the dangers of opioids. In May, Stacy purchased between $1,001 and $15,000 worth of stock in CVS Health.

Former Vice President and Delawarean Joe Biden recorded a robocall for Carper—who once helped derail Biden's public-option health insurance proposal—possibly an indication that the three-term incumbent is feeling the heat from his progressive challenger, Kerri Harris. After House incumbent Joe Crowley lost his Democratic primary against Alexandria Ocasio-Cortez, Carper began campaigning more actively.

On Sept. 6, Carper faces a primary challenge from Harris, a community organizer and veteran once considered a longshot candidate, who has earned support from key progressive organizations and political figures including the Working Families Party, Our Revolution and Democratic New York House nominee Ocasio-Cortez.

In contrast to Carper, Harris pledged to refuse corporate PAC donations, something she has followed through with, according to her campaign finance records. Harris received an endorsement from Justice Democrats, a progressive group that backs candidates who have made this pledge.

In 2016, Carper denied that campaign donations from opioid manufacturers affected his lawmaking, saying that, "My campaign has accepted donations from a diverse group of individuals, advocacy organizations and corporations, but the notion that any of these donations eclipse the interests of my constituents is simply untrue."

Harris disagrees. Taking pharmaceutical donations "says that you can expect that [Carper's opioid] legislation will only go so far," she told Sludge. "The hope of holding those responsible for murder and attempted murder will be a fading glimmer of hope for family members left behind. The influence of big pharma money threatens the lives of Delawareans."

The progressive challenger tells Sludge she will call on Carper to return the contributions and for his wife to divest from opioid companies.

"I do not accept any donations from pharma or corporate PACs," said Harris. "I made this decision because I believe our elected representatives should represent people, not corporations. I want to make it clear that I will always put the interests and needs of people first, and no amount of money will change that. In addition, even the perceived influence of money threatens our democracy."
Sued by State, Opioid Companies Give to Senator

In 2017, 345 people died in Delaware from opioid overdoses, a 12 percent increase from the year before.

Carper sits on the Senate Finance Committee's health care subcommittee, which oversees parts of the Centers for Medicare and Medicaid Services, a division of the Health and Human Services Department. Medicaid provides much of the funding for substance abuse treatment.

Since 2013, according to federal data, Carper's 2018 campaign has received $13,500 total from Teva Pharmaceuticals and AmerisourceBergen, the two companies being sued by Delaware Attorney General Matt Denn. Including Gilead Sciences, Johnson & Johnson and Pfizer, the senator has received $21,500 this election cycle from companies currently facing lawsuits over their involvement in the opioid crisis.

Carper spokeswoman Christine Brennan told Sludge, "Senator Carper supports Attorney General Denn's lawsuit to hold any responsible parties accountable for the tragic opioid epidemic and is proud that Delaware's representatives, in Dover and in Congress, are leading the way to address this public health crisis. In the Senate, Senator Carper is currently leading the charge to keep the deadly opioids coming into our country from countries like China off of our streets, while also working to ensure that those suffering from addiction can get the treatments they need more quickly and efficiently."

Brennan did not address questions about Carper's campaign donations from companies being sued by his state.

Pennsylvania-based Teva Pharmaceuticals USA manufactures an array of fentanyl opiate drugs and owns distributor Anda, which is named in the Delaware lawsuit for allegedly downplaying the addictive nature of its products. Sen. Claire McCaskill (D-Mo.) accused Teva in March of "stonewalling" her Senate probe into the opioid crisis. "While many of these companies have cooperated with McCaskill's requests, Teva has continually refused to comply with her investigation," McCaskill's office wrote in July.

The PAC of distributor AmerisourceBergen Corporation, one of the country's largest drug distributors, has donated $8,500 to Carper's campaign since 2013. The Delaware attorney general said that distributors like AmerisourceBergen failed to report suspicious orders of opioids—orders so large they defy legitimate medical purposes—something they are legally obligated to do. The company, along with other Carper donor companies, faces dozens of lawsuits from cities, counties and states and in May received a federal grade jury subpoena related to opioids and its communications with a drugmaker.

"These companies ignored red flags that opioids were being diverted from legitimate channels of distribution and use to illicit channels," said Denn in January. "The failure of these corporate defendants to meet their legal obligations has had a devastating impact on Delawareans."

Carper's campaign has also received $10,000 from Pfizer, which manufactures the morphine drug Embeda; $3,500 from Gilead Sciences, which benefits from the injected opioid epidemic; and $1,000 from the PAC of Johnson & Johnson, which owns Janssen Pharmaceuticals and was sued in April by Kentucky Attorney General Andy Beshear for "devising a deceptive marketing scheme that mischaracterized the risk of opioid abuse and addiction." Janssen Pharmaceuticals allegedly claimed that its opioids were "rarely addictive" when used for chronic pain.

In addition, the Carper campaign has taken in a total of $8,500 from three trade groups that represent opioid makers or retailers since 2013: Pharmaceuticals Research & Manufacturers Of America, the Biotechnology Innovation Organization, and the National Association of Chain Drug Stores.

Overall this Senate election cycle, Carper's 2018 campaign has received nearly $150,000 from the PACs of pharmaceutical manufacturers and trade groups, per Sludge's analysis. His leadership PAC, First State PAC, took in close to $110,000 from Big Pharma and drug trade groups since 2013.
Others Return Contributions

Advocacy groups and candidates have called on other candidates to return campaign cash from opioid manufacturers. Michigan Democratic House nominee Elissa Slotkin has pointed out that her incumbent Republican opponent Mike Bishop has received campaign donations from two drug companies being sued by Michigan counties for their deceptive marketing of opioids. Slotkin, a moderate, is refusing to accept corporate PAC money.

Vermont Democratic gubernatorial nominee Christine Hallquist recently called out incumbent Republican Gov. Phil Scott for accepting a campaign donation from OxyContin producer Purdue Pharma. "I do honestly believe, follow the money. Follow the money tells you what a person's values are," Hallquist said.

Some candidates have returned or donated tainted contributions. McCaskill returned a $2,700 contributions from Pfizer's PAC. "To avoid even the appearance of anything that would intersect with Claire's investigation into opioid manufacturers, the campaign instituted a policy of returning any donations from pharmaceutical companies that manufacture opioids," said McCaskill campaign finance director Erika Brees.

Democratic Rhode Island Lt. Gov. Dan McKee, who faces a primary challenge on Sept. 12, said he'll donate campaign money from Perdue Pharma executive Jonathan Sackler and his wife to a recovery organization. Gov. Gina Raimondo, also a Democrat, says she won't return her contribution from Sackler.
Invested in Opioids

Financial disclosures show that Carper's wife, Martha Ann Stacy, is heavily invested in pharmaceutical companies. Her retirement and brokerage sweep accounts hold between $24,000 and $185,000 worth of stock in Abbott Laboratories, AbbVie, Bristol-Myers Squibb, Johnson & Johnson, Pfizer and drug retailer CVS Health, according to Carper's 2017 annual disclosure and a June 2018 periodic transaction report.

Stacy owns between $1,001 and $15,000 worth of stock in Abbott Laboratories, the nation's second-largest opioid distributor, which faces lawsuits, like this one from St. Clair County, Ill., over deceptive marketing; up to $15,000 in drugmaker AbbVie, a spin-off of Abbott; up to $80,000 in Johnson & Johnson; up to $15,000 in drug manufacturer Bristol-Myers Squibb; and as much as $45,000 in opioid producer Pfizer.

"As a member of the Senate, Carper routinely votes on legislation with huge implications for Johnson and Johnson and other companies that he and his wife own a stake in," Jennifer Epps-Addison, president and co-executive director of the progressive Center for Popular Democracy Network, told Sludge. "There is no evidence that their investments have broken any laws, but the people of Delaware should ask themselves: Does Senator Carper's voting record demonstrate that he is acting in the best interests of the people he's been elected to represent, or in the best interests of himself and other shareholders first?"

Candidates Differ on How to Fix the Crisis

Carper's challenger Harris has worked with an activist coalition called the Opioid Network on legislation from Sen. Elizabeth Warren (D-Mass.) and Rep. Elijah Cummings (D-Md.), the CARE Act, to combat the opioid epidemic by treating it as a public health crisis and providing ample funding to treat substance abusers and their families. The network is facilitated by the Center for Popular Democracy, and CPD's action fund has endorsed Harris.

Harris told Sludge that she was involved from the beginning in the network, helping to "develop focus areas for the bill and [speaking] at the press conference to roll out the legislation and encourage other members of Congress to sign on."

The challenger told Vogue that her "standout moment" during a debate on Monday was asking Carper to sign on to the CARE Act, something he said he couldn't support.

Overall, Carper has a mixed record on opioid treatment initiatives. In 2009, he was one of three Democrats on the Finance Committee to join Republicans in voting against closing the Medicaid Part D coverage gap, which would have enabled Medicare to buy drugs at the same prices as Medicare, thus reducing costs for older patients. A MapLight investigation found that the Democrats voting against the measure had received four times the amount of campaign contributions from pharmaceutical companies as those who voted for it.

In 2012, Carper voted against an amendment that would have stripped pharmaceutical companies of their drug exclusivity if found guilty of making false claims about those drugs. At that point, Purdue Pharma had already pled guilty to misleading regulators about OxyContin.

But during the current session of Congress, Carper, the top Democrat on the Permanent Subcommittee on Investigations, co-authored a bipartisan report on hundreds of millions of dollars worth of opioids illegally shipped by China into the U.S. He cosponsored amendments to the Department of Homeland Security authorization bill this year to fight online opioid purchases. The senator has also sponsored bills this session that have passed the Senate Finance Committee: one to streamline telehealth treatment of opioid abuse and another to speed up Medicare recipients' access to opioid alternatives.

Harris supporters don't think Carper's approach is remotely sufficient.

"If Carper understood the full impact of the opioid crisis in Delaware, he would cosponsor Senator Warren's legislation," said Epps-Addison. "Instead, Carper has supported meager half-measures that fail to recognize the scale and urgency of the crisis."

Said Harris, "We need to treat this as a public health epidemic, and make sure the funding is there to provide the treatment people desperately need."
UPDATE: On Friday, after publication of this article, Harris formally called on Carper to return contributions from opioid companies and for his wife to divest from pharmaceutical firms. "I call on Carper to immediately return campaign contributions from opioid companies and to divest of those investments," she said in an emailed statement. "Other lawmakers, including Carper's colleague Claire McCaskill, have done the same. Delawareans deserve to know that its senator will put their interests ahead of opioid manufacturers."