Facebook Ads Offer Glimpse of Dueling Dark Money Supreme Court Campaigns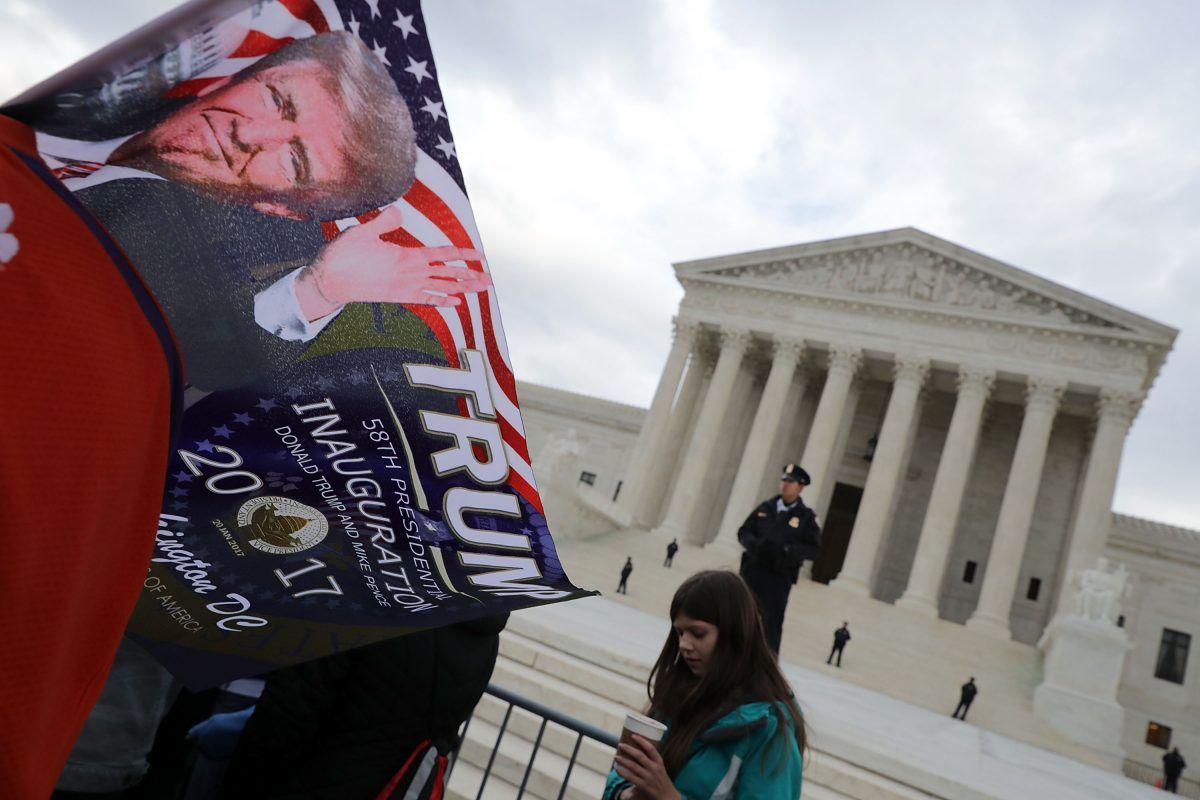 While spending from dark money groups seeking to influence who will be confirmed as the next Supreme Court nominee has yet to reach its peak, for the last two weeks, organizations on opposing sides of the political spectrum have been purchasing ads on Facebook, laying the groundwork for a fierce battle over who succeeds Justice Anthony Kennedy.
The ads and the demographic targeting information that Facebook recently made available to the public offer a preview of the massive ad-spending battle that is to come. 
Days after Kennedy announced his retirement in late June, the Judicial Crisis Network, a conservative advocacy group, began buying ads on Facebook geared toward users in West Virginia, Maryland, Virginia, Indiana, North Dakota and Washington, D.C., according to archived ads Facebook recently made available.

The Judicial Crisis Network has so far spent between $41,600 and $160,192 on nearly two dozen Facebook ads, reaching between 1.37 million and roughly 5.16 million Facebook users, according to Sludge's review of nearly 200 ads on the social media website.

By comparison, the liberal alternative, Demand Justice, has purchased roughly 130 ads with a smaller reach. Demand Justice—whose executive director previously worked for Sen. Chuck Schumer, the Obama administration and Hillary Clinton's presidential campaign—has spent between $28,900 and $135,465 on Facebook ads reaching between 1.94 million and 4.73 million Facebook users.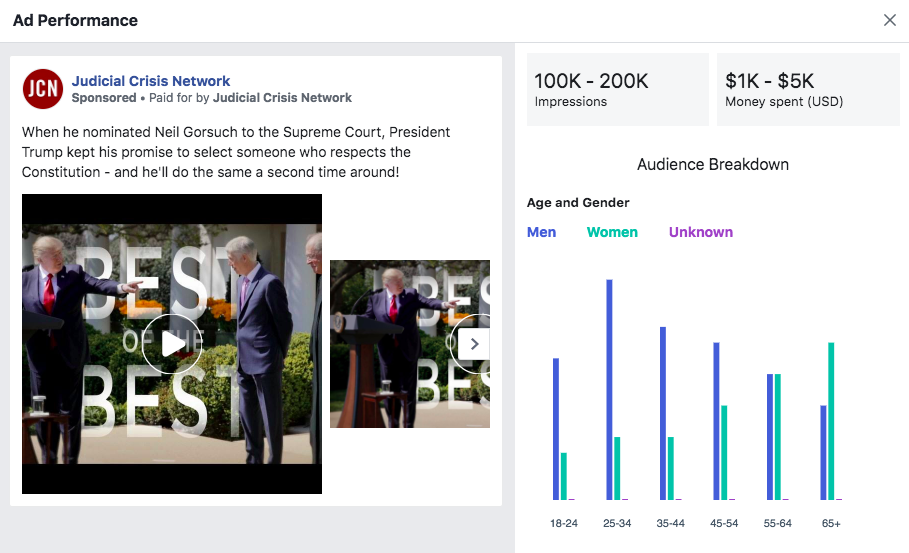 Unlike the Judicial Crisis Network, which targeted Facebook users in six states with some Democratic senators considered to be swing votes, Demand Justice has cast a wide net, targeting Facebook users in dozens of states, including Alaska and Maine, where Republican Sens. Lisa Murkowski and Susan Collins are considered to be swing votes.

Demand Justice's Facebook ads have been mostly geared toward women, particularly baby boomers—those who were young women or adolescents when the Supreme Court issued the landmark 1973 decision in Roe v. Wade—analytics provided by Facebook show. An audience breakdown also shows that Demand Justice's ads are targeting millennials.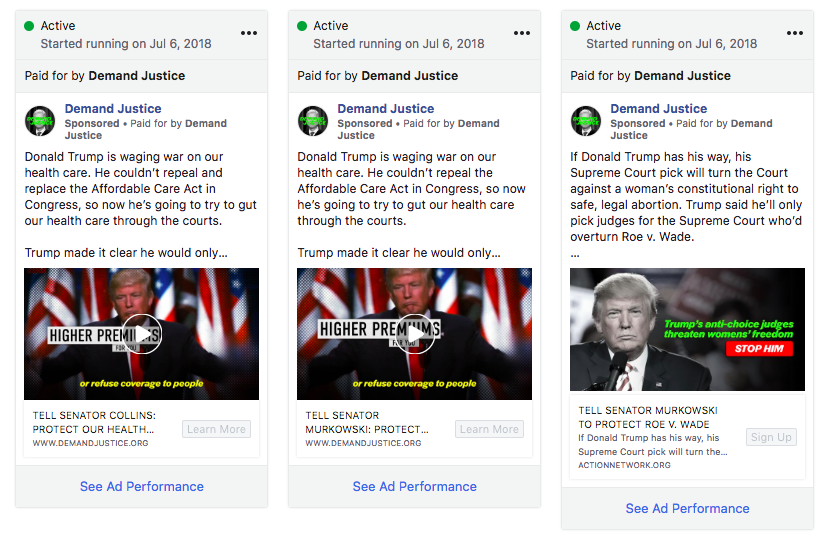 Demand Justice and The Judicial Crisis Network did not respond to multiple requests for comment on this story.

Facebook implemented new ad policies earlier this year in the wake of possible interference in the 2016 election by Russia, and now, for the first time, the public can see how these organizations use their influence on the social media platform.

As President Donald Trump prepares to name his next Supreme Court nominee, dark money groups are on track to surpass the millions of dollars spent boosting the president's first nominee, Justice Neil Gorsuch.

On Tuesday, the Judicial Crisis Network said it was launching a $1.4 million ad buy on national cable and online, with a focus on Alabama, Indiana, North Dakota and West Virginia, red states where Democratic senators reside.

"This is an even bigger fight than the one to get now-Justice Gorsuch confirmed and therefore the budget will be at least $10 million to confirm the president's next great justice," Carrie Severino, chief counsel with JCN, said in a statement to Fox News.
Over the weekend, The Judicial Crisis Network bought 35 ad spots totaling nearly $64,000 to air on Fox News in the Washington, D.C. area over the next few weeks, disclosures with the Federal Communications Commission reviewed by Sludge show.
Demand Justice plans to spend $5 million on radio, TV and digital ads opposing Trump's Supreme Court nominee.

While Facebook's new political ad disclosures and FCC data help show where money is going, there's no telling where the funding is coming from. Because the Judicial Crisis Network and Demand Justice are 501(c)(4) nonprofit groups, they aren't required to identify their donors or disclose much of their non-elections spending.

The creation of Demand Justice codifies the practice of having dark money groups fund issue campaigns, said Brendan Fischer, director of federal reform at the Campaign Legal Center.

As a result there is "tons of undisclosed money sloshing around and the public has no idea who is influencing them," Fischer said.

Other groups, such as Americans For Prosperity, the conservative nonprofit founded by billionaires Charles and David Koch, have spent between $1,000 and $7,590 on Facebook ads reaching between 166,000 and 522,000 Facebook users. The ads, which are targeting users in Indiana, Florida, Kentucky, Louisiana, Florida, California, Ohio and several other states, are primarily aimed at men and women over the age of 55, according to Facebook's ad disclosures.