AT&T Tied to Supposed Startup Group Lobbying Against Net Neutrality in California
UPDATE (August 3, 2018): In June, CALinnovates did not respond when asked by Sludge whether it received financial support from AT&T. However, a lobbying disclosure filed by AT&T with the California Secretary of State on July 31, 2018, shows that the organization received $100,000 from AT&T during the most recent quarter.
As a key California State Assembly committee prepares to take up a bill restoring net neutrality regulations in the state, a nonprofit with deep ties to AT&T is ramping up a lobbying effort aimed at creating a loophole in the legislation.

CALinnovates, a nonprofit billed as an advocacy group for tech startups, distributed a three-page study to members of the Assembly last week advocating against a provision in a pending net neutrality bill that would prohibit internet service providers from exempting websites and apps from counting against customers' data caps, a practice known as "zero rating." The study says that Californians save more than $130 million a year by subscribing to plans that offer zero-rated data, and that the benefits go disproportionately to communities of color.

Net neutrality proponents, however, see zero rating as a loophole that allows ISPs to favor their own content in violation of the basic principles of equal treatment and consumer choice that net neutrality is meant to protect.

"People of color and low-income communities in California and everywhere else deserve equal access to the Internet," said Steven Renderos, organizing director at the Center for Media Justice, in an email to Sludge. "Zero-rated plans like those offered by AT&T and Verizon present our communities with a false solution, one that limits their choices in content providers, lowers their data and doesn't save them any money."

AT&T recently expanded its zero-rating offerings, or "Sponsored Data" as the company calls it. As of February 2018, prepaid and contract wireless customers are able to stream content using apps on their phones from three AT&T-owned services—DirecTV, U-Verse and Fullscreen—if they subscribe to them in addition to their wireless service.

The Assembly Committee on Communications and Conveyance is scheduled to meet on Wednesday, June 20, to consider net neutrality legislation. According to reports, they are planning to vote on a hybrid bill made up of two bills (SB 822 and SB 460) that includes a ban zero rating, but it could face an amendment to remove the ban during the committee process. Both CALinnovates and AT&T have lobbied against the zero-rating ban included in SB 822 and the new hybrid bill.
A Special Relationship With AT&T
CALinnovates presents itself as an advocacy group for the tech and startup communities and describes its mission as "advancing a more modern economy, one that creates new companies, jobs and opportunities by leveraging technology to address our biggest public challenges." But on the issue of net neutrality, CALinnovates advocates positions that align with massive telecommunications corporations.
Of the 22 organizations that are currently listed as members of CALinnovates, AT&T sticks out because of its dominant market position and its sheer size. Other members of CALinnovates include obscure digital media companies, tech startups and community organizations. All of the other members also appear to be based out of California. Meanwhile, AT&T's corporate headquarters is located in Dallas, Texas.

CALinnovates was founded in 2010 by Lane Kasselman, a communications consultant with experience working for politicians like Hillary Clinton and corporations like oil and gas giant BP. Shortly after launching CALinnovates, Kasselman left to take a job with AT&T as director of communications and public affairs in their San Francisco office.

Upon Kasselman's departure, CALinnovates hired Mike Montgomery to serve as its new executive director. Prior to joining CALinnovates, Montgomery worked as a finance director for California Gov. Gray Davis and San Francisco Mayor Gavin Newsom. Both Davis and Newsom have raised significant sums of money for their campaigns from AT&T. Montgomery also worked as a political consultant for Platinum Advisors, a lobbying firm that counts AT&T among its clients. Disclosures filed with the California Secretary of State confirm that Platinum Advisors lobbied on behalf of AT&T between 2003 and 2004, the time Montgomery was employed at the firm. When asked by Sludge whether he communicated with AT&T during his time at Platinum Advisors, Montgomery said, "I don't recall."

As a 501(c)(4) nonprofit, CALinnovates is not required to disclose the identity of their donors or how much money they receive from them, but Montgomery confirmed in an email that CALinnovates receives support from all of their members. When asked about funding from AT&T in particular, Montgomery declined to reveal any information.

"While we don't break out our funding in the way you asked, CALinnovates has received support from a wide range of companies and organizations, we believe because they see value in our insights and effectiveness in our actions," he said.
According to tax records reviewed by Sludge, CALinnovates' budget increased dramatically in 2014, the year that regulatory discussion around net neutrality were reopened because of the Supreme Court's ruling in Verizon v. FCC. CALinnovates' total cash contributions that year reached $1.7 million, far above the $373,000 they received in 2013 and the $414,000 received in 2012.

In September 2014, CALinnovates submitted a 21-page comment to the FCC that took the same side as AT&T in arguing against reclassifying ISPs under Title II of the Communications Act of 1934 —the key policy advocated by net neutrality proponents. In the document, the group describes itself as an organization that "brings together stakeholders in the technology and startup communities" but fails to mention its connections to AT&T.

In October 2014, Montgomery followed up with an ex parte lobbying visit with FCC Commissioner Ajit Pai and his legal adviser, according to a document filed with the FCC. Accompanying Montgomery for the visit was Robert Arcamona, one of the attorneys who co-authored AT&T's 95-page public comment submitted to the FCC's net neutrality docket.
More recently, since the FCC moved to repeal the 2015 net neutrality rules and the California legislature took up the issue, CALinnovates and AT&T have continued to take the same positions. During the repeal proceedings at the FCC, both submitted comments supporting a repeal of the 2015 net neutrality regulations. CALinnovates and AT&T have also both argued that Congress should decide the rules for net neutrality, not the FCC. And in California, both have lobbied against SB 822, the pending net neutrality bill that would ban zero rating.
Twitter Ads Against Strong Net Neutrality
Recently, CALinnovates has been running targeted ads on Twitter, using the handle @Internet_4Ever, that ask people to retweet in order to tell their Assembly members to oppose SB 822, the net neutrality bill that would ban zero rating. The ads do not identify the source of the funding behind them, but a link in the account profile does contain a note in the footer that says it is a project of CALinnovates.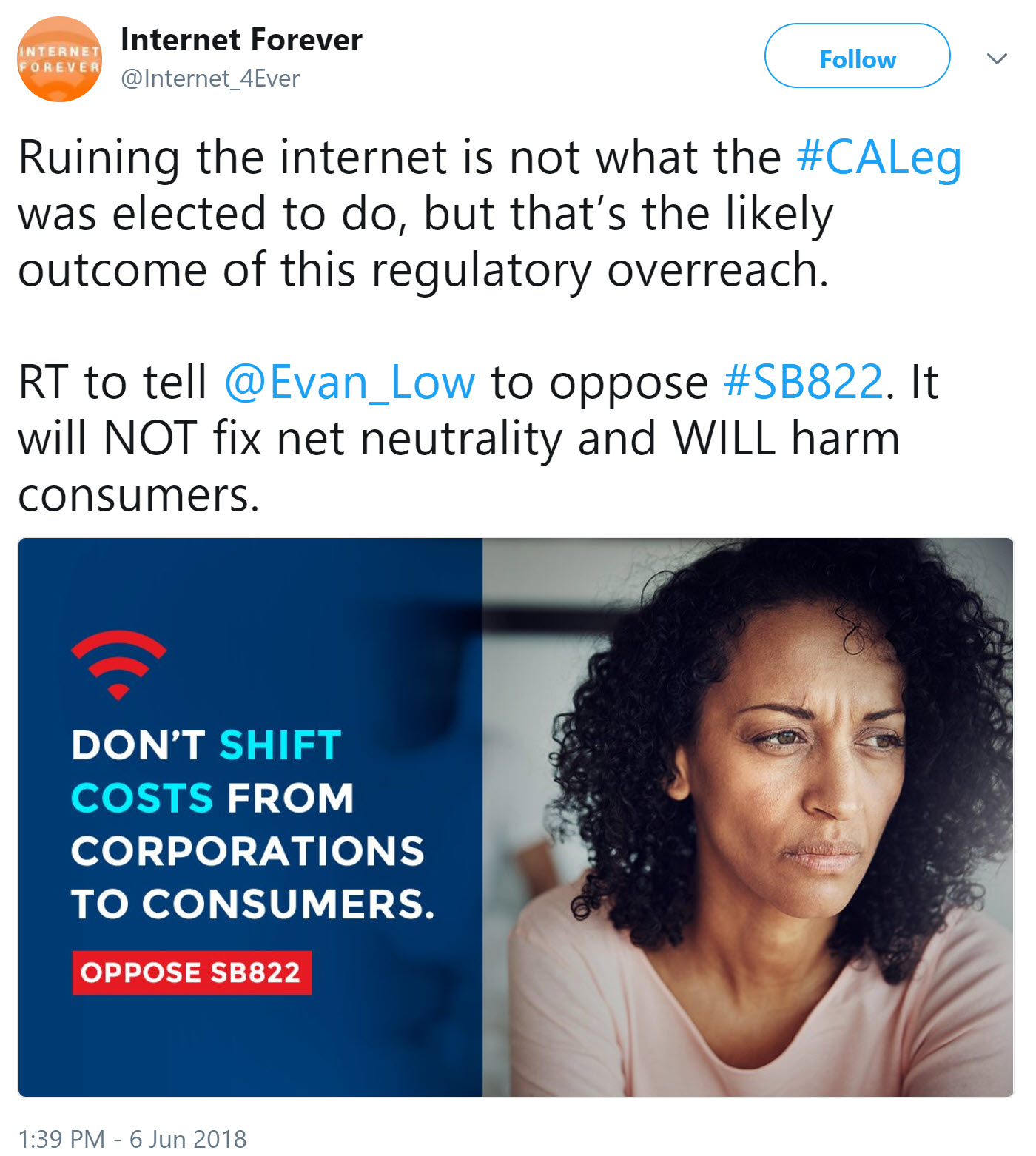 The Internet_4Ever account has never posted a non-sponsored tweet and it does not follow any other Twitter users. Only fifteen people follow the account, and one of them is Ben Golombek, regional vice president for communications and public affairs for AT&T California Public Policy. Golombek was previously chief of staff for Assemblyman Evan Low, a member of the Commerce and Conveyance Committee who will be voting on net neutrality legislation this week. At least four other accounts following Internet_4Ever are run by individuals employed by the California Cable & Telecommunications Association.