With Chicago's Mayoral Race Awash in Big Money, Reformers Aim to Amplify Small Donors
Barely one percent of funding in the mayoral race has come from small donors, according to the nonpartisan group Reform for Illinois, but reform proposals have the support of both candidates.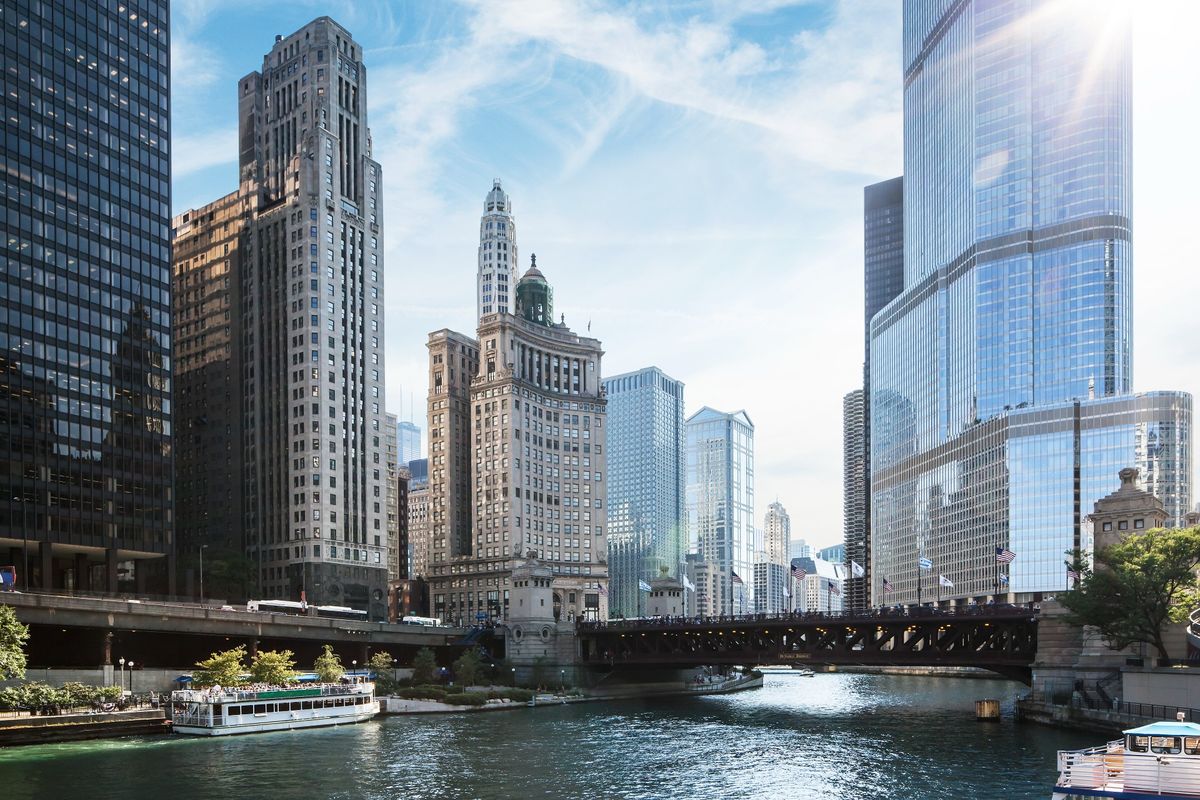 The race for Chicago mayor has been a high-raising affair, with large campaign contributions rushing into the candidates' campaigns ahead of the April 4 runoff election. Coming out of last month's nine-candidate general election, Cook County Commissioner Brandon Johnson and former Chicago Public Schools chief Paul Vallas, both Democrats, advanced to the runoff.
Overall in the Chicago mayor race, nine candidates who have been in the running have raised a combined $48.5 million, according to Illinois Sunshine, a campaign finance resource led by the nonprofit Reform for Illinois (RFI).
Another $1.8 million has been spent by outside groups to support or oppose candidates, much of it powered by "dark money" funding, RFI found in reviewing state election data.
Only a tiny share of funding in Chicago's mayoral campaigns through the end of 2022 has come in small donations of $150 or under directly from city residents: a minuscule 0.9% of all funds in the race, according to a report released last month by RFI. Large donors who gave $10,000 or more, meanwhile, accounted for a whopping 57% of money in the race to lead Chicago.
To address the supersized role played by large donors, the nonpartisan research and advocacy organization RFI is supporting legislative proposals at the state and city levels that would increase transparency in election spending and empower small donors in Chicago.
In an encouraging sign for government ethics reformers, both of the candidates in the mayoral runoff are on the record supporting the Chicago proposal to amplify small donations and cultivate more grassroots interactions with voters. In a questionnaire posed to all of the candidates by RFI and the good government group Common Cause Illinois, Johnson and Vallas expressed support for rolling out a public campaign financing program for city offices, an option that would include the new police district council and elected school board offices.
"There's been a lot of momentum around campaign finance reform, more awareness around Big Money in democracy and how harmful it can be," Alisa Kaplan, executive director of RFI, told Sludge. "We see that in the wave of reforms getting passed around the country, and it's Chicago's time now."
Illinois politics is famously no stranger to corruption by party leaders. In the latest of the many such cases going back decades, former Illinois House Speaker Michael J. Madigan will head to trial in April 2024, facing federal charges of racketeering and bribery that a U.S. attorney said amounted to his "leading, for nearly a decade, a criminal enterprise whose purpose was to enhance his political power and financial well-being."
"People in Illinois have put up with a lot in terms of corruption and trust in their government and they're ready for change," Kaplan said.
Tracing 'Dark Money'
During the Chicago mayoral race, groups such as LLCs and nonprofits whose funders are not publicly disclosed have donated to super PACs, rendering the true source of the PACs' spending opaque to voters and elections watchdogs. According to an analysis by RFI, more than $1 million in ad funding in the race came through such opaque channels, most of it supporting Vallas and former candidate Jesús "Chuy" García. In the past couple of weeks, more six-figure dark money donations were received by super PACs supporting Vallas and opposing Johnson.
To shed light on the interests behind the spending, Democratic state Rep. Maurice West last month introduced legislation, House Bill 3804, that would require groups spending on elections to disclose their original funding sources. Kaplan says RFI worked with Rep. West on the bill to require transparency for pass-through groups like the disclosure enhancements enacted in other states, or a measure recently passed in Arizona with the support of 73% of state voters.
"The goal of House Bill 3804 is to make sure voters have the information they need to make fully informed choices about who to vote for," Kaplan said. "We don't believe they can do that if they don't know who is providing significant financial support to a candidate. Voters should know who might be influencing their elected officials and who has an interest in them getting elected, so they can decide whether they share those donors' interests.
"Disclosing donors has an important anti-corruption function," Kaplan said. "You want to see who is giving money to make sure they're not trading favors, whether it is as blatant as an explicit quid pro quo. Or it might be something subtler but worth knowing about like pay-to-play politics, where donors give money so they can get better access to elected officials and get their ear on issues that are important to them. That's the type of attention most ordinary voters don't have a chance of getting."
"A small group of wealthy interests could potentially have a lot of influence over the next mayor of Chicago. If that money is dark, voters wouldn't know about it," Kaplan said.
Amplifying Small Donors
Heading into Election Day, Vallas has a far larger war chest, having raised $17.8 million overall to Johnson's $10.1 million. Clear differences jump out in the major sources of funding for the two candidates in the runoff.
The overwhelming majority of donations to Johnson's campaign through the end of last year came from the political action committees of city labor unions. Johnson's top donors have been the PACs of the Chicago Teachers Union and the American Federation of Teachers, totaling $2.4 million and $2.2 million respectively in the campaign overall.
The vast majority of Vallas' donations through the end of 2022 came from 16 individual donors, who gave his bid $50,000 or more, according to RFI's review. Vallas' top donors have been businessman and golf course developer Michael Keiser and his wife Rosalind, who have combined to give $900,000 in the campaign. Craig Duchossois, an investor based in Chicago and a Republican Party megadonor, has contributed a total of $760,000 to Vallas. More than a third of Vallas' donations have come from outside of Chicago, largely from other Illinois cities, RFI found in its latest update.
"Let's face it: most of these individual large donors, someone who can drop a $200,000 check, don't have much in common with everyday Chicagoans," said Kaplan.
To support small donor participation in city elections, Alderman Matt Martin last year introduced the Chicago Fair Elections Ordinance, which Kaplan discussed and supported in testimony to the City Council's Committee on Ethics and Government Oversight earlier this year. Following the model of small-donor matching programs offered in other cities, the legislation as drafted would create an option for qualifying candidates to opt-in to have valid donations of up to $175 matched six times by a pool of public funding.
A similar longstanding New York City small-donor matching program was expanded by voters in a 2018 ballot initiative, and the program hit record highs of use in the city's 2021 election cycle. An analysis from the nonpartisan Brennan Center found that the matching program was widely used to underwrite the campaigns of women and people of color who won Council seats that year. Another public campaign financing program, one based on vouchers distributed to all registered voters that can be redeemed for campaign funding by participating candidates, was adopted by Oakland voters in November, after succeeding in diversifying and expanding the municipal donor pool across several election cycles in Seattle.
In the City Council hearing on the public campaign financing proposal, Kaplan said, "We heard from several alderpeople about their frustration with the current system and how much they would prefer to run a competitive campaign that relied on everyday Chicagoans—people in their ward who really needed their help—instead of spending a bunch of time in a dark room calling the wealthiest people they know.
"There are always people who want to do a better job of representing people who need government the most," Kaplan said. "We're going to keep working to bring attention to these issues and waiting for the opportunity to get these reforms passed."
---
---
Read more: