Corporate America Butters Up Likely Next Energy and Commerce Chair
Rep. Cathy McMorris Rodgers (R-Wash.), the ranking member of the Energy and Commerce Committee, has received more business PAC donations this election cycle than any other House candidate.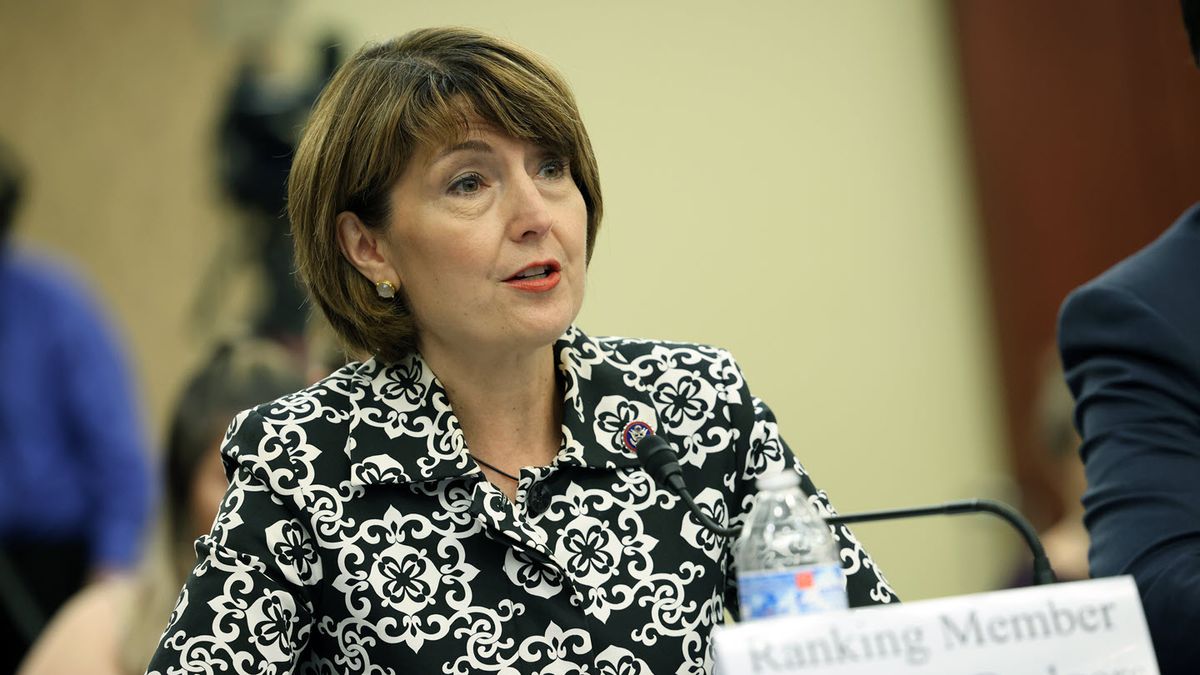 With the House of Representatives widely expected to flip to Republican control in the next Congress, corporations and trade associations are starting to butter up the likely next chairman of the committee that makes laws regulating many industries, including health care, energy, and technology.
Cathy McMorris Rodgers, a Republican representative from Washington State, is currently the ranking member of the House Energy and Commerce Committee and first in line to be the chair when the committee comes under GOP control. Her district, Washington's Fifth, is not considered competitive this election, and she is not facing a serious Republican primary challenger, yet business PACs are throwing more money at her than ever before.
From January 2021 through the first quarter of this year, McMorris Rodgers received nearly $1.7 million in campaign contributions from business PACs, more than any other House candidate, according to OpenSecrets. That haul puts her on pace to raise far more business PAC money than she ever has before in her prior elections. This is the first election cycle she has breached the top ten in the OpenSecrets rankings of House candidate business PAC recipients. Some of the PACs that have already maxed out to her with $10,000 contributions include ones affiliated with Amazon, Chevron, Pfizer, Verizon, and the National Association of Broadcasters.
Energy and Commerce is one of the so-called money committees whose members and chairmen typically raise large amounts of campaign money from donors in industries that have legislative business before it. It has the broadest jurisdiction of any congressional authorizing committee, covering issues including "health insurance, including Medicare and Medicaid," "food, drug, device and cosmetic safety," "national energy policy," "electronic communications and the internet," "consumer protection and product safety," and more, according to its website. Many of the consumer issues that have been batted around by Congress in recent years, like the high costs of prescription drugs and clean energy standards, get referred to the Energy and Commerce Committee when members try to address them in legislative proposals, so having an ally at the helm of the committee is extremely valuable for business interests as the chair can easily kill legislation by not scheduling it for committee work.
McMorris Rodgers received donations from 484 PACs from Jan. 1, 2021 through March 31, 2022, according to FEC records. OpenSecrets categorizes PACs by sector of the economy and determined that PACs in the health sector have given her the most, with $560,000 in contributions, and that pharmaceuticals and health products PACs lead the rest of the health sector with $221,500 in donations.
McMorris Rodgers' proposed bills that have been referred to the Energy and Commerce may provide a preview of the types of legislation she might pursue as the committee's chair. On pharmaceuticals, McMorris Rodger has proposed the Lower Costs, More Cures Act, which aims to make drugs more affordable through eliminating the Medicare Part D coverage gap and lowering the program's out-of-pocket cap, as well as through transparency measures like requiring drug manufacturers to report price increases of 10% or more per year to the government, among several other measures. Unlike the primary Democratic drug pricing reform proposal, McMorris Rodgers' bill would not empower the government to negotiate prices with drug companies. In a Fox appearance, she called the Democrats' bill "a proposal that is going to cost Americans innovation [and] cost us cures at the very time that we're on the verge of some amazing discoveries," echoing the pharmaceutical industry's talking points. On the matter of energy, her proposed bills include the American Energy Independence from Russia Act, which would authorize construction of the Keystone XL pipeline and force the government to approve more oil and gas leases on federal lands, and the Hydropower Clean Energy Future Act, which would create an expedited approval process for hydropower projects and require the federal government to purchase more renewable energy.
Business PACs are formed by companies and trade groups to raise funds and make contributions to candidates and other kinds of political committees. Since corporations are not allowed to donate to candidates, they form these PACs, referred to under federal law as "separate segregated funds," where they hold funds intended for political activity separately from their general accounts. While a corporation may use their general treasury funds to establish and administer a PAC, it can't receive transfers from the corporation. Instead, business PACs are funded by voluntary donations from company's employees and board members who may give up to $5,000 per year.
The ninth-term McMorris Rodgers, who holds a lifetime voting score of 92% from the U.S. Chamber of Commerce, has helped to lead the Republican caucus' media push against the Biden administration's policies. She panned the Democrats' sweeping Build Back Better Act, opposed by major business lobbying groups, as a "multi-trillion dollar tax and spending spree," calling it "an unprecedented lurch towards more government control in our lives that will saddle our children with a debt they can never pay back."
---
Read more: