Scam PAC Exploits Electoral College Opponents
Abolish the Electoral College PAC, which has raised nearly $1 million, has donated only $2,500 to candidates. The rest of the money has gone to salaries and consultants.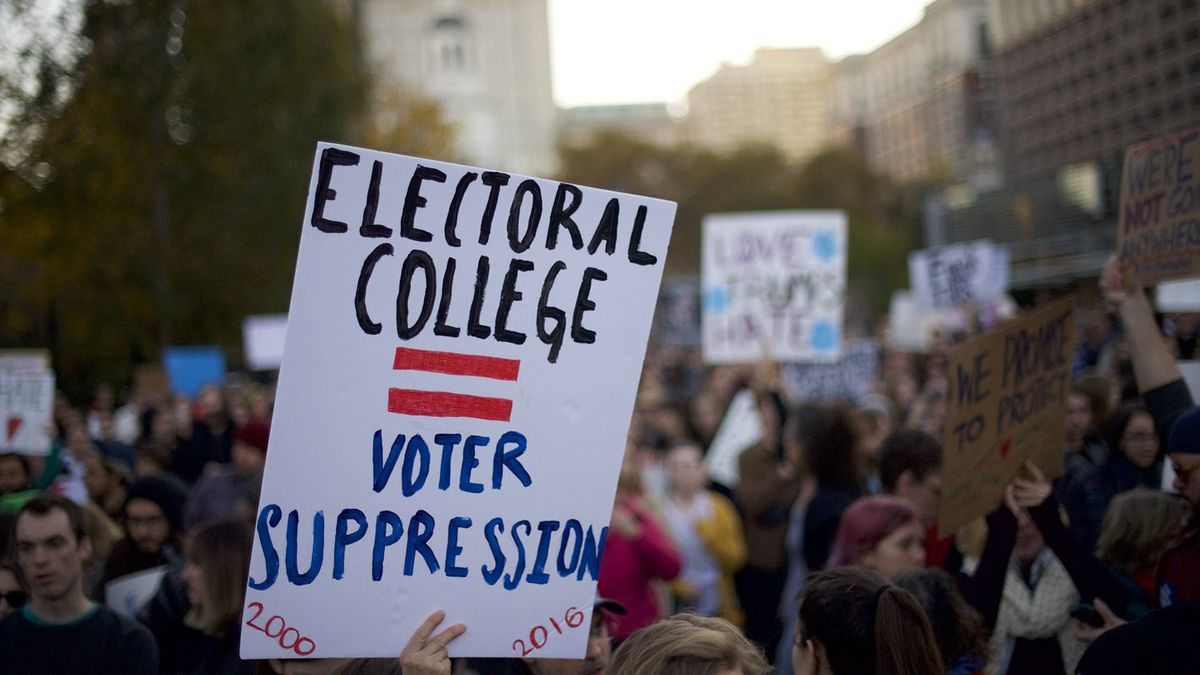 After Trump won the presidency despite losing the popular vote in 2016, Democratic voters grew increasingly frustrated with the Electoral College system. Pew Research Center found a steady rise in self-identified Democrats who support a switch to a national popular vote system during Trump's term, peaking in 2020 with 84% of them supporting the change.
When people believe that strongly in an idea, it can be easy for scammers to take advantage of them. Rory Steele, Kamala Harris' former campaign manager and a past employee of multiple Democratic super PACs, seems to have figured that out and is profiting from a PAC called Abolish the Electoral College.
The group, which was formed in November 2019 by Democratic consultant Kim Coleman before being taken over by Steele in 2020, has raised at least $980,000 from hundreds of small individual donors, many of whom give monthly recurring donations of amounts like $5. The top occupations listed by the group's donors are "not employed" and "retired."
The PAC says in its donation appeals that it supports candidates that favor reforming the system. "Abolish the Electoral College is investing in state-level Democrats not only to abolish the antiquated and unjust system, but to help them fight back against the new wave of GOP voter suppression laws," says an email that the group sent in July, for example. 
But a vanishingly small amount of the group's funds has gone to candidates. Sludge's review of Abolish the Electoral College's spending as of its latest FEC filing found that it has made just $2,500 in campaign contributions, to five Pennsylvania state politicians, which amounts to 0.28% of the group's total disbursements. It also made a charitable donation of $25,000 to the Domestic Policy Caucus, a Minnesota nonprofit that says on its website it supports a national popular vote system. 
The rest of the group's spending has gone to salary, fundraising, and list building. Steele, who is employed as the chief of staff of a group called With Honor that supports electing veterans to Congress, has pocketed $83,000 in salary from Abolish the Electoral College PAC, while another $119,000 has been spent on unspecified payroll. The group has spent more than $450,000 with SKDKnickerbocker, a Democratic Party consulting firm that it pays for digital advertising, list acquisition, fundraising services, and online fundraising consulting. It has also paid additional DC consultants including Seward Square Strategies, MBA Consulting Group, Scotch Digital, and Rosenbaum Strategies. Steele also received $18,559 as a DNC vendor after last year's election.
Sludge sent Abolish the Electoral College PAC multiple inquiries for evidence that they have additional activities furthering the goal of abolishing the Electoral College, but did not receive a reply.
The organization appears to engage in two primary activities to build its audience of potential donors. On Facebook, it has spent over $113,000 on ads that ask people to sign a petition supporting the abolishment of the Electoral College that link to a sign up page where people are prompted to enter their email addresses and be added to the group's email list. It also participates in multi-group list-building campaigns in the form of websites that appear to be petitions. There is no evidence that petitions are ever delivered, and signers must agree to receive emails from the groups that built the page.
Once someone has been added to the Abolish the Electoral College email list, the autoresponder welcome message they receive says the group is "supporting state-level candidates across the country who are dedicated to abolishing the electoral college." Subscribers to the group's email list then receive emails every day asking them for donations. The emails quote popular liberal figures like MSNBC anchor Chris Hayes, former Clinton administration official Robert Reich, and Georgia politician Stacey Abrams, and they use potentially misleading tactics like assigning subscribers with fake member ID numbers, warning that their membership status is pending and that they must donate to become a "2021 Democratic member."
"When the next generation asks what you did to stop Trump and prevent another disaster like him, you'll be able to say you were a proud member of Abolish the Electoral College," the footer of every email reads.
Abolish the Electoral College appears to fit the Federal Election Commission's definition of a "scam PAC," which it has defined as groups that "solicit contributions with promises of supporting candidates, but then disclose minimal or no candidate support activities while engaging in significant and continuous fundraising, which predominantly funds personal compensation for the committees' organizers." The Federal Election Commission has little power to go after these PACs because the Federal Election Campaign Act only prohibits a narrow category of fraudulent activity. The agency has called on Congress to pass a law giving them power to go after scam PACs.
Some scam PAC operators have been prosecuted, including Kyle Prall of Texas who raised hundreds of thousands through "Feel Bern" and "Trump Victory," but only donated less than $5,100 to the candidates, according to The Week. Prall was sentenced to three years in prison after pleading guilty to mail fraud charges.  
The AARP, which aims to protect its members against forms of elder abuse, has attempted to warn people about scam PACs in its fraud resource center. "Scammers are eager to take advantage of your civic engagement by tricking you into contributing to a bogus political action committee," the group warns. "These sham PACs mount aggressive campaigns by phone, mail and social media to lure potential donors, often targeting older Americans."
---
Read more from Sludge: