Troy Carter Removed From 'No Fossil Fuel Money' Pledge Following Sludge Report
After signing the pledge on March 5, Carter violated it by taking at least nine large donations from fossil fuel interests.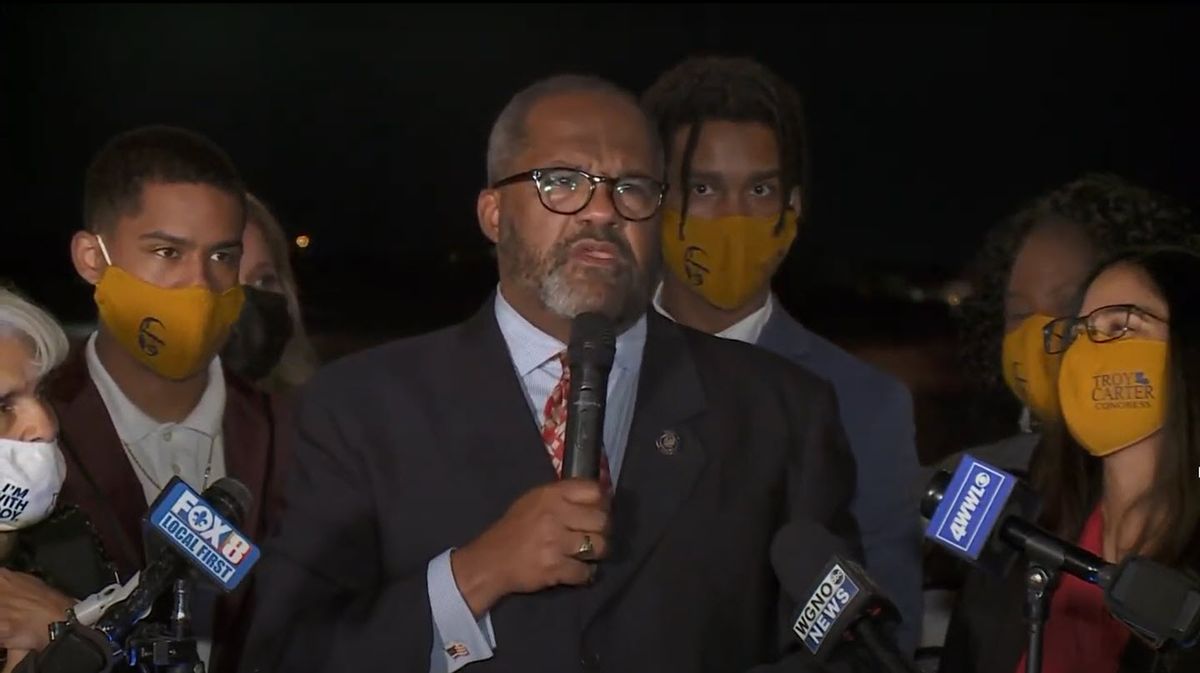 A candidate in the two-Democrat special election runoff to replace Cedric Richmond as the U.S. representative for Louisiana's Second Congressional District was removed from the No Fossil Fuel Money pledge this afternoon after taking multiple large donations from fossil fuel interests in violation of the pledge and declining to return them.
Troy Carter signed the pledge on March 5, promising not to take any donations larger than $200 from any PAC, executive, or lobbyist of fossil fuel companies. But Sludge reviewed Carter's pre-runoff Federal Election Commission filing and found he had taken at least nine large donations that were in violation, including from an oil transportation company PAC, executives of a natural gas utility company, and a lobbyist for Chevron.
Oil Change U.S., the nonprofit organization that organized the No Fossil Fuel Money pledge, notified Carter's campaign of its multiple violations on March 12 and reached out again today. The campaign did not respond to either communication, and it has not responded to Sludge's inquiries. The pledge gives candidates seven days to address violations before their names are removed.  
"We're disappointed that Sen. Troy Carter's continued addiction to fossil fuel money has led to his being removed from the pledge, which has only happened a handful of times across our thousands of signers," said Oil Change U.S. senior campaigner Collin Rees. "But removing him from the pledge was our only option, given his repeated violations of his commitment to avoid fossil fuel money." 
The No Fossil Fuel Money pledge was created in 2017 and has become a litmus test for candidates who want to demonstrate to voters that they are serious about addressing the climate crisis. More than 3,200 politicians at the state and federal level have taken the pledge.
Carter has been endorsed by Richmond, who during his years in the House was one of the oil and gas industry's closest Democratic allies. Another Carter endorser is former U.S. senator John Breaux, who is now a lobbyist for natural gas supply company Black Belt Energy and Americans for Carbon Dividends, the lobbying arm of the Climate Leadership Council which counts BP, ExxonMobil, and ConocoPhillips among its founding members.
The other candidate in the race, Karen Carter Peterson, was also discovered by Sludge to have taken two contributions that violated the pledge that she signed on March 1. Peterson told Oil Change U.S. that she would refund the donations. Peterson remains in good standing with the pledge, according to Rees.
"We're glad that his opponent Sen. Karen Carter Peterson remains a No Fossil Fuel Money pledge signer in good standing, especially in a race where the future of our energy system plays such a crucial role," Rees said.
The Second Congressional District in Louisiana includes a stretch of land along the Mississippi River often referred to as "Cancer Alley" that is home to dozens of oil refineries and petrochemical plants and includes seven of the ten most polluted census tracts in the United States, including areas where cancer risks are hundreds of times higher than the national average.
The runoff election will be held on April 24 and early voting has already begun. 
Here is Sludge's article published on April 13 that describes the donations Carter took that violate his pledge.
---
Read more from Sludge: