Nation's Biggest Charity Is Funding Influential White Nationalist Group
A charitable nonprofit linked to Fidelity Investments has donated at least $100,000 to the New Century Foundation, the organization behind white nationalist publication American Renaissance, since mid-2015.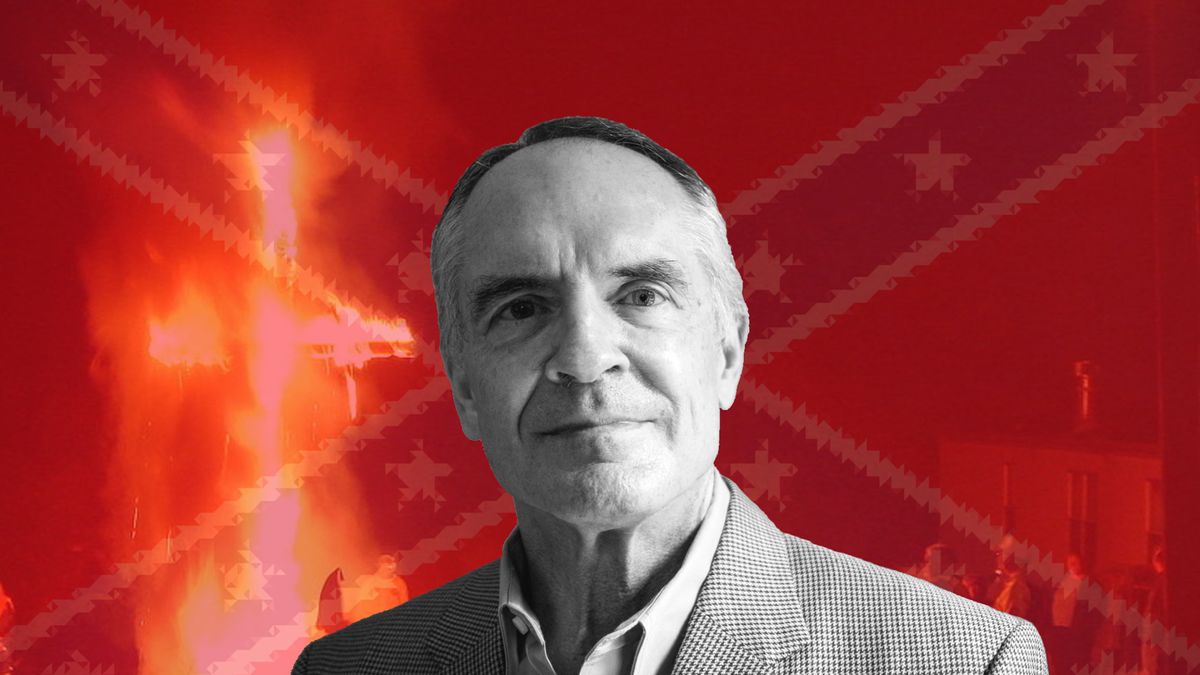 Before murdering nine African-American congregants at Emanuel African Methodist Episcopal Church in Charleston, South Carolina in 2015, white nationalist Dylann Roof wrote a manifesto explaining his motivations. The young, white man had heard about "black-on-white crime" and looked it up on Google. What he found first was the website of the white nationalist hate group Council of Conservative Citizens, where he read fabricated claims that black people are more prone to violence and that black Americans kill white people at higher rates than they kill other black Americans. (The exact opposite is true, and the disparity is very large.)

But it wasn't the Council of Conservative Citizens that birthed the black-on-white crime myth. It was a nonprofit called the New Century Foundation, a hate group founded in 1990, along with its American Renaissance magazine, by the prominent white nationalist Jared Taylor. On the pages of his magazine and those of the conservative National Review, Taylor laid out his false argument: "The United States has neither a unique 'culture of violence' nor inadequate gun laws. It has a high rate of violent crime because it has a large number of violent black criminals."

Other white nationalist groups pounced at Taylor's racist propaganda, including the Council of Conservative Citizens, which has had a long and collaborative relationship with Taylor and his organization.

Black-on-white crime is "a key white nationalist talking point," Heidi Beirich, director of the Intelligence Project at the Southern Poverty Law Center (SPLC), told Sludge. SPLC considers American Renaissance and the Council of Conservative Citizens white nationalist hate groups.

"Taylor is at the center of white supremacist propaganda," said Beirich. "He is THE purveyor of the black-on-white crime myth that has inspired so much violence. His ideas led to Dylann Roof and lord only knows how much more hate crime."

[Read our ongoing series on donor-advised funds and hate groups.]
Roof cited the Council for Conservative Citizens' website in his manifesto, causing the organization to take a lot of blame and leaving it in need of a spokesperson. It called on its ally Taylor to fill that role. He condemned the killings but defended the propaganda that inspired them. "Our site educated [Roof]," said Taylor. "Our site told him the truth about interracial crime."

Soon after the Roof massacre, the largest charitable nonprofit in the United States began funding the New Century Foundation, Sludge has discovered. Fidelity Investments Charitable Gift Fund, a donor-advised fund sponsor and the philanthropic arm of financial giant Fidelity Investments, gave increasing amounts to the New Century Foundation from the 2016-18 fiscal years. In FY2016 (July 2015 through June 2016), it gave $13,000. In FY2017, $31,000. In FY2018, its giving rose to $56,350. In total, it gave over $100,000 to the New Century Foundation.

Taylor shut down the American Renaissance magazine in 2013 to focus on the online version. "The foundation's website, featuring stories on black crime and the like, had risen by 2008 to one of the top 20,000 in the world after a makeover that added a daily feature posting news articles of interest to racists," states SPLC.
The New Century Foundation is still up and running with a relatively small annual budget. In the 2017 calendar year, New Century's total contribution revenue was $284,173, and Fidelity's FY2018 contribution was nearly 20% of that annual total.

Taylor's foundation likely used the money from Fidelity Charitable to "spread hate propaganda through American Renaissance and to hold annual conferences that bring white supremacists together to spread their ideas and organize," said Beirich.

According to SPLC's report on Taylor's 2015 conference in Tennessee, which more than 200 white nationalists attended, "the broader themes remained remarkably similar to previous years: IQ differences between the races, opposition to non-white immigration, a call for community among white nationalists and questioning whether the American political system can be used to a white nationalist advantage."

Taylor's annual conference is a who's who of white nationalist leaders. Over the years, conference attendees have included white nationalist VDARE Foundation President Peter Brimelow, former Ku Klux Klan grand wizard David Duke, white nationalist and Stormfront creator Don Black, Ku Klux Klan lawyer Sam Dickson, "alt-right" leader and white nationalist Richard Spencer, and members of the white nationalist American Freedom Party and the neo-Nazi National Alliance.
"Contributions received by hate groups like VDARE and American Renaissance enable real-world violence both online and offline," Evan Feeney, campaign director at racial justice nonprofit Color of Change, told Sludge. "This includes, but is not limited to, violent demonstrations, propaganda, and attacks. Attacks, like the 2017 "Unite the Right" rally in Charlottesville, VA, or the more recent attacks in Christchurch, Pittsburgh, and El Paso, demonstrate the horrific violence that is enabled when hate groups have access to mainstream financial resources. Either they are able to directly carry out violence like in Charlottesville, or in the case of Christchurch or Emmanuel [African Methodist Episcopal Church], able to use their propaganda to inspire violence."

Fidelity Charitable did not answer Sludge's questions about why it donates to a white nationalist hate group that created the theory that inspired an act of terrorism.

SPLC recently reported on hundreds of leaked emails between white nationalist White House senior adviser Stephen Miller and a former Breitbart editor. In 2015, Miller, who "dictated the editorial direction of Breitbart News," asked the editor, Katie McHugh, to aggregate an American Renaissance article by Taylor about race and crime statistics. Throughout the 2016 presidential race, Breitbart, often at the urging of Miller, repeatedly exaggerated or fabricated the rates of crimes committed by people of color.
What Is a Donor-Advised Fund Sponsor?

Fidelity Charitable is a donor-advised fund sponsor (DAF), meaning it receives charitable donations from individuals, nonprofits, and corporations and puts those assets into individual charitable accounts (donor-advised funds), which Fidelity Investments money managers invest in mutual funds. Fidelity Charitable covers its costs with administrative fees paid by clients, and clients also pay investment fees, which are mostly passed on to Fidelity Investments' parent company, FMR LLC, which received $58.9 million from Fidelity Charitable in the 2018 fiscal year, according to tax records. Although they work together, Fidelity Charitable and Fidelity Investments are legally separate entities.
DAF clients "advise" Fidelity Charitable and other DAFs on where the funds in their accounts should go, but the DAFs have total control over the money, which they legally own after clients open accounts with them. Every recipient must be approved by Fidelity Charitable, which is under no legal obligation to distribute the money to the nonprofits recommended by its clients.
Fidelity Charitable will donate clients' funds to "virtually any IRS-qualified public charity." Private foundations are off limits. The Board of Trustees sets the organization's policies, and Fidelity Charitable can refuse to give an advised donation to a charity, according to its website:
"Under policies set by the Fidelity Charitable Board of Trustees, Fidelity Charitable conducts a robust review of each grant recommendation to ensure grants are made only to IRS-qualified public charities, that those public charities use those granted funds solely for proper charitable purposes, and that grants do not confer impermissible benefits on donors or on any other person. Fidelity Charitable reserves the right to perform additional due diligence and to decline to make a recommended grant to a charitable organization."
The website goes on to describe Fidelity Charitable's review process, which includes consulting news reports, to make sure the recommended recipient isn't involved in non-charitable activities such as terrorism and hate crimes:
"Fidelity Charitable's review of grants takes into consideration data from a variety of sources, ranging from IRS databases, public records regarding litigation and governmental proceedings, to many other sources of information, including, but not limited to, news reports and information provided by donors, grantees, and others. For example, Fidelity Charitable does not make grants if an organization may be engaged in illegal or non-charitable activity (such as terrorism, money laundering, hate crimes, or fraud), or if a grant may otherwise be used for improper purposes (such as personal benefit)."
Nonetheless, the New Century Foundation passes Fidelity Charitable's "robust" review process.
DAFs have become increasingly popular among wealthy philanthropists. The arrangement offers donors a double tax break when they donate appreciated assets—a charitable tax deduction and a capital gains tax exemption—and donors can opt to remain anonymous. Many of the largest U.S. charities by annual revenue are DAFs.

Fidelity Charitable took in over $10 billion in the 2018 fiscal year, easily making it the country's biggest charity by revenue. At the end of June 2018, Fidelity Charitable was sitting on nearly $27 billion in net assets.
'It Is Shameful'

Sludge previously reported that Fidelity Charitable has donated to white nationalist nonprofit the VDARE Foundation. From the 2015-17 fiscal years, Fidelity Charitable gave VDARE a total of $36,100. It did not donate to VDARE in FY2018. Fidelity Charitable and other major DAFs have given millions of dollars to dozens of SPLC-designated anti-immigrant, anti-Muslim, and anti-LGBTQ hate groups.

Beirich says that Fidelity Charitable's funding of these influential white nationalist groups "is absolutely unacceptable and needs to stop. They need an anti-hate policy. Giving money to these groups is furthering the spread of dangerous ideas—some of the worst that mankind has come up with and that have led to violence and even genocide. It is shameful."

Color of Change's Feeney agrees.

"Corporate charities like Fidelity absolutely have a responsibility to ensure that the funds they manage do not help or enable hate group activity," Feeney told Sludge. "Every time groups like VDARE and American Renaissance inspire real-world violence or online harassment, Fidelity is directly responsible for enabling that hate as long as they keep cutting checks to them."

Another major DAF, the Vanguard Charitable Endowment Program, donated $15,000 to the VDARE Foundation in the 2016-18 fiscal years.

In 2017, VDARE Foundation President Brimelow said that "crime in this country is ethnically variegated. There's ethnic specialization in crime. And Hispanics do specialize in rape, particularly of children. They're very prone to it, compared to other groups." VDARE advances the central white nationalist theory of the Great Replacement, or "white genocide," which alleges that white people will die off, replaced with immigrants of color.

Miller also sent Breitbart editor McHugh an email that shared an article from VDARE.

In 2018, the Schwab Charitable Fund, a large DAF linked to but not legally connected to the Schwab financial company, donated to VDARE. Its gift of $6,200 was the first time it gave to the white nationalist group in the recent years consulted by Sludge.

Schwab Charitable's spokesperson declined to comment for this story. For a previous Sludge article, the DAF explained that it "follows a strict review and approval process" that begins with verification that the recipient is an IRS-certified 501(c)(3) charitable nonprofit that is not "under active investigation by the IRS, state regulators or law enforcement." Then Schwab Charitable makes sure the "grant dollars are issued for qualified charitable purposes and go to an organization whose purpose is entirely charitable."

Hate crimes and total hate groups have increased in the last few years under President Donald Trump, who began his campaign with a speech falsely characterizing Mexican immigrants as rapists and murderers. Trump's victory energized white nationalists. After his win, Taylor praised Trump, saying, "For those of us who have been trying to slow the dispossession of whites, all of his policies—at least, those pertaining to immigration—align very nicely with the sorts of things we've been saying for many years."

From 2008 to 2017, according to the Anti-Defamation League, 70% of extremist-related murders were committed by right-wing extremists, and of those, 77% were white supremacists.

Activists Push Back

While most major DAFs do not have anti-hate group policies, others do. The Amalgamated Foundation, a DAF affiliated with Amalgamated Bank, is clear about which kinds of groups it will not fund.

"The Foundation prohibits any support of organizations engaged in 'hateful activities' defined to mean activities that incite or engage in violence, intimidation, harassment, threats, or defamation targeting an individual or group based on their actual or perceived race, color, religion, national origin, ethnicity, immigration status, gender, gender identity, sexual orientation, or disability," its policy states. "Amalgamated Foundation will not accept funds from donors or make contributions to grantees that the Foundation believes, in its sole discretion, intend to support or engage in hateful activities, whether online or offline."

After Sludge first reported that Fidelity Charitable and other large DAFs were funding dozens of SPLC-designated hate group, the Amalgamated Foundation created the Hate Is Not Charitable Campaign, a coalition of philanthropic organizations and individuals, now with roughly 80 members, who will pressure the big DAFs to create anti-hate group policies.

Also in response to Sludge's reporting, racial justice nonprofit Color of Change launched a petition calling on the DAFs to stop funding hate.

Color of Change is part of a coalition of more than 50 civil rights, racial justice, tech accountability, and good governance groups called Change the Terms, which is focused on reducing hate online. The partners include the Center for American Progress, the Lawyers Committee for Civil Rights Under Law, and SPLC.

In September, Change the Terms partners hosted a "Civil Rights x Tech" event, which "brought together senior Facebook executives and civil rights leaders for a day-long event focused on the critical steps Facebook still needs to take to protect our communities on and offline," said Feeney.

The Amalgamated Foundation adopted the Change the Terms policies this spring, he said.
This story has been updated to further explain Fidelity Charitable's policies and how DAFs work.

---
Read more Hate coverage from Sludge: