Major Charity Finances Anti-Immigrant Hate Group Tied to Stephen Miller
The Foundation for the Carolinas says it "supports the needs of immigrants" but gave $1.9 million to the Center for Immigration Studies, which promotes white nationalist ideas, from 2015-18.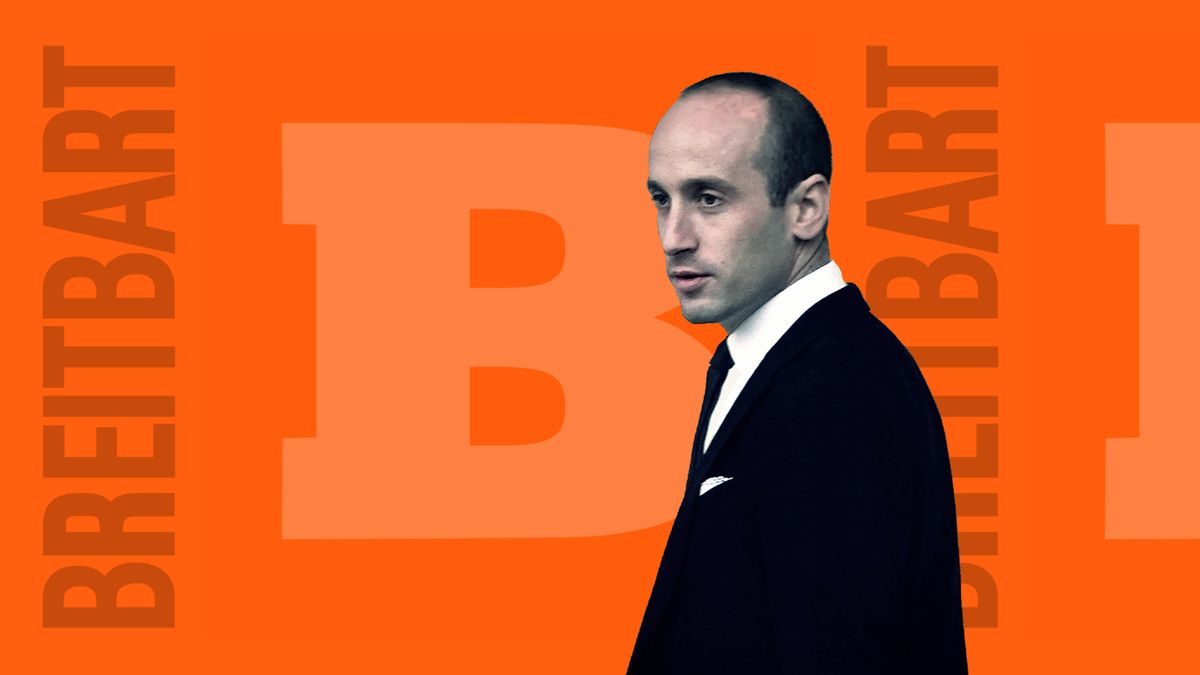 White House senior adviser Stephen Miller was in frequent communication with a Breitbart News editor in the run-up to the 2016 election to pitch stories based on white nationalist ideas and the work of prominent hate figures, according to hundreds of leaked emails that led to a new investigative series by Michael Edison Hayden of the Southern Poverty Law Center (SPLC).

One group whose ideas Miller shared repeatedly with former Breitbart editor Katie McHugh, who leaked the emails to SPLC, is the Center for Immigration Studies (CIS), an anti-immigrant nonprofit founded by influential white nationalist and eugenecist John Tanton. Since its founding in 1985, the center has focused on racist fearmongering over immigrants and promoting the writings of prominent white nationalists and antisemites. SPLC has designated CIS as an anti-immigrant hate group.

As a congressional aide, Miller had a close relationship with CIS, even giving the keynote speech at a 2015 CIS award ceremony. With Miller's asendency to the White House came CIS as well; the hate group's officials say they regularly consult with the Trump administration on immigration policy. One CIS staffer, John Feere, joined the 2016 Trump campaign and then landed a senior advisor position at Immigrations and Customs Enforcement (ICE).

A Sludge investigation has identified a major funder of the group: mainstream donor-advised fund sponsor Foundation for the Carolinas (FFTC), which donated $1.9 million to CIS from 2015-18, according to federal tax records. The 2015-17 total, $1.6 million, amounts to 18.2% of CIS's total revenue during those three years.

In 2016, FFTC delivered $900,000 to CIS, a full 31% of the hate group's revenue that year.


'Supporting the Needs of Immigrants'

FFTC, which is based in Charlotte and is one of the largest community foundations in the country, took in $450 million in 2018. As of Sept. 30, 2019, the foundation had over $2.6 billion worth of assets under management. FFTC "inspires philanthropy and empowers individuals to create a better community," according to its website. A "civic leader," the foundation manages over 3,000 individual charitable funds for its family, nonprofit, and business clients.

On its website, FFTC highlights its work supporting immigrants. A page titled "Supporting the Needs of Immigrants" tells the story of how it helped two European immigrants with grantmaking, which includes large donations to the Ginter Immigration Law Center and the Karl and Anna Ginter Fellowship for immigrant and first generation students at Queens University of Charlotte.

Donor-advised fund sponsors (DAFs) like FFTC manage individual funds, taking a fee and donating money to nonprofits chosen by donors. The donors' identities are kept hidden from the Internal Revenue Service, and their donations can be given anonymously to the recipients.

Once the fund is opened, the money legally belongs to the DAF, not the original donor, and DAFs are under no obligation to give money to nonprofits it does not approve of. However, most DAFs do not have anti-hate group policies.

FFTC's policies state that grants may only be given to IRS-recognized 501(c)(3) public charities, government agencies, and "most religious organizations" that the foundation's Board of Directors approves. It has a non-discrimination policy that emphasizes "respect for all people."

"It is the policy of Foundation For The Carolinas to award grants to organizations and programs that comply with applicable federal and state nondiscrimination laws with respect to those who they serve and employ," reads the policy.

[Read our ongoing series on donor-advised funds and hate groups.]
FFTC and CIS's other donors "are keeping these anti-immigrant hate groups in business, so they absolutely bear responsibility for Trump's anti-immigrant policies," Heidi Beirich, director of SPLC's Intelligence Project, told Sludge. "This foundation is in effect funding the Muslim ban, kids in cages, workplace raids…If you fund the source, you are responsible for the outcome. You can't shirk that connection."

An FFTC spokesperson did not return Sludge's voicemail or emails requesting comment.

Other CIS Donors

FFTC is the biggest DAF donor to CIS, but it's not the only one. The Fidelity Charitable Gift Fund, the largest charity in the U.S., gave CIS nearly $19,000 during the 2016-18 fiscal years. In fiscal year 2015, Vanguard Charitable contributed $8,000.

Overall, Sludge tracked the sources behind nearly $6 million of CIS revenue since 2014. The group's primary funder is the Colcom Foundation, which was financed with hundreds of millions of dollars from Cordelia Scaife May, a friend of Tanton and heir to the fortune of the Scaife family, a branch of the Mellon family. Colcom gave CIS close to $3.8 million from the 2015 fiscal year to FY2018. It also funds several other SPLC-designated hate groups that Tanton founded, including the American Immigration Control Foundation, Californians for Population Stabilization, the Federation for American Immigration Reform (FAIR), and ProEnglish.

Other CIS funders include small family foundations such as the Fred Maytag Family Foundation ($150,000 from 2015-16), Sydney A. Swensrud Foundation ($80,000 from 2014-17), and the Harvey M. Meyeroff Fund ($9,500 from 2014-17).

"One of the most troubling aspects of these findings is the crossover between legitimate funding sources with established hate groups being allowed to operate within their parameters in order to move money around," Imraan Siddiqi, executive director of the Arizona branch of the Council on American-Islamic Relations (CAIR), told Sludge. "This speaks to a major issue that exists today in the world of philanthropy."

'Spinning the Narrative' Against Immigrants of Color

"Anti-Muslim hate groups such as CIS have a direct impact on Muslim communities on a ground level," Siddiqi said. "Organizations that spread false and misleading information about vulnerable communities often serve as a radicalizing force when it comes to the actual hate and violence we see…During the Trump era we have seen this fear-mongering result in massive spikes in hate crimes and violent plots against our communities. Therefore, it is extremely troubling that these groups are able to operate with such impunity."

CIS advances racist arguments that the El Paso mass shooter, who killed 22 people in August, echoed in his anti-immigrant manifesto. The Great Replacement theory, a white nationalist fabrication alleging that white citizen populations will decline and eventually be replaced by non-white immigrants, is promoted by CIS and was cited by the shooter as his motivation for committing mass murder in a heavily Latino area. After the massacre, CIS attempted to distance itself from the shooter, but it has continued promoting the same theories that inspired him. Just on Monday, CIS published an article entitled, "Replacement of Americans by Foreign Workers Doesn't Fit Media Narrative."

SPLC investigative journalist Michael Hayden identified 46 emails referencing CIS materials, employees, or contributors that Miller sent to then-Breitbart editor McHugh over a 10-month period from 2015-16. Among them are emails citing CIS publications claiming huge increases in the Muslim-American birthrate and babies name Mohammed, and the work of CIS contributor Jason Richwine, who had to resign from his post at the conservative Heritage Foundation after the discovery of his racist dissertation that claimed Hispanic immigrants have lower IQs than whites. Other emails to McHugh shared an embargoed CIS report and the phone number of a CIS employee.

Miller "dictated the editorial direction of Breitbart News," according to SPLC's latest installment in the Miller series, which was published on Tuesday.

"We used [CIS material] to spin a narrative where immigrants of color were not only dangerous, violent individuals but also posed an existential threat to America," McHugh told Hatewatch. "We never fact-checked anything. We never called up other organizations to get any other perspective about those studies…It was understood. You just write it up."

As Trump's top immigration adviser, Miller has pushed the administration to implement policies of banning immigrants from certain Muslim-majority countries, separating immigrant families at the U.S.-Mexico border, jailing infants, toddlers, and young children, and revoking temporary protected status for refugees from multiple countries torn apart by war or natural disaster. Miller, whose efforts within the administration to restrict non-white immigration track with his promotion of white nationalist ideas during the Trump campaign, has lasted through nearly three years of rapid turnover in the executive branch, leading the president's approach to his biggest political issue, immigration.

Miller's ties to white nationalism stretch back many years. As an undergraduate at Duke University, he teamed up with white nationalist and future alt-right leader Richard Spencer to bring another prominent white nationalist, Peter Brimelow of VDARE, to campus for a speech. A few years after graduating, Miller joined the office of then-U.S. Senator Jeff Sessions of Alabama, who once said the Ku Klux Klan was "fine" until he found out they used cannabis. Sessions frequently appeared on radio shows and in articles by Breitbart—"the platform of the alt-right," according to its former chairman, former Trump chief adviser Steve Bannon—and had a cozy relationship with the publication, according to Right Wing Watch, as did his aide, Miller. Sessions was one of the first major politicians to endorse Trump in 2016.

Earlier this year, Sludge launched a series of reports on major donor-advised fund sponsors that have given millions of dollars to SPLC-designated hate groups. From mid-2014 to 2017, the six largest DAFs by 2017 revenue donated roughly $70 million to more than 40 anti-immigrant, anti-Muslim, anti-LGBTQ, and white nationalist hate groups.

Because of Sludge's reporting, the Amalgamated Foundation created the Hate Is Not Charitable Campaign, a coalition of over 80 philanthropic groups and individuals working to pressure DAFs to develop anti-hate group policies.

Beirich encourages the public to "sign on to initiatives like Hate Is Not Charitable and push [their] community foundations to put in place anti-hate policies.

"Speaking out is the only way we can put a stop to this activity," Beirich said.
This article has been updated to include recently released 2018 FFTC tax records.

---
Related coverage: