Climate Caucus Founder Is a Fossil Fuel Favorite
Republican Sen. Mike Braun, a major recipient of corporate PAC donations from oil and gas companies, will co-found the bipartisan Senate Climate Solutions Caucus.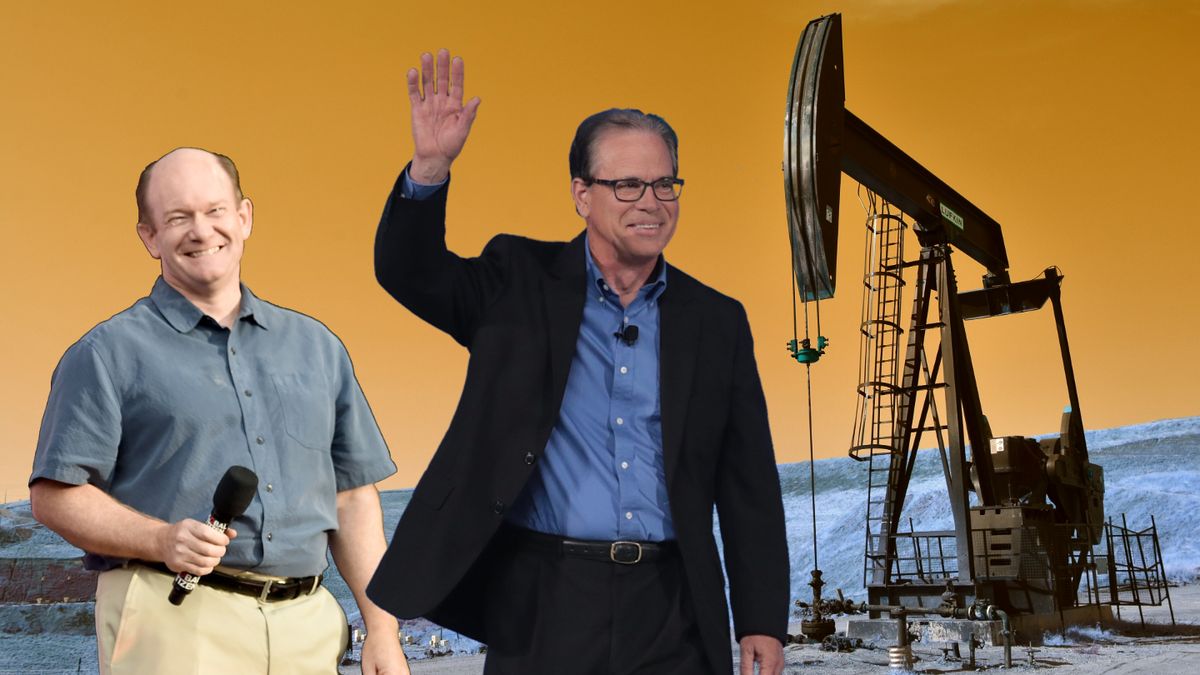 Senators Mike Braun (R-Ind.) and Chris Coons (D-Del.) are launching the first bipartisan climate group in the Senate, the Climate Solutions Caucus, with a goal of finding common ground on efforts to combat worsening climate change. The caucus will first meet with scientists, policy experts, and business leaders and then work on legislation that all caucus members must endorse, according to NBC News.

Both senators, and Braun in particular, have received campaign donations from the corporate PACs of fossil fuel companies, including ExxonMobil, which knew about climate change decades ago and hid the science for years. Since the 2017-18 election cycle, Braun's campaign and leadership PAC have taken in $118,500 from corporate PACs of companies in the energy and natural resources sector, including $63,500 from oil and gas PACs, according to data compiled by the Center for Responsive Politics.
According to Federal Election Commission data, some of Braun's campaign donors since 2017 include:
Alliance Coal PAC: $10,000
Koch Industries PAC: $10,000
Marathon Petroleum Employees PAC: $10,000
Murray Energy PAC: $10,000
Chevron Employees PAC: $5,000
CoalPAC (National Mining Association): $5,000
MinePAC (National Mining Association): $5,000
Continental Resources PAC: $5,000
Devon Energy PAC: $5,000
ExxonMobil PAC: $5,000
FirstEnergy PAC: $5,000
Growth Energy PAC: $5,000
Tesoro Petroleum PAC: $5,000
Valero Energy PAC: $5,000
Since 2015, Coons' campaign and leadership PAC have received $63,000 from corporate PACs in the energy and natural resources sector, including 2019 donations from ExxonMobil PAC ($2,500) and the PACs of seven electric and natural gas utilities, such as Entergy, Exelon, and Pinnacle West Capital.

Republicans have generally accepted corporate PAC money from all industries, but since Sen. Bernie Sanders' (D-Vt.) 2016 presidential campaign, an increasing number of Democrats have sworn off donations from business PACs. All but one of the remaining major Democratic presidential candidates have signed the No Fossil Fuel Money Pledge, a commitment to reject donations of over $200 from PACs, executives, and lobbyists of fossil fuel companies. Coons has not made either commitment.

"Given the fossil-fueled climate denial rampant in the Republican party and their record of doing Big Oil's bidding in order to continue raking in massive campaign contributions, a bipartisan caucus co-chaired by senators taking money from Exxon and other fossil fuel PACs does not inspire confidence," David Turnbull, strategic communications director of Oil Change U.S., told Sludge.

Coons' fellow co-sponsor of his Climate Action Rebate Act of 2019, Sen. Dianne Feinstein (D-Calif.), has signed the No Fossil Fuel Money Pledge, as have Democratic Sens. Bennet, Booker, Gillibrand, Harris, Klobuchar, Markey, Merkley, Peters, Sanders, and Warren. (Bennet, Booker, Harris, Klobuchar, Sanders, and Warren are all presidential candidates.)

The Climate Action Rebate Act would institute a tax on most greenhouse gas emissions, distributing the majority of the resulting revenue to low- and middle-income people and spending the rest on infrastructure, energy innovation, and worker and community transition assistance. The bill's sponsors intend to end U.S. carbon emissions by 2050.

The carbon tax is popular among certain Republicans and Democrats and major fossil fuel companies. The Climate Leadership Council, a think tank co-founded by oil and gas giants including ExxonMobil and ConocoPhillips, is lobbying Congress on its own carbon tax plan, which would give all tax revenue to the American public.

Environmental groups such as Greenpeace view a carbon tax as woefully inadequate. "Proposals for carbon taxes and cap-and-trade have taken up too much climate-solution oxygen in recent years, and so far they have been flimsy half measures porous with loopholes," wrote Greenpeace USA Executive Director Annie Leonard in January. "They come nowhere close to meeting the scale of the crisis."

Coons told NBC News that his caucus won't be taking on sweeping policy frameworks like the Green New Deal. According to Turnbull, Coons' plan to limit the scope of the caucus' climate change response from the get-go is a mistake.

"What we truly need is an aggressive, confrontational approach to the industry that includes comprehensive and aggressive action to phase out fossil fuel production in the United States with a just transition for workers and communities," said Turnbull, whose organization leads the coalition behind the No Fossil Fuel Money Pledge. "By limiting its work to heavily compromised small-scale policy in order to achieve bipartisan support in a Senate teeming with fossil fuel shills, this caucus appears to be setting itself up for climate failure."

"We're glad that Democrats and Republicans alike are feeling the pressure to put forward an agenda on climate change," Stephen O'Hanlon, communications director of the Sunrise Movement, told Sludge. "That's a clear sign that the pressure from millions of people around the country is working. However, any politician claiming that milquetoast solutions like what Coons and Braun are talking about will do what's necessary to give our generation a livable future is lying to themselves or to the American people. And judging from how much money they've taken from the oil and gas lobby, you can guess which one it is."

The offices of Braun and Coons did not respond to multiple requests for comment.

The House already has a corresponding Climate Solutions Caucus, but retiring Rep. Francis Rooney (R-Fla.) says it's been a challenge to get fellow Republicans seriously interested in climate change. As of June 20, Rooney had as much as $3.1 million invested in fossil fuel companies, according to a Sludge investigation.

This year, Rep. Kathy Castor (D-Fla.) launched a new Select Committee on the Climate Crisis, which has met once or twice per month since April and doesn't include the Green New Deal resolution's primary sponsor, Rep. Alexandria Ocasio-Cortez (D-N.Y.). After a Sludge report, Castor and her husband sold their investment in a mutual fund focused on fossil fuel-powered utility companies.

In December 2018, Castor's office told Sludge she would begin to reject fossil fuel PAC contributions "to help build confidence in her leadership" but would not require committee members to do the same. She has not signed the No Fossil Fuel Money Pledge. EE News reported in February that several Climate Crisis Committee members relied on fossil fuel-linked donations in 2018 and have personal investments in fossil fuel companies.

The Select Committee on the Climate Crisis will make recommendations to the House but will not write legislation. Ocasio-Cortez proposed a select committee on the Green New Deal with bill-writing power, but House Speaker Nancy Pelosi, who does not support the resolution, refused to instate it.

---
Related: