Google Is Profiting From Notorious Hate Group's Ads
The tech giant appears to only be enforcing part of its hate speech ad policy when it comes to anti-immigrant hate group FAIR.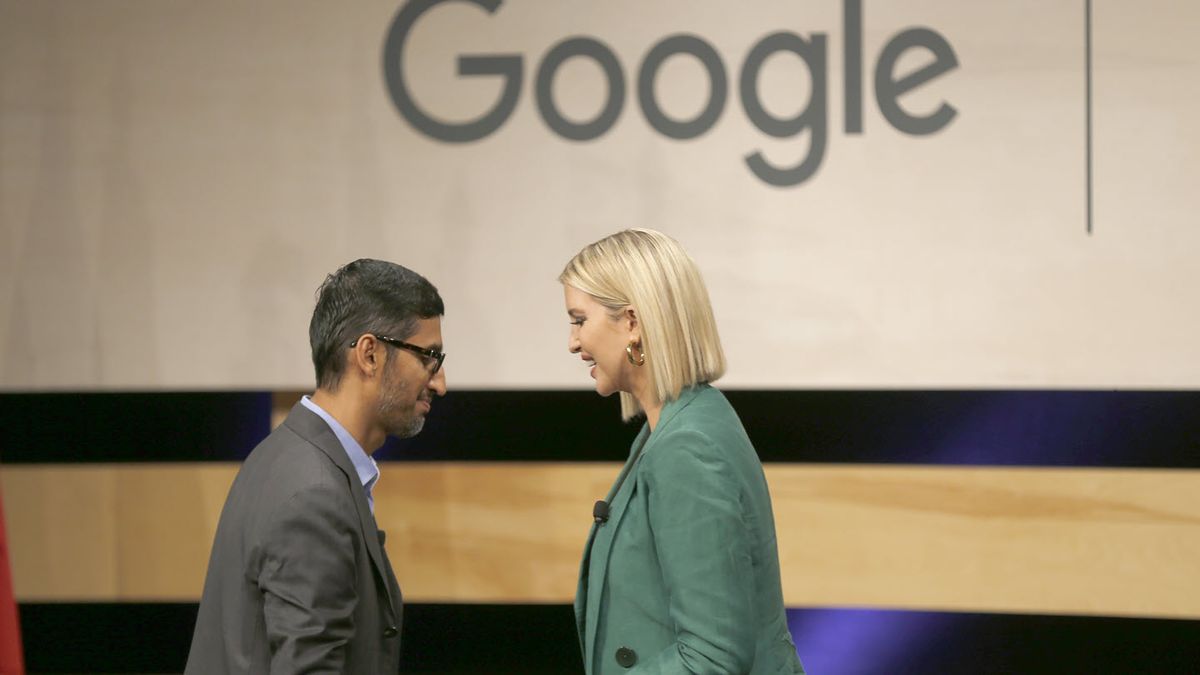 Google's ad policies are quite clear about hate speech. It does not allow "content that incites hatred against, promotes discrimination of, or disparages an individual or group on the basis of their race or ethnic origin, religion, disability, age, nationality, veteran status, sexual orientation, gender, gender identity, or other characteristic that is associated with systemic discrimination or marginalization." The company gives as examples of inappropriate ads "content promoting hate groups or hate group paraphernalia" and "content that encourages others to believe that a person or group is inhuman, inferior, or worthy of being hated."

Google subsidiary YouTube's general hate speech policy is similar: "Hate speech is not allowed on YouTube. We remove content promoting violence or hatred against individuals or groups based on…immigration status." Ads must adhere to this policy.

Why, then, is the Federation for American Immigration Reform (FAIR)—a powerful anti-immigrant hate group, according to the Southern Poverty Law Center—allowed to buy ads on Google and YouTube that promote its website? FAIR, which emerged from the American white nationalist movement in 1979, has paid Google/YouTube nearly $130,000 to promote its political content since February, per Google's Transparency Report, which catalogues political ad spending from May 31, 2018 to the present.

The ads' creative content doesn't necessarily break Google's rules of engagement. Most promote the construction of a border wall with Mexico or encourage users to sign a pledge supporting Immigration and Customs Enforcement (ICE). The wall is an anti-immigrant proposal, and ICE is often associated with antagonizing undocumented immigrants, but these ads do not explicitly discriminate against a group of people.

The ads, however, direct users to FAIR's website. The above ad, for example, linked to a petition on the FAIR site. Hate groups commonly use social media platforms as recruiting tools, using softened language to draw users to their sites, which contain more extreme content and can potentially radicalize users. When a user jumps from Google or YouTube to the FAIR website, they'll encounter false propaganda against immigrants. For example, the group erroneously claims that undocumented immigrants are incarcerated at much higher rates than legal residents.

There is no evidence to support a connection between undocumented immigrants and crime, according to The Marshall Project. In general, immigrants are associated with lower crime rates and are less likely than native-born Americans to commit serious crimes.

Ads must undergo a review process before going live, and this process involves an evaluation of an ad's destination website. One might argue that ads linking to the FAIR website promote the organization—"America's most influential anti-immigrant organization, according to the Southern Poverty Law Center—and thus break Google's ad policies, which explicitly ban "content promoting hate groups." A Google spokesperson did not respond to Sludge's questions about whether such an ad qualifies as "promotion" and if Google agrees with the SPLC that FAIR is a hate group.

The Google spokesperson told Sludge, "We have strict policies for the kinds of ads allowed on our platform, and ads with hateful content violate those policies. When we find ads that violate our policies, we remove them. For political advertisers, we have additional requirements such as verification of the advertiser, a paid-for-by disclosure, and inclusion in our political ads Transparency Report."

The company removed 190,000 ads last year for violating its "dangerous or derogatory" content policy, which includes the ban on hate speech.

A YouTube user told Sludge he has been "incessantly bombarded" by FAIR ads on YouTube. "These ads appear almost every time I watch a video, regardless of the content of the video," he said. Below is a screenshot of a FAIR banner ad beneath an instructional video about pool techniques.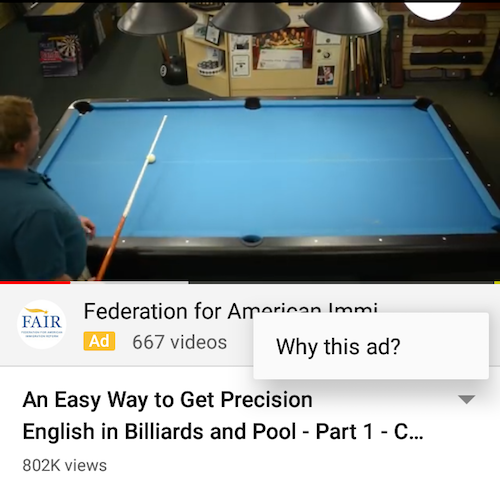 The user also sees video ads that precede videos and address remittances, or money transfers from migrant workers to family members in their home countries.

FAIR is the only Southern Poverty Law Center-identified hate group that Sludge discovered has paid for political ads on Google/YouTube since mid-2018. (However, it has gotten nearly $30,000 from the German anti-immigrant political party, Alternative für Deutschland; the majority of the party's ads were taken down for unspecified policy violations.) $130,000 is just a drop in the bucket for Google, which has received $117.8 million in political ad revenue since mid-2018. Still, the way the company enforces its policies potentially allows it to profit from political ads sponsored by additional hate groups. Google does not comment on individual advertisers, and the company spokesperson did not answer Sludge's question about why its anti-hate policies focus on an individual ad's creative content and not the nature of the organization the ad promotes.

Google's ad library only includes political ads, so it's likely that FAIR and other hate groups are promoting content that the company does not categorize as political in nature. FAIR purchased ads in 2018 that didn't make it into the Google Transparency Report, and the anti-LGBTQ hate group Alliance Defending Freedom advertised on YouTube last year alongside videos posted by LGBTQ users.

Twitter and Facebook have accepted considerably more money from FAIR: roughly $976,000 and $1,010,000, respectively. Twitter declined to explain to Sludge its rationale for running FAIR's ads, which appear to violate its hate speech policy. Facebook takes in ad revenue from dozens of other hate groups, too, according to a recent Sludge investigation.

Altogether, FAIR has spent at least $1,139,676 on political and social ads on Google, Facebook, and Twitter.

---
Related: