Twitter Declines to Explain Taking $1 Million From Anti-Immigrant Hate Group FAIR
The Federation for American Immigration Reform, the nation's most powerful anti-immigrant hate group, appears to violate the company's ad policies.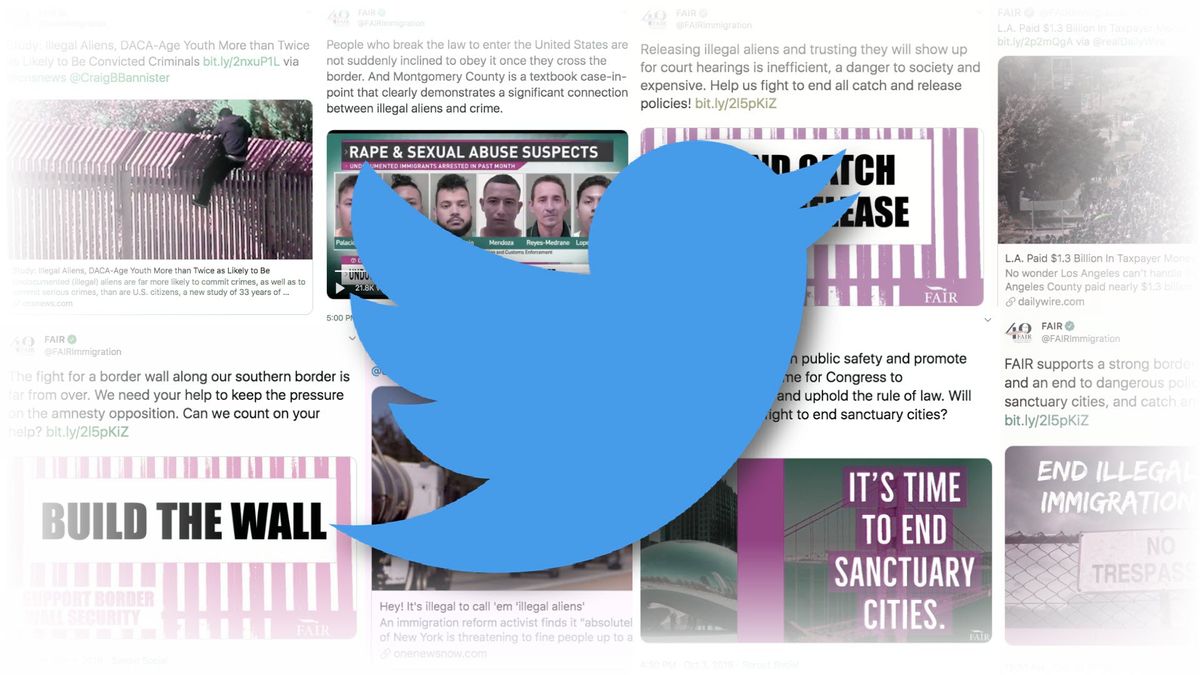 Twitter's ad policies make it clear that hate groups aren't allowed to promote their posts. But one prominent anti-immigrant organization has spent $934,000 on Twitter ads, and Twitter sees no problem with this.

The hate watchdog Southern Poverty Law Center describes the Federation for American Immigration Reform (FAIR), which was founded by prominent white nationalist John Tanton, as "America's most influential anti-immigrant organization." The group helps author and promote anti-immigrant legislation at the state and local levels, advocating anti-sanctuary city laws and an end to birthright citizenship. Over the years, FAIR officials, including at least one eugenicist, have been tied to white nationalist organizations such as VDARE and the Council of Conservative Citizens. FAIR president Dan Stein said that the passage of a 1965 immigration act that ended a racist quota system limiting immigration to mostly northern Europeans was "a mistake."

Twitter's ad policies prohibit ads containing "hateful content." It defines hateful content as hate speech and harassment, but also "organizations, groups, or individuals associated with promoting hate, criminal, or terrorist-related content," suggesting that accounts associated with hate would violate its policy.

But in response to several questions posed by Sludge over email, Twitter's global director of public policy communications, Ian Plunkett, linked to the company's ad policies and wrote, "We've nothing further to share at this time."

Some of FAIR's individual posts clearly violate Twitter's Community Guidelines, which apply to non-promoted content. The guidelines ban content "intended to incite fear or spread fearful stereotypes about a protected category, including asserting that members of a protected category are more likely to take part in dangerous or illegal activities."

A number of FAIR's tweets do exactly that—associating undocumented immigrants with criminals—a fearmongering tactic based on a false premise. The Marshall Project wrote that there is "no evidence to support" this claim. Overall, immigrants are associated with lower crime rates and are less likely than native-born Americans to commit serious crimes.

One recent tweet, which includes a FAIR-produced video about alleged rapes by undocumented immigrants, claims, "People who break the law to enter the United States are not suddenly inclined to obey it once they cross the border. And Montgomery County is a textbook case-in-point that clearly demonstrates a significant connection between illegal aliens and crime."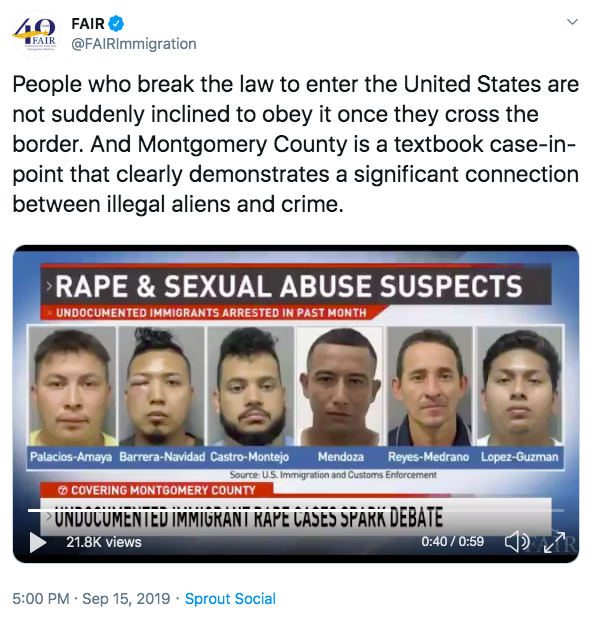 Another tweet, which claims that "illegal aliens" are twice as likely to be convicted of crimes, links to a story published by a publication of the rightwing Media Research Center that promotes a study by John R. Lott, who ThinkProgress wrote is "a fraud." Lott, who erroneously claims that more guns lead to fewer crimes, runs the Crime Prevention Research Center and allegedly fabricated a survey on defensive gun use.

In another tweet, which links to FAIR's Facebook donation page, the group claims that "releasing illegal aliens and trusting they will show up for court hearings is inefficient, a danger to society."

Some ads echo this false sentiment. One reads, "Sanctuary cities threaten public safety and promote lawless behavior." Another ad features a video titled "Stolen Lives: Victims of Illegal Alien Crime." FAIR spent nearly $50,000 on three versions of the ad, garnering 4.4 million impressions.

Latinx social justice organization Presente has an online campaign urging Twitter to stop promoting tweets by FAIR. "It's one thing to try and balance free speech and hate speech, it's entirely another to take money and promote the views of a hate group like FAIR, that exists entirely to harm and reduce the amount of immigrants in this country," reads the petition.

As far as social media platforms go, Facebook appears to be making the most money from hate groups, although the company's ad library appears to include a broader range of ads than those of Twitter and Google. A recent Sludge investigation found that Facebook has accepted $1.6 million in ad revenue from 38 organizations deemed hate groups by the Southern Poverty Law Center.

FAIR has also spent $910,000 on Facebook ads and $111,000 on Google/YouTube ads since mid-2018. Google did not respond to Sludge's inquiry about FAIR's ad spending.

---
Related:
---