Burning Man's 'Radical Inclusion' Makes Room for Weapons Lobbyists
One of Burning Man's new lobbyists is a former Trump campaign staffer who organized efforts to defend Trump's Muslim ban.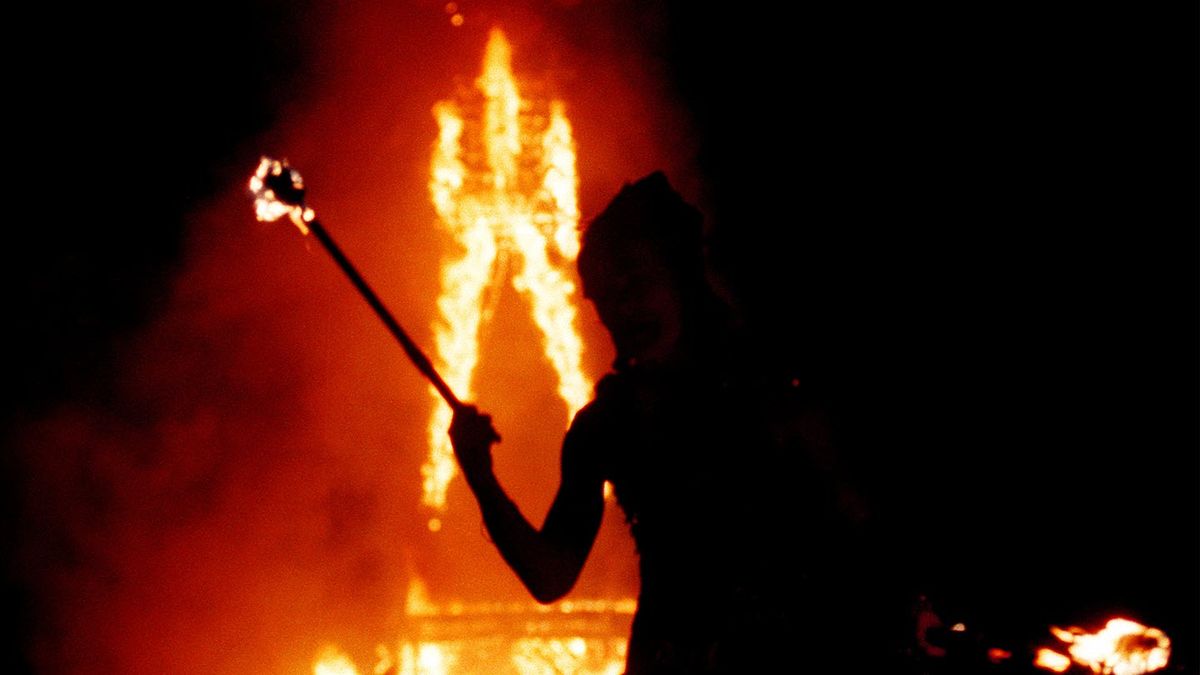 Are you planning to shell out $425 for a ticket to attend Burning Man later this summer? If so, some of your money may go towards paying Holland & Knight, a D.C. lobbying firm that represents weapons companies, defense contractors, and the largest coal company in the world.

The Burning Man Project, the nonprofit organization that puts on the annual gathering in the Nevada desert, has hired Holland & Knight to lobby the federal government on "permitting approval." The organizers are concerned about new environmental regulations on the festival's nighttime light pollution, trash disposal, and rural road maintenance recommended by the Bureau of Land Management, according to reports.

Burning Man, which calls itself a community and a global cultural movement rather than a festival, describes its ethos in The Ten Principles, which calls for radical inclusion, decommodification, civic responsibility, and leaving no trace. "Burning Man Project will bring experiences to people in grand, awe-inspiring, and joyful ways that lift the human spirit, address social problems, and inspire a sense of culture, community, and civic engagement," its webpage states.

Among Holland & Knight's lobbying clients is Raytheon, one of the largest weapons manufacturers and defense contractors in the world. Raytheon, which is best known for its Patriot missile system, earns hundreds of millions of dollars per year through contracts with the Department of Defense. In addition to U.S. sales, the company sells its weapons to foreign countries, including Saudi Arabia, which is using the weapons in a bombing campaign in Yemen that has caused a humanitarian crisis involving widespread famine and an outbreak of cholera. The Trump administration recently approved Raytheon to partner with the Saudi government and begin building its high-tech bomb parts in Saudi Arabia.

Holland & Knight lobbies the government for Raytheon on its Spectrum Efficient National Surveillance Radar (SENSR) program, Wide-Area Augmentation System (WAAS), and other issues.
Axon, a company formerly known as Taser International that makes a range of weapons and other products for law enforcement and the military, is another lobbying client of Holland & Knight's. The company has contracted with Immigration and Customs Enforcement (ICE) to supply its officers with taser equipment. Axon has also worked with the Department of Defense on a $2.6 million contract to build the Human Electro-Muscular Incapacitation (HEMI) projectile, an electric shock device that can be fired from a grenade launcher.

For Axon, Holland & Knight lobbies Congress on government contracting and Homeland Security and Justice Department funding for technology.
Holland & Knight's dozens of corporate clients include Teva Pharmaceuticals, an opioid manufacturer and member of the Pharmaceutical Manufacturers of America, a trade group that is lobbying against Medicare for All legislation through a "dark-money" nonprofit, Partnership for America's Health Care Future. It also lobbies for Peabody Energy, the largest private-sector coal company in the world.
In the lobbying registration form filed with the Senate, Holland & Knight reported that five of its lobbyists will work for Burning Man. One of them, Scott Mason, is a former Trump campaign and transition team staffer who once organized efforts to defend Trump and his Muslim ban against comments made in 2016 by Khizr Khan, whose son was killed during the Iraq war.
---
Related from Sludge: