With $10 Billion Defense Contract Pending, Jeff Bezos Donates Millions to Put Veterans in Congress
Amazon CEO Jeff Bezos and his wife made their largest political contribution to date to a super PAC dedicated to electing military veterans for federal office.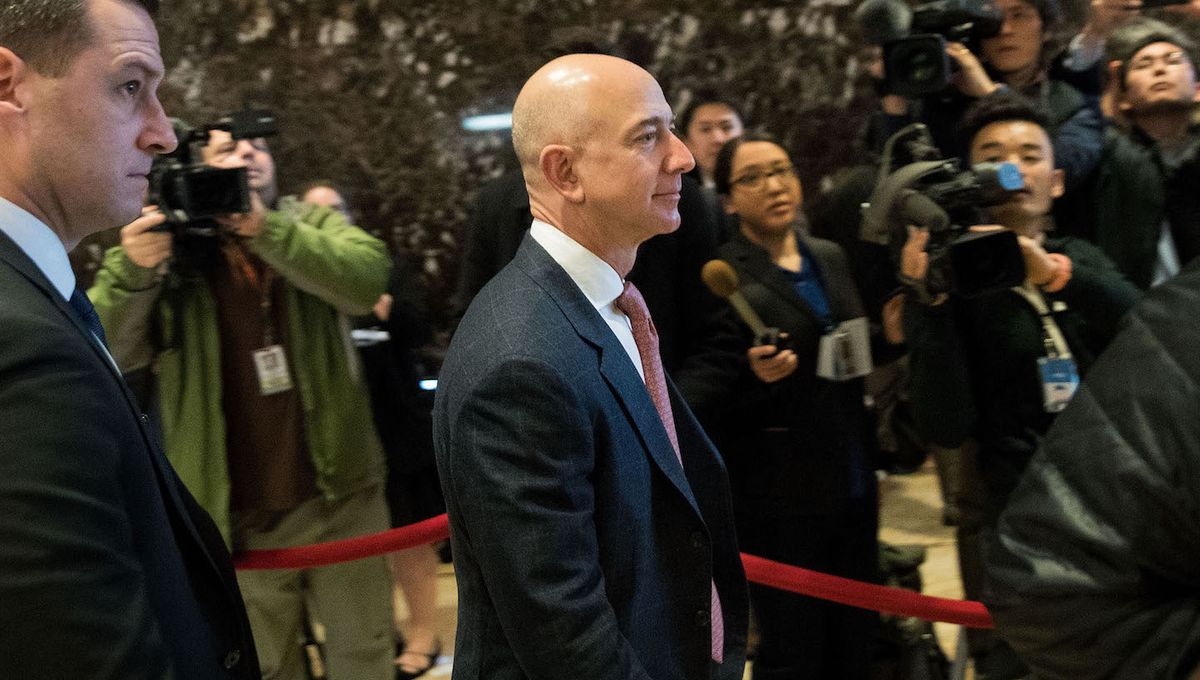 As Amazon pursues a giant government contract to provide cloud computing services to the Department of Defense, the company's founder and CEO, Jeff Bezos, and his wife have reportedly given their biggest political donation yet.

Bezos, the wealthiest man in the world with a quickly rising fortune estimated at over $160 billion, and MacKenzie Bezos recently gave $10 million to With Honor Fund (WHF), a Virginia-based political group that is allowed to accept unlimited amounts of money from individuals and corporations because of its super PAC status. The largest political donation they'd previously given was $2.5 million to support a same-sex marriage ballot initiative in Washington in 2012.

The fund's mission, according to its website, is "to elect principled next-generation veterans to office who will work in a cross-partisan way to create a more effective and less polarized government." All endorsed candidates must commit to a pledge to "put principles before politics."

Also donating heavily to WHF during the 2017-18 election cycle were Bezos' parents, who each donated over $1 million dollars.

The donations to WHF from Bezos and his family will benefit former employees of the Defense Department, something that DoD officials and politicians from both parties will likely appreciate.

In August, journalist May Jeong reported for Vanity Fair that a heavily scrutinized $10 billion Defense contract to put all of the Defense Department's data in the digital cloud was tailor-made for Amazon. The program will be called the Joint Enterprise Defense Infrastructure, or JEDI.

The language in DoD's request for proposals "contains a host of technical stipulations that only Amazon can meet, making it hard for other leading cloud-services providers to win—or even apply for—the contract," per Vanity Fair. Amazon competitors including Google, IBM and Oracle were not pleased.
What's more, Defense Sec. James Mattis had hired a consultant who previously worked for Amazon as a top adviser. Sally Donnelly advised the secretary when the call for bids was being formulated. And as the contract was being finalized, an investment fund tied to Amazon's cloud-computing division bought Donnelly's recent lobbying firm, SBD Advisors, raising conflict-of-interest concerns from "congressional insiders."

According to USASpending.gov, Amazon has received roughly $800,000 in Defense contracts, so a $10 billion deal would dwarf all previous arrangements with the department. The company spent $13 million on federal lobbying last year.

Jodi Seth, head of policy communications at Amazon, told Sludge that the Bezos family's desire to elect more veterans to Congress has nothing to do with Amazon's DoD contracts or the company's hiring of veterans. Seth declined to answer several other questions about motivations behind the donation to WHF, the potential $10 billion DoD contract, and whether Amazon communicated with Donnelly while she worked at DoD.

Other WHF Donors: A Koch, L Brands and Starbucks

Bezos isn't the only donor with financial interests in the Department of Defense. The PAC of Oxbow Corporation, a fossil fuel company founded by Bill Koch, the billionaire brother of GOP megadonors Charles and David Koch, donated $100,000 to WHF. The Florida-based company has enjoyed a number of six-figure Defense contracts, mainly for coal, in the last decade. The contribution to WHF represents most of the money the company PAC has doled out this year; the only other donations were smaller amounts to Florida Republican Sen. Marco Rubio's campaign committee and leadership PAC.

Oxbow Carbon spokesperson Brad Goldstein told Sludge, "Oxbow's PAC asked that the money be earmarked for Republican candidates for office. It had nothing to do with defense contracts." He noted that "Oxbow has a small contract to supply coal to an Air Force base in Montana. This contract is coming to a close. We do not expect to renew that contract. Nor do we expect to have any other contracts with the U.S. Government." USASpending.org shows that Oxbow has two ongoing contracts with DoD, both pertaining to the Malmstrom Air Force Base in Montana and ending in 2020, for a total of $858,000.

More big donations include $2.8 million from Abigail and Leslie Wexner, the founder of L Brands; $100,000 from billionaire hedge fund manager Steven A. Cohen; and $50,000 from Howard Schultz, CEO of Starbucks, which has sold over $400,000 worth of products to the Defense Department. According to CNN, Walmart heirs Jim and Alice Walton have also contributed to WFH.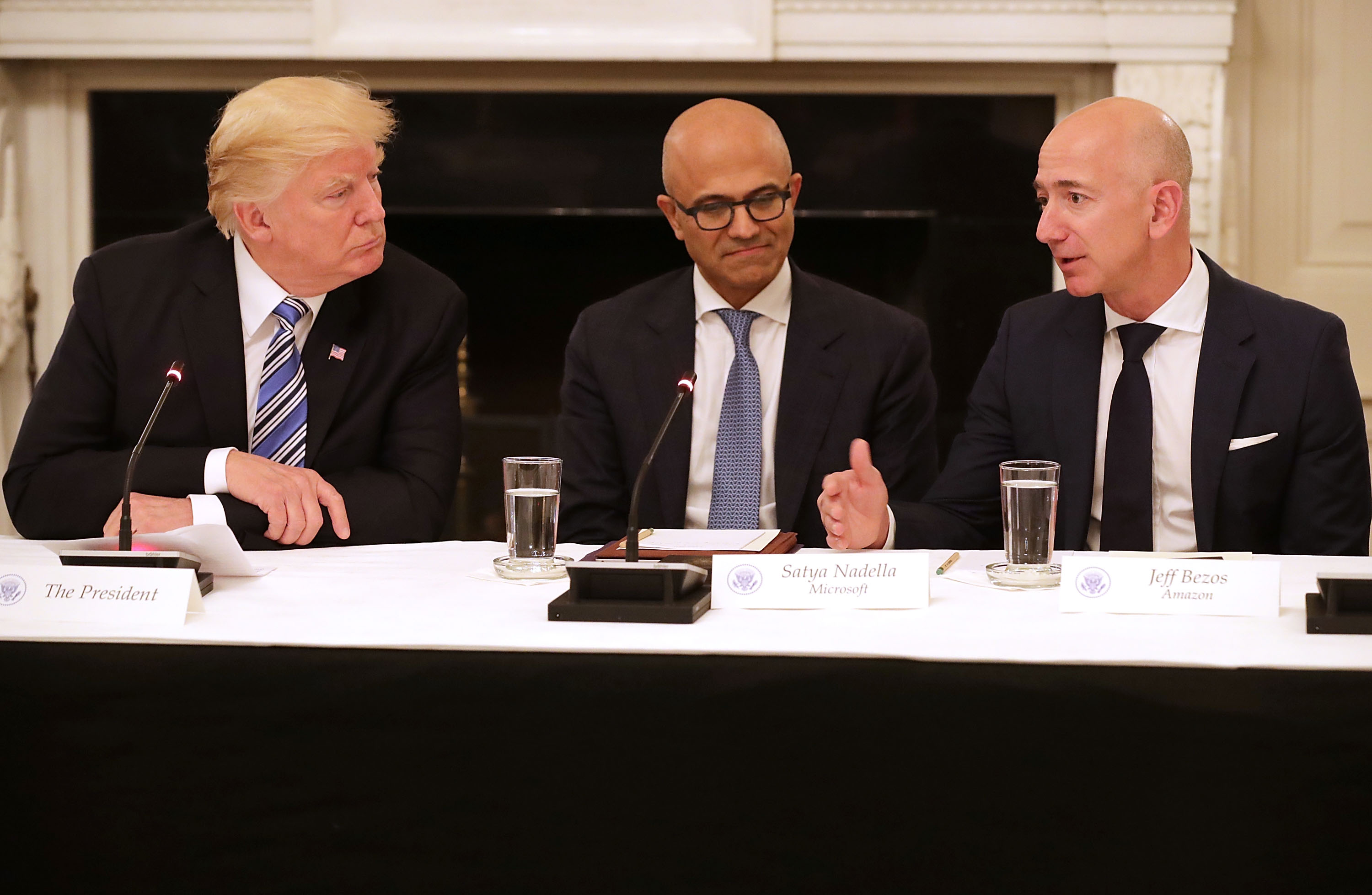 WHF, which is bipartisan and supports Democrats and Republicans relatively equally, has already spent $2.8 million on largely positive independent expenditures in House races this cycle. Its candidates include House challengers such as Marine Corps pilot Amy McGrath (D-Ky.), Long Islander and former Navy Seal Dan DeBono (R-N.Y.) and progressive Army vet Richard Ojeda (D-W.Va.), and incumbents Brian Mast (R-Fla.) and Seth Moulton (D-Mass.).

Emails to WHF were not returned, despite Amazon having told Sludge to contact WHF with is questions.

Military veterans often join private defense companies, and some seek political office. When veterans enter Congress, some end up on committees that oversee the DoD or Veterans Affairs Department. The House Armed Services Committee, for example, has members such as veterans Tulsi Gabbard (D-Hawaii), Jimmy Panetta (D-Calif.), Ruben Gallego (D-Ariz.), Martha McSally (R-Ariz.), Mike Conaway (R-Texas) and Joe Wilson (R-S.C.). Relevant congressional committees have ultimate oversight over DoD contracts.

Congress has seen a steady decline in veterans among its ranks since the 1970s. But as more Iraq and Afghanistan veterans retire, it's possible that trend is changing course.
Companies such as Amazon have financial stakes in Defense contracts, but they also employ a lot of veterans. Bezos has said, "We find that [veterans'] experience leading people is invaluable in our fast-paced work environment." Amazon has a training program for veterans committed to hiring 25,000 military alumni by 2021. Starbucks, too, makes a point of hiring veterans.