Capuano's Trip Through the Revolving Door: From Medicare-for-All Supporter to Health Industry Lobbying Firm
This could make for some awkward lobbying conversations.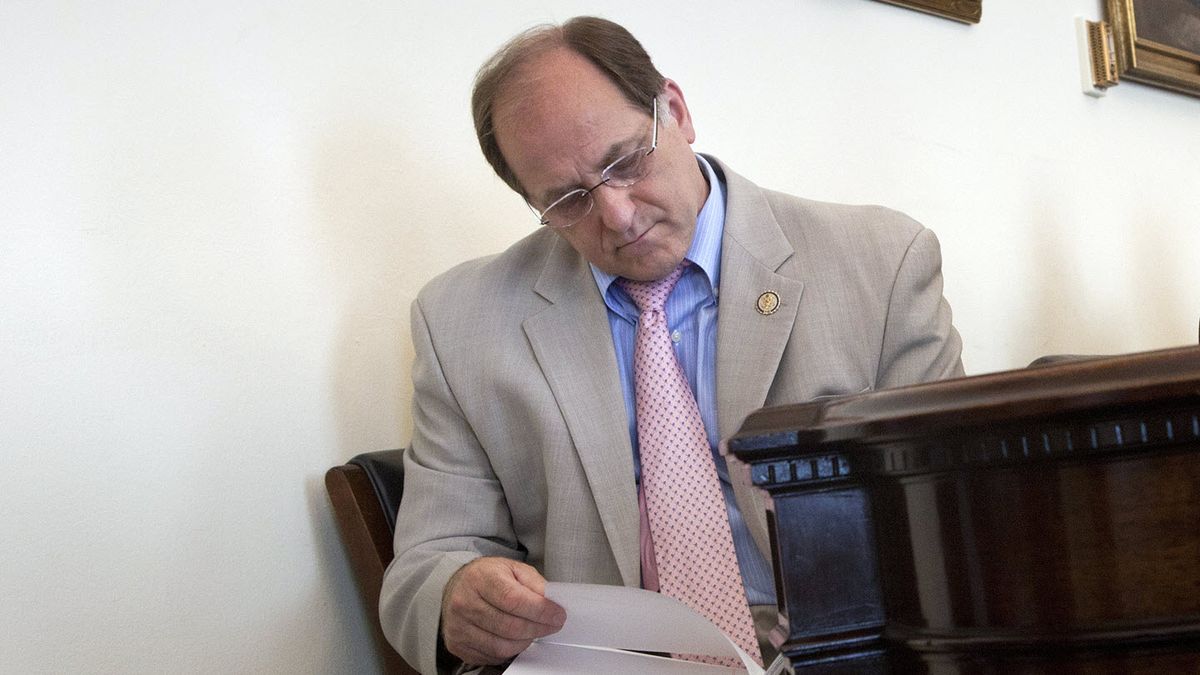 This post is authored by reporter Eoin Higgins.
Former Rep. Mike Capuano joined lobbying firm Foley & Lardner on March 6, six months after losing the 2018 Democratic primary for Massachusetts' 7th Congressional District to now-Rep. Ayanna Pressley.

During his time in office, Capuano was an outspoken proponent of prospective universal health care programs, including Medicare for All. But his new position at Foley will put him squarely within an organization that has taken a large amount of cash from clients opposing those efforts.

Capuano, who can't register to lobby for 10 more months, joined the law firm as public affairs director and will be splitting his time between Boston and Washington. In a press release from the firm, Foley executives praised Capuano for his time in Washington and said the former representative would be focusing on a broad array of issues.

"Mike will be a valued and trusted advisor for our government solutions clients spanning all regions and industries," Scott Klug, co-chair of Foley's Federal Public Affairs Practice, said in a statement. "His firsthand experience of the evolving political climate that our clients are working to navigate, combined with his commitment to the firm's core values will make him a tremendous public affairs director."

One of those industries could be health care—right as the fight over Medicare for All heats up. The Medicare for All Act was introduced in the House by Rep. Pramila Jayapal (D-Wash.) on Feb. 27, setting the stage for a showdown between progressive Democrats and the combined might of the health care industry, conservative Democrats, and Republicans.

Lobbying efforts are already underway to defeat the bill, and Foley & Lardner will likely be in the mix. According to Center for Responsive Politics' OpenSecrets website, the firm represents a number of health care industry heavyweights, like Aegis Healthcare, which paid the firm $130,000 in 2018, and CIOX Health, which paid the firm $600,000 last year.

Foley & Lardner overwhelmingly lobbied for the health care industry in 2018, filing 33 reports with Congress that disclosed lobbying on health issues (the next closest issue they reported lobbying on was energy and nuclear power, with 20). What form that lobbying took isn't much of a surprise: the California Hospital Association and Envision Healthcare spent $120,000 and $320,000, respectively, on lobbying lawmakers on the American Health Care Act of 2017—a partial repeal of the Affordable Care Act, or ACA—and, at least in Envision's case, that effort was done to ensure their respective members continued to reap the benefits of the health care system.
The California Hospital Association's parent organization, the American Hospital Association, is a member of a coalition that has formed to fight Medicare-for-All proposals. The California Hospital Association opposed a single-payer health care bill that was proposed in California in 2017.  

That lobbying could make for some awkward conversations as Capuano comes on board. But in an interview conducted by this reporter for The Intercept in July 2018, when Capuano was locked in a primary battle with Pressley, the congressman stressed his support for the ACA and commented on how much he appreciated public outcry to save the bill in 2017.

"We didn't have the votes to stop the demolition of the ACA, that happened as people from around this country got mobilized," said Capuano. "We helped, obviously. I helped."
Capuano did not reply to requests for comment once Sludge informed his spokesperson, Jessica McNellis of the public relations firm Greentarget, that the focus of this article was health care.

Capuano joining a lobbying firm shouldn't come as a huge surprise. His acceptance of corporate PAC money was a source of attacks during the primary from Pressley, who foreswore the money. And he's not alone in making the move to the private sector after being unseated in a primary by a progressive woman of color: Joe Crowley, the Queens Democrat defeated by Alexandria Ocasio-Cortez, joined lobbying firm Squire Patton Boggs in February.

Working for an office that is hostile to the ACA seems out of character for Capuano, whose statements about the law are only critical insomuch as they wish the law had done more.

In July 2018, the then-congressman expressed unreserved support for Medicare for All.

"I've been a longtime supporter of Medicare for all, we tried to get it passed when we did the ACA but we didn't have the votes," Capuano said. "Even the day we passed it, I said, this is a step in the right direction, but people like me are not giving up the fight. I want to get to Medicare for all."

"I firmly believe that in my lifetime we will be able to get that," Capuano added. "If it's next year, that's great."

Sludge asked Foley & Lardner spokesperson Jill Chanen if the firm planned to lobby against the Medicare for All Act. Chanen's emailed reply was brief and to the point.

"We cannot comment on your question," said Chanen.

When asked if he would fight for Medicare for All after the election, Capuano said he would—though he was unsure of the ability of the legislation to get through Congress.

"All I know is I can try," said Capuano. "All I can tell you is what I'm going to do. I'm going to keep pushing forward."
This post is authored by reporter Eoin Higgins.
---
Related: