EXPOSED: Major Charities Are Helping Anonymous Donors Fund Anti-Muslim Films
Four giant donor-advised funds gave the hate group Clarion Project $4.4 million from mid-2014 through 2017.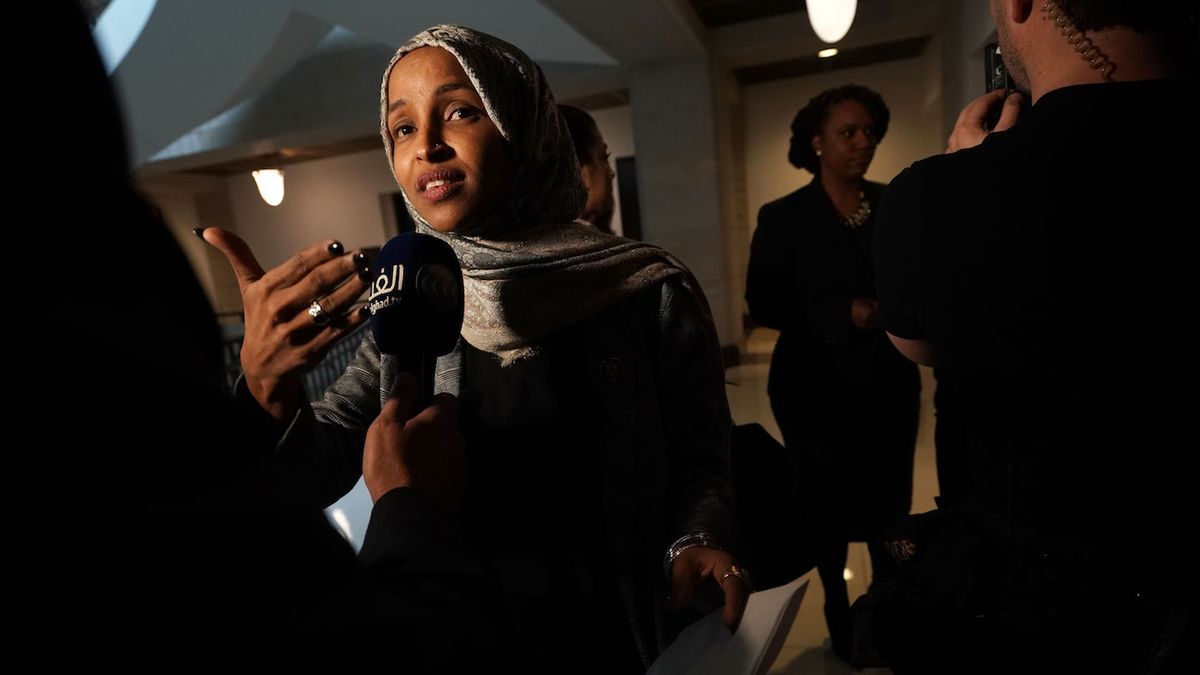 This article is Part 2 of an ongoing Sludge series on donor-advised funds. Click here to read the other parts.
On March 1, writer Shireen Qudosi posted a tweet alleging that Rep. Ilhan Omar (D-Minn.) shares the same ideology that motivated the 9/11 bombers to commit a brutal act of terrorism.

Her tweet was a show of support for an Islamophobic poster of Omar, also linking her to 9/11, that was displayed at a West Virginia Republican event.
Qudosi portrays herself as an independent-minded "Muslim Reformer," but she is "national correspondent" for a nonprofit, the Clarion Project, that the Southern Poverty Law Center (SPLC) considers an anti-Muslim hate group. She also writes for right-wing website The Federalist and has appeared on radio segments on the far-right, anti-immigrant website Breitbart News.

The Clarion Project, formerly known as the Clarion Fund, "produces alarmist films and publications aimed at hyping the threat of "Radical Islam," according to the Institute of Policy Studies. SPLC considers Clarion's national security analyst, Ryan Mauro, to be an anti-Muslim conspiracy theorist. Noted Islamophobe Frank Gaffney, who runs another donor-advised-fund-sponsored hate group, the Center for Security Policy, was previously on Clarion's advisory board.

Clarion was allegedly founded by an Israeli Jewish Orthodox group, Aish HaTorah, which has a fundraising arm based in New York City. But who funds it? A new Sludge investigation has found that four of the biggest donor-advised funds in the United States gave the Clarion Project $4,420,000 from from mid-2014 through 2017, more money than they contributed to any of the 34 hate groups covered in a recent Sludge report on the anonymous funding of hate groups.

Donor-advised funds, which include some of the nation's biggest 501(c)(3) charitable organizations, create individual accounts for typically wealthy donors, allowing their clients to receive immediate tax deductions and directing the clients' money to the 501(c)(3) public charities of their choice at their own pace. Critically, donors have the option of keeping their donations anonymous—even to the Internal Revenue Service.

Vanguard Charitable gave the Clarion Project $875,000. Schwab Charitable Fund donated close to $250,000. Goldman Sachs Philanthropic Fund added $50,000, its first donation to an SPLC-designated hate group from 2014-17 identified by Sludge.

But Fidelity Charitable Gift Fund, the largest charity in the country, funnelled over $3.2 million to the Clarion Project during the 2015-17 fiscal years (July 1, 2014 to June 30, 2017). Donations from FY2015 and likely from FY2016 went towards Clarion's film, Honor Diaries, which was produced in Florida.

SPLC called the film's executive producer, Ayaan Hirsi Ali, a "very vocal anti-Muslim activist." Ali has called Islam "a destructive, nihilistic cult of death" and compared it to Nazism. Statements like these caused Brandeis University to cancel its plans to give her an honorary doctorate. Before moving to the U.S., Ali was a Dutch parliamentarian who worked with far-right, anti-Muslim political leader Geert Wilders. In 2011, Clarion posted a video titled, "Geert Wilders: Deporting Millions of Muslims May Be Necessary," on its website.

A backlash to Honor Diaries ensued, with several U.S. universities canceling plans to screen it. Its producers were "seeking to hijack a legitimate issue to promote its anti-Muslim agenda," Ibrahim Hooper, communications director at the Council on American-Islamic Relations (CAIR), told Al Jazeera. Activist Linda Sarsour told Al Jazeera, "We don't need Islamophobes to talk to us and tell the stories of oppressed and abused Muslim women. It's just disingenuous."

Donors Capital Fund, a donor-advised fund and a favorite money conduit of right-wing billionaire Republican donors such as the Koch and DeVos families, used to be Clarion's biggest funder, donating almost $18 million to the organization in 2008—96 percent of its revenue that year. The money covered the production and distribution of 28 million copies of a Clarion film that was sent to millions of voters in hopes of helping Republican presidential nominee John McCain take the White House.

Donors Capital Fund appears to have stopped its donations to Clarion, and its sister group, Donors Trust, has not donated to Clarion in recent years. DCF has donated to SPLC-identified hate group the David Horowitz Freedom Center, and Donors Trust gave over $1 million to hate groups from 2015-17.

Today, Clarion still receives the bulk of its funding from anonymous donors via donor-advised funds. Because some funds report their taxes according to fiscal, not calendar, years, it's difficult to say exactly what percentage of Clarion's income comes from donor-advised funds. But Clarion's average revenue during 2015-16 (the 2017 tax form is not publicly available online) was $2,429,000, and the Goldman, Fidelity, Schwab and Vanguard funds gave the group an average of $1,473,000 per year, according to their last three annual tax forms. This means that, on average, Clarion receives roughly 60 percent of its revenue from these top donor-advised funds.

According to a report by Jewish Voice for Peace and two other progressive Jewish organizations, the Jewish Communal Fund gave over $310,000 to Clarion from 2013-17. Other past donors include the Allen I Gross Charitable Foundation, the Jewish Community Federation of San Francisco, and the Sy Syms Foundation.

A 2011 report by the Center for American Progress portrays Clarion as a key member of the "Islamophobia network," a relatively small group of individuals and think tanks that spread misinformation attacking Islam, financed by a handful of right-wing foundations. Other members include Gaffney's Center for Security Policy and the David Horowitz Freedom Center.

The $4.4 million to the Clarion Project means that Sludge has identified nearly $15.4 million that flowed from major donor-advised funds to SPLC-designated hate groups from mid-2014 through 2017. None of the donor-advised funds mentioned in this article appear to have any policies regarding donations to hate groups.

---
Related:
---