Comcast's Favorite Congressman Doesn't Need the Money
Rep. Greg Walden of Oregon is in a safely Republican district. But as a staunch opponent of net neutrality who chairs the committee overseeing the FCC, his campaign has continued to be rewarded with telecom cash.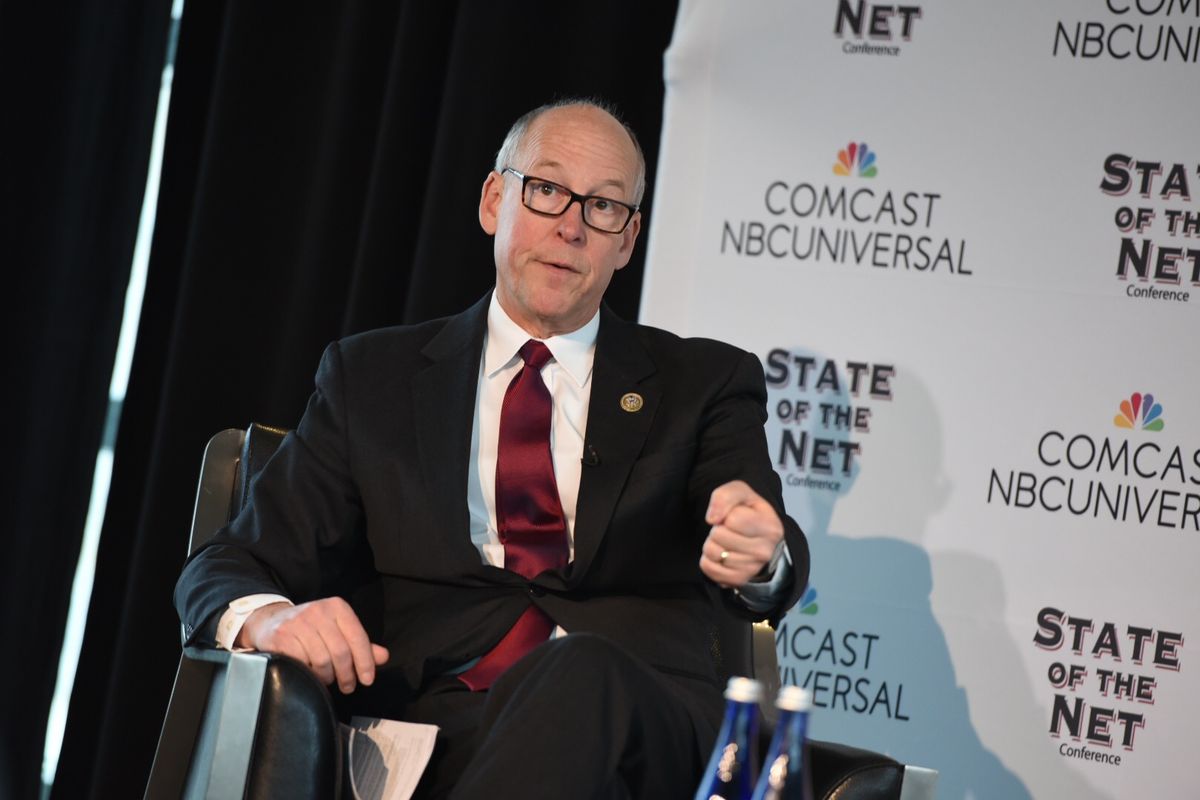 Rep. Greg Walden (R-Ore.) has outraised his Democratic opponent 5-to-1, is in a solidly Republican district that voted for Trump in 2016 and Romney in 2012, and yet he is the member of the House that has received the most money from Comcast this election cycle.

According to data compiled by the Center for Responsive Politics, Walden has raised $39,400 from Comcast's PACs and employees this election cycle. But with a 99 percent chance of winning his election today, according to FiveThirtyEight's election forecast, he has little need for the money.

Walden is a staunch opponent of net neutrality. When the Federal Communications Commission moved to repeal net neutrality last November, Walden praised the move, saying that the FCC "understands the importance of making sure the internet continues to flourish under a light-touch regulatory regime." Comcast and other telecom companies and associations have lobbied extensively against net neutrality, spending nearly $190 million on their collective lobbying efforts during that period.
Walden also received $12,000 from the NCTA – The Internet & Television Association, just behind Tony Cardenas (D-Cali.) and Marsha Blackburn (R-Tenn.) in the House, who received $12,500 and $13,100 respectively. Walden's top contributor this campaign cycle was the National Association of Broadcasters (NAB), whose PACs and employees gave his campaign — which he has little chance of losing — more than $99,000. NAB, which also opposes net neutrality, did not contribute nearly as much to any campaigns, even in the Senate.
Separately, Comcast also contributed $33,500 to Walden's leadership PAC, New Pioneers PAC. Leadership PACs have become a subject of controversy as they were intended for party leaders to fundraise on behalf of fellow politicians, but have increasingly become slush funds that pay for politicians' personal expenses.

Rep. Walden's popularity with the telecom industry stems in part from the fact that he chairs the powerful House Energy Subcommittee on Communications and Technology, whose main functions include oversight of the FCC. Until last year, Walden was also chair of the National Republican Congressional Committee, making him a leader within the party and elevating his profile on the national stage.

Walden's opponent, Jamie Mcleod-Skinner, has little chance of winning in today's election, according to most polls and forecasts. Even in May, the district was considered safely Republican. When the Democratic Congressional Campaign Committee released its list of more than 100 seats it hoped to flip, Walden's district was nowhere to be found.

So what does he spend the money on?

Nonetheless, Walden has continued to spend much of his campaign funds on political ads and strategy, paid to major Republican agencies like Converge Media and American Media & Advocacy Group, the latter of which was reportedly paid $16 million by the Trump campaign.

But Walden has also spent some contributor money on funds that blur the lines of campaign finance ethics. Under Federal Election Commission regulations, candidates are not allowed to use campaign funds for expenses that would be considered "personal use."

Last October, the Portland-based alternative weekly Willamette Week reported that Walden was using his joint fundraising committee, Walden Victory Fund, to pay two family members: his sister-in-law, Marta Simons, and his stepsister, Barbara Hosford. Campaign finance records reviewed by Sludge show he is also paying those two individuals out of his campaign committee, Walden for Congress.

In the 2017-18 election cycle, he has paid Simons a total of $98,316, while Hosford has received $8,502.

Walden has also spent $3,891.84 from his campaign coffers this election cycle at the University Club of Portland, a private club in Portland, Oregon, including what appears to be a recurring $101 monthly membership fee. He has similarly spent $18,985.62 at the Capitol Hill Club, a favorite private D.C. club of Republicans and a major expense on many lawmakers' accounts, ostensibly for campaign-related meetings and fundraising events.

Finally, Walden spent $1,950 on two meals at Charlie Palmer Steak in D.C., both categorized as fundraising expenses in his FEC filings. The expenses were on June 14 and July 10 of this year. But by June, Walden already had a cash-on-hand advantage of nearly $4 million over his opponent, FEC records show.

According to the latest filings with FEC, Walden has maintained that edge, raising $5.1 million this cycle, while Mcleod-Skinner has raised a little over $1 million.