Conservative Attack Groups Are Outspending Democrats in Key Races
Democrats may have more enthusiasm heading into the midterms, but Republicans have big outside attack money on their side.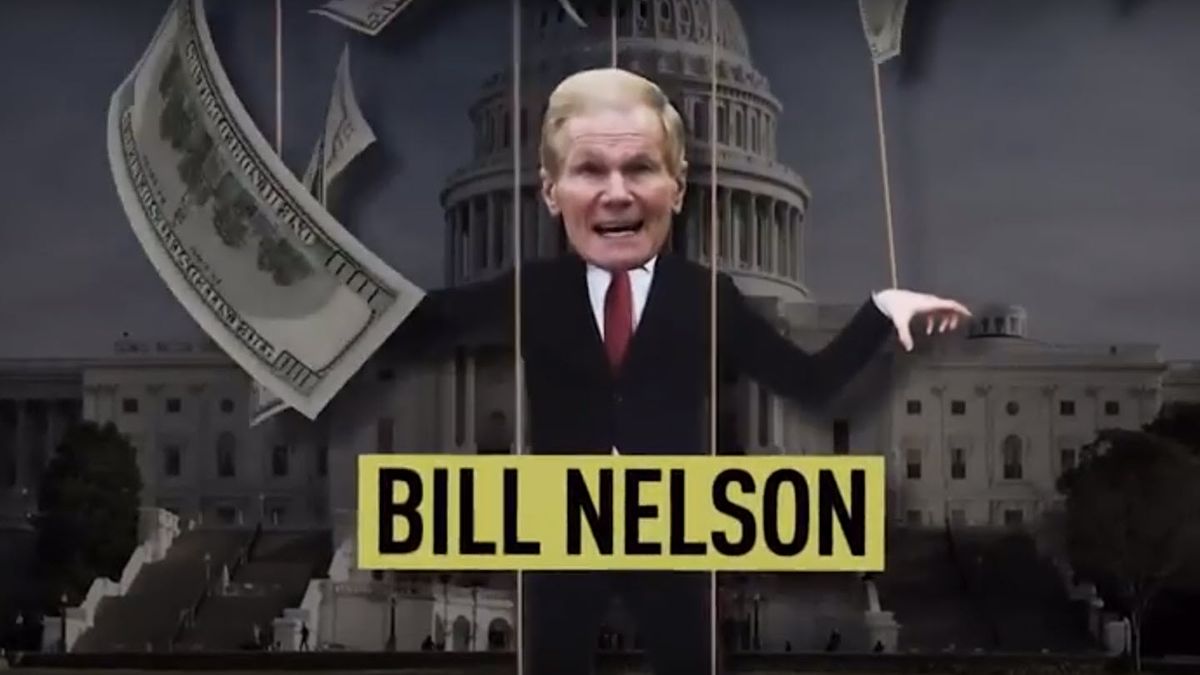 Democrats hope to roll through next month's elections with a "blue wave" that flips dozens of Republican-held seats and reclaims control of Congress, but to do so they have to overcome a financial advantage held by conservative groups working to elect Republicans in key districts.

While Democratic candidates for the U.S. Senate and House of Representatives have outraised Republicans overall, outside groups that are not formally affiliated with politicians or political parties are spending millions to help Republicans close the money gaps in their races.

Conservative super PACs and nonprofits have spent $47.5 million more than their liberal counterparts on advertising and other election activities aimed at influencing voters so far in the upcoming midterm races, according to Federal Election Commission data collected by the Center for Responsive Politics and reviewed by Sludge. This outside spending advantage for conservative groups has increased in recent weeks, Sludge's analysis shows, even as Democrats are pulling in unprecedented levels of campaign cash.    

Because these groups don't officially speak on behalf of candidates, they often use more aggressive tactics and negative messaging than candidate committees. They are also able to accept unlimited sums of money, including from groups that do not have to disclose the sources of their funding and can thereby shield the identity of donors that candidates may not want to publicly associate with.

Besides spending more overall, the conservative groups are spending a larger portion of their money on negative ads and other campaigning tactics than the liberal groups are. More than 84 percent of conservative outside spending has opposed Democrats, while liberal groups have spent 73 percent of their money opposing Republicans.  

While generic congressional polling asking likely voters which party's candidate they plan to vote for shows Democrats with an advantage of about 8 percent, conservative outside groups have big spending advantages in many of the highly competitive races that will determine which party controls the Senate and the House.

Liberal groups have spent more in some competitive races, but conservative groups have shelled out higher amounts in many of the most expensive contests, including the three most expensive general election races, and with generally higher totals. The chart below shows the 20 races with the largest outside spending advantages for either Republicans (in red) or Democrats (in blue).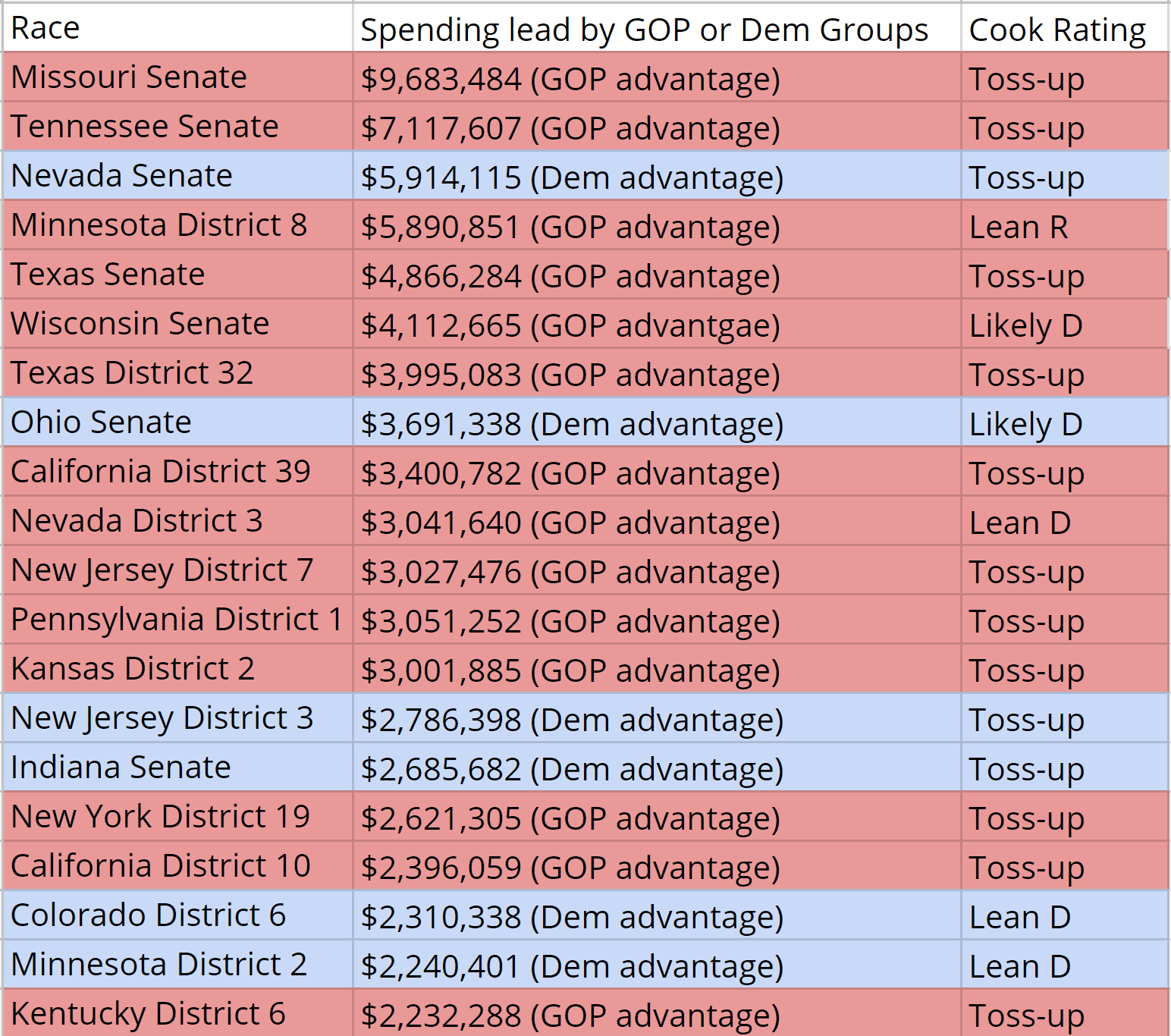 In Missouri, Democratic Senator Claire McCaskill is in a dead heat against Republican challenger Josh Hawley. While McCaskill has raised more money for her campaign, outside groups backing Hawley have outspent those baking McCaskill by nearly $9.7 million so far. Outside groups have already spent more than $21 million on negative campaigning targeting McCaskill.

Groups like the Koch-backed Americans for Prosperity Action and Club for Growth Action have spent millions on television and digital ads attacking McCaskill, highlighting her votes against the recent tax bill and for Obamacare, while also alleging that she helped her husband's businesses win government contracts. Their expenditures against McCaskill also include direct mail campaigns, radio spots, and bus tour expenses.

In New York's competitive 19th Congressional District, which is currently held by Republican John Faso, conservative outside groups are outspending liberal groups by more than $2.6 million. The Congressional Leadership Fund—a super PAC funded by Sheldon and Miriam Adelson and other top Republican donors—has been running television and digital ads against Faso's opponent, Democrat Antonio Delgado, that highlight lyrics from a rap album that Delgado released in 2006. The ads have been criticized as race-baiting in a district that is 90 percent white (Delgado is black), but Faso has tried to distance himself from the ads by saying he has no control over the messaging that outside groups employ to boost his re-election bid.
In the "toss-up" Senate race in Florida between Republican Rick Scott and Democrat Bill Nelson, conservative groups have used 99.6 percent of their $18.3 million in outside spending on negative campaigning against Nelson, including mailers, digital ads, and attack websites. Most of that spending came from the New Republican PAC, a super PAC that Scott led until declaring his candidacy. Among the group's negative ad spots is one calling Nelson a "confused puppet" and another stating, "Bill Nelson's suit is empty, but it's lined with danger and confusion."  

Top donors to the New Republican PAC include billionaire hedge fund manager Ken Griffin, Home Depot co-founder Bernard Marcus, and GEO Acquisitions II, a subsidiary of private prison giant GEO Group, which is based in Boca Raton, Florida. The PAC has been the subject of complaints filed with the FEC arguing that it illegally coordinated with the Scott campaign and thereby made excessive in-kind campaign contributions.  

Political scientists disagree on how effective negative campaigning is at influencing voters, but there is general agreement that negative ads are more memorable than ads that support candidates. Regardless of what researchers have found, campaign spending data indicates that political consultants believe negative campaigning is effective, especially when handled by outside groups that don't officially represent the candidates they support.

Election spending by outside groups has played an increasingly large role in elections since the Supreme Court's 2010 ruling in Citizens United v. Federal Election Commission, which allowed corporations, nonprofits and unions to spend unlimited amounts of money on direct advocacy for and against candidates. Negative campaigning constitutes the vast majority of outside spending. Since Jan. 1, 2017, 80 percent of all outside election spending has been on efforts attacking candidates, according to Sludge's review of campaign finance records collected by the Center for Responsive Politics.

In 2010 about 7 percent of federal election spending came from outside groups, but by 2016 that number had tripled to about 21 percent. The 2018 midterms have already set a new record for spending by outside groups, and that figure is expected to increase significantly once the final pre-election campaign finance filings that are made public in the coming days.