Rick Scott Is Heavily Invested in Fossil Fuel Companies Donating to His Senate Campaign
Oil, gas and coal companies are bankrolling the Florida governor's campaign to join the U.S. Senate as increasingly intense storms batter his state.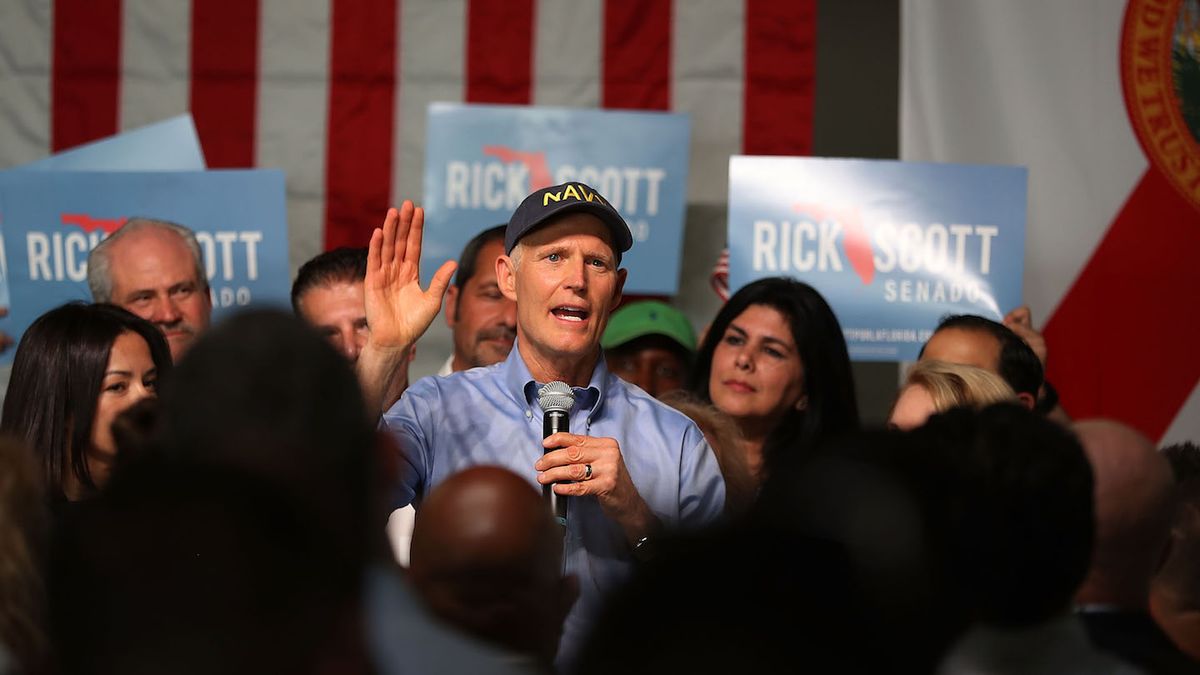 This article was produced with Facing South, the online magazine of the nonprofit Institute for Southern Studies in Durham, North Carolina.

As yet another destructive hurricane season lays waste to coastal regions in Florida, Gov. Rick Scott is running a U.S. Senate campaign with the help of fossil fuel companies that contribute to climate change, which is leading to stronger and faster-intensifying storms. Meanwhile, he and his wife are personally invested in five of these companies, most of which have major operations in his state.

According to a Sludge analysis of Federal Election Commission data and Scott's recently released 2017 personal financial disclosure, the wealthy Republican governor and his wife, Ann, own as much as $2.5 million worth of stock in five fossil fuel companies that have contributed to his Senate election bid, including NextEra Energy and Energy Transfer Equity, which have contributed a total of $238,000 towards his campaign.

Overall, Rick and Ann Scott owned between $12.5 million and $29 million worth of stock in fossil fuel companies and investment funds at the end of 2017, earning them as much as $5 million in profits that year. Many of these investments are held in a blind trust owned by the governor, which, along with his wife's investments, is managed by a close former colleague and business partner. When Scott recently filed his federal disclosure, which required him to list his wife's assets for the first time, it was clear that her investments mirrored those within his blind trust, causing ethics experts to question whether Scott was really ignorant of which companies he is invested in.

Scott has a poor environmental record in Florida. He has struck regulations and questioned manmade climate change, and his Department of Environmental Protection reportedly prohibited its employees from publicly using the terms "climate change" and "global warming."

The governor's financial interests in fossil fuel companies have come under scrutiny before. Now, as he runs a strong challenge to incumbent Democrat Sen. Bill Nelson, those interests are chipping in to his campaign, his joint fundraising committee with the National Republican Congressional Committee, and a super PAC he recently led, which has spent exclusively on ads attacking Nelson.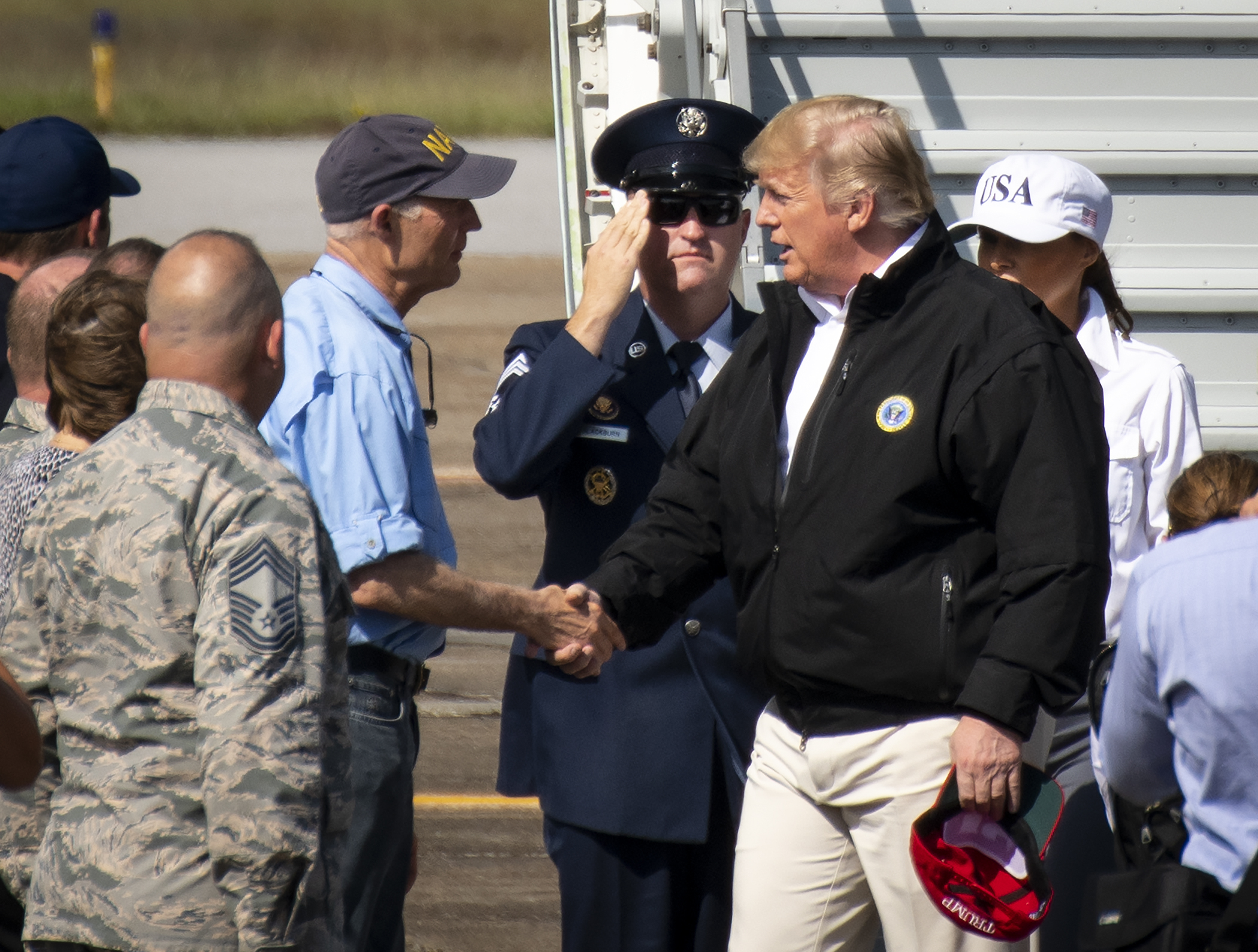 Millions in Fossil Fuel Investments

The Scotts' biggest investments are with Dallas-based Energy Transfer Equity, which owns Energy Transfer Partners, a firm that operates gas pipelines throughout Florida. Together, the Scotts own as much as $1.25 million worth of stock in Energy Transfer Equity. Its subsidiary owns 50 percent of Florida Gas Transmission, a state vendor and an interstate pipeline that runs natural gas from Texas along the Gulf Coast and into Florida.

The Energy Transfer PAC donated $5,000 to Scott's campaign, and CEO Kelcy Warren added $5,400. Senior Vice President Thomas Mason contributed $2,700. Warren also donated $50,000 to New Republican PAC, a super PAC that Scott led until early this year. The PAC, which is the subject of multiple campaign finance complaints and has blurred the line concerning illegal coordination between candidates and outside spending groups, has spent over $14.8 million against Nelson.

Energy Transfer spokesperson Vicki Granado told Sludge, "As a partnership, we are supportive of measures that will allow us to reliably meet our country's current and future energy needs. Beyond that I will decline to comment." Granado did not answer questions about Energy Transfer's political donations.

Scott and his wife own up to $750,000 worth of stock in NextEra Energy, a large energy company headquartered in Juno Beach, Florida. NextEra owns the Florida Southeast Connection Pipeline and co-owns an interstate pipeline that connects to it, the Sabal Trail pipeline. According to the Miami Herald, Scott owned stock in Spectra Energy, another owner and co-operator of the Sabal Trail Pipeline, in 2013, when the state approved it. (He has since sold his stake.) An executive at Duke Energy, the third owner of the pipeline, donated $1,000 to Scott's joint fundraising committee in July.

Employees of NextEra have contributed $77,000 to the Scott campaign, and employees of its subsidiary, Florida Power & Light, have added nearly $28,000.

Alliance Coal CEO Joseph Craft donated the $5,400 maximum amount to the Scott campaign and $50,000 to the New Republican PAC. Scott and his wife own as much as $350,000 worth of stock in its parent company, Alliance Resource Partners LP. In July, Scott held a fundraiser with several fossil fuel executives, including Craft, according to E&E News. Richard Gilliam, CEO of coal company Cumberland Resources, gave $25,000 to the New Republican PAC.

As of 2016, coal was the second-biggest energy source in Florida. Florida Power and Light announced in September 2017 that it would shutter one of its last coal-fired power plants in the state, yet other coal plants in the state are still active. Florida gets most of its coal from Illinois, Indiana and western Kentucky, where Alliance Coal has most of its mines. Alliance Resource Partners has previously disclosed contracts to provide coal to the Seminole Electric Cooperative, a large Florida energy utility. According to 2016 data from the U.S. Energy Information Administration, Florida was the biggest buyer of coal from Illinois and Kentucky, and the second-biggest buyer from Indiana, aside from the origin states themselves.

The PAC of oil company Chevron gave Scott's campaign the maximum donation of $10,000, while ExxonMobil's PAC gave $5,000. Scott and his wife own up to $30,000 worth of Chevron stock and as much as $100,000 in ExxonMobil stock. Both oil companies have supported offshore drilling near Florida for some time, and records show they registered in Florida to lobby the executive branch and the legislature this year, although the reports do not disclose specific issues that were discussed.

Sean Comey, a senior adviser on government affairs at Chevron, did not answer specific questions about its offshore drilling preferences but told Sludge, "We make political contributions to support the election of candidates who promote the responsible development of oil and natural gas resources. Our contributions are made in accordance with the law."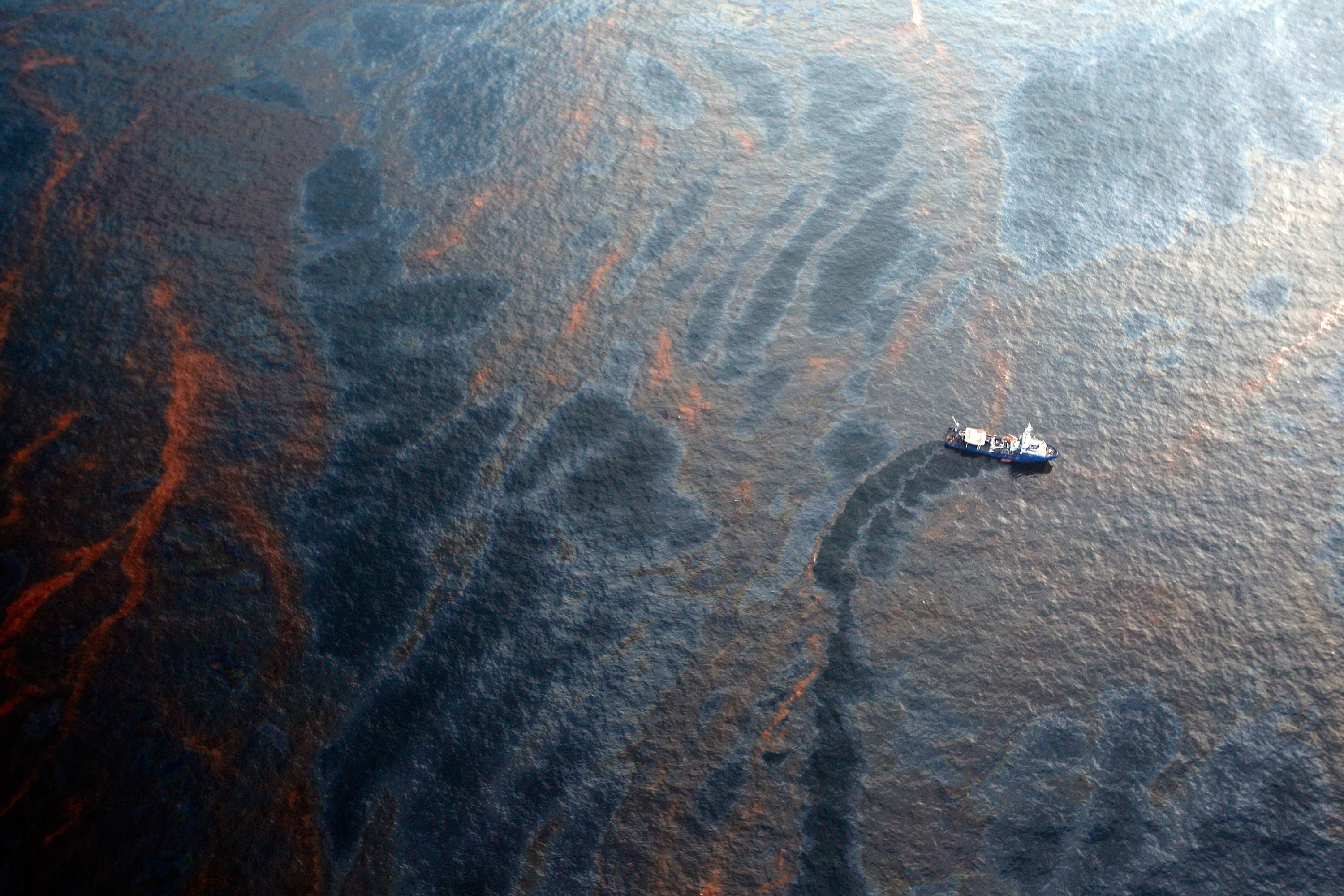 Additional fossil fuel interests have aided Scott as well. Americans for Prosperity Action, a new super PAC formed by the political network of Charles Koch, chairman and CEO of the private fossil fuel and chemicals conglomerate Koch Industries, has spent nearly $1.2 million attacking Nelson. As Sludge previously reported, its donors remained secret until after an Oct. 15 campaign finance report deadline. The linked nonprofit, Americans for Prosperity, has also spent $122,000 against Nelson, according to data compiled by the Center for Responsive Politics.

The U.S. Chamber of Commerce, which represents fossil fuel companies including Peabody Energy, Phillips 66, Shell, and Southern Company, donated $6,000 to the Scott campaign and has spent $750,000 on independent expenditures supporting Scott and opposing Nelson. Craft of Alliance Resource Partners and Florida Power and Light CEO Eric Silagy are on the Chamber's board of directors.

As of Oct. 15, fossil fuel interests had donated at least $1.4 million to Scott's campaign, joint fundraising committee and New Republican PAC since 2017, according to a Sludge analysis of the latest federal campaign finance data.

Nelson does not directly own stock in any fossil fuel companies, according to his 2017 financial disclosure document. His campaign has accepted $81,000 in donations from energy and natural resources interests since 2013, according to the Center for Responsive Politics.

Rick Scott's office, his campaign, NextEra Energy and ExxonMobil did not return requests for comment. Alliance Coal declined to comment.

A Poor Environmental Record

While he claims to oppose offshore oil drilling, Scott was once in favor of it, and his campaign donors, such as Chevron, Devon Energy and Marathon Petroleum, are pushing for it. These companies are members of the American Petroleum Institute, which launched a pro-drilling coalition called Explore Offshore in June.

Hurricane Michael hit Florida's Panhandle hard last week, and its extremely rapid intensification was brought on by warmer ocean waters and air temperatures, likely due to climate change. Last year, Hurricanes Harvey, Irma and Maria went through rapid intensification cycles as well. Yet Florida's governor has cut funding for the Department of Environmental Protection and conservation programs, and dismantled state laws to fight pollution and climate change.

---