Under Threat of Regulations, Facebook Increases Lobbying in State Legislatures
Social media giant Facebook increased its state-level lobbying expenditures by 31 percent following the 2016 election.
While Congress is paralyzed by partisan gridlock, state legislatures around the country have put forward legislation to regulate social media platforms by making more information available on political ads, aiming to stop social-media bots or limiting the collection of private data.

Facebook has reacted to the rise of state-level regulatory proposals by increasing its lobbying presence in statehouses. In 2016, following an election marred by a Russian-backed social media disinformation campaign, Facebook increased its lobbying at the state level by nearly 31 percent from the prior year, according to Sludge's analysis of lobbying expenditures for 20 states with comprehensive lobbying disclosures.
In 2015, Facebook spent at least $728,000 on lobbying efforts in the states reviewed by Sludge. That figure increased to $952,000 by 2016, shortly after Donald Trump ascended into the presidency. The following year, in 2017, lobbying for the social media giant in these states ballooned to roughly $1.3 million, a 41 percent increase from its pre-presidential election lobbying expenditures in 2015.

"A lot of big companies are increasing lobbying in the states both because there's sort of more happening in the states and there's congressional gridlock," said Ian Vandewalker, senior counsel at the Brennan Center's Democracy Program. "Companies can get more bang for their buck on state levels."

Due to varying laws, different reporting requirements and a lag in disclosure, it's difficult to get an accurate view of how much Facebook has spent on lobbying across the country. So far this year, Facebook has spent nearly $457,000 in lobbying costs in the 14 states where disclosures were available.

Efforts to reach Facebook and their lobbyists over the past two months to discuss their state-level lobbying efforts were unsuccessful.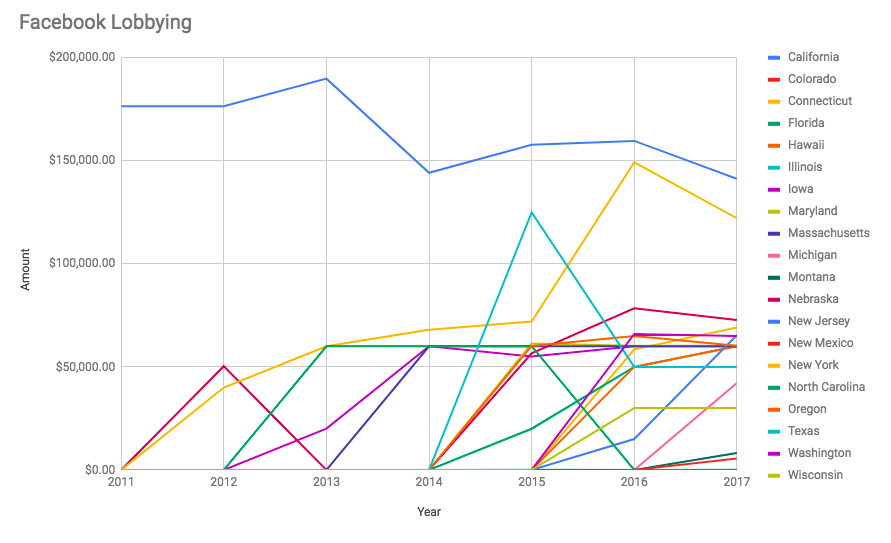 In several states where Facebook had a lobbying presence, efforts to regulate the social media company were introduced but subsequently stalled.

In Montana, a bill was introduced in February 2017 prohibiting companies from collecting biometric data, including facial recognition, without a person's consent. The bill would have also established regulations for selling, protecting and disposing of biometric data. The bill did not advance, and since Montana's Legislature only meets on odd-numbered years for for 90 days, the Montana Biometrics Information Privacy Act is "probably dead." Prior to 2017, Facebook had no previous lobbying presence in Montana's Legislature, but lobbying disclosures show that the social media company spent $8,000 on lobbying expenses in 2017, just as the biometrics data collection bill was introduced.

That same year, a similar bill was introduced in the Connecticut General Assembly to prohibit retailers from using facial recognition software for marketing purposes, likely impacting Facebook's patented technology to deliver ads based on perceived emotions. The bill died during the 2017 legislative session, the same year Facebook spent $69,000 on lobbying Connecticut policymakers. The lobbying disclosures filed in Connecticut don't specify which bills Facebook lobbied on, only noting that it was "technology" issues. So far this year, Facebook has spent $25,000 on lobbying expenses in Connecticut.

In New York, legislators passed regulations for online political ad disclosures, but efforts to regulate data collection from Facebook users did not gain traction during the 2018 legislative session. For the first half of 2018, Facebook spent $46,000 on lobbying in New York, disclosures show.

While state-level lobbying expenditures are a fraction of what Facebook spent on lobbying Congress and the federal government, it follows a similar trend.

In 2016 Facebook spent $8.69 million on lobbying the federal government, federal lobbying disclosures show. The following year, the social media company spent $11.51 million on lobbying amid growing concerns by lawmakers that there was foreign influence in the 2016 election in the form of fake accounts and ads on Facebook and Twitter. So far this year, Facebook has spent $6.97 million on lobbying the federal government.

In response to the 2016 disinformation campaign waged by Russia, Democratic Senators Mark Warner of Virginia and Amy Klobuchar of Minnesota, as well as the late Republican Senator John McCain of Arizona, introduced legislation in October 2017 that would impose the same disclosures to online political ads as those on TV and radio.

In March, calls to advance the bill, known as the Honest Ads Act, increased amid news that Cambridge Analytica, a political consulting firm hired by the Trump campaign, had acquired and used personal data of more than 50 million Facebook users in an effort to identify and influence voters.

While the proposal has stalled in Congress and seems unlikely to become law before the midterm elections, states have stepped into the void to try and regulate political ads on the social media platforms, resulting in a patchwork of laws and regulations that vary from state-to-state.
In Maryland, the state's Legislature passed a bill in April that would require social media platforms to track all political ads and record which users are being targeted. The law, which went into effect on July 1, requires social media platforms and any other sites with at least 100,000 unique monthly visitors to publicly post information about who bought the ads, who benefited from it and how much was spent, similar to the requirements for TV stations.

Facebook, which had initially been opposed to the proposal, helped draft the Maryland bill. The social media giant hailed Maryland's law as model legislation for the rest of the country and within 24 hours of the bill's passage announced a national policy with similar provisions as the Maryland law, the Baltimore Sun reported.

Facebook spent $60,000 on lobbying efforts in Maryland in 2016 and 2017. That figure increased to more than $72,000 for the first half of 2018, Maryland lobbying records show.

Similarly, New York enacted a law in April that directed the state's Board of Election to create a public archive of digital political ads and requires online platforms to confirm that foreign individuals and interest aren't buying ads aimed at influencing New York voters. Any individual or organization that fails to comply with New York's regulations are subject to a $1,000 civil penalty for each violation.

In Vermont, Republican Gov. Phil Scott signed similar legislation in May that seeks to regulate social media companies and political ads. Another piece of legislation related to data collection on minors, which Facebook is listed as lobbying on, is currently making its way through the Legislature.

Legislation aimed at regulating online political ads has also been introduced in Washington State, but has not moved out of the a state Senate committee since February. Facebook, which reported lobbying on the bill, has spent $35,000 on lobbying efforts between January and August, disclosures show.