Following Kavanaugh Sexual Assault Allegations, Facebook Ads Target Female Baby Boomers
Since sexual assault allegations surfaced against Trump's nominee to the Supreme Court, Facebook ads opposing Kavanaugh's vastly outnumbered ads in favor of his nomination.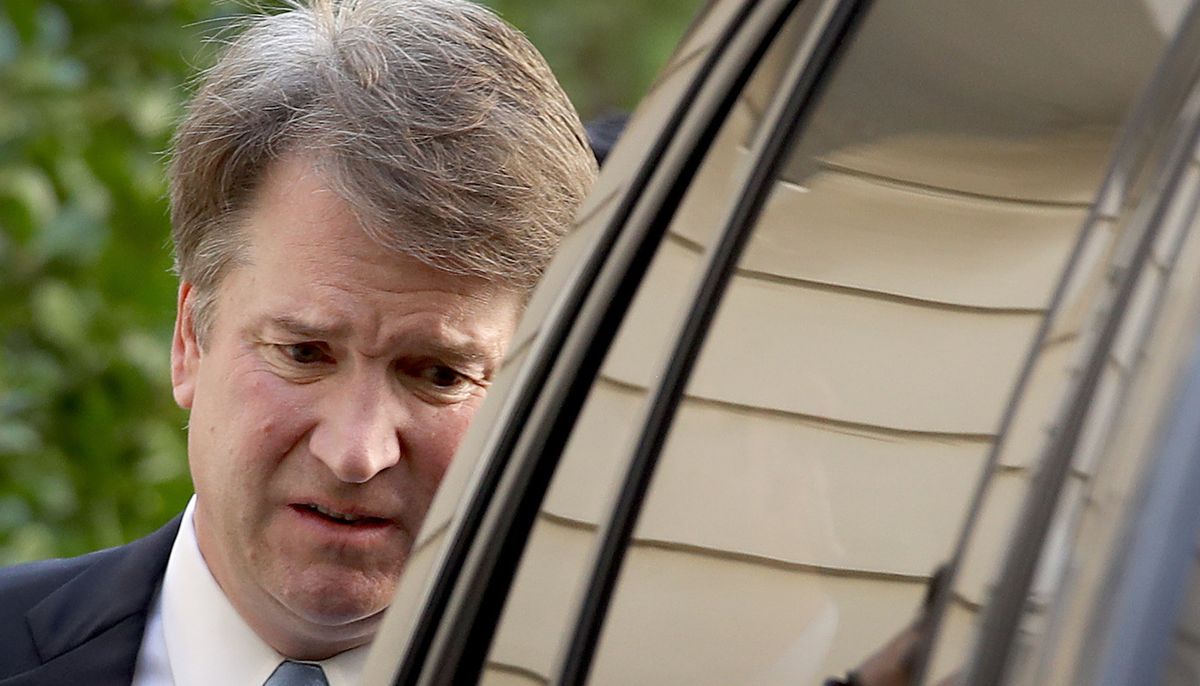 Since allegations of sexual assault levied against Supreme Court nominee Brett Kavanaugh surfaced this weekend, organizations opposing President Donald Trump's pick to the country's highest court have aimed Facebook ads at female Baby Boomers in an effort to quash his nomination.

Of the nearly 200 Facebook ads that began running on the social media platform on Monday and Tuesday that mentioned Kavanaugh or the Supreme Court, nearly 37 percent were targeted toward women who are 55 or older, according to Sludge's analysis of Facebook ads. Facebook allows advertisers to target ads at six age categories and three gender categories.

The female Baby Boomers targeted by the ads were likely adolescents or teenagers during the second-wave feminism period that began in the 1960s and during the Supreme Court issued the landmark 1973 decision in Roe v. Wade. While Kavanaugh has said that Roe v. Wade is an "important precedent," critics warn that his addition to the court could enable an outright reversal of the federal abortion statute.

The most frequent ad buyer on Facebook during the two day period was billionaire Tom Steyer, who plans on spending $110 million this year to redefine the Democratic party. Steyer, through his political organization, Need to Impeach, had 102 active Facebook ads urging users to call their senators to oppose Kavanaugh's bid.

"Donald Trump's Supreme Court pick Brett Kavanaugh not only does not believe sitting presidents should be investigated or prosecuted — he may have committed sexual assault. Call Maine Senator Susan Collins to demand she stand up to this lawless president by keeping Brett Kavanaugh off the Supreme Court," one ad said.
Need to Impeach, the Steyer-backed organization aimed at impeaching Trump, spent between $1,100 and $10,998 on Facebook ads between Monday and Tuesday, reaching as many as 172,000 Facebook users, according to Sludge's analysis. Roughly 67 percent of Steyer's ads over the two day period were targeted toward women, particularly those who are 55 and older.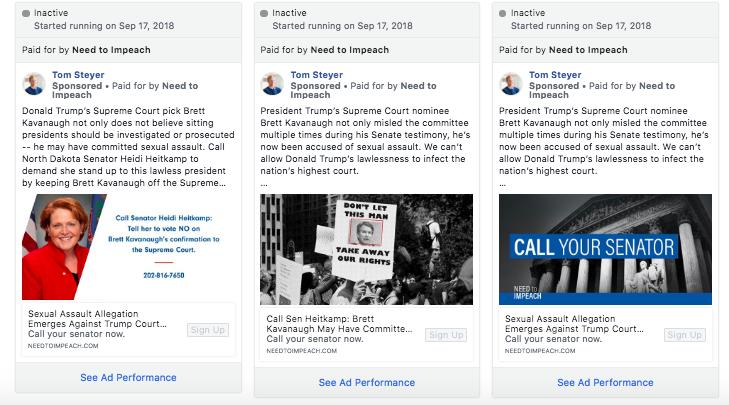 NARAL Pro-Choice America had the second most Facebook ads over the two day period, with 27 active ads reaching between 23,000 and 119,000 Facebook users, according to an audience breakdown. The organization, which spent between $900 and $6,000 on ads, also primarily targeted women, particularly those between the ages of 18 and 24, and women who are 55 or older.

Facebook ads opposing Kavanaugh's nomination vastly outnumbered ads in favor of his nomination. Anti-Kavanaugh campaigns  accounted for 180 active ads over the two day period, reaching between 72,000 and 455,000 Facebook users and costing organizations between $2,600 and roughly $23,000.

As of Tuesday evening, there had only been nine active Facebook ads supporting Kavanaugh's nomination. The National Republican Congressional Committee, which had seven active ads running, spent between $1,300 and $6,797, reaching between 23,000 and 86,000 Facebook users.

"President Trump has picked a great new Supreme Court Nominee, Brett Kavanaugh! Sign here now to show your support," the NRCC's ad says.

The NRCC's ads were evenly targeted between men and women, according to Sludge's analysis, with two-thirds of the ads geared toward Baby Boomers.

The cost of the Facebook ads pale in comparison to what has been spent on television. So far, there's been $8.1 million spent on TV ads by supporters or opposers to Kavanaugh's nomination, according to Douglas Keith, the counsel in the Brennan Center's Democracy Program.

Unlike on TV, groups opposing Kavanaugh's nomination have outspent his supporters on Facebook ads, Keith told Sludge Wednesday.

"Groups opposing Kavanaugh's nomination that have been drastically outspent on TV were spending a bit more on Facebook than groups supporting Kavanaugh. The top two Facebook spenders at that point, Demand Justice and NARAL Pro-Choice America, combined to spend between $127,000 and $642,000 to oppose Kavanaugh. The next biggest spenders, Judicial Crisis Network and Trump Make America Great Again Committee, combined to spend between $33,000 and $279,000 on Facebook ads supporting Kavanaugh," Keith added. "But these groups all appear to have seen a real bang for their buck on these social media ads, combining for as many as 34 million views."

While the Judicial Crisis Network—a conservative advocacy group— on Monday announced it was planning on spending $1.5 million on television and digital ads supporting Kavanaugh, it hasn't spent much on Facebook yet.

The single active ad, which began running Tuesday and cost between $1,000 and $5,000, is primarily geared toward Facebook users in Virginia, Maryland and Washington D.C., and reached between 100,000 and 200,000 people.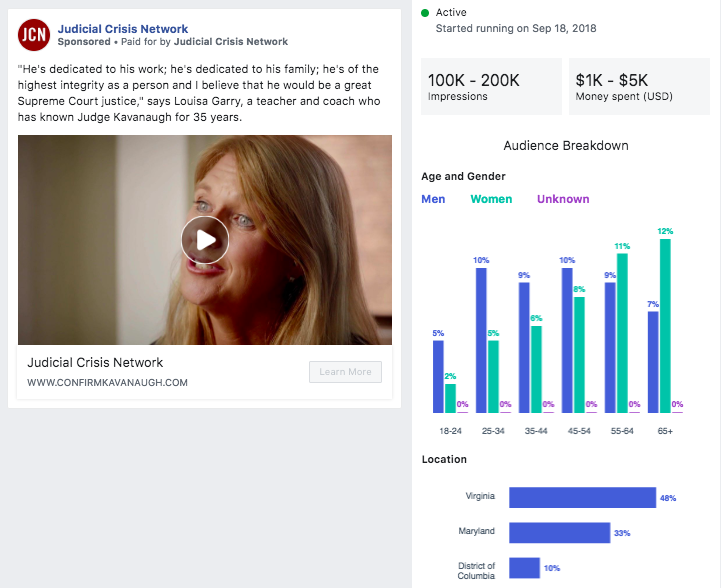 The Judicial Crisis Network boasts that it spent $10 million to seat Trump's first Supreme Court pick, Neil Gorsuch, and $7 million to defeat Merrick Garland, President Barack Obama's nomination. If those numbers are accurate, the amount being spent to confirm Kavanaugh still hasn't surpassed previous claims, Keith said.

"But because we, and the public, can only see one slice of the spending, we simply don't know how this nomination fight compares to recent ones. Nor will the public ever get to know who is so invested in Kavanaugh sitting on the Supreme Court that they were willing to bestow outside groups with millions of dollars to make that happen," Keith told Sludge.
The lawmaker with the most mentions on the Facebook ads was Republican Sen. Susan Collins of Maine, who is viewed as one of a handful of Republicans that has gone against party lines previously and could tank Kavanaugh's nomination.

"With 14 abortion cases potentially headed to the Supreme Court, Trump's nominee Brett Kavanaugh could make Roe v. Wade meaningless. U.S. Senator Susan Collins wants to hear from Mainers. Comment on her Facebook page and ask her to oppose Trump's nominee Brett Kavanaugh," said a Facebook ad by Planned Parenthood Action Fund.

Maine was the top state for the targeted Facebook ads, according to an audience breakdown and Sludge's analysis. It was followed by California, Texas, Florida, Indiana and North Dakota.

Sen. Heidi Heitkamp of North Dakota, one of the few Senate Democrats from a red state, had the second highest amount of mentions in Facebook ads over the two day period. Since the allegations of sexual assault against Kavanaugh emerged, Heitkamp, Sens. Joe Donnelly of Indiana and Joe Manchin of West Virginia have all called for the Judiciary committee to further investigate the allegations made by Christine Blasey Ford.