Peer Into the Dark Money Abyss
While much of the funding to the "dark money" behemoths tied to the leaders of Congress remains a mystery, a review of corporate disclosures reveals more of the companies that have donated.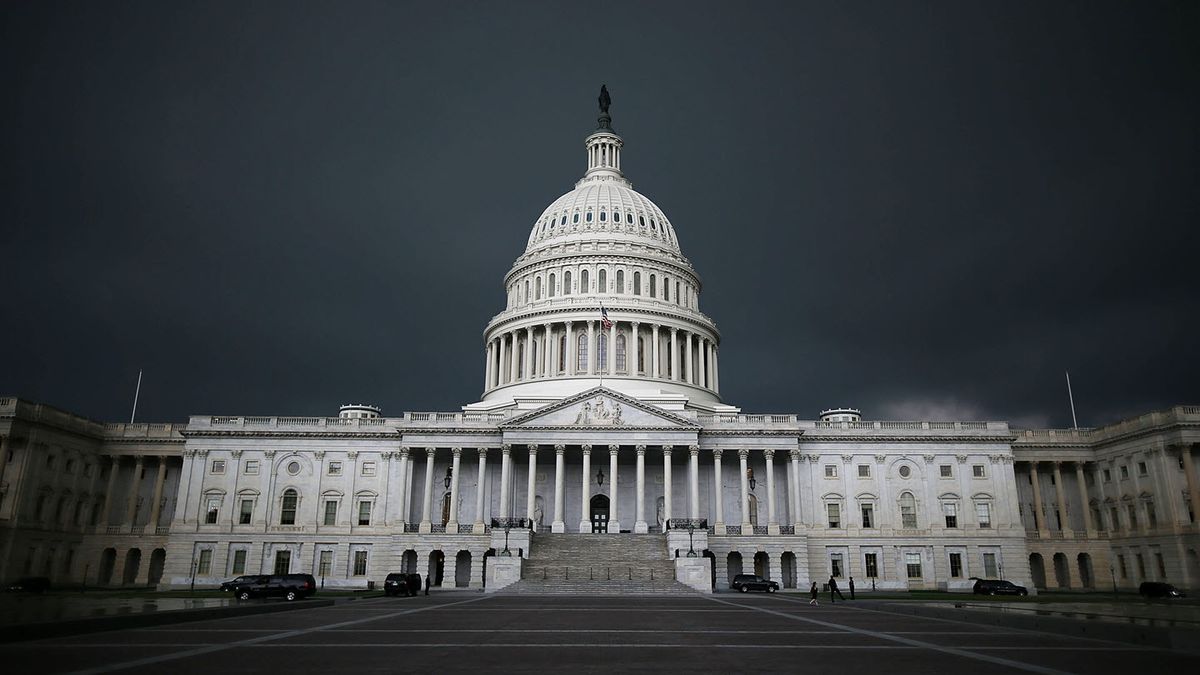 The four nonprofits tied to the highest-ranking Democrats and Republicans in Congress have in recent election cycles been among the largest spenders on congressional elections, but they are not required to disclose their donors so almost no one knows from where the bulk of their funding has come.
However, more large American companies have begun voluntarily disclosing their political donations due to pressure from shareholder activists, and some are disclosing money they give to so-called "dark money" 501(c)(4) nonprofits that do not disclose their donors. By reviewing hundreds of corporate disclosures, lobbying contribution filings, and other documents, Sludge has identified more than two dozen companies that have donated to the nonprofits linked to congressional leaders, either directly from their corporate treasuries or through their PACs.
The four nonprofits are Majority Forward, a pro-Senate Democrat nonprofit with ties to Senate Majority Leader Chuck Schumer (D-N.Y.); One Nation, a pro-Senate Republican nonprofit with ties to Senate Minority Leader Mitch McConnell (R-Ky.); House Majority Forward, a pro-House Democrat nonprofit with ties to House Minority Leader Hakeem Jeffries (D-N.Y.); and American Action Network, a pro-House Republican nonprofit with ties to House Speaker Kevin McCarthy (R-Calif.).
These dark money groups have spent hundreds of millions of dollars on TV and digital ads that attempt to influence voters regarding congressional races, and they have transferred millions to their sister super PACs to buy ads. For example, the pro-Republican One Nation nonprofit spent at least $40 million on election ads in the 2020 election cycle and donated more than $85 million to the Mitch McConnell-aligned super PAC Senate Leadership Fund that cycle. One Nation's Democratic counterpart, Majority Forward, has given more than $111 million to the Schumer-aligned SMP super PAC since 2020, according to Federal Election Commission records. The four super PACs affiliated with the dark money groups were the top outside spenders on elections last cycle, according to OpenSecrets, making a combined $842 million in independent expenditures and flooding the airwaves with campaign ads.
These nonprofits are not really independent groups. Rather, they operate as special accounts for their affiliated super PACs that allow them to take donations without being subject to the transparency requirements of PACs. The four nonprofits share the same address with their sister PACs, and have many of the same staff members. The groups also typically use many of the same vendors as their super PAC affiliates.
The dark money groups and super PACs, although not formally affiliated with the four congressional leaders because of campaign finance laws, are known to work closely in conjunction with the leaders. For example, the Congressional Leadership Fund says it is endorsed by House Speaker Kevin McCarthy, and McCarthy raises funds for the group through his joint fundraising committee. One Nation's President and CEO Steve Law is a former McConnell staffer who worked with the senator on campaign finance reform issues. The groups offer companies, individuals, and trade associations a way to give donations of unlimited size to support the efforts of the most powerful figures in Congress.
In its 2010 decision on the Citizens United v. FEC case, the Supreme Court eliminated limits on independent political spending, determining that such limits violated the First Amendment. Since then, nonprofits organized as 501(c)(4) social welfare groups have been popular vehicles for companies and individuals wanting to make large political expenditures because, unlike super PACs, they do not have to disclose their donors.
Many of the largest corporate donations to the dark money groups that have been disclosed were given by oil and gas companies to One Nation. These donors include ConocoPhillips, Southern Company, Andeavor, and Phillips 66. One Nation's super PAC affiliate, the Senate Leadership Fund, received many large oil and gas company donations in the 2021-22 election cycle, Sludge has reported. Those donors include Occidental Petroleum and Chevron. In recent months, some ads One Nation has run have claimed that energy policies passed into law by the Democrats in the Inflation Reduction Act could lead to large numbers of job losses in fossil fuel industries, citing figures published by oil and gas industry lobbying group the American Petroleum Institute (API). ConocoPhillips and Phillips66 made their million-dollar donations to One Nation in 2021 as API and other industry groups in which they are members were lobbying to stop the Democrats' from passing those policies.
Another company that has disclosed making large donations to the dark money groups is CVS Health, a retail chain and pharmacy benefit manager business. CVS Health has donated millions each to One Nation, Majority Forward, as well as $500,000 to House Majority Forward.
Additionally, several companies disclosed having donated to the 501(c)(3) affiliate of American Action Network (AAN) called the American Action Forum (AAF). The groups AAN and AAF are legally separate, but they share the same address and share a key board member in former Minnesota Republican Senator Norm Coleman, who is the chairman of the AAN board. Unlike AAN, the AAF not spend money on elections or donate to super PACs. Instead, it benefits congressional Republicans through producing policy research that is supportive of conservative causes.
Big technology companies like Amazon, Meta, and Alphabet have maintained memberships with AAF as it has been publishing content critical of the recent bipartisan efforts in Congress to expand antitrust laws to specifically target certain tech platform practices. AAF argues that moving away from a consumer welfare standard for antitrust action considerations would harm consumers and innovators.
Trade associations are required to report their donations to the government and many have indicated giving large sums to the four dark money groups. These donations were disclosed on Form 990s filed with the Internal Revenue Service. Trade associations serve as lobbying conduits for businesses, allowing them to financially support things like dark money political donations and unpopular public policy positions without having their brands directly attached.
Many of these companies also donate to other large political organizations. Several of the companies disclosing donations to the dark money groups in 2020 and 2021—including ConocoPhillips, Phillips66, Southern Company, and CVS Health—are members of the U.S. Chamber of Commerce, one of the biggest dark money spenders in D.C. During the first year of the Biden administration, the business group organized a lobbying blitz to sink the Democrats' Build Back Better agenda, warning of job loss if tax rates on large corporations were restored to pre-2017 levels.
The dark money groups have been increasingly used to funnel contributions over the past two election cycles. Contributions made by the four dark money groups to their super PAC affiliates rose by nearly one-fifth in the 2022 midterms compared with the previous cycle, sending more than $209 million to the outside spending groups aligned with congressional leaders.
However, voluntary disclosure of donations to political nonprofits by companies and trade associations remains spotty—these dark money groups have far more donors than those that are able to be identified through public information. One Nation, for example, reported in its 2020 tax filing that it had 187 anonymous donors during that reporting period, with one giving the group $33 million and another giving it $13.5 million. According to the 2022 CPA-Zicklin Index of Corporate Political Disclosure and Accountability, only 20% of the companies they examined fully disclose their donations to 501(c)(4) organizations. Additionally, 12% partially disclose these donations, and 17% have policies prohibiting themselves from donating to such groups.
Corporate law firms are advising their clients that shareholders may push resolutions that would force them to disclose donations made to groups like AAN and House Majority Forward. For example, the law firm Covington & Burling published an alert earlier in February telling companies to "be wary of aggressive demands" from shareholders such as language in a model resolution from the Center for Political Accountability that calls on them to release information about their donations to 501(c)(4) social welfare groups. "These contributions are generally not required to be publicly disclosed by applicable laws, and companies may have valid economic reasons for keeping such spending private, including shielding from competitors issue areas in which they are engaged in policy advocacy," Covington & Burling wrote in its alert.
While shareholder activism has helped to paint a fuller picture of which companies are donating to these nonprofits, Congress could pass legislation that would go much further toward providing public transparency of these big political donors. Following the Supreme Court's Citizens United decision in 2010, Democrats in the Senate and House have repeatedly proposed such legislation, entitled the Democracy Is Strengthened by Casting Light On Spending in Elections (DISCLOSE) Act, but they have never passed it out of Congress due to Republican opposition. If the bill were to become law, nonprofits that spend money on politics would have to publicly disclose information about their donors who have given them more than $10,000, with some exceptions such as amounts received in their ordinary course of business or when donors said in writing that their funds are not to be used for political spending purposes.
Until then, leadership in both parties have embraced rising amounts of dark money used for TV and online ads in electing their caucuses. In 2022, the omnibus government funding bill—typically considered "must-pass" legislation—included provisions that would bar the IRS from changing the classification rules for social welfare nonprofits that spend money on politics. The $1.5 trillion, 2,741-page omnibus funding bill also passed language preventing the Securities and Exchange Commission from finalizing a rule requiring corporations to publicly disclose more of their political and lobbying spending.
Read more from Sludge:
---