General Atomics-Funded Lawmakers Call on Pentagon to Give Ukraine Reaper Drones
The MQ-9 Reaper could help Ukraine launch attacks deep into Russian territory.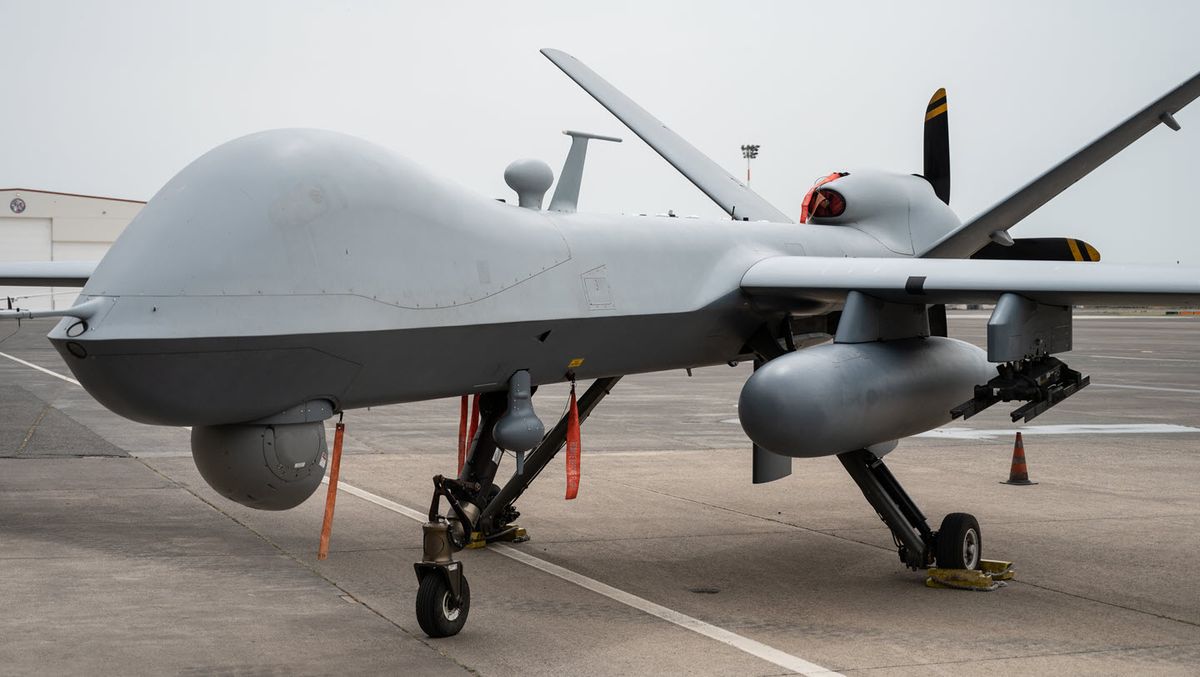 Over the past year, the United States has gradually and consistently increased the varieties of weapons it is sending to Ukraine. Starting mainly with small arms and equipment that helped Ukrainian soldiers defend themselves in close combat situations, the U.S. quickly began sending man-portable Javelins and surface-to-air missile systems that could help them fight Russians at further distances, as well as larger systems like rocket launcher vehicles and tube-fired explosive drones. The U.S. has even committed to sending Ukraine dozens of M1 Abrams tanks, a weapons system that the Pentagon initially said it wouldn't send despite months of Ukrainian pleas.
One weapon platform the Pentagon has been reluctant to ship to Ukraine, however, is the General Atomics-made MQ-9 Reaper drone, a large, high-endurance attack aircraft that is used by the U.S. Air Force. The Reaper could be a game-changer for Ukraine, allowing the country to launch attacks deep into Russian territory. The MQ-9 can carry a payload of up to 1.5 tons, nine times greater than the payload capacity of the Turkish-made TB2 drones that the Ukrainian military has been employing, and it can fly nearly twice as high and for a longer duration.
The Biden administration has been concerned about the possibility of escalation if Ukraine obtains more high-powered weapons, leading Russia to view the U.S. as an enemy combatant in the conflict and take retaliatory steps. U.S. military officials have also argued that drones like the Reaper would be outmatched by Russia's superior air defense systems.
Ukrainian officials have met with General Atomics on multiple occasions to discuss weapons, and General Atomics has offered to donate the drones for $1, as long as Ukraine also commits to spending $10 million to prepare and ship the aircraft, as well as $8 million a year for maintenance.
General Atomics' executives make hundreds of thousands of dollars worth of campaign donations each election cycle, and now some of the top recipients of that money are pressuring the Biden administration to approve transfering Reaper drones and other powerful General Atomics weapons to the Ukrainian military.
Since 2017, Defense Appropriations Subcommittee Chair Rep. Ken Calvert (R-Calif.) received at least $693,00 from General Atomics employees, with more than $600,000 of that coming from donations by the company's CEO Neal Blue and Vice Chairman Linden Blue, according to Federal Election Commission data. The funds have been received by his campaign committee, leadership PAC, and joint fundraising committee. General Atomics' PAC has sent an additional $105,500 to Calvert's fundraising committees during that period, making the company one of the congressman's top career donors. Calvert's district in Southern California is close to General Atomics' San Diego headquarters.
Calvert in December confirmed what anonymous sources told Politico, that the Air Force has approved the idea of sending Reapers to Ukraine, but that the Pentagon is holding it up.
"We ought to be able to put in the MQ-9 Reaper and Gray Eagles that would help change the course of this war," Calvert said. He also told Politico that we should begin training Ukrainians now on how to use the weapons, in anticipation of the administration giving General Atomics the green light.
The Gray Eagle is another General Atomics drone that has a smaller payload capacity and shorter range than the Reaper, but can be useful for shorter-range missions and in more restricted environments.
Calvert's most recent large donation was $150,000 from Neal Blue, which his joint fundraising committee received on February 10.
Senate Armed Services Committee member Sen. Kevin Cramer (R-N.D.), who in 2018 received a $100,000 donation from Neal Blue via his joint fundraising committee, recently pressed Defense Secretary Lloyd Austin and Joint Chiefs of Staff Chairman Mark Milley on why the U.S. is not sending Reaper drones to Ukraine.
"One system we have never offered, and I haven't heard a lot of talk about are the MQ-9s," Cramer said during a hearing held by the Senate Armed Services Committee on March 28. "Since we just lost one recently in the Black Sea, where it is probably more likely to be recovered by Russia than the United States, and the fact that the Air Force wants to retire 48 older MQ-9s, is there any chance that it might be a reasonable system to offer Ukraine?"
Both Austin and Milley responded by saying the Reaper would not do well due to Russia's superior air defense capabilities. "It is not a survivable platform if they try to use that in that environment," Austin said.
Armed Services Committee Ranking Member Sen. Roger Wicker (R-Miss.), who has received more than $60,000 from the company's employees and PACs, is another member of Congress who has called on the U.S. to send General Atomics weapons to Ukraine.
"We need to give Ukraine ATACMS, long range missiles and advanced drones like the Grey Eagle and Reaper," said Wicker during a speech he made on the Senate floor in January. "We should deliver these assets quickly to make an immediate difference on the battlefield. In concert with our allies, this approach of 'more, better, faster' would give the Ukrainians a real shot at victory."
Many senators and representatives who have not received substantial donations from General Atomics or its executives are also pressuring the administration to send the company's products to Ukraine. Last September, 16 bipartisan House representatives wrote to Defense Secretary Austin to urge him to complete a review of sending offensive drones to Ukraine, specifically mentioning the General Atomics' Reaper and Gray Eagle systems. That letter was signed by Rep. Marcy Kaptur (D-Ohio), Rep. Adam Schiff (D-Calif.), Rep. Elissa Slotkin (D-Mich.), Rep. Brian Fitzpatrick (R-Pa) and Rep. Victoria Spartz (R-Ind.), among others, according to the Wall Street Journal. And in November, 16 senators signed a letter to Defense Secretary Austin that was led Sens. Joni Ernst (R-Iowa) and Joe Manchin (D-W.V.) that expresses concern over the administration declining to send Ukraine General Atomics' Gray Eagle drones.
House Armed Services Committee ranking member Rep. Adam Smith (D-Wash.) has for many months been calling on the U.S. military to send Ukraine more attack drones.
Last March, Smith said on CNN in a segment that preceded Ukrainian President Volodymyr Zelenskyy that, "We have to figure out ways to get them more drones." In June, Smith made a similar call at an event held by the Defense Writers Group. "When it comes to drones and when it comes to long-range artillery, we've been too cautious," Smith said, according to Military.com. "And I don't agree with the president's take that we can't give the Ukrainians anything capable of striking Russia."
Smith also said that he had been communicating his support for sending Ukraine armed drones and longer range artillery to the White House "near constantly," according to the report.
In March, Smith paid a visit to General Atomics' San Diego facilities and received $26,600 in campaign donations from the company's executives and $5,000 from its PAC, according to his campaign's Q1 FEC filing.
General Atomics spent more money than ever in 2022 on federal lobbying, and its disclosures indicate that it lobbied Congress on Ukraine aid packages, "as it pertains to UAS [unmanned aerial systems]," and held "Meetings with officials regarding unmanned aerial systems and foreign weapons sales."
---
---
Read more: