Chevron-Funded Super PAC Boosted Oil-Friendly Dem in California Congressional Primary
California Democrat Adam Gray advanced in the CA-13 primary after the super PAC ran ads for him, facing a candidate endorsed by state environmental groups.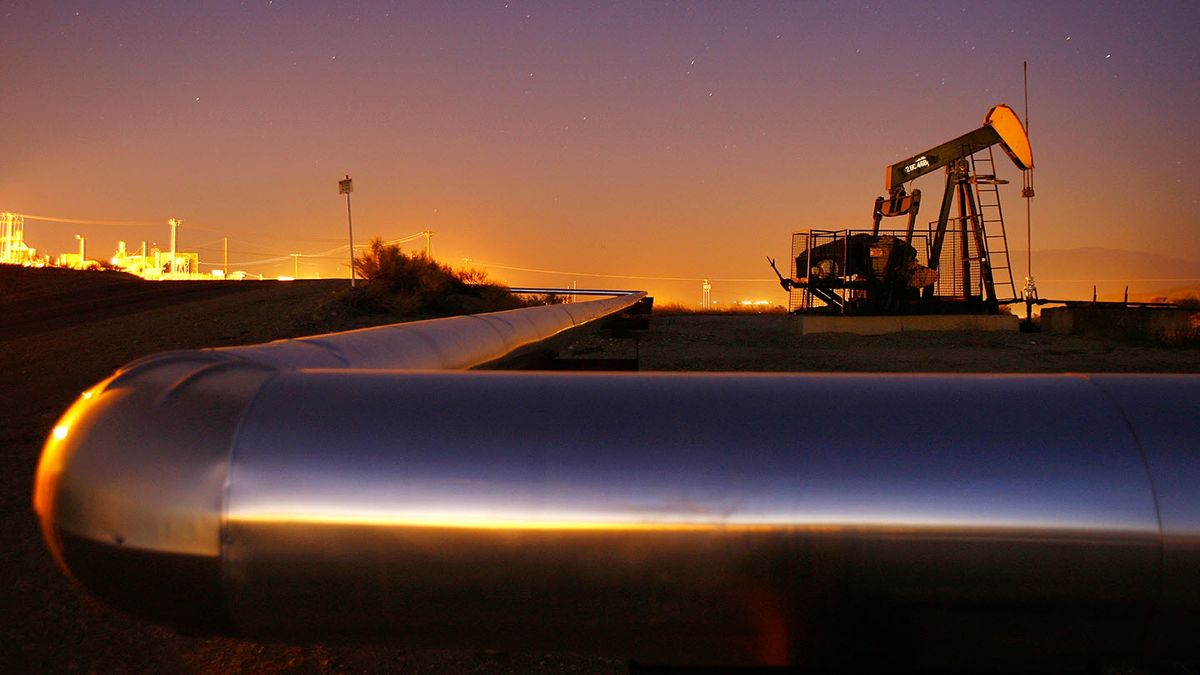 One month after receiving its first-ever donation from Chevron, a super PAC with deep ties to the Blue Dog Coalition of conservative House Democrats spent tens of thousands on ads to help a Democratic California state legislator known as an ally for Big Oil defeat a Democrat endorsed by environmentalist organizations in the primary for an open seat in the U.S. House.
According to a disclosure filed yesterday with the FEC, Center Forward Committee spent $60,000 in May to produce and promote digital ads supporting Adam Gray, a California assemblyman, who was facing Democrat Phil Arballo and multiple Republicans in the open primary for California's 13th Congressional District.
The group spent the money in support of Gray shortly after receiving a $100,000 donation from California-based oil giant Chevron on April 26, according to the disclosure. It was the first time Chevron had donated to Center Forward Committee since the super PAC was formed in 2014. All of Chevron's other super PAC donations since 2014 have gone to groups that back Republican candidates, according to FEC data.
The ads tout Gray's "independence" and say that he is ready to work on protecting water access and lowering crime rates. They ran on Facebook from May 31 until election day on June 7.
Asked about the Chevron-funded super PAC's ads, Gray's spokesperson Mike Lynch told Sludge, "Adam led the fight that suspended the diesel tax and is working to reduce taxes on gasoline." Chevron's spokesperson defended the company's donation by telling Sludge, "Chevron supports organizations that recognize the importance of sound energy policy. Our goal is to help shape effective, responsible and non-partisan U.S. energy policy that supports our ambition to deliver affordable, reliable, and ever-cleaner energy." Chevron discloses spending millions of dollars annually to support trade associations like the American Petroleum Institute that lobby against measures to reduce greenhouse gas emissions.
Gray, who advanced in the primary along with Republican John Duarte, is one of the most fossil fuel industry-friendly Democrats in California politics.
In 2016, Gray was caught by the Los Angeles Times sending a letter written by oil industry trade group lobbyist Eloy Garcia to the Joint Legislative Committee calling for an audit of the California Air Resources Board, the state agency that administers the cap-and-trade program designed to address climate change. Gray's chief of staff admitted to the Times that the request was written by Garcia. Garcia works for the Western States Petroleum Association, the oil industry's chief California lobbying organization with members including Chevron, ExxonMobil, BP, and many more companies. He describes himself as the "principal advisor and chief lobbyist for the petroleum industry before the California Legislature."
Gray has a career environmental voting score of 43% from the California Environmental Voters, which is tied with one other Democrat for the worst score among any Democratic member of the California State Assembly. In June 2021, he voted against the California Climate Crisis Act, which would "declare the policy of the state both to achieve net zero greenhouse gas emissions as soon as possible, but no later than 2045," according to the official summary. Gray was one of four Democrats to vote against the measure. In January 2020, Gray voted against a bill to create safety buffer zones around oil and gas wells and production infrastructure by establishing minimum setback distances between sensitive sites like schools, homes, and hospitals. He also voted that year against increasing penalties for oil spills and against setting higher target for reducing single-use plastics.
In 2019, he opposed Senate Bill 1, a measure designed to defend the state against the Trump administration's rollback of federal environmental regulations by empowering state agencies to implement comparable protections under state laws. That bill, which was vetoed by Gov. Gavin Newsom, was introduced by Democratic Senate President Pro Tem Toni Atkins and was a major part of the state Democrats' platform for protecting the environment. Gray defended his vote against the bill in an op-ed at CalMatters, comparing it to progressives' knee-jerk opposition to President Trump. Instead, Gray said he supported a system of voluntary agreements over area watersheds. "If enacted, SB1 would shred those agreements, destroying the goodwill that has allowed the process to develop," Gray wrote. The bill to preserve Obama-era endangered species protections and limit water pumping to farms was supported by environmentalists with groups like the Center for Biological Diversity, the Audubon Society, and Defenders of Wildlife.
Gray has been heavily rewarded for his loyalty to the oil and gas industry. Since 2011, the oil and gas industry has donated $189,000 to Gray's campaigns, according to OpenSecrets with $43,000 of that total coming from Chevron.
Center Forward Committee is the super PAC affiliate of the nonprofit Center Forward, which gets funding from lobbying groups representing pharmaceutical companies, restaurants, and telecoms, among others. The organization is closely tied through personnel to the Blue Dog Coalition of conservative House Democrats, and Center Forward Committee is heavily funded by the Blue Dog PAC. So far this year, Blue Dog PAC has transferred $1 million to Center Forward Committee in two transfers on April 20 and June 14, according to the super PAC's quarterly FEC report.
Center Forward's super PAC has made independent expenditures in just a handful of races so far this election cycle. The contest in which it spent the most by far was in Oregon's 5th Congressional District, with over $1 million supporting conservative Democrat Rep. Kurt Schrader and opposing his primary opponent Jamie McLeod-Skinner. In a September vote of the House Energy and Commerce Committee, Schrader voted against the major Clean Energy Performance Program (CEPP) to reduce greenhouse gas emissions from the power sector, calling the plan "fiscally irresponsible." The oil and gas industry had been one of Schrader's top donors in his unsuccessful re-election bid this cycle, according to OpenSecrets.
Arballo, a small business owner and board member of the Central California Hispanic Chamber of Commerce, had challenged Republican Rep. Devin Nunes for a House seat in 2020 before running this year in the redrawn Thirteenth Congressional District, an agricultural center of the state. Ahead of the Democratic primary election last month, Arballo had been endorsed by the League of Conservation Voters' PAC and by California Environmental Voters, which advocates for ​​progressive environmental policies to shape a climate just future. Arballo campaigned on not accepting corporate PAC money for his bid, contrasting with Gray's record of hefty fundraising from business interests in the state capital.
"Big Oil's influence is a big problem in Central Valley politics, from Bakersfield all the way up to Sacramento," Arballo told Sludge. "They give a lot of money, and it's tough when a candidate like myself tries to run with grassroots contributions from everyday people, not accepting corporate PAC money.
"Moderate Dems are going to D.C. for the people who funded their campaigns and the corporations who put them there, these PACs that have a lot of influence," said Arballo.
---
---
---
Read more from Sludge: