Grassroots Groups Call on Boeing to Cut off Donations to Election Objectors
After a three-month pause in its political giving last year, Boeing has quietly become one of the top business PAC donors to the Republican members of Congress who voted to overturn the election results.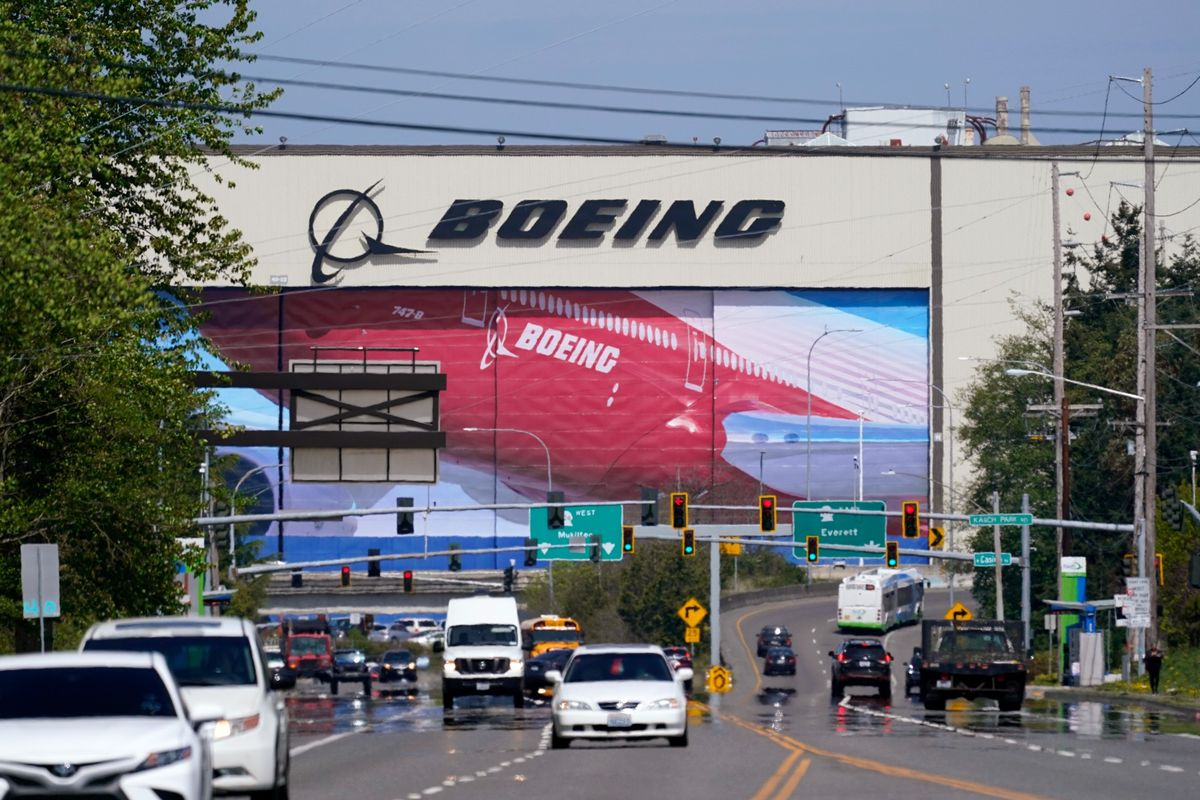 Aerospace giant Boeing, one of the largest recipients of federal contracting dollars, is facing pressure from grassroots groups in Washington State to stop funding the members of Congress who voted to overturn the 2020 presidential election results.
The Washington nonprofit Fix Democracy First, which advocates for reforms to curb the influence of money in politics, and the local group Seattle Supports Democracy have launched a petition campaign calling on Boeing to halt its PAC donations to the 147 federal lawmakers who backed objections on Jan. 6 to certifying the Electoral College results of Arizona, Pennsylvania, or both.
The petition, addressed to company president David L. Calhoun and the Boeing Board of Directors, invokes Boeing's statement a week after the Jan. 6 melee at the Capitol Building, when it said it would "carefully evaluate future contributions to ensure that we support those who not only support our company, but also uphold our country's most fundamental principles." After a three-month pause in giving, however, Boeing's corporate PAC recommenced donations to many of the Republican members of Congress who voted to sustain challenges to the election results.
The petition has been signed by over two dozen local groups from Washington and Illinois, including the Washington State Poor People's Campaign, the Seattle chapter of Indivisible, and the nonpartisan Reform for Illinois. Boeing's corporate headquarters is in Chicago.
"Boeing is a big part of the community in Washington State and the country," said Fix Democracy First's executive director Cindy Black. "They rely on tax incentives, government contracts, and greatly benefit from our people and resources. They need to defend democracy and respect the election results, as they originally stated. They can do this by not donating and supporting those members of Congress who want to undermine the democratic process."
The petition organizers are also submitting local letters to the editor and say they plan to run print ads in the Seattle alt-weekly The Stranger and the Chicago Tribune.
The groups are requesting a response from Boeing by April 29, the date of the virtual Annual Meeting of Shareholders. The petition was delivered via certified mail to the Boeing board and government affairs office, Black said.
The petition says that after Boeing's statement, in which it "strongly condemns the violence, lawlessness and destruction that took place in the U.S. Capitol on January 6, 2021," the company made $244,000 in PAC donations to the election objectors' campaigns. Boeing's PAC also donated to the joint fundraising committees of election objectors during that period, like $12,500 given to that of Republican Whip Rep. Steve Scalise, and to Republican Party groups, like $105,000 donated to the National Republican Congressional Committee, which works to re-elect representatives who voted to sustain the challenges on Jan. 6.
Boeing was the fourth-largest recipient of federal contract funding in 2020, according to Bloomberg, being awarded $23 billion worth of prime contracts. Its work in the defense industry makes up more than half of Boeing's total revenue, according to figures from Defense News, and in 2020 its total revenue from defense was a whopping $32.4 billion.
Boeing, which traces its founding in Seattle back to 1916, had for decades been the largest private employer in Washington until last year, when Amazon's in-state headcount surpassed it. The aerospace company had nearly 72,000 employees in the state at the end of 2019, according to tax incentive forms disclosed to the Washington Department of Revenue. A tally by Subsidy Tracker, a resource from the nonprofit Good Jobs First, finds that Boeing has received nearly $14.8 billion in state and local subsidies since 2000, and over $605 million in federal grants and tax credits.
Boeing's PAC donations to members of the 147 Republican lawmakers continued this year, with the company giving $2,500 in February to Rep. John Rutherford of Florida, a member of several defense-related subcommittees on the House Committee on Appropriations, according to FEC records. That same month, the company PAC also donated to election objectors Rep. Garret Graves of Louisiana, a member of the House Transportation and Infrastructure Committee, and Rep. Tim Walberg of Michigan, a member of the House Committee on Energy and Commerce. In March, the company's PAC donated $2,500 to Rep. Frank Lucas of Oklahoma, the ranking member of the House Science, Space, and Technology Committee.
"We know that the reason why corporations donate to people in office is that they expect a return on their investment, they donate to these people at the head of committees to profit from getting contracts," Black said. "They get millions of dollars from contracts, so for them to donate a few thousand here and there is a huge return on their investment."
Of the 62 lawsuits filed in federal and state courts seeking to overturn the Electoral College results in states lost by President Trump, 61 have failed for varying reasons, according to a tally by Democratic election lawyer Marc Elias cited by USA Today.
In Washington, Black said that the promoters of conspiracy theories about the 2020 election continue to push counties for recounts and seek to restrict vote by mail, a program that went statewide in 2011 after 38 of 39 counties chose to adopt universal mail-in ballots. The nonpartisan Brennan Center for Justice is tracking legislation in states nationwide that aims to limit access to elections, including a bill introduced in the Washington legislature that would require county audit­ors to cancel the regis­tra­tion of all voters who have not obtained a state ID.
"I work with a lot of different county auditors, from a lot of different political parties and independents—election officials really do care about election results and have integrity about that," Black said. "A handful might have issues [with election procedures], but most of the auditors really care about democracy and fair elections, and I want to support them as they're getting harassed."
The campaigners are talking to Boeing shareholders, according to Black, hoping they'll use the virtual annual meeting as an opportunity to speak about the company's PAC giving following its statement of principles around political donations. A June 2021 analysis by the nonpartisan Citizens for Responsibility and Ethics in Washington (CREW) ranked Boeing second in total giving since Jan. 6 among business PACs in donations to ​​the 147 members of Congress, as well as the National Republican Senatorial Committee (NRSC) and the National Republican Congressional Committee (NRCC).
Boeing's communications department did not respond to a request for comment on the company's PAC donation practices.
Watchdogs have noted Boeing among the scores of large companies that quietly began donating to election objectors after saying they would reassess their donation policies or explicitly pledging not to donate to the objectors. Still, of the hundreds of companies making pledges in the wake of Jan. 6, an analysis by Popular Information found that most, but not all, had kept their pledges not to give PAC donations to the 147 members, whose overall fundraising amount was down last year, when compared with the year prior. In the 2020 election cycle, the PAC of Boeing gave over $1.8 million to candidates, according to OpenSecrets—so now that giving has started back up, the ceiling in this election cycle is still high.
"There's very little accountability for where corporations donate money," Black said. "Having Boeing be accountable, especially in Washington State, says that corporations are part of the community and they need to support democracy. They benefit a lot from taxpayers who allow them to stay in business."
---
Read more: