Finance Billionaires Fund Conor Lamb Super PAC
Lamb has embraced the super PAC despite calling for Citizens United to be overturned.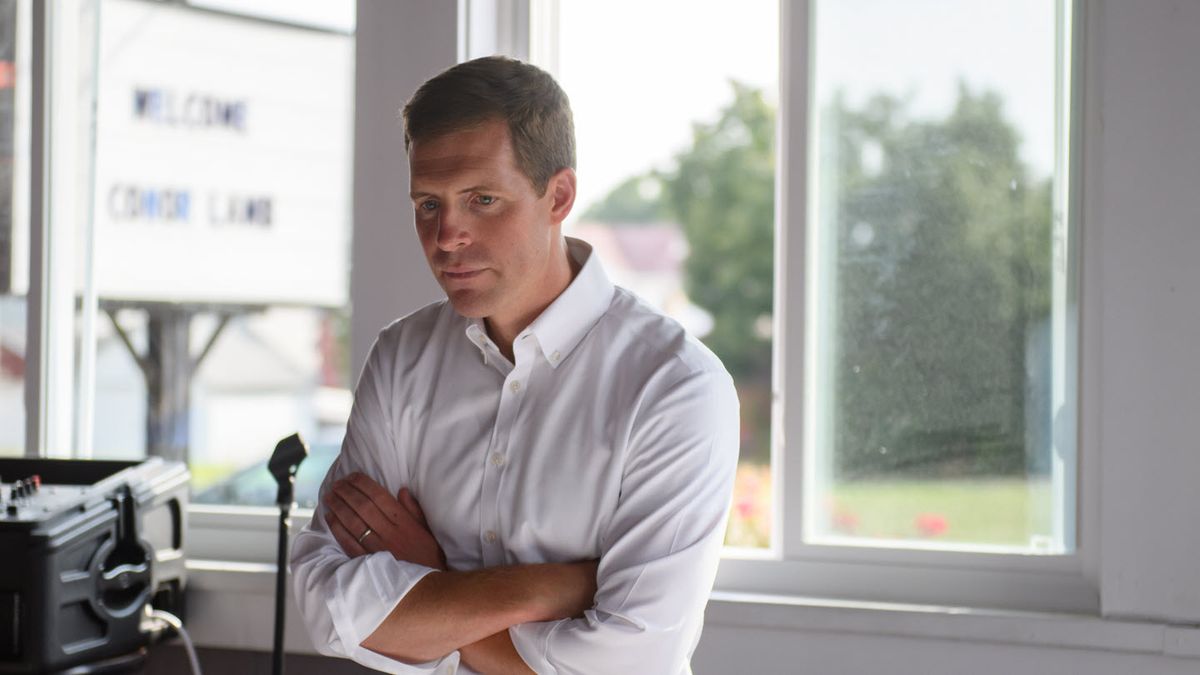 Trailing in the polls for the Democratic primary in the upcoming Pennsylvania Senate election, Rep. Conor Lamb, a longtime critic of corporate campaign funding, has embraced the support of a super PAC that has been set up to spend big money on his behalf.
Lamb is facing off against Pennsylvania Lieutenant Governor John Fetterman in the primary that will be held on May 17. While Lamb has aligned himself with the corporate wing of the Democratic Party, being a member of groups such as the Problem Solvers Caucus, Fetterman portrays himself as a populist progressive, while on his website steering clear of directly endorsing legislation backed by many progressives in Congress like the Green New Deal. Fetterman leads Lamb 41% to 17% in the latest polling on the race.
Lamb's super PAC, Penn Progress, is run by Erik Smith, a partner at public affairs consulting firm Seven Letter Labs. The firm says on its website that it works for Fortune 500 corporations, but it does not disclose its clients. Some of Seven Letter's nonprofit clients, however, can be identified through tax forms. For example, Seven Letter worked in 2020 for Consumers for Quality Care, a D.C. health care policy think tank that has received more than $3 million in grants from Center Forward, a nonprofit that in turn is heavily funded by drug industry lobbying group Pharmaceutical Research and Manufacturers of America. As reported by The Lever, Smith was previously the spokesperson for a health care industry group that was formed to push back against popular support for a Medicare for All-style health care system.
Despite calling on his campaign website for the overturning of Citizens United, a 2010 Supreme Court decision that paved the way for super PACs, Lamb has been working closely with Penn Progress. According to Politico, Lamb participated in donor calls with Smith in February that had been set up by Democratic strategist James Carville.
Penn Progress began spending money on the race in January and earlier this month it bought its first pro-Lamb ads, spending nearly $900,000 on ad production and media buy costs, including digital ads that were contracted through Smith's firm, according to a FEC filing. The group's first ad was rebuked by fact checkers for falsely stating that Fetterman is a "self-styled democratic socialist." At least one TV station in Philadelphia stopped airing the misleading ad.
Yesterday, the super PAC released its quarterly FEC filing, outlining its fundraising and spending since the beginning of the year. The group raised more than $1.8 million during the three-month period, with contributions from multiple finance industry executives. It's the first substantial look at who has been funding the group, since its only previous quarterly filing showed just $35,000 in donations.
Billionaire Bain Capital co-chairman Joshua Bekenstein gave the PAC $250,000 back in March. Stephen Mandel, a billionaire and the founder of hedge fund Lone Pine Capital, also gave Penn Progress $250,000 in March. Other wealthy investment industry donors to Penn Progress include managing director of private equity company Berkshire Partners Randy Peeler ($100,000), Oaktree Capital co-founder Howard Marks ($25,000), Kinderhook Partners managing partner Steve Clearman ($50,000), and Raine Group partner and co-founder Joe Ravitch ($50,000). 
These investment firms and their leaders benefit from a tax code advantage known as the carried interest loophole. Partners at the firms don't invest their own money, but the loophole allows them to treat the money they earn from their investors' funds as capital gains rather than as ordinary income, meaning their tax liability is often at the long-term capital gains rate of 20% rather than the standard personal income rate of up to 37%. There are two major Democratic bills in the House that would close the loophole—the Stop Wall Street Looting Act and the Carried Interest Fairness Act—and Lamb is not a co-sponsor of either of them. In 2018, Lamb was one of three Democrats to vote for a Republican bill that would make permanent many provisions of the 2017 Trump tax cuts that the Tax Policy Center found would disproportionately benefit the top 5% of income earners.
Other top donors to Penn Progress include Constance Williams, a former Democratic politician and heir to the Hess Corporation fortune, who donated $250,000, and billionaire insurance company chairman Thomas Hagen, who also gave $250,000. The average donation to Penn Progress in the first quarter of the year was more than $36,000, far above the limit of $2,900 that individuals can donate per election to directly to candidates. Twenty-one of the PAC's 51 donors listed addresses in Pennsylvania.
---
Read more: