Rearden Assisted With Key Evidence in Chevron Case Against Donziger
Sen. Kirsten Gillibrand says progressives misunderstand Biden nominee Jennifer Rearden's record representing companies including Chevron.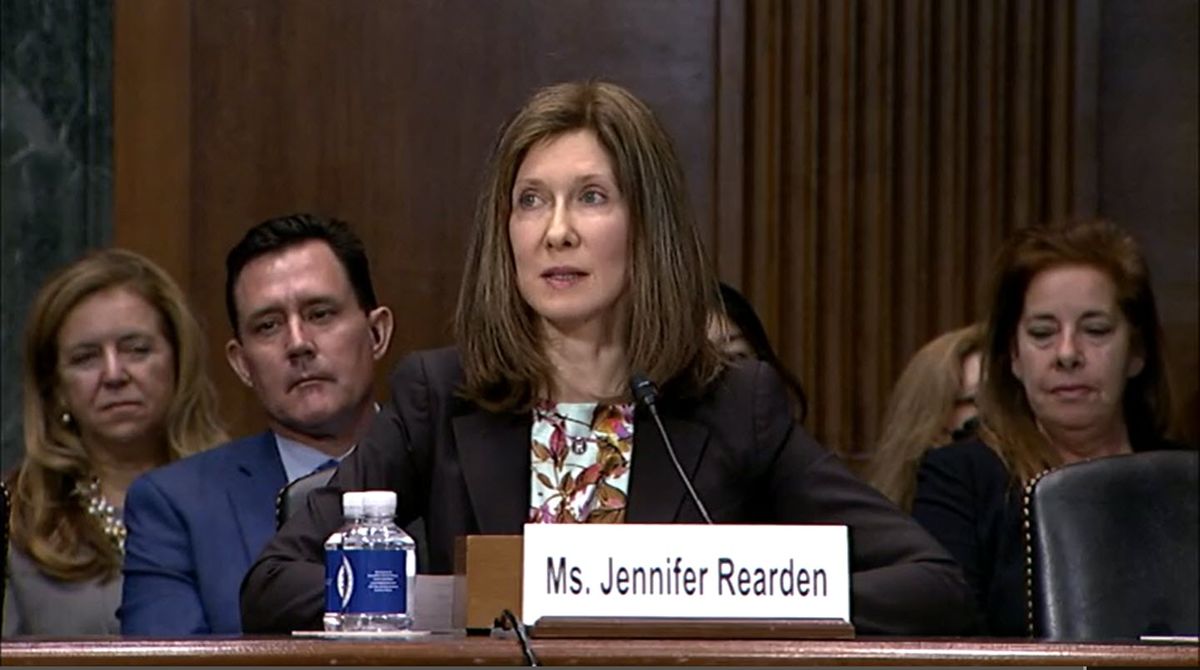 Senate Democrats are facing pressure from progressive groups to oppose President Biden's nomination of attorney Jennifer Rearden to the Federal District Court for the Southern District of New York. Rearden, who was first nominated for the federal bench by President Trump in 2020, has a long history as a corporate defender from her job as a partner at Gibson, Dunn & Crutcher LP, a point that is made in a letter opposing her nomination that was sent to Judiciary Committee Chairman Dick Durbin earlier this month and has now been endorsed by more than 200 groups. "Based on a review of her own litigation record and her firm's representation of corporate interests opposed to the interests of everyday Americans, we believe Rearden's confirmation would accomplish the opposite of the president's laudable aspiration," the groups wrote.
Now, Sen. Kirsten Gillibrand (D-N.Y.), who has received $38,000 in campaign donations from Rearden, is coming to the nominee's defense. Gillibrand told reporters recently that progressives who are opposing Rearden's nomination have "misunderstood her role in some litigation that her firm carried."
One of the cases Gillibrand is almost certainly referring to is Chevron's 2011 lawsuit against environmental and human rights attorney Steven Donziger, who the oil company argued had colluded to illegally achieve a favorable judgment against it in Ecuador over environmental devastation in the Amazon. Of the handful of cases that progressives have cited in their criticism of Gibson Dunn's record, the Chevron case is one where Rearden was not a lead counsel, but it is by far the most high-profile case and the one that has been the subject recently of dozens of news articles, viral tweets, and activists' petitions.
While it's not possible to fully examine Rearden's private work records from ten years ago, documents that were made public as part of the Chevron trial reveal that she did work on the case, including advising her colleagues on matters that appear to have been key for the oil company's RICO conviction against Donziger.
Rearden is one of about 60 partners in Gibson, Dunn's crisis management team, which describes its representation of Chevron at the very top of its list of accomplishments on its website. While Rearden was not a lead in the case, records that the firm submitted to the court as part of their attempt to recoup money for Chevron show that she assisted the lead attorneys. From June through August of 2013, Rearden's colleagues at Gibson Dunn mentioned in their billing records that Rearden was involved in at least 37 billable hours of work on the Donziger case, for which Chevron was charged more than $30,000, according to Sludge's review of court records. The billing records, which show thousands of billed hours, almost certainly paint an incomplete picture of Rearden's work on the case since they only reflect the instances when Gibson Dunn lawyers mentioned her by name in their notes. 
On August 7, Gibson Dunn crisis management team co-chair Reed Brodsky, the lead attorney in the Chevron case, held a five-hour meeting with Rearden and three other crisis management group members "regarding Crude clips for trial exhibits," according to the records. "Crude clips" refers to the approximately 600 hours of outtake footage from the filming of the 2009 documentary film Crude: The Real Price of Oil that Chevron and Gibson Dunn had obtained after U.S. District Judge Lewis Kaplan in 2009 ordered it to be released despite objections from many in the media industry who viewed the order as a violation of journalistic privilege and the First Amendment. Donziger is featured prominently in the documentary as he worked with Indigenous people in the Ecuadorian rainforest who filed a lawsuit over pollution linked to oil drilling in the 1970s and 1980s by Texaco, which Chevron acquired in 2001. As portrayed in the film, the people who lived in the region blamed a sudden increase of instances of childhood cancers and birth defects on Texaco's dumping massive amounts of oil and toxic sludge in the rainforest.
The Crude clips figured prominently into Chevron's case, and in the opinion accompanying the decision finding Donziger guilty on racketeering charges, Judge Kaplan wrote that he found Donziger's statements in the clips to be "quite revealing." In his opinion, Kaplan summarizes or quotes more than 50 clips from the Crude film and outtakes to make his case that the judgment made against Chevron in Ecuador was obtained by Dozinger and his colleagues through fraud and bribery. Over and over, Kaplan references the outtake footage to paint a picture of the Ecuadorian courts as incompetent and Donziger and his team as conspiring to corrupt the legal process. In a brief filed with the court in 2011, Donziger accused Kaplan of having encouraged Chevron to pursue the racketeering charges against him in the first place through hints that the judge made during an earlier hearing. "Now, do the phrases Hobbs Act, extortion, RICO, have any bearing here?," Kaplan is reported to have said during a hearing on a Donziger motion to quash a Chevron subpoena.
Besides her work on the Crude clips, Rearden helped her colleagues in the Chevron case by developing pre-trial documents, witness lists, and trial exhibit lists, as well as by crafting responses to the defendants' exhibits and developing stipulated facts proposals, according to notes in the billing document.
On January 20, after Sludge broke the news of Biden's nomination of Rearden, Steven Donziger released a statement on Twitter. "Outraged to learn that Biden has named Chevron lawyer Jennifer Rearden to be a federal judge," Donziger wrote. She was paid millions at Gibson Dunn to help jail me, attack Indigenous peoples, and cover up a massive oil spill in the Amazon. Biden must align with Planet Earth. Corrupt."
Rearden was recommended to Biden by Sen. Gillibrand, who introduced and endorsed her before the Judiciary Committee during her hearing on March 2. In addition to the $38,000 Gillibrand has received from Rearden, other Gibson Dunn employees have given her more than $100,000 in campaign donations since she became a U.S. senator in 2009, according to Federal Election Commission records. In her nomination questionnaire, Readen stated that she has co-hosted several fundraisers for the senator at Gibson Dunn's New York office.
Rearden's Judiciary Committee confirmation vote is scheduled for Monday, April 4.
---
Related articles: