AIPAC Makes Its First Campaign Donations
The pro-Israel lobbying powerhouse has a new PAC.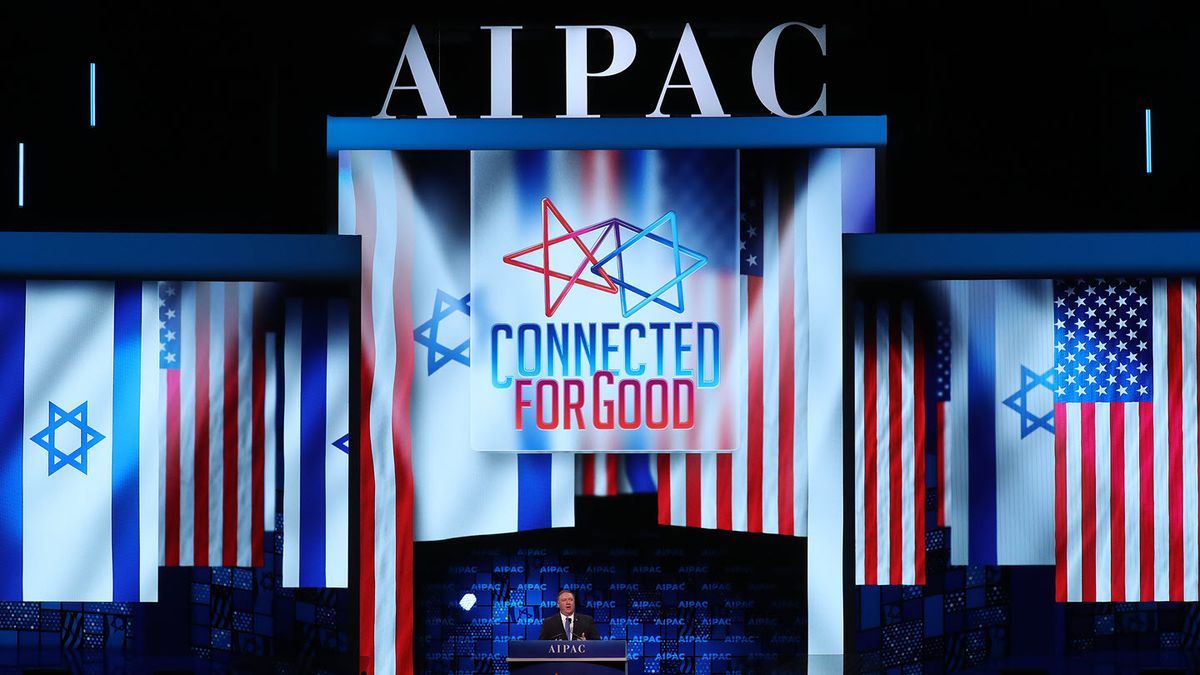 For the first time ever, the American Israel Public Affairs Committee, or AIPAC, has begun making political donations.
AIPAC established a federal PAC, American Israel Public Affairs Committee PAC (AIPAC PAC), in December, and began donating to candidates in late January, according to new disclosures filed with the Federal Election Commission. So far, AIPAC PAC has made at least $71,000 in political donations, with its top beneficiaries being Senate Republicans John Hoeven (N.D.) and Todd Young (Ind.), and House Democrat Henry Cuellar (Texas), who is facing a competitive primary on March 1 in the Texas Twenty-Eighth Congressional District against progressive Jessica Cisneros.
AIPAC PAC is operating as a conduit that allows its donors to specify to which candidates they would like their donations to be given. This arrangement allows it to ignore the contribution limits that PACs typically have to follow. For example, AIPAC PAC has already given Hoeven at least $26,550, earmarked from more than two dozen individual donors, far more than the $5,000 maximum per year that PACs are generally allowed to give a candidate.
AIPAC is also forming a super PAC, according to reports. That group will be allowed by federal law to receive donations of unlimited size and it will be able to take money directly from corporate treasuries, but it will have to spend the money independently rather than donating it to candidates' campaigns.
For decades, AIPAC had worked to cultivate an image of political neutrality, keeping its pro-Israel lobbying activity formally separate from political efforts by having its members give to candidates directly (making them eligible for the organization's "Congressional Club") and by helping to create new, legally distinct pro-Israel PACs. In recent election cycles, two groups formed by former AIPAC senior staff, Pro-Israel America and the Democratic Majority for Israel super PAC, have served as outlets for AIPAC members' campaign contributions. Its formal separation from these groups gave AIPAC a talking point to use when pushing back against claims that it was influencing U.S. foreign policy through money in politics, such as when House Democrat Ilhan Omar (Minn.) said in February 2019 tweets that the group's power was "all about the Benjamins." (Rep. Omar apologized for the tweets, but added that she reaffirmed " the problematic role of lobbyists in our politics, whether it be AIPAC, the NRA or the fossil fuel industry.")
AIPAC's former chief lobbyist and legislative director Douglas Bloomfield expressed concern over the group's new PACs for that reason in comments to Haaretz. "When someone says 'it's all about the Benjamins,' what's the answer,?" Bloomfield said.
Some of AIPAC PAC's top recipients so far have seats on the defense appropriations subcommittees that oversee the annual Pentagon budget as well as legislation like the recent $1 billion Iron Dome supplemental. Hoeven is a member of the Senate Defense Appropriations Subcommittee and Cuellar, who has received at least $6,550 from AIPAC PAC so far, is a member of the House Defense Appropriations Subcommittee. AIPAC PAC has also donated $5,800 to Rep. Kay Granger (R-Texas), the ranking member of the House Appropriations Committee who is likely to become the chair of the committee if Republicans take control of the House next year.
Young, a member of the Senate Foreign Relations Committee, has received at least $11,600 already from AIPAC PAC. House Armed Services Committee Chairman Rep. Mike Rogers (R-Ala.) has received $500 from AIPAC PAC.
---
---