Reps Bought Pipeline Stocks Before Passing the Infrastructure Bill
While Congress considered infrastructure and climate legislation last year, reps kept up a stream of trades in oil and gas pipeline company stocks.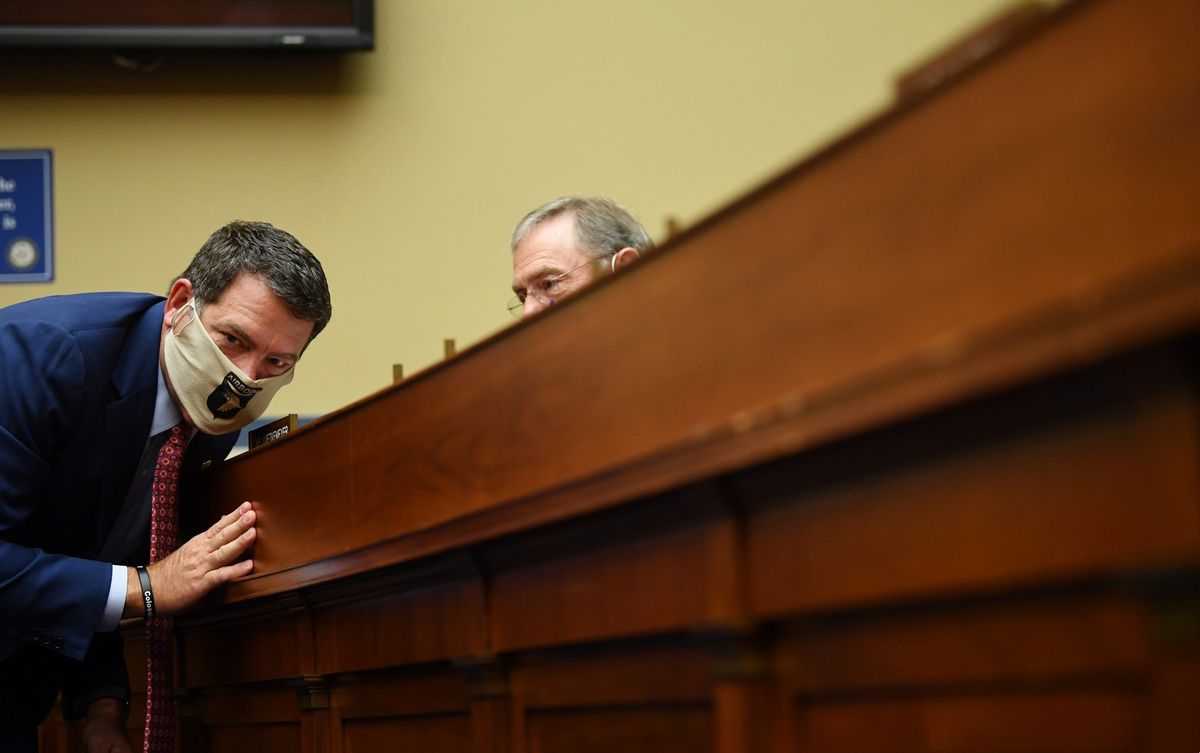 Congressional Democrats aimed to address the climate crisis last year in their signature Build Back Better Act (BBB). But while a physical infrastructure bill was signed into law in November that showers funding on roads and fossil fuel infrastructure projects, the fate of the BBB this year and its much larger investments in reducing greenhouse gas emissions is uncertain.
If the BBB's environmental measures are removed, as a major clean energy standard was, or weakened, as provisions on methane could be, fossil fuel companies and pipeline providers could continue to profit for decades from extracting and burning polluting fuel, producing emissions far beyond what scientists agree can be accommodated.
While Congress was considering the bipartisan infrastructure framework (BIF) and the BBB, several U.S. House members were making frequent trades in the stocks of oil and gas pipeline companies that stand to benefit from BIF's provisions, especially combined with the BBB's stalling out in the Senate. Second-term conservative Rep. Mark Green (R-Tenn.) throughout 2021 made hundreds of pipeline and midstream energy company stock trades with the maximum value of the sales and purchases worth tens of millions of dollars.
A landmark International Energy Agency report in May found that no new fossil fuel infrastructure can be permitted if the world is to stay on track for net-zero emissions by 2050, while the sale of new gasoline-powered vehicles must be halted by 2035. Without laws to hit the brakes on emissions from coal-powered plants and to ramp down fossil fuel-generated electricity, greenhouse gas emissions will likely continue at unsustainable levels, as they did last year—increasing by 6.2% in one analysis, driven by a 17% jump in coal-fired electricity.
BIF Passed While BBB Stalled
The bipartisan infrastructure framework (BIF) was introduced in the House on June 4 last year, passed by that chamber on July 1 and by the Senate on Aug. 10. After differences were resolved in a House vote of 228 to 206 on Nov. 5, the bill was signed by President Biden on Nov. 15. The bill directs $550 billion in new spending over five years out of its $1.2 trillion total in funding for transportation, including $110 billion for roads and bridges and $25 billion for airports, among other regional projects.
Its companion, the Democrats' signature Build Back Better Act (BBB), was unveiled on July 14 in a $3.5 trillion framework by Senate Democrats, planned to be passed along party lines under the budget reconciliation process. On Aug. 9, it was introduced in the Senate as the FY2022 budget resolution, whereupon a group of conservative House Democrats raised concerns with its proposed spending levels over 10 years. After months of negotiations, by Oct. 5 the BBB was pared back to a $1.85 trillion spending package, and by Nov. 5 its 10-year total had been whittled down to $1.75 trillion in new spending.
The day after receiving a Congressional Budget Office score on Nov. 18, the BBB was approved in a House vote of 220-213, with all Republicans voting nay and one Democrat, second-term Rep. Jared Golden of Maine, voting nay because of tax provisions included that benefit high income earners. The BBB was sent to the Senate, where it has been put on the back burner by Democratic leadership due to a couple of holdout members and unified Republican opposition.
As the 50th vote needed by Democrats to pass the reconciliation bill in the Senate, Sen. Joe Manchin's demands included stripping the BBB of its major climate initiative: a clean energy standard to ramp down greenhouse gas emissions from the energy sector. The bill's Clean Energy Performance Program, or CEPP, would have created payments for electric utilities that meet renewable energy targets and penalized those that underachieved, a combination that advocates say would enable a path to reaching 80% clean energy by 2030. Climate resilience measures would have made up the largest slice of the BBB, with $550 billion in investments including a boost to existing home energy and efficiency tax credits.
The demands by Manchin, by far the top recipient of oil and gas industry contributions in Congress, for the BBB also included axing a proposed fee on methane emissions that is opposed by fossil fuel industry groups representing oil, gas, and coal companies that donated over $400,000 to him in the third quarter alone. Campaigners with the nonprofit Earthworks found evidence that the potent warming gas methane is being flared widely across the Permian Basin region, where fossil fuel extraction is booming.
Manchin had consistently urged the House to pass the BIF first, a bill that included numerous provisions added by his committee that would benefit his family company's niche business in waste coal, instead of passing the BBB's larger spending programs first. To the BIF, Manchin added language from a previous bill allocating $11.3 billion in funding for mine land reclamation, which typically involves removing piles of leftover "gob" to burn in specially-equipped power plants like the one in West Virginia where Manchin's family company Enersystems has held a prime fuel services contract for years.
Last month, Manchin continued to issue demands for the BBB that would benefit the pipeline industry's investments in offshore drilling capacity. Then on Dec. 19, Sen. Joe Manchin went on Fox News Sunday to announce he would vote "no" on the package, and as of last week negotiations were on hold while Senate Democrats plan to instead advance legislation on voting rights and election access.
In August, The Intercept's Alleen Brown reported that the BIF could provide the fossil fuel industry with at least $25 billion in potential subsidies, according to an analysis by the Center for International Environmental Law (CIEL), an environmental nonprofit. Carroll Muffett, president and CEO of CIEL, said in an Aug. 2 statement, "The Infrastructure bill offers minimal support to accelerate the renewable energy transition while squandering tens of billions on carbon capture, fossil hydrogen, and other subsidies designed to prop up a failing industry and entrench the fossil economy for decades to come."
The group Food & Water Watch warned that the BIF contains provisions that weaken the National Environmental Policy Act, reducing public input on fossil fuel developments and making it harder to file and win legal challenges to block projects. Also, the bill provides specific funding for loan guarantees for a natural gas pipeline in Alaska and the development of petrochemical hubs in the Ohio River Valley, projects that could lock in fossil fuel infrastructure for decades. In a July statement, Food & Water Watch Policy Director Mitch Jones said of the BIF, "This is a gift to the fossil fuel polluters that have cynically seized on promoting carbon capture as a climate solution, when it is nothing more than a means of prolonging the dirty energy era."
Rep. Mark Green (R, TN-07)
A member of the conservative House Freedom Caucus, Rep. Green's website highlights that after winning his seat in the 2018 midterm elections, he was elected to serve as the president of the Republican freshman class for the previous Congress. Green is now the ranking member of the House Foreign Affairs Committee's Subcommittee on the Western Hemisphere, Civilian Security, Migration and International Economic Policy, whose jurisdiction includes oversight of international trade policy and commerce with foreign countries.
Oil and gas drilling and pipeline companies are investing in infrastructure to export fossil fuels like natural gas liquids from the Permian Basin, driving up warming emissions, as covered in a new resource from the nonprofit research and advocacy group Oil Change International. Pipeline companies Enterprise and Enbridge, for example, are in permitting proposals for a mammoth Sea Port Oil Terminal, which would enable two million barrels of oil per day to be loaded onto VLCCs (very large crude carriers) to flood export markets.
Throughout 2020, Green reported hundreds of stock transactions, largely focused on pipeline companies. The pattern continued in 2021, with Green making hundreds of stock trades, led by dozens of transactions in the stocks of pipeline companies Shell Midstream Partners, Enlink Midstream, Enable Midstream Partners, Antero Midstream Corp., and fossil gas company USA Compression Partners. Green voted 'nay' on both the BIF and the BBB in November.
The House Ways and Means Committee marked up the BBB on Sept. 9-10th and 14-15th, with the Energy and Commerce Committee marking up the bill in between, on Sept. 13th. That month, Green purchased up to $6.6 million in pipeline company stocks while selling up to $1.5 million worth. His transactions on Sept. 14 included purchasing up to $250,000 of stock in Shell Midstream Partners and selling up to $500,000 worth of stock in Enlink Midstream. In one trade, Green purchased up to $250,000 of stock in multinational pipeline company Enbridge on Sept. 2, then sold up to that same amount on Sept. 24.
On Sept. 30, the Foreign Affairs Committee favorably reported the Energy Diplomacy Act, a bill that authorizes the State Department to establish an Assistant Secretary of State for Energy Resources, and to ensure there are sufficient personnel dedicated to energy-related issues.
In October, as the House was moving toward a vote on the BBB, Green bought up to $1.75 million in pipeline company stocks while selling up to $2.25 million worth. On Oct. 15, Green purchased up to $850,000 in three pipeline company stocks, and sold between $500,000 and $1 million in Phillips 66 Partners, a company that owns and operates pipelines and terminals for crude oil, petroleum products, and natural gas liquids. In September and October, Green purchased a total of up to $1.35 million worth of stock in Shell Midstream.
On Nov. 8, days after the BIF was passed by the House, Green purchased between $500,000 and $1 million worth of stock in pipeline company MPLX, selling up to half a million dollars of stock in USA Compression and fuel company CrossAmerica Partners, as well as up to $50,000 in Enable Midstream stock. After one more stock pickup of up to $50,000 in midstream company NGL Energy Partners on Nov. 17, his purchases and sales in November each totaled up to over $1 million.
On Dec. 21 and 22, Green sold up to $4.55 million in pipeline company stocks, then on Dec. 29 bought up to $4 million worth, including up to $1 million each in Antero Midstream, Enlink Midstream, and Plains All American Pipeline.
Rep. Green's office did not respond to a request for comment about whether he considers it a potential conflict of interest for federal lawmakers to trade in stocks whose companies could be affected by legislation being voted on in the House, or whether he has a stance on any of the House bills introduced that would prohibit members of Congress from owning or transacting in individual corporate securities while in office.
Rep. Virginia Foxx (R, NC-05)
Like Rep. Green, Rep. Foxx frequently bought and sold corporate stocks in 2020, including in fossil fuel companies like BP and pipeline giant Enterprise Products. In 2021, Foxx continued purchasing the stocks of Enterprise, Plains All American Pipeline, Antero Midstream, and oil majors, among other stock moves in the fossil fuel industry. Foxx picked up up to $15,000 of stock in ExxonMobil on Sept. 13 and the same amount in BP on Sept. 27. On Oct. 4, she purchased up to $15,000 worth of stock in utility company PPL Corp., and on Oct. 7 sold up to $100,000 in utility Duke Energy.
Foxx voted 'nay' on both the BIF and the BBB. On Nov. 11, Foxx purchased up to $15,000 of stock in Antero Midstream, then up to $15,000 in Enterprise Products on Nov. 15, the day the BIF was signed into law, as well as up to $15,000 in Plains All American Pipeline on the same date. She bought an additional up to $15,000 in Enterprise shares on Nov. 19. Among other stock transactions in the fossil fuel industry, on Dec. 23 Foxx sold between $100,000 and $250,000 worth of BP holdings.
Rep. Foxx's office did not respond to a request for comment about how the public can be assured that pipeline stock purchases were not being made on the basis of nonpublic information, or whether she would co-sponsor any of the legislative proposals to ban members of Congress from transacting in corporate stocks, or requiring lawmakers and their families to put securities into a blind trust while in office.
Rep. Kevin Hern (R, OK-01)
Throughout 2020, Rep. Hern's family trusts made hundreds of stock transactions, including in fossil fuel industry stocks like exploration company WPX Energy, Tulsa-based natural gas liquids company Oneok, NGL Energy, and Williams Companies. Last year, on March 10 and Sept. 2, Hern purchased up to $15,000 worth of ExxonMobil stock, assigned to a joint trust. Hern also purchased up to $15,000 in Magellan Midstream Partners stock on Feb. 12, Aug. 13, and Nov. 12, days before the BIF was signed. Hern, the chair of the Budget and Spending Task Force of the conservative Republican Study Committee caucus, is a member of the tax-writing Ways and Means Committee. He voted 'nay' on both the BIF and BBB last year.
In a new disclosure released on Jan. 11, Hern reports that in December his joint trust made multiple purchases of fossil fuel company stocks, including up to $65,000 of exploration company Devon Energy, up to $30,000 in exploration company Pioneer Natural Resources, up to $15,000 of Exxon, and up to $15,000 each in utility giants NextEra Energy and Williams Companies.
Other Reps With Fossil Fuel Industry Stock Transactions
Rep. Patrick Fallon (R-Texas) sold up to $265,000 in Chevron stock in two transactions on Oct. 1 and Oct. 18. Also in Chevron stock, Rep. Bill Keating (D-Mass.) bought up to $15,000 in the oil giant on Mar. 17, then sold up to that amount on Apr. 4, with the assets described in the reports as a subholding of the congressman's IRA.
Rep. Don Beyer (D-Va.) purchased up to $15,000 of shares in BP on March 3, selling up to the same amount on March 15th. He bought up to $15,000 of shares in oilfield services company Schlumberger on March 1, selling up to the same amount on March 15. He sits on both the Subcommittee on Trade and the Subcommittee on Select Revenue Measures of the House Ways and Means Committee.
The spouse of Rep. Michael Guest (R-Miss.) bought up to $15,000 worth of Exxon stock on Jan. 22 and sold up to $15,000 of BP shares, reports that weren't made public until Nov. 3—with the congressman acknowledging the violation of reporting requirements in a note and paying a $200 statutory fee.
Rep. Mo Brooks (R-Ala.) purchased up to $15,000 of stock in power and energy company Dominion Energy on Sept. 29, having also bought up to $15,000 of stock in Duke Energy in January and sold up to $15,000 in fossil gas company Spectra Energy that month.
The spouse of Rep. Zoe Lofgren (D-Calif.) purchased up to $15,000 worth of stock in utilities Eversource Energy and NextEra Energy on Sept. 30. Lofgren is a member of the bipartisan Safe Climate Caucus.
On Dec. 9, Rep. Gerry Connolly (D-Va.) sold up to $15,000 of stock in Virginia-based Dominion Energy.
Rep. Trey Hollingsworth (R-Ind.) purchased millions of dollars worth in two pipeline company stocks throughout last year, as previously reported by Sludge: as much as $3.65 million worth of stock in Magellan Midstream and as much as $1.55 million of stock in Enterprise Products.
In February, conservative "Blue Dog" Rep. Kurt Schrader (D-Ore.) purchased up to $15,000 worth of stock in energy infrastructure company Kinder Morgan, then in March purchased up to $15,000 of stock in Chevron and Enterprise Products. In June, Schrader purchased up to $45,000 of stock in Exxon, and on Nov. 8, days after the BIF was passed, he bought up to $15,000 of stock in construction materials company Vulcan Materials. The Blue Dogs' PAC, which Schrader chairs, received tens of thousands of dollars in donations from fossil fuel companies and gas industry associations last year, before the Blue Dog caucus raised concerns over spending levels in the BBB plan.
Goal of Halving Global Emissions by 2030
With permafrost rapidly rising in temperature—by up to one degree Celsisus over the past few decades, scientists have found—researchers have warned for years that the release of carbon dioxide and methane could trigger accelerated warming with unpredictably destructive effects. A 2019 report in the scientific journal Nature found that the impacts of methane released from thawing permafrost could result in twice the warming projected from current models.
The Climate Action Tracker, a project of the independent organizations Climate Analytics and NewClimate Institute, forecasts that by the end of the century the world will have warmed by between 2.5 and 2.9 degrees Celsius, far above the boundaries set in the Paris Agreement of 2015. Earlier that year, climate reporter Brad Plumer wrote, "One huge concern is food production: a growing number of studies suggest it would become significantly more difficult for the world to grow food with 3°C or 4°C of global warming. Countries like Bangladesh, Egypt, Vietnam, and parts of Africa could see large tracts of farmland made unusable by rising seas." A 2018 study from the Tyndall Centre for Climate Change Research found that warming of 3 degrees Celsius could bring costs of $551 trillion, more wealth than exists on the planet.
Even if the BBB were enacted in its current form, U.S. policies would be insufficient by 2030 to the goal of staying within the emissions boundaries set in the Paris Agreement on climate unless additional laws and regulations were enacted, according to the Climate Action Tracker.
Thank you for reading! Congress makes it virtually impossible to track its members' investments, but we're relentlessly focused on conflicts of interest. We don't have a rich donor or foundation grants for this work. This labor-intensive reporting is supported by readers like you who band together to donate $5 a month because they believe it's important that lawmakers' stock holdings are examined in news stories.

If you can, please help keep us going by subscribing to our nonprofit newsroom. 🙏
---
Read more: