Manchin Got Big Donations From Son-In-Law's Oil & Gas Employer
As he stripped major climate programs, Sen. Joe Manchin received large donations from Enterprise Products, the energy giant where his son-in-law is a senior employee and whose lobbying groups are fighting the reconciliation bill.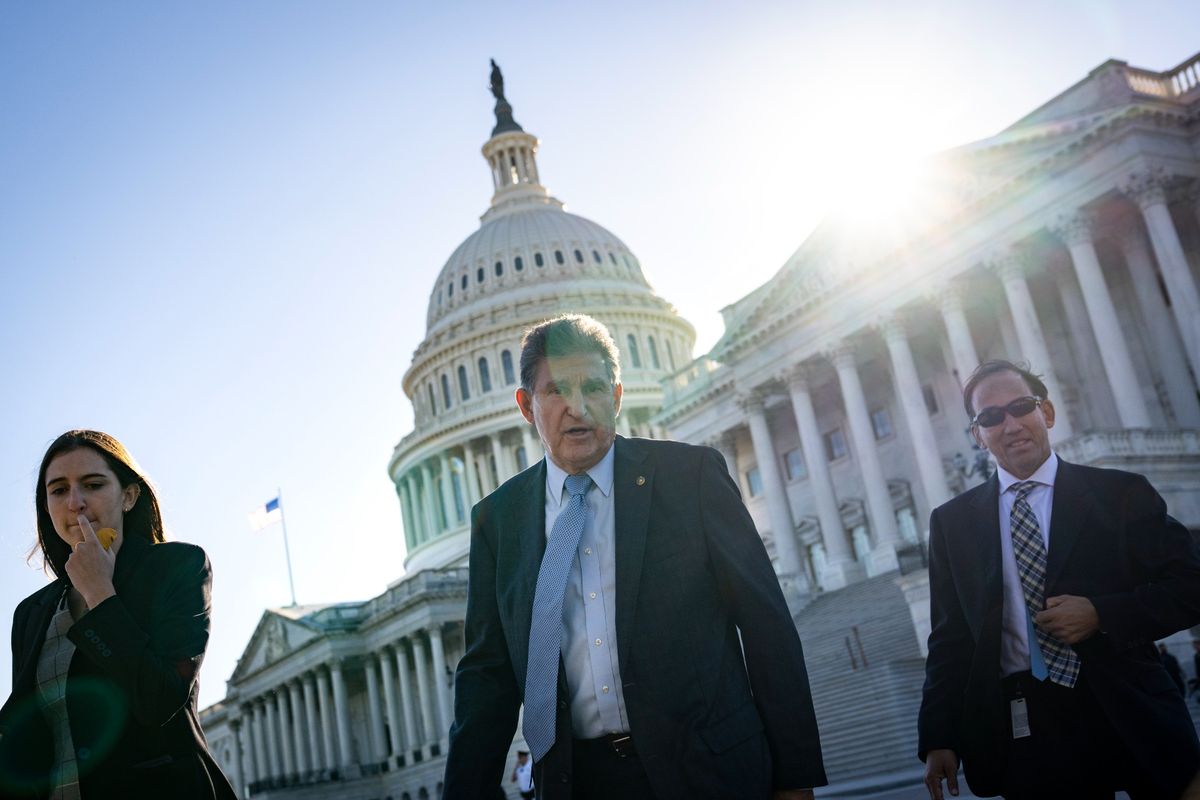 Sen. Joe Manchin has stripped the Democrats' reconciliation bill of two major climate programs: a clean energy standard, and a methane fee on oil and gas wells. He's expressed skepticism about the goal of halving greenhouse gas emissions by 2030, the date that scientists have said is necessary to avoid the worst effects of the climate crisis, and last week claimed in an email to the New York Times that fossil fuel companies will decarbonize on their own accord, even as utilities have increased coal burning this year by nearly a quarter.
Many West Virginians supported the Build Back Better Act before it was stripped down to accommodate Manchin and other conservative Democrats—a study from West Virginia University found the bill would have directed nearly $21 billion in investment in renewable power, grown the state's economy by hundreds of millions of dollars annually, and created thousands of jobs. Mayors of Charleston and other large cities last week called on Manchin to vote for the bill, and the president of the United Mine Workers of America backed a section that would have transitioned from coal with thousands of clean energy jobs. A poll by Data for Progress earlier this year found that 57% of state likely voters favored the agenda, including 50% of independents and 45% of Republicans.
Manchin has changed the reconciliation bill in ways that benefit his family members and his household's investments in the West Virginia energy and financial industries.
Manchin continues to be by far the top recipient of oil and gas industry contributions in Congress, while holding non-public shares valued at up to $5 million in his family coal brokerage and receiving a rich annual income from its waste coal services. The power plant where his family company handles waste coal was recently approved by a state commission to operate until at least 2040, surviving after a ratepayer bailout he oversaw as governor in 2006 and another publicly-funded rescue in 2015, and Manchin inserted $11.3 billion in funding in the bipartisan infrastructure bill that could free up more waste coal to burn, among other provisions he added targeting the niche industry.
While Manchin was in the process of removing the clean energy programs, over which he had previously demanded sole committee jurisdiction from Majority Leader Chuck Schumer, his campaign and leadership PAC saw an influx of over $400,000 in third quarter donations from fossil fuel industry PACs and the executives and employees of oil and gas companies.
One of the leading contributors to Manchin's fundraising groups was Enterprise Products Partners L.P., one of the largest crude oil and natural gas pipeline companies in the U.S., with a market value over $51 billion according to the Forbes 500. The Houston-headquartered company's PAC, employees, and lobbyists gave Manchin's campaign and leadership PAC more than $113,000 over three months.
Manchin's son-in-law, Marshall Roberts, has worked as an asset optimization manager for Enterprise Products since June 2020, according to his LinkedIn profile. Married to Manchin's daughter Brooke, Roberts previously worked for oil & gas services company HydroEdge, which is based in Pennsylvania and serves the Marcellus and Utica Shale plays, and prior to that spent seven years at CONSOL Energy, which operates coal mines.
The PAC of Enterprise Partners donated $10,500 to two Manchin committees on May 27, just two days after the West Virginia senator told Politico that he wasn't in any rush for the Senate to advance the Biden budget. Its co-CEO, W. Randall Fowler, donated $5,000 to Manchin's leadership PAC on Aug. 9. In the third quarter, employees of Enterprise gave the second highest amount to Manchin among his committees' fossil fuel industry donors at nearly $50,000, behind only employees of Energy Transfer at nearly $70,000.
Enterprise's most recent sustainability report for 2020 discloses membership in a dozen national trade associations, including the top fossil fuel industry lobbying groups American Petroleum Institute (API) and the American Fuel & Petrochemical Manufacturers (AFPM), as well as a dozen state and local trade groups like the Texas Oil & Gas Association. API has lobbied against the reconciliation bill's proposed fees on methane, calling the legislation "unnecessary," with the group's president Mike Sommes calling the provision "a misguided and punitive tax on natural gas." In the third quarter, API spent $1.25 million on federal lobbying, with AFPM spending at least $230,000 on lobbying according to Senate records. Enterprise Products has disclosed $600,000 in lobbying spending on tax and other issues this year, of which $180,000 was in the third quarter through firms like the bipartisan BGR Government Affairs.
Enterprise co-CEO Jim Teague said at a virtual conference in January that Manchin would "carry a very big hammer" in the 50-50 Senate, adding, "We are a centrist country. I would welcome seeing some compromises under centrist positions."
Enterprise Products did not respond to a request for comment on its position on climate provisions in the Democratic reconciliation billor whether it supported legislation to curb greenhouse gas emissions in line with the 2015 Paris Agreement on climate. The energy giant did not address any company guidelines that might apply to senior employees like Marshall Roberts in discussions with his father-in-law, Sen. Joe Manchin, on energy industry topics currently being lobbied on in the Senate.
In remarks to the powerful Edison Electric Institute trade group this summer, Manchin suggested—against the conclusions of climate scientists internationally—that the U.S. did not need to drastically curb use of coal and methane gas by 2030 to reach President Biden's goal of reaching a carbon pollution-free power sector by 2035. The president of the utilities trade group, Thomas R. Kuhn, is a member of the board of the U.S. Chamber of Commerce Foundation, a nonprofit arm of the business lobbying behemoth that is throwing its full weight behind defeating the Democratic package.
A framework for the reconciliation bill released by the White House yesterday did not detail the $555 billion it proposed spending on climate and clean energy measures, and the prospects of passage in the House remain uncertain, as well as the final approval of holdouts Sens. Manchin and Kyrsten Sinema (D-Ariz.). The methane fee has not yet been dropped from the House's version of the reconciliation package.
West Virginia Bank Stock
Joe and Gayle Manchin's largest asset in their 2020 disclosure report was their non-public stock in family-held coal brokerage Enersystems, valued at between $1 million and $5 million, which sent them almost $492,000 last year in income from waste coal services at the Grant Town Power Plant in West Virginia. Their stake in the coal company founded by Joe Manchin in 1988, now run by their son Joseph IV, is followed by real estate assets, with one property valued at up to half a million dollars, and investments in the family's mining and coal services company Farmington Resources, also valued at a total of up to $500,000 as of last year.
Fossil fuel-powered energy is not the only industry the Manchins are invested in that is lobbying to undermine the Democrats' budget plan. Gayle Manchin reports holding between $250,000 and $500,000 in corporate securities in MVB Financial Corp., the Fairmont, West Virginia-headquartered bank where she has a savings account containing between $500,000 and $1,000,000. In July 2013, Gayle Manchin joined MVB Financial's board of directors, stepping down from the position in January 2017.
In a March SEC filing, MVB's Financial Corp. disclosed, in the section on Risks Related to the Legal and Regulatory Environment, that "Changes in tax law may adversely affect the Company's performance and create the risk that it may need to adjust its accounting for these changes."
Democrats had proposed raising the corporate tax rate from 21% to 26.5% to help generate revenue for the budget's package of investments to tackle U.S. poverty and boost climate resilience, but Manchin and fellow Democratic Sen. Mark Warner of Virginia said last month they opposed any rate hike above 25%.
The interim chair of MVB Financial Corp. is David B. Alvarez, a director who is also the owner and president of Energy Transportation, a servicing company in the natural gas industry. In 2019, at a Federal Reserve Industry roundtable meeting, Alvarez said of his decades in the energy industry, "I kind of represent the energy sector and North Central West Virginia… I'm the chairman of MVB Bank, so I get to give a perceptive [sic.] of our banking progress and growth, the type of loans we're doing and where we are going." Alvarez introduced Manchin at a 2017 company event, has contributed $4,800 to Manchin's campaigns over the past decade, and previously worked in construction in natural gas fields for more than 23 years.
MVB Bank is listed in the online directory of the Independent Community Bankers Of America, the trade group representing small and medium-sized banks that has spent nearly $2.7 million in federal lobbying this year, including on the specific issues of "Regulatory and Tax Relief for Community Banks" and "IRS Financial Transaction Reporting Proposal in budget reconciliation" in the third quarter. Last month, the trade group's president and CEO, Rebeca Romero Rainey, released an op-ed mentioning Sen. Manchin's opposition to the Democratic reconciliation bill's 10-year price tag and raising concerns with the provision meant to aid in tax enforcement.
MVB Financial did not respond to a request for more information on its position on the proposed corporate tax rate increase or the community bank trade association's lobbying efforts on IRS reporting provisions.
Another view on the Manchin household's finances comes from a disclosure report requested by Sludge. The Appalachian Regional Commission is an economic development agency that partners the federal government with 13 state governments to make investments in the region, and Gayle Manchin was sworn in as a federal co-chair on May 16. In her financial disclosure submitted to the Office of Government Ethics on Feb. 27, Gayle Manchin discloses her income from Enersystems with her spouse as ​​being $613,142—the exact amount that Sen. Manchin had disclosed in his Senate disclosure report for the calendar year 2019. However, the form's instructions define the reporting period as the preceding calendar year up until the signature date, meaning that the Manchins' 2020 income of $491,949 would be required there.
A spokesperson for the Office of Government Ethics told Sludge that filers are responsible for ensuring the accuracy of information submitted and that audits are not typically conducted unless a flagrant issue is found. Manchin's Senate office did not respond to requests for comment on any conversations with their son-in-law regarding energy industry issues, community bank lobbying on tax rates while holding up to half a million dollars in MVB Financial stock, or whether Gayle Manchin would be submitting an amended financial filing for her federal co-chair role.
---
Read more: