FirstEnergy Defends Its Role in $61 Million Bribery Scheme
The company claims its millions in donations to a dark money group that pleaded guilty to bribing politicians on its behalf are protected by the First Amendment.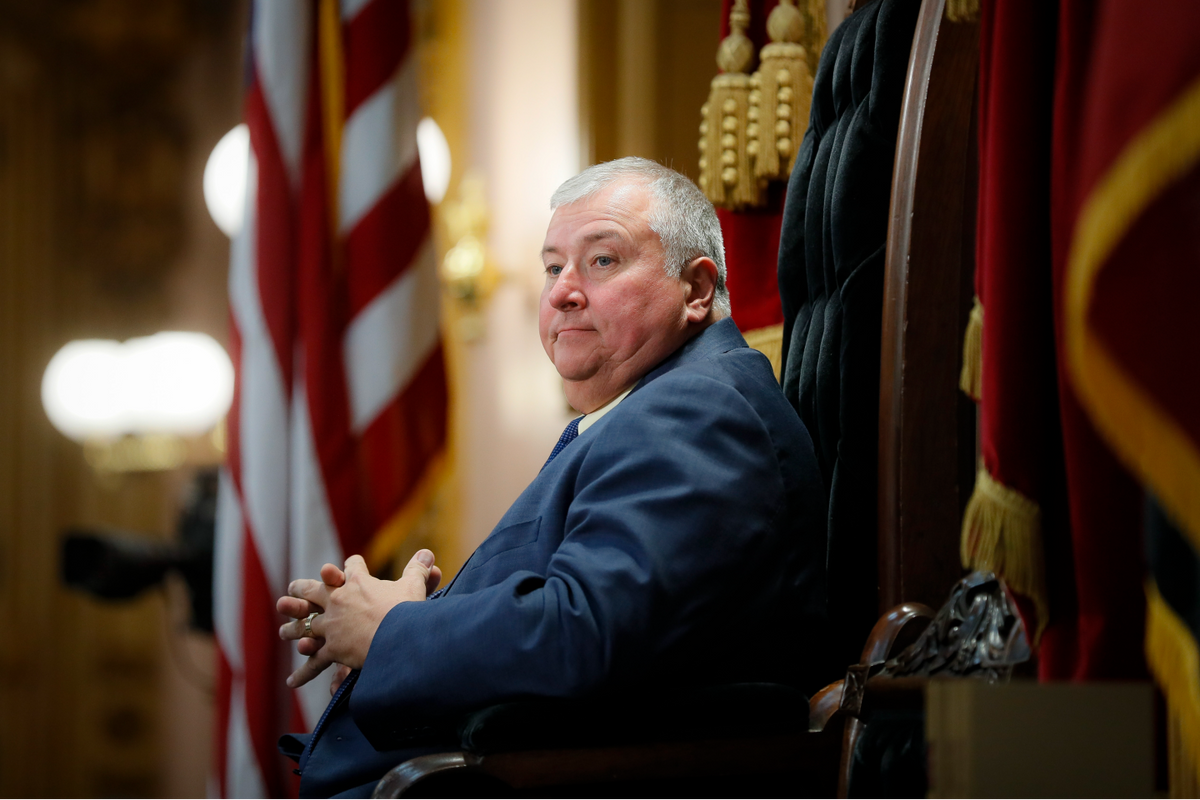 Ohio is currently home to the largest public corruption case in the country, far outdoing cases playing out in usual suspects Illinois and New York in terms of the amount of money and powerful figures involved.
The federal investigation into a $61 million bribery scheme involves the Akron-based coal and nuclear power company formerly named FirstEnergy Solutions, a "dark money" advocacy group called Generation Now, and a group of defendants led by indicted former Ohio House Speaker Larry Householder—who won re-election in 2020 with 74% of the vote, despite being arrested by the FBI last summer on bribery charges. Update: On June 16, Householder was expelled from the Ohio House in a bipartisan vote of 75-21.
FirstEnergy said in April that it is cooperating with the Justice Department's probe and is negotiating for a deferred prosecution agreement, which could entail further cooperation and fines.
Ohio House Bill 6 was a $1.3 billion bailout of two FirstEnergy-owned nuclear plants that was rushed through the General Assembly by Householder and his state Republican allies, and signed into law by Republican Gov. Mike DeWine on July 23, 2019. The bill also put Ohio ratepayers on the hook to bail out two aging coal plants while gutting renewable energy targets and energy efficiency standards.
Last month, in a civil lawsuit brought by investors, FirstEnergy's attorneys filed documents arguing that the company's massive donations to Generation Now were "issue-advocacy contributions" that are legally protected by the First Amendment. FirstEnergy's lawyers said the securities litigation brought by shareholders and investors does not prove that there was a quid pro quo between Generation Now and Householder for the passage of HB 6.
Previously, a federal judge refused to throw out the cases against FirstEnergy's board of directors, siding with investors in ruling, "This Court finds [the shareholders] have alleged by clear and convincing evidence that [the board] 'knew or recklessly disregarded reports and red flags that FirstEnergy was paying massive amounts of illicit bribes'" to pass the legislation.
In February, Generation Now pleaded guilty to one count of racketeering in funneling money to pass HB 6, and surrendered $1.5 million to authorities. Two individuals named in the FBI complaint, Householder's longtime aide Jeffrey Longstreth and lobbyist Juan Cespedes, pleaded guilty in October to racketeering charges.
A FBI complaint released last July laid out an alleged conspiracy whereby FirstEnergy transferred $61 million from 2017-2019 to elect state candidates who went on to back Ohio Rep. Larry Householder for House speaker and help secure the bailout, using Generation Now as a dark money vehicle. Householder's alleged strategy was to help elect freshmen lawmakers, appoint them to a new subcommittee to advance the bailout, and pressure legislators to support it. At least nine Householder-backed candidates won office in 2018, and Householder won the House speakership on Jan. 6, 2019 on a 52-46 vote.
Generation Now bankrolled a public relations campaign for the bailout bill, spending over $1.9 million on ads, and worked against an HB 6 repeal initiative, including by interfering with signature gatherers. The group gave $1 million to the Growth & Opportunity PAC to support Householder-backed candidates in the 2018 primary and wired another $1 million to a PAC controlled by D. Eric Lycan, the Republican attorney who incorporated Generation Now.
In March filings, FirstEnergy admitted making multiple large donations to Generation Now: $1 million in 2017; $9.5 million from April-May 2019, when the bailout bill was being debated in the Ohio House; $7.36 million during the period it being debated in the state Senate; $25.7 million between August and October 2019, during an effort by the group Ohioans Against Corporate Bailouts to overturn HB 6 by ballot initiative; and other times. FirstEnergy also admitted to donating $20 million to Partners for Progress, a dark money group that sent $13 million to Generation Now, and also donated to other entities that backed Householder like the for-profit company Hardworking Ohioans Inc.
The 501(c)(4) nonprofit Generation Now was formed in 2017 by Householder's adviser Jeff Longstreth, and the FBI complaint details Householder's control of the group, quoting longtime Columbus lobbyist Neil Clark saying it was the speaker's dark money vehicle. Clark, one of five individuals indicted, died earlier this year in what authorities said was an apparent suicide. In addition, Householder allegedly skimmed more than $400,000 from the group's accounts to pay off credit card debt and repair a residence in Florida.
Whistleblowers including Republican operative Tyler Fehrman and former consulting employee Michael Pircio alerted the FBI and SEC to FirstEnergy's activities around the bailout.
Householder and lobbyist Matt Borges, the former Ohio Republican Party chairman who lobbied for the nuclear plant bailout representing FirstEnergy, have denied the allegations, and FirstEnergy and its employees have not been charged.
On March 31, DeWine signed legislation repealing parts of HB 6, including the nuclear subsidies and a mechanism that protected utility companies' revenue, but the bill's coal plant subsidies remain in effect, sending over $233,000 a day from ratepayers to the plants, according to utilities watchdog the Ohio Consumers' Counsel, totaling more than $100 million to date.
Catherine Turcer, executive director of the nonpartisan advocacy group Common Cause Ohio, told Sludge that FirstEnergy's position in its lawsuit with investors is "nonsense."
"It's like if you give money to a kid who spends it on candy, they eat themselves sick, and then you say I had nothing to do with it. It's just a ridiculous argument," Turcer said.
"In the year since the arrest of Householder and allies, two of them have pleaded guilty," Turcer said. "If we don't have bright lines about what's good campaign finance behavior and transparency, then elected officials will keep pushing the envelope until they get past that into a gray area.
"There's enough evidence that Householder engaged in manipulation to advance the prospects of a major donor, that's not really in dispute," Turcer said. "At the end of the day, they engaged in all of this manipulation to advance the bailout for a major donor and received significant benefits."
Last month, two Ohio Republicans filed a resolution to expel Householder from office over the bribery and money laundering indictment shortly after state Democrats announced plans to introduce such a resolution. Expelling Householder would require all 34 House Democratic votes and at least 31 of 64 House Republicans to reach the 66 vote threshold. Current House Speaker Bob Cupp, a Republican who was a subject of past ethics complaints involving campaign contributions from a FirstEnergy subsidiary, called on Householder to resign in September.
In February, two Republican state representatives, Diane Grendell and Mark Fraizer, introduced House Bill 13, the Light of Day Bill, which would require 501(c)4 nonprofit organizations to disclose political spending and donors. The bill has had two hearings, with another expected this summer.
Turcer said Common Cause Ohio will continue to weigh in on the importance of strong anti-coordination provisions around groups that make independent expenditures, such as those made by Generation Now in support of the bailout and against its repeal. Last month, two Democratic state representatives introduced House Bill 306, the Ohio Anti-Corruption Act, which would further increase disclosure of the true owners of nonprofits.
Patrick Llewellyn, director of state campaign finance at the nonpartisan Campaign Legal Center, told Sludge that Alaska's Ballot Measure 2 is a good example of legislation that enables voters to know who is spending money to influence state elections. Approved by Alaska voters last year, the measure increases transparency by requiring individuals and groups that donate more than $2,000 to an entity making independent expenditures on elections to report the true source of their contribution to the state within 24 hours, among other measures. "Identifying the true source of big election spending ensures that wealthy special interests cannot hide behind shell corporations, super PACs, and other intermediaries when spending money to influence elections," Llewellyn said.
Even if the state legislation introduced to illuminate dark money spending encounters further hurdles in the General Assembly or the governor's office, there's another way for Ohioans to pass a statute that traces back donations to non-disclosing groups that buy issue ads, send election mailers, and more. Ohio's laws allow citizens to introduce ballot initiatives like the kind that sought to repeal the HB 6 bailouts in 2019. If a sufficient number of signatures is obtained, the measure is presented to the General Assembly, which can approve the statute unamended to become law, or if not, supporters can gather additional signatures to place it on the ballot for a vote.
Lobbyists for big business interests have an inside track through a "weekly finance call" with Gov. DeWine, according to a March analysis from Common Cause Ohio. DeWine's "weekly finance team" includes lobbyists for FirstEnergy and Duke Energy, part owner of the coal plants that benefited from the HB 6 bailout. To better track the interactions of government officials and industry lobbying, Turcer called for expanded disclosure rules, requiring lobbyists to report fundraising activities in their filings with the Ohio Legislative Inspector General.
---
Read more: