Donna Shalala Opposes Florida Drug Import Bill, and So Do Her Pharma Lobbyist Donors
The Democratic congresswoman and former HHS secretary called a bill to allow her state to import cheaper drugs from Canada "the silliest thing I've ever heard of."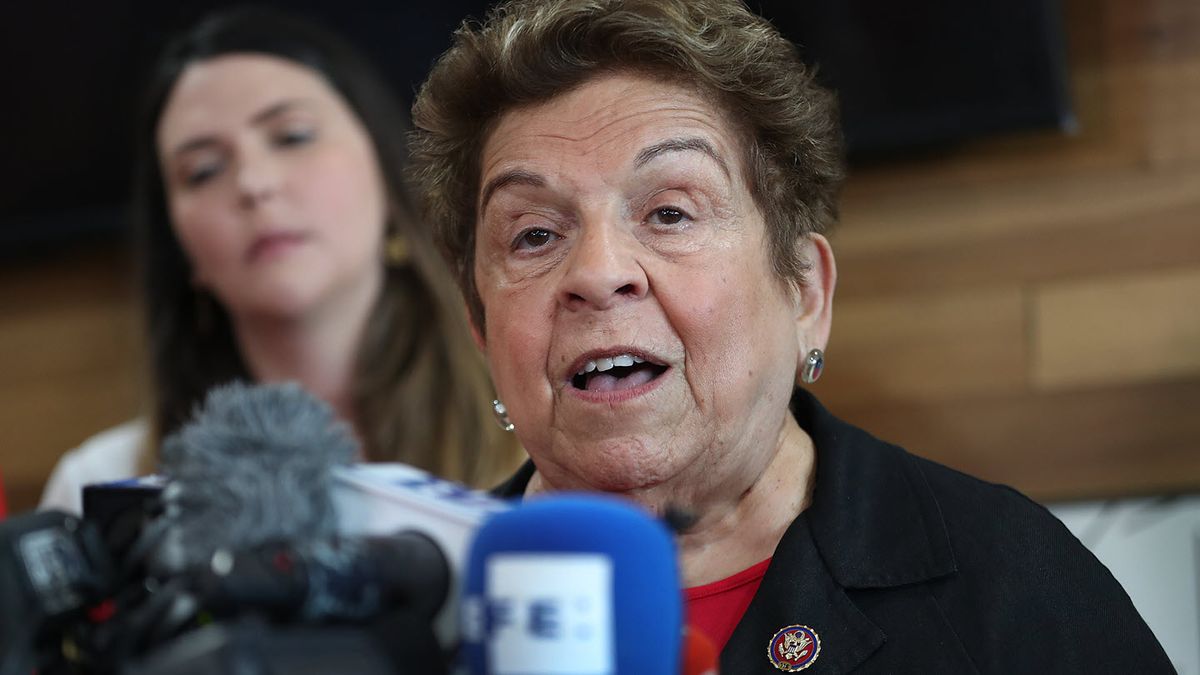 At a Florida Democratic Party event for "grassroots activists, elected officials, and major donors" at the Walt Disney World Beach and Yacht Club Resort & Convention Center in early June, U.S. Rep. Donna Shalala told attendees that her state's Republican-backed bill to allow importation of cheaper prescription drugs from Canada is "the silliest thing I've ever heard of."

Shalala, President Clinton's Health and Human Services secretary, told the crowd that "No HHS Secretary has ever approved the importation of drugs because of safety," according to the website Florida Politics. In 2000, at the end of the Clinton administration, Shalala refused to implement a law passed by Congress and signed by Clinton that would have allowed importation of FDA-approved drugs from foreign countries. The Florida legislature passed the bill, House Bill 19, and Gov. Ron DeSantis signed it into law on June 11. President Donald Trump has said he supports the idea in Florida as well as in two other states, Colorado and Vermont, that have passed similar bills. The three states plan to work together on a joint importation plan.

As she warns against importing drugs from America's neighbor to the north, Shalala is the beneficiary of over $135,000 in campaign donations since 2018 from health industry PACs, executives, and lobbyists, including many tied to American pharmaceutical companies that would face new competition from imported drugs under the Florida bill. At the same time, Shalala owns as much as $200,000 worth of stock in a number of pharmaceutical companies, according to Sludge's review of her most recent financial disclosure.

In her 2018 election, Shalala's campaign accepted at least $48,000 from health industry PACs, including $1,000 from the PAC of biopharma company Emergent Biosolutions and $1,000 from pharmacy benefit manager CVS Health. CVS Health now owns health insurer Aetna, which is a member of the Healthcare Leadership Council, a trade group that's part of the Partnership for Safe Medicines (PFSM), an astroturf industry association that led the opposition to a Senate version of Florida import bill. The Healthcare Leadership Council has publicly criticized drug imports as well.

PFSM ran television ads attacking the Florida bill, and PolitiFact deemed its claim that the legislation would allow drugs from China not inspected by the FDA into the U.S. false.

A number of lobbyists for pharmaceutical companies donated to Shalala's 2018 campaign.

Forbes Tate partner Jeffrey Forbes ($1,000), who lobbies for pharma companies Abbott Labs, Amgen, Bayer, Genentech, and Novartis, as well as for Pharmaceutical Research and Manufacturers of America (PhRMA), the nation's biggest drug lobbying group.

Shalala got $1,000 from Avenue Solutions lobbyist Tracy Spicer who represents drugmakers Merck, Jazz Pharmaceuticals, Sage Therapeutics, and other health industry organizations such as the American Medical Association, Illumina, Mednax—where Shalala was a paid director until resigning in April 2018—and the Healthcare Leadership Council.

Nathanson+Hauck lobbyist Melanie Nathanson ($1,000), who represents Coherus Biosciences as well as Quest Diagnostics and ​BlueCross BlueShield of Massachusetts. Two other state BlueCross branches, in North Carolina and Tennessee, are Healthcare Leadership Council members.

Heather Podesta, who at the time represented health insurance company Cigna, which owns pharmacy benefit manager Express Scripts, gave $5,400. Podesta lobbied Congress on drug pricing for Cigna in 2018.

Mary Beth Donahue, a lobbyist and former executive vice president of trade group America's Health Insurance Plans (AHIP), donated $5,400 as well. For AHIP, Donahue lobbied on drug pricing.

Daniel Montoya, director of government affairs for drug company Gilead Sciences' HIV FOCUS program thought not a registered federal lobbyist, gave $500.

Additional 2018 donors who lobby for health industry companies and trade groups include:

Avenue Solutions lobbyist Yvette Fontenot ($1,000), who lobbies on behalf of the BlueCross BlueShield Association and the Health Care Service Corporation;
Alignment Government Strategies lobbyist Burt Carp ($700), who currently lobbies for BlueCross BlueShield of South Carolina and OhioHealth Corporation;
Brian Coyne ($250), vice president of federal affairs at Magellan Health, who is currently lobbying Congress and the Center for Medicare and Medicaid Services on potential drug discounts;
Barclay Gang ($500), government affairs director for Florida-based health services company Mednax;
Mehlman Castagnetti Rosen & Thomas partners David Thomas ($500) and David Castagnetti ($250), who lobby for 3M Health Information Systems, AHIP, the Association of Accessible Medicines, Illumina, and insurer Humana;
and Ron Book ($2,700), a Florida state mega-lobbyist who represents Automated Healthcare Solutions, the Florida Association of Rehabilitation Facilities, and Vitas Healthcare Corporation.
More health industry PACs donated to the Shalala campaign in 2018. The PAC of Mednax contributed $10,000; the PAC of trade group American Hospital Association gave $5,000; the PAC of health insurance giant UnitedHealth Group donated $5,000; and the Florida Health PAC, the PAC of BlueCross BlueShield of Florida, chipped in $2,500.

Health care executives who donated to Shalala's 2018 campaign include three top Mednax officials, including CEO Roger Medel, who each contributed the maximum allowed amount of $5,400; Joseph Natoli, executive vice president of health care network Baptist Health South Florida ($5,400); Gerald Glass, chairman of Florida-based electronic prescription company Automated Healthcare Solutions ($2,700); and Karen Ignagni ($1,000), president and CEO of insurer Emblem Health and former AHIP CEO.
In the first quarter of 2019, Shalala received at least $22,100 from the health industry, including $1,000 from the PAC of pharmaceutical wholesaler AmerisourceBergen. Shalala's campaign has gotten $5,000 from the PAC of BlueCross BlueShield of Florida's holding corporation, Guidewell; $2,500 from Mednax PAC; $2,500 from health insurer Humana's PAC; $1,000 from the PAC of insurer Anthem, a Healthcare Leadership Council member; the maximum, $5,600, from Ronald Dozoretz, a longtime health care executive and the founder and chairman of genetic testing firm Genomind; and another $1,000 from Fontenot.

Shalala's office did not immediately return a request for comment.
Invested in the Industry
The Florida representative's ties to the health industry go deeper than campaign contributions. According to her most recent financial disclosure, Shalala is personally invested in at least 11 drug manufacturing companies and several other health insurance and medical device companies.

Shalala has between $383,000 and $1,020,000 invested in 19 health industry companies identified by Sludge. She has up to $200,000 invested in pharmaceutical firms, including between $15,001 and $50,000 in Pfizer and between $1,001 and $15,000 each in Allergan, Aspen Pharmacare Holdings, Bayer, Biogen, Ionis Pharmaceuticals, Johnson & Johnson, Seattle Genetics, Teva Pharmaceuticals, United Therapeutics, and Vertex Pharmaceuticals.

The current stock investments include as much as $615,000 in UnitedHealth Group, the insurance giant that compensated her with roughly $680,000 for her board position at the company, which she left in 2007. Other companies she profits from include Mednax (between $50,001 and $100,000 worth of stock), Medtronic ($1,001-$15,000), and West Pharmaceutical Services ($1,001-$15,000).
The fate of Florida's drug importation plan is in the hands of Health and Human Services Sec. Alex Azar, a former lobbyist for pharmaceutical company Eli Lilly, who is required to certify the safety of the imported pharmaceuticals before the plans can be implemented. While Shalala and some other Florida Democrats say Canadian drugs are dangerous, some experts say it's possible to import drugs safely.

"The FDA has the power to regulate any drugs sold in this country, regardless of where the drugs originated," Robin Feldman, University of California Hastings law professor, told PolitiFact. "Safety is key to the FDA's mission, and that mission encompasses drugs imported from other countries, as well as drugs sold directly here."

In a blow to patients, Sec. Azar announced on Thursday the administration's reversal of a plan to pass on rebates directly to Medicare Part D and Medicaid recipients, bypassing pharmacy benefit managers like CVS Health.
Meanwhile, presidential candidate Sen. Bernie Sanders (D-Vt.) announced that he will join a group of diabetes patients on a July 28 trip to Canada to purchase insulin there at cheaper prices than in the U.S. Sanders has proposed multiple federal bills and amendments to lower domestic drug prices and allow Canadian drug imports.
This article has been updated to include information on Shalala's personal investments.
---
Related: