Paul Gosar Omitted Dinner with Far-Right Nationalists in Travel Report
A new documentary on Steve Bannon reveals that the Arizona congressman dined with European far-right nationalists in London last year.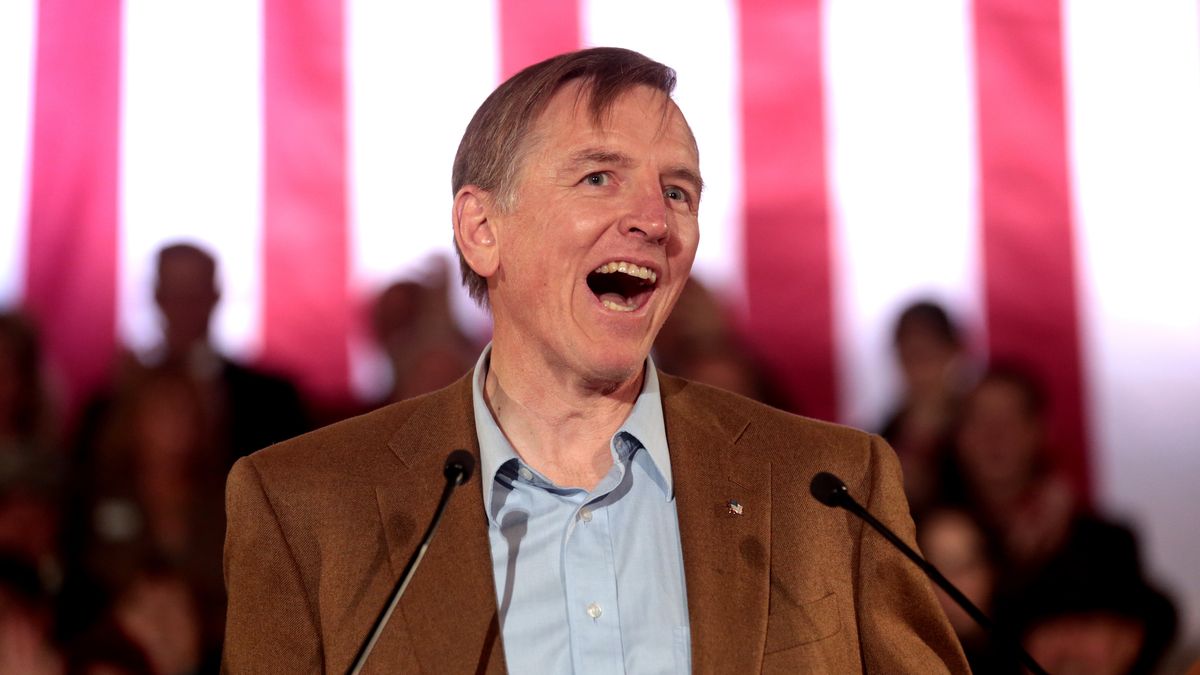 When Arizona Republican Rep. Paul Gosar filed his travel report from a July 2018 trip to London with the House clerk's office, he listed a Saturday night dinner with "members of the U.K. parliament" to "discuss the need to protect the right to free speech."

Because of The Brink, a new documentary about former White House chief strategist Steve Bannon's political work in Europe last year, we now know the guest list for the dinner Gosar attended that night, which took place in Bannon's London hotel, included no British MPs at all—and instead included several right-wing nationalist politicians from Belgium, France, and Sweden. A clip of the dinner is available here.

Members of Congress are not required to report travel activities they undertake at their own personal expense. Gosar's report, which includes a "tentative itinerary" but was stamped by the House clerk two days after Gosar's return, lists "personal time" from 10am to 8pm that day. Based on the information Sludge has, it does not appear possible that Gosar went to Bannon's dinner and paid for his meal before heading to the alleged event with U.K. members of Parliament, which was scheduled to run from 8-9:30 pm according to the disclosure. Gosar stayed through the end of Bannon's dinner, and The Brink director Alison Klayman sent Google chat messages just after the dinner ended that were timestamped at nearly 10:00 pm London time.
Bannon told the Guardian that his dinner went from 6pm to 12am. Another attendee told CNN that the dinner lasted three to four hours.
Gosar's congressional office and Middle East Forum's Clifford Smith, who also attended the dinner, did not reply to requests for comment.
If the House Ethics Committee finds that Gosar filed a false travel report, he will likely receive a public reprimand and be required to submit an amended report, Craig Holman, government affairs lobbyist at nonprofit watchdog Public Citizen, told Sludge. But if there's evidence he intentionally filed false information, there could be serious repercussions.
"If Gosar deliberately filed a false report to Congress, this would constitute both a violation of House ethics rules and a violation of criminal statute under the Ethics in Government Act," said Holman. "The House may impose a variety of penalties for violations of congressional rules, including reprimand, censure and even expulsion in the most extreme cases. At the same time, deliberately filing a false report to Congress is a violation of federal law, in which the U.S. Attorney's office may seek a fine up to $11,000, five years imprisonment, or both."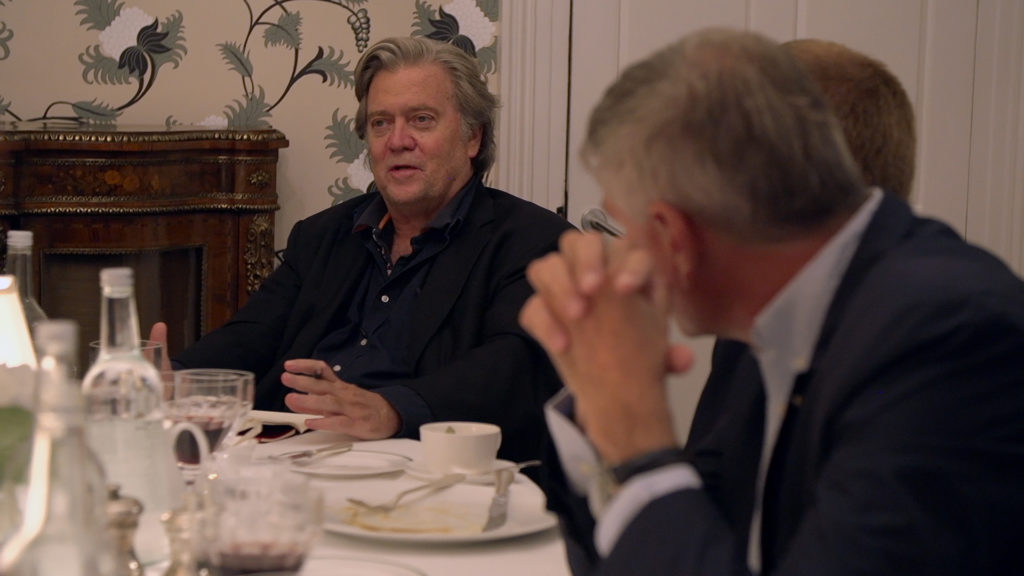 Klayman told Sludge that Bannon had arranged the dinner after a rally supporting anti-Muslim activist Tommy Robinson, at which Gosar spoke. "Bannon said he wanted to talk to those around the table about how, after Brexit and Trump, he saw an opportunity in Europe to have something like the [House] Freedom Caucus—of which Gosar is a member—in the European Union."
Gosar's trip was financed by American nonprofit Middle East Forum, which was founded by Daniel Pipes, whom the Southern Poverty Law Center calls an "anti-Muslim provocateur." It is the only time Middle East Forum has sponsored congressional travel, according to the House clerk's online records. Sludge first reported on Gosar's travel report and appearance at the anti-Muslim rally last September.

Klayman provided Sludge with the full list of attendees at the dinner:

Steve Bannon, former Breitbart News chairman and former Trump White House chief strategist
Erik Almqvist, former Swedish member of Parliament, former member of anti-immigrant Sweden Democrats party
Filip DeWinter, Flemish parliamentarian and leading member of the far-right Vlaams Belang party, and spouse
Kent Ekeroth, former Swedish member of Parliament, member of anti-immigrant Sweden Democrats party
Paul Gosar, U.S. Republican congressman
Raheem Kassam, right-wing British political activist and former editor of the anti-immigrant Breitbart London
Jérôme Rivière, spokesman of far-right, anti-immigrant French political party National Rally (formerly known as the National Front)
Clifford Smith, Washington project director of Middle East Forum who accompanied Gosar
"Gosar said grace for the gathered attendees and participated in the discussion mostly to talk about the U.S. and his own context," Klayman told Sludge. "He mentioned that when he got back to the U.S. on Monday they would be impeaching Rod Rosenstein (which didn't actually happen). Also, he said, 'I was the guy that challenged [George] Soros in the United States.'"

Gosar was likely referring to his anti-Semitic and evidence-free allegations that Jewish billionaire philanthropist Soros had funded the white nationalist United the Right rally in 2017 and had, as a child in Nazi-occupied Hungary, "turned in his own people to the Nazis."

Politico reported in September that DeWinter, who is well known for his racist and Islamophobic views, said that he'd had a three- to four-hour dinner with Gosar and Bannon and several others during which they talked about European politics and the possibility of working together.

DeWinter told Politico that he sees Gosar and the U.S. House Freedom Caucus as "allies" who are "fighting the same battle…for our Western identities."

"The only possibility to win this struggle for European identity is to unify our parties," said DeWinter, sitting across from Gosar, at the dinner. "What we also need is some support from the United States. I know that Trump can't afford to sympathize with us but at least to have some congressmen and some senators from the Republican Party."

Gosar smiled.

Bannon responded by asking for "a punch list of just, as a country, what we can be doing to support this movement over here. You know, we do control the government."

"What Trump said yesterday," said Rivière, "saying that immigration, uncontrolled immigration…"

"…changes the fabric [unclear]," a voice, likely Bannon's, chimed in.

"…this is the perfect thing," said Rivière.

The day before, July 13, the Washington Post wrote that Trump's comments, made during a news conference with British Prime Minister Theresa May in England, "mirror white nationalist rhetoric."

"Allowing the immigration to take place in Europe is a shame," Trump said. "I think it changed the fabric of Europe and, unless you act very quickly, it's never going to be what it was and I don't mean that in a positive way. So I think allowing millions and millions of people to come into Europe is very, very sad. I think you are losing your culture. Look around. You go through certain areas that didn't exist ten or 15 years ago."

Vlaams Belang, DeWinter's political party, has ties to Flemish Nazi collaborators. DeWinter took part in multiple memorials to Flemish nationalists who fought for Nazi Germany. The Belgian Supreme Court ordered the party's predecessor, Vlaams Blok, to disband in 2004 because it "continually incites towards racial discrimination and segregation."

DeWinter spoke at the 2016 conference of white nationalist hate group American Renaissance, where he espoused "white genocide" rhetoric popular among white supremacists around the world. The Belgian nationalist claimed that "uncontrolled immigration is replacing indigenous populations" and that "Europe is on the verge of extinction."

"Islam is the ancient hereditary enemy of Europe," he falsely claimed.

"White genocide" rhetoric was prominent in the manifesto of the New Zealand white nationalist terrorist who killed 50 worshiping Muslims in a mosque on March 15. White nationalist terror is on the rise in the U.S., studies show, but Trump claims it's not a rising threat.

Other European figures at the dinner have similarly troubling records.

Almqvist has been associated with multiple white nationalist and violently racist incidents and currently lives in Hungary, which has led the nationalist charge in Europe for years.

Ekoreth is a recent member of the Swedish parliament who previously ran the Anti-Islamiseringsfonden (Anti-Islamization Fund) with his twin brother. Like DeWinter, he has railed against what he characterizes as the "mass invasion of immigrants." Ekoreth was snubbed by his own party last year and planned to move to Hungary.

The Guardian reported in November that other far-right nationalists visited Bannon at his hotel over that July weekend, including British Brexit champion Nigel Farage, whom Gosar met with on July 15, according to his travel report.

Bannon's dinner was part of a recruitment effort for his new European project, The Movement, which is based in Brussels and seeks to unite European nationalists from many countries to work together to make their respective nations more insular and less hospitable to immigrants. Klayman's film follows Bannon for over a year, from the Breitbart "embassy" in Washington, D.C., through London and Brussels and into Italy, when he has been staying most recently, trying to rope in Italian nationalists and backing a "gladiator school."

---
Related:
---