Watchdog Groups Urge House to Pass Anti-Corruption Rules Following Collins Arrest
Thirteen organizations are calling on members of the U.S. House to pass a recent resolution that would prevent members from serving on the boards of publicly traded companies after Rep. Chris Collins was arrested on fraud charges.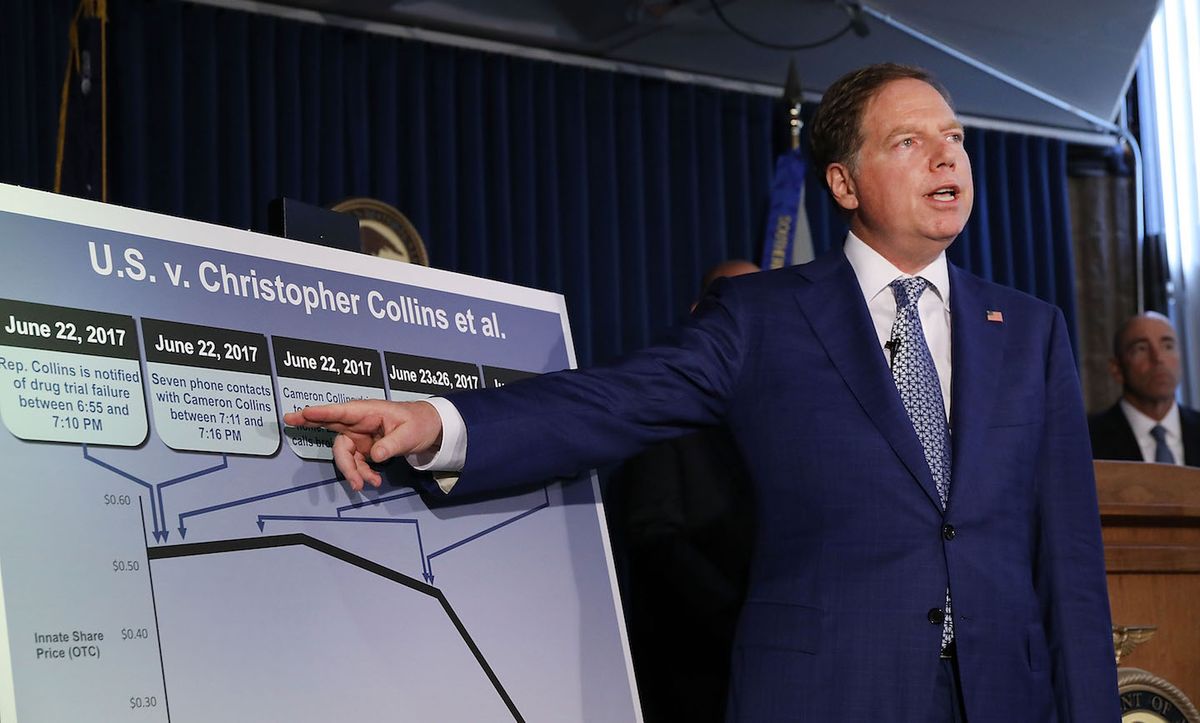 On Wednesday, a coalition of 13 government reform groups sent a letter to members of the U.S. House, urging them to support a bipartisan resolution that would bar representatives and House staffers from serving on the boards of publicly traded corporations.

While senators are currently prohibited from doing so, House rules allow its members to sit on corporate boards as long as they don't collect director's fees.

The proposed resolution, originally sponsored by New York Reps. Kathleen Rice (D) and Tom Reed (R), came after the arrest of Rep. Chris Collins (R-N.Y.) in early August on 11 counts of securities fraud, wire fraud, and false statements while using his board position at a publicly traded Australian pharmaceutical company to pass along non-public information to his son, who owned stock in the company, resulting in insider trading.

"Members of Congress are public servants whose primary responsibility is to work on behalf of their constituents and the public," the groups wrote in their letter to the House. "The responsibility of a corporate board member is to increase profit for the corporation. The same person cannot hold these two roles without creating conflicts of interest."

The letter was organized by Issue One and co-signed by a number of liberal, conservative and nonpartisan watchdog groups, including Business for America, Common Cause, MapLight and the R Street Institute.

The resolution would amend the Rules of the House of Representatives to restrict representatives, House employees, and other House officers from serving on the boards of publicly owned companies. Under the resolution, members and House employees would still be allowed to serve on the boards of non-profit organizations and privately held companies as long as they are not compensated for their work.

The resolution has been referred to the Committee on Rules, which in addition to setting the terms for daily legislative debates has jurisdiction over measures that would change the standing rules of the House.

In addition to primary sponsors Rice and Reed, the resolution has so far been cosponsored by 14 other representatives: seven Republicans and seven Democrats.

In mid-August, Sludge found another House member on a corporate board: Neal Patrick Dunn, a Florida Republican who chairs the board of Summit Bank, a commercial financial institution in Panama City, Florida. The bank does not offer publicly traded stock, but Dunn lists receiving $72,000 in "Director Fee/Stock Options" in 2017 in his most recent financial disclosure, potentially breaking the current House rules.

Craig Holman, government affairs lobbyist at watchdog Public Citizen, which did not sign the letter, told Sludge that his organization "supports the Reed/Rice rules change to prohibit members from sitting on publicly owned corporate boards while serving in Congress. The resolution is a step stronger than the current senate rule that also prohibits senators from serving on such boards in that the House resolution does not allow for the exception to the ban if a member was sitting on the board prior to entering Congress."

There are some shortcomings, however.

"The rule should be expanded to prohibit members from serving on any corporate board, private or public," Holman continued. "The exact same conflicts of interest arise from serving on a private corporate board—say, on the board of directors of the Koch Industries—as arise from serving on a publicly-owned corporate board."

Holman contacted Reed and Rice with his concerns and says both representatives told him "they may consider expanding the rule at some later time but wanted first to address the immediate problem."