Dark-Money Donors Must be Revealed, Court Rules
In a potentially game-changing decision, a federal court ruled that "dark-money" groups that spend more than $250 on direct political expenditures will have to disclose all donors who have given $200 or more towards those operations.
Hundreds of millions of dollars in political dark money may soon see the light of day, according to a U.S. District Court for the District of Columbia ruling released Friday evening. The court's ruling on CREW v. FEC and Crossroads Grassroots Policy Strategies requires nonprofit organizations that spend at least $250 in a single calendar year on federal independent political expenditures to disclose the identities of any donors who contributed $200 or more towards those expenditures. These new disclosures would identify foreign nationals and corporations that illegally spend money through such groups to influence U.S. elections.

Noah Bookbinder, executive director of the liberal government watchdog Citizens for Responsibility and Ethics in Washington (CREW), said in a press release, "Major donors are now on notice that if they contribute to politically active 501(c)(4) organizations, their contributions will have to be disclosed, and if they are not, CREW will pursue enforcement cases with the FEC and, if necessary, in court."

Chief Judge Beryl Howell, an Obama appointee, vacated a 30-year-old campaign finance regulation that she sees as invalid. In her opinion, Howell wrote, "The challenged regulation facilitates such financial 'routing,' blatantly undercuts the congressional goal of fully disclosing the sources of money flowing into federal political campaigns, and thereby suppresses the benefits intended to accrue from disclosure, including informing the electorate, deterring corruption, and enforcing bans on foreign contributions being used to buy access and influence to American political officials."

Currently, nonprofits including 501(c)(4) "social welfare" groups, 501(c)(5) unions and 501(c)(6) trade associations spend millions of dollars on independent expenditures—ads, mailers and other communications that explicitly endorse or oppose candidates for office—without having to reveal their funding sources. The new disclosure requirements don't cover electioneering communications, commonly known as "issue ads," which typically involve candidates and their policies but don't tell viewers how to vote.

These groups are allowed to spend money on politics as long as political activity does not constitute more than 49 percent of their activities, a regulation several groups have tested in recent years.

But later this year, if the ruling holds, political nonprofits will have to begin disclosing their political donors.

In the 2016 election, nonprofits spent over $187 million on independent expenditures, and during the current cycle they've reported spending $37 million, according to data analyzed by the Center for Responsive Politics. Social welfare nonprofits tend to spend more overall on elections than their union and trade association counterparts.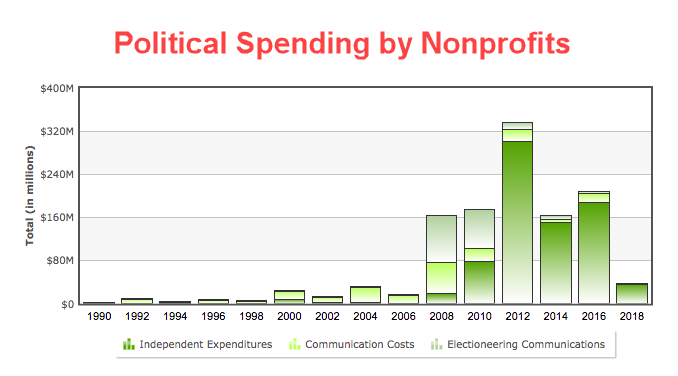 Friday's ruling stems from CREW's challenge to a Federal Election Commission regulation. The lawsuit concerns Crossroads GPS—a social welfare nonprofit linked to the Karl Rove-founded super PAC, American Crossroads—which didn't disclose the donors behind $6 million it spent on independent expenditures in the 2012 Ohio Senate race.

Judge Howell gave the FEC 45 days from Friday to issue interim regulations in accordance with her ruling, and 30 days to reconsider the complaint against Crossroads GPS that it previously dismissed. If the ruling stands, it's unlikely to impact the 2018 elections, because after the FEC proposes a new rule, the process for cementing it, including a public comment period, can take a long time.

While the FEC can appeal the ruling, it's very unlikely this will happen. The FEC needs four votes to appeal, which means it would need a unanimous vote, given that only four out of the six commissioner roles are presently filled. Democratic Commissioner Ellen Weintraub is a transparency advocate and has previously excoriated her Republican colleagues for blocking appropriate campaign finance regulations. FEC spokesperson Miles Martin also declined to comment.

It's currently unclear, but likely, that Crossroads GPS will attempt to appeal the ruling. Lawyers are currently deliberating on whether the group can appeal, since it joined the suit as an intervener and there are past rulings that questions whether it would have legal standing to appeal. Crossroads GPS did not return a request for comment.

According to former FEC commissioner Ann Ravel, if the case does end up at the Supreme Court and Trump's nominee, Brett Kavanaugh, is confirmed, "views the court has taken previously about disclosure may not be what the court continues to espouse." The Court has generally been in favor of campaign finance transparency.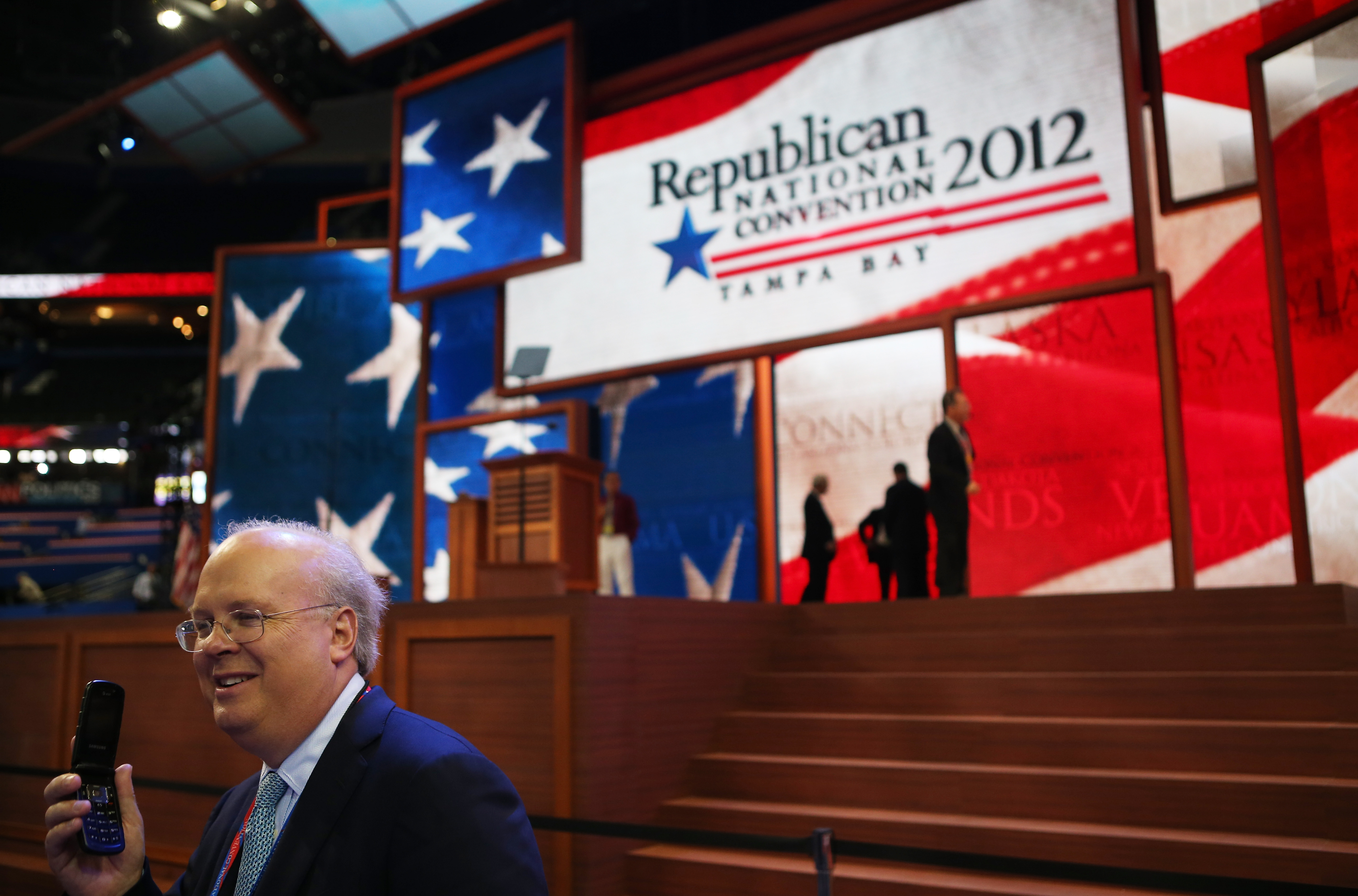 Many Political Nonprofits Keep Donors Secret

Crossroads GPS is far from the only nonprofit to spend millions on elections without disclosing its donors.

Ravel, who is now a U.C. Berkeley law professor and a senior fellow at MapLight, examined additional social welfare groups that spent money on elections and didn't disclose their donors in a 2017 report. These groups include Americans for Job Security, Crossroads, Checks and Balances for Economic Growth, the American Future Fund and the American Action Network.

American Action Network is another conservative nonprofit that CREW has taken on. In March 2018, years after CREW filed a complaint with the FEC regarding AAN's failure to disclose its donors, a federal court ruled that the gridlocked FEC had improperly dismissed CREW's complaint. CREW has since sued AAN for failure to disclose its donors, despite court rulings ordering it to do so. AAN accepted a $24.6 million anonymous donation in 2017 and has provided millions of dollars in funding to a super PAC, Congressional Leadership Fund, which has been a big elections spender this election cycle.

Carolina Rising, another social welfare nonprofit, spent 97 percent of its revenue backing North Carolina Senate candidate Thom Tillis in 2014. The FEC, gridlocked again, declined to take up a complaint from the North Carolina Democratic Party.

Curbing Foreign Money in U.S. Elections

The D.C. District Court ruling could go a long way to limit foreign money in U.S. elections.

In her opinion, Judge Howell writes, "Moreover, an important aspect of this statutory disclosure regime is to further 'the government's interest […] in preventing foreign influence over U.S. elections.'" By requiring disclosure of the names of big donors to these nonprofits, this ruling could prevent a large portion of any foreign money seeping into U.S. federal elections, which is illegal.

"We know that there is foreign money in our elections, and having greater disclosure of who is contributing will certainly at least have a chilling effect on foreign nationals and foreign corporations contributing," Ravel told Sludge. "I think the difference, of course, is how people tend to provide those contributions in a more circuitive manner, or, as we know, the Russians…hired Americans to give them."

The National Rifle Association, which spent over $35 million on the 2016 elections, making it the biggest dark-money spender that cycle, has had close relationships with Russian nationals. The FBI is investigating whether the group laundered Russian money to help Donald Trump win the presidency.

"It seems like that was a really good mechanism for foreign money to be provided in the election, to go through the NRA," said Ravel. "They may not be doing this in the future now that it's come out, but it didn't come out in advance, and that's the problem. We have to remember that the whole purpose of disclosure and transparency in campaign contributions and expenditures is so that the public can weigh the value of the communications and vote in a way that is educated."
Overall, dark-money political spending appears to be on the rise, according to an analysis by the Center for Responsive Politics and the Wesleyan Media Project. In the near future, Americans may get to know who is funding these ads and trying to influence their votes.