Kirsten Gillibrand Has Received Big Contributions from Puerto Rico Bondholders
New York Sen. Kirsten Gillibrand joins four liberal colleagues in sponsoring a bill to cancel Puerto Rico's massive debt. But she has accepted campaign donations from executives of several hedge funds profiting from Puerto Rico's obligations.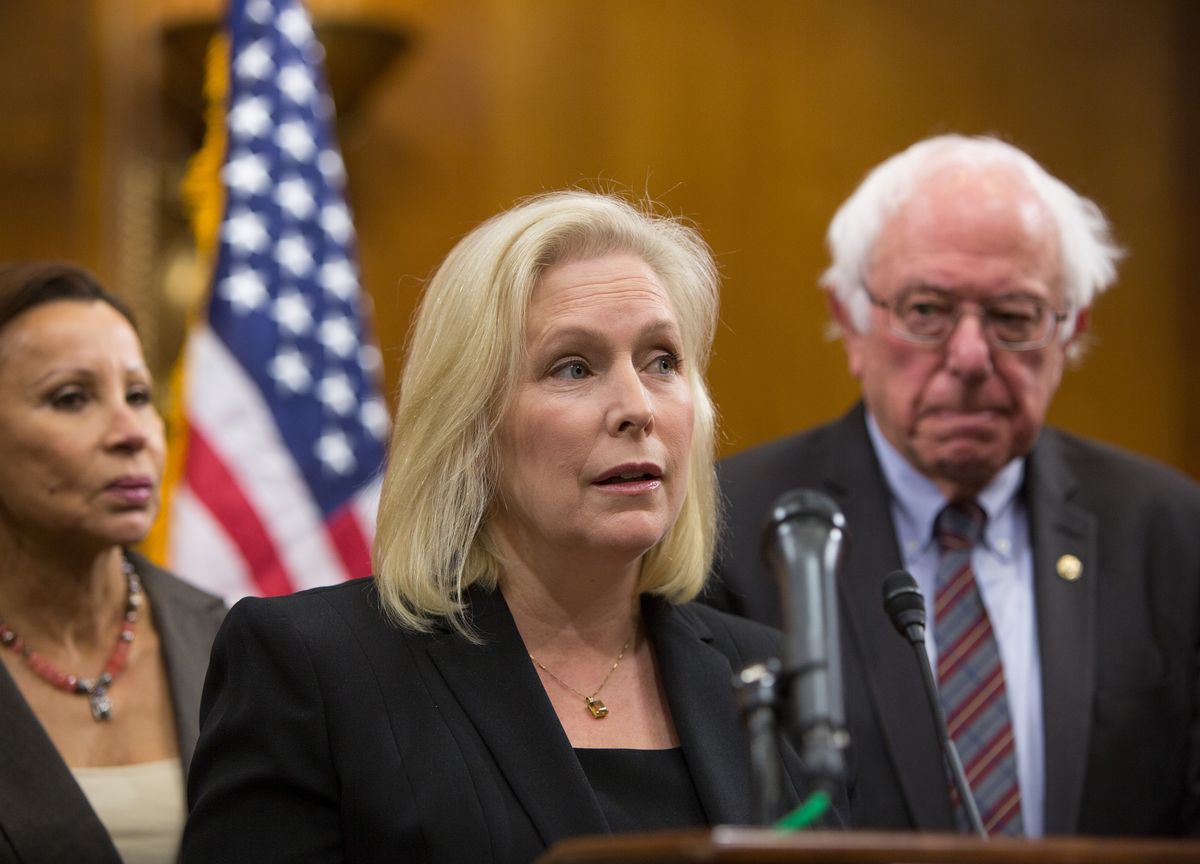 On Wednesday, David Dayen reported at The Intercept that several Democratic 2020 hopefuls are sponsoring legislation that could cancel Puerto Rico's enormous debt. Puerto Rico's financial woes were magnified when Hurricane Maria hit last September. Wall Street firms have snatched up the island's distressed debt and are attempting to make a profit through contracted debt repayments.

The bill, the U.S. Territorial Relief Act, will make the majority of Puerto Rico's roughly $72 billion in debt eligible for relief. But one cosponsor, Sen. Kirsten Gillibrand (D-N.Y.), has accepted campaign contributions from executives of what she calls "predatory hedge funds" that hold millions in Puerto Rico bonds and are seeking repayment.

Sens. Bernie Sanders (I-Vt.) and Elizabeth Warren (D-Mass.) will introduce the bill, and Sens. Gillibrand, Kamala Harris (D-Calif.) and Ed Markey (D-Mass.) are cosponsors. Democratic New York Rep. Nydia Velazquez will introduce companion legislation in the House.

"Our fellow citizens in Puerto Rico have been suffering through an economic crisis for years, and Congress hasn't done nearly enough to help," said Senator Gillibrand in a press release. "It's time to give Puerto Rico new control over what happens on the island and I am proud to support this important legislation to forgive Puerto Rico's debt and protect Puerto Rico from predatory hedge funds. I urge all of my colleagues to do the right thing, support this bill, and finally help end this terrible economic crisis."

The Senate bill allows U.S. territories such as Puerto Rico to choose relief from unsecured public debt if they meet certain criteria, pending approval from the island's legislature. Bondholders will have the chance to contest relief requests.

In 2016, before Hurricanes Irma and Maria hit, Gillibrand voted for PROMESA, a bill that established a fiscal oversight board that has since proposed harsh austerity measures, but following Hurricane Maria she has been an advocate for Puerto Rico. In addition to cosponsoring today's legislation, Gillibrand visited the island two weeks after the hurricane and pushed for increased relief funding for Puerto Rico.

However, her campaign has received hefty donations from financial executives who currently own or formerly owned Puerto Rican bonds. These bondholders have been widely described as vulture firms, which buy distressed debt and then use legal means to obtain repayment with interest. The fiscal control board has proposed austerity measures so the territory can begin paying back its creditors.

"Greedy Wall Street vulture funds must not be allowed to reap huge profits off the suffering and misery of the Puerto Rican people for a second longer," said Sanders in the press release.
One of the top creditors is Seth Klarman, CEO of the Boston-based Baupost Group, which owns $931 million in COFINA bonds through a secretive subsidiary, Decagon Holdings, as Dayen reported. According to Federal Election Commission records, Klarman made the maximum donation of $5,400—including $2,700 for both the primary and general elections—to Gillibrand's 2018 campaign in December. In the face of protests, Klarman has insisted that Puerto Rico needs to repay its debt to his $30 billion hedge fund.

Centerbridge Partners co-founder Mark Gallogly and his wife, Elizabeth Strickler, both gave $5,400 to the Gillibrand campaign in February 2017. Centerbridge owns SV Credit, which as of August 2017 held $390 million in Puerto Rico's Employees Retirement System (ERS) bonds. Centerbridge also owns a stake in Ambac Financial Group, which insures Puerto Rico bonds.

Strickler's parents both donated the maximum amount as well. Her father, Daniel Strickler Jr., is a former managing director of Morgan Stanley and current chairman of Beechtree Capital, which he co-founded.

In April 2017, Margaret Munzer Loeb donated $5,400 to the Gillibrand campaign. Her husband, Daniel Loeb, is a hedge fund manager and charter school backer worth $3.2 billion. Third Point Management, Daniel Loeb's hedge fund, held Puerto Rican bonds in 2014 but no longer does.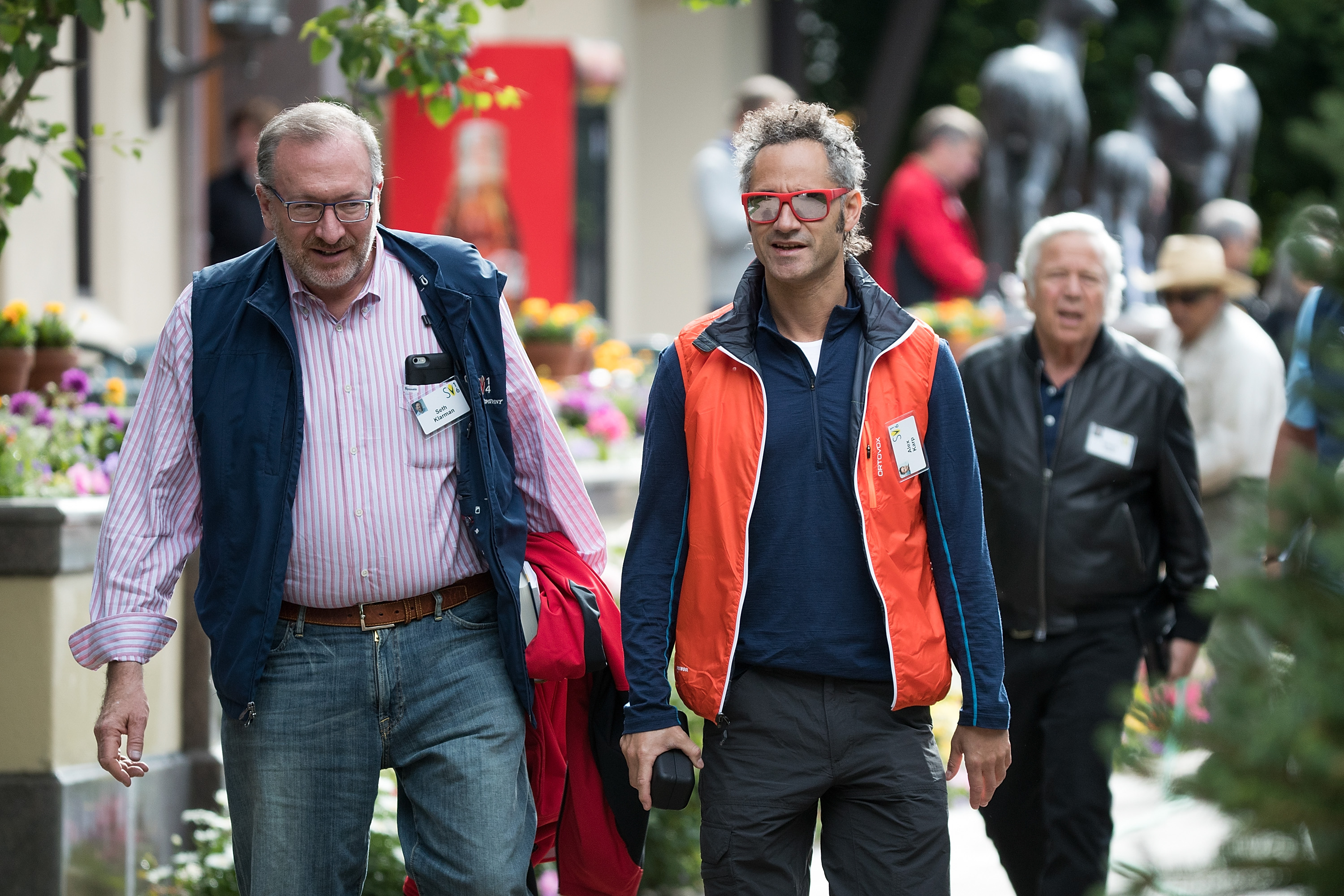 "Politicians that receive money from hedge fund managers like Seth Klarman and Dan Loeb should understand that their money is coming from people who have pushed austerity and privatization as the solution to Puerto Rico's humanitarian crisis," Julio Lopez Varona, co-director of the Community Dignity Campaign with the Center for Popular Democracy, told Sludge. "This solution has proven to help the rich get richer and the poor get poorer while pushing hundreds of thousands to leave the island.

"Over the past year, Sen. Gillibrand has consistently stood up for Puerto Rico. For this reason, her values do not seem to coincide with the actions that these people are promoting in Puerto Rico," Varona said. "As a result, I would urge the Senator send back the money and hold these people accountable for the harm they have done on the island."

Renata Pumarol, deputy director of New York Communities for Change, an economic justice activist group that has endorsed the legislation, also thinks the senator should return the donations. "If Senator Gillibrand is serious about helping Puerto Rico, she will immediately return all these donations from Puerto Rico bondholders and hedge funds profiting from the economic pain inflicted on everyday Puerto Ricans."

The Gillibrand campaign did not immediately respond to a request for comment.

These individual donations expose a potential loophole in Gillibrand's policy of rejecting campaign donations from corporate political action committees, which she announced in February, after the donations occurred. While rejecting corporate money contributed through PACs, she is still accepting contributions from corporate executives, some whose companies may have PACs or belong to trade groups that operate PACs.

The other Territorial Relief Act sponsors don't appear to have received donations from Puerto Rico bondholders that Sludge investigated.

These bondholders aren't just funding Gillibrand. Klarman is a prolific donor to the Democratic Party, while also giving to several Republican candidates. In this campaign cycle he has given to Republicans including Rep. Ed Royce (Calif.), Rep. Elise Stefanik (N.Y.) and Sen. Jeff Flake (Ariz.), but the vast majority of his contributions have gone to Democratic candidates, including those in battleground states such as Claire McCaskill (Mo.) and Joe Manchin (W.Va.). He has also given $40,000 to the joint fundraising committee of Arizona Senate candidate Kyrsten Sinema—half of which was funneled through the state Democratic Party, presumably to circumvent maximum contribution limits.

Mark Gallogly and his wife Elizabeth Strickler together have given $500,000 to the super PAC Senate Majority Project, a little more than $400,000 to the Democratic Congressional Campaign Committee, and $67,000 to the Democratic Senatorial Campaign Committee.

Margaret Munzer Loeb has given the maximum $5,400 to Gillibrand, Mark Warner (D-Va.) and Rep. Josh Gottheimer (D-N.J.). She also gave $5,400 to Warner's joint fundraising committee and $15,000 to the Women Vote! super PAC, which primarily supports Democratic women candidates.
Gallogly, Strickler, Dan Loeb and Margaret Loeb have donated to the reelection campaign of New York Gov. Andrew Cuomo (D), as Sludge reported. Gillibrand endorsed Cuomo over his progressive primary challenger Cynthia Nixon in March.