Democratic Challengers Fight Corporate Money in Tuesday's Primaries
Candidates challenging incumbent Democrats refused to accept corporate PAC money, in contrast to their opponents
In Tuesday's congressional primaries, several candidates challenging incumbent House Democrats pledged to reject all corporate political action committee (PAC) donations.

According to a Sludge analysis of the money behind the campaigns of four challengers and four incumbents with elections on Tuesday, PAC money—most of it from corporate committees—made up nearly 50 percent of the funds raised by the incumbents through June 6, while PACs contributed virtually nothing to the four challengers.

Two of the challengers actually had lower percentages of "small donations"—contributions of $200 or less—than their opponents, but the four challengers raised, on average, far less money overall than the incumbents.

Sludge examined four prominent House races in which insurgent Democrats who had rejected corporate PAC money were taking on establishment incumbents. Three of these House races took place in New York, while one decided the Democratic nominee in a Colorado district. The races are:

CO-1: Challenger Saira Rao took on incumbent Diana DeGette.
NY-9: Challenger Adem Bunkeddeko took on incumbent Yvette Clarke.
NY-12: Challenger Suraj Patel took on incumbent Carolyn Maloney.
NY-14: Challenger Alexandria Ocasio-Cortez took on incumbent Joe Crowley.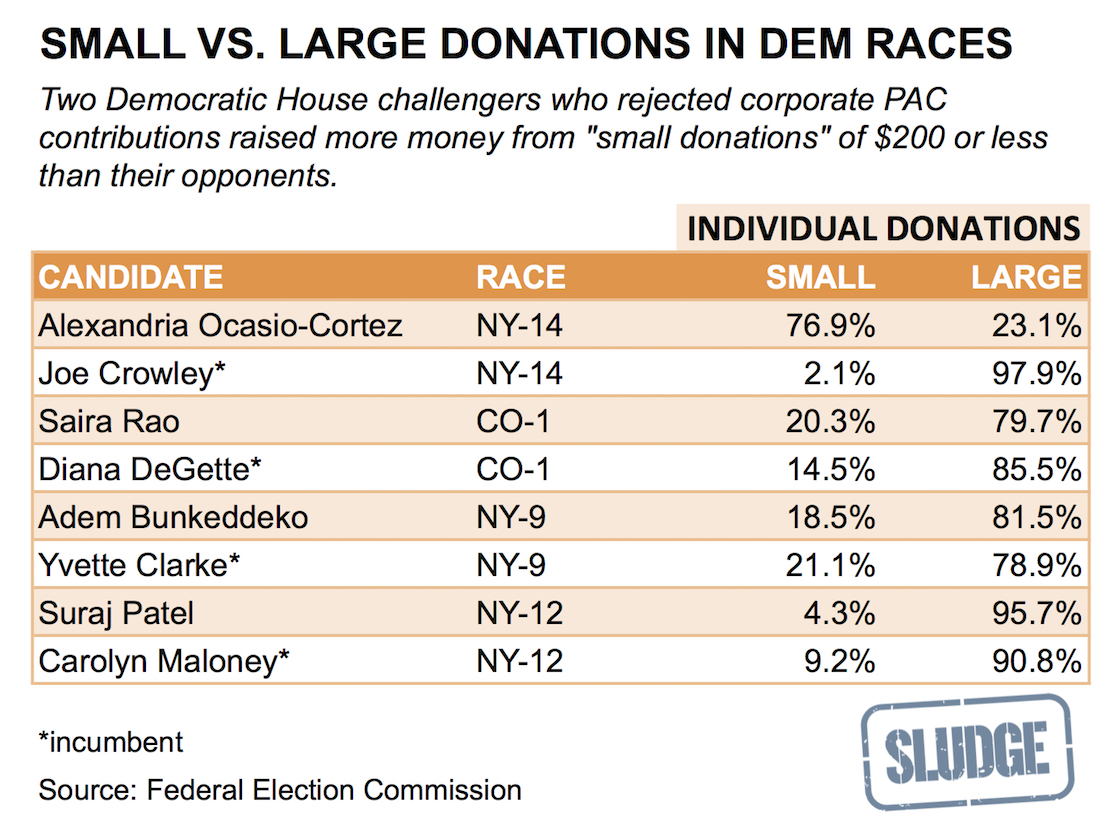 Ocasio-Cortez stands out, with 77 percent of her nearly $296,000 in individual donations coming from small donors. In contrast, a mere 2.1 percent of Crowley's haul came in the form of $200 or less. But Crowley's significant corporate funding didn't help him much; his 28-year-old challenger, who ran on a leftist platform that included Medicare for All, abolishing ICE and free public college, won the primary, ousting the fourth-ranked House Democrat. With 98 percent of precincts reporting, Ocasio-Cortez had earned 57.5 percent of the vote.

Rao also had a higher percentage of donations from small donors than did her opponent. Roughly 20 percent of Rao's individual receipts came from small donations, versus 14.5 percent of DeGette's. Rao lost her primary; with 75 percent of precincts reporter, she'd received roughy 28 percent of the vote.
Challenger Bunkeddeko, on the other hand, pulled in 18.5 percent of his individual donations from small donors. His opponent Clarke received 21 percent of hers from small contributions. Bunkeddeko lost and with 99 percent of precincts reported was slightly behind with 48.1 percent of the vote.

For someone who refused corporate PAC donations, Patel had a remarkably low percentage of small donations: 4.5 percent. Incumbent Maloney received 9.2 percent of her individual contributions from small donors. Patel lost his race and was down by 17.6 percent with 99 percent of precincts reporting.

PAC contributions loomed large in all four incumbents' campaign coffers. Of total money raised, PAC contributions, mostly from corporate committees, made up more than 40 percent. PAC funds accounted for 57 percent of Clarke's receipts.

Funding the incumbent candidates were a host of corporate PACs spanning energy, finance, telecom, health, real estate, defense and other industries. In all, PACs forked over $3,010,413 to the four House members. This total includes donations from union PACs and other political committees, but corporate and trade association PACs supplied the vast majority of the funding. Donating the most to the four Democratic incumbents was the Council of Insurance Agents and Brokers PAC, giving $18,000 total. Other notable corporate donors include KPMG ($17,000), AT&T ($15,000) and Boeing ($13,500).

One non-corporate PAC, End Citizens United, made some curious donations. The PAC states on its website that its mission is "to end Big Money in politics and fix our rigged political system by electing campaign finance reform champions." Ocasio-Cortez not only rejected corporate PAC donations, but she is co-chair of Justice Democrats, a PAC that requires all candidates it endorses "to pledge not to take any corporate PAC or corporate lobbyist money." Yet End Citizens United gave the maximum donation of $10,000—$5,000 for both the primary and general elections—to her opponent, Crowley. Crowley accepted nearly $1.5 million in PAC contributions, much of it coming from corporate PACs.

Some Justice Democrats-endorsed candidates, however, appear to have accepted money from corporations. MD-06 candidate Roger Manno, who came in fourth in his primary, has received donations from the Maryland Hospital Association PAC and Enterprise Holdings PAC. Maryland gubernatorial candidate Ben Jealous, who won his primary, has gotten direct contributions from a number of businesses, including Raven Capital LLC and Saul Ewing Arnstein & Lehr LLP. Some other candidates who reject corporate PAC money still take contributions from corporate CEOs.

Methodology: Sludge excluded donations included in 48-hour reports because these are required only for donations of $1,000 or more in the 20-day period before an election and thus exclude smaller contributions.