Facing Progressive Challenger, Crowley Embraces Corporate Cash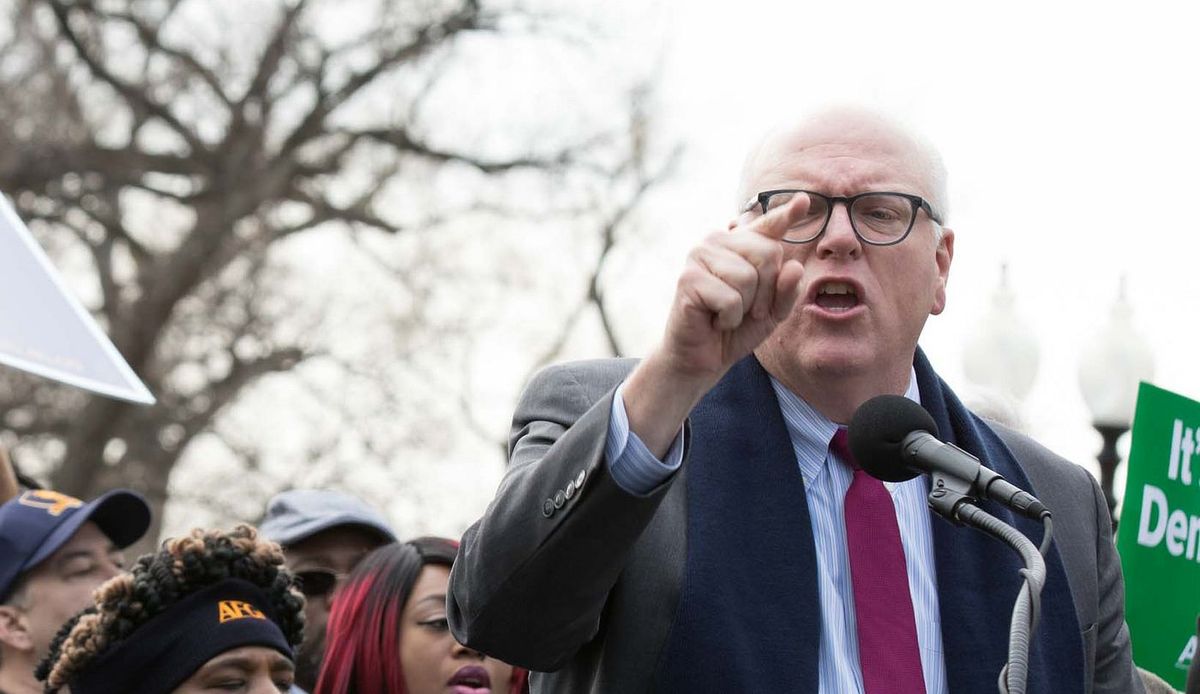 As an increasing number of Democratic candidates pledge to reject corporate funding in an effort to appeal to progressive voters, the Democrat billed as a more liberal alternative to House Minority Leader Nancy Pelosi continues to rake in corporate money.

Rep. Joe Crowley, who holds the fourth-highest ranking position in House Democratic leadership, has received roughly $1.1 million this election cycle from more than 250 corporate PACs, a Sludge analysis of thousands of campaign contributions filed to the Federal Election Commission this cycle found.

Crowley's left flank challenger, Alexandria Ocasio-Cortez, has received none, joining the growing list of Democrats courting the progressive vote by rejecting corporate PAC money and distancing themselves from corporate influence in politics.

The Ocasio-Cortez campaign did not immediately reply to request for comment when asked if she would continue her pledge of rejecting corporate PAC money if elected.
COURTING DONORS
With New York's congressional primary days away, Crowley and Ocasio-Cortez, have been hard at work courting donors. An analysis of campaign finance records show that both Democrats are going beyond the boundaries of New York's 14th congressional district, and even the state, to line their campaign coffers.

A review of reports filed to the FEC this cycle show that of the nearly 2,500 contributions made to Crowley's campaign, 5.27 percent, or $81,100, are from within his district, which includes Queens and the Bronx, and nearly 40 percent, or $1.387 million, are from his home state.

It comes as no surprise that outside of New York, Crowley's campaign received the most donations, $913,000, from residents or businesses with addresses in Washington, D.C. The Queens Democrat was elected to congress in 1999 and serves as Democratic caucus vice chairman in the House. Crowley has also been rumored to have aspirations to take over the role as speaker should Democrats retake the House, positioning himself as part of the new guard in Democratic leadership.
A spokeswoman for the Crowley campaign said in an email that "close to 70 percent of Joe's donations come from New York State," citing internal campaign information and data available on OpenSecrets — which did not list Crowley's pre-primary report filed in mid-June in its race profile.

"His campaign has also received thousands more in support from individuals in Queens and the Bronx than his opponent," said Crowley campaign spokeswoman Lauren French. "But ultimately, this campaign isn't about money, it's about people. And it's clear that Joe Crowley has the support of the families and individuals in NY-14."

The data available from the FEC paints a partial picture of where the donations to Crowley or Ocasio-Cortez's campaigns are coming from.

While Crowley—one of the few remaining, and most powerful, political bosses in New York City—raised $3.36 million this election cycle, nearly $26,500 of it is composed of unitemized individual contributions, meaning donations smaller than $200 that aren't required to be itemized and listed.
Mapping Ocasio-Cortez's contributions is a bit trickier. So far this election cycle she's raised nearly $313,000, according to the FEC. Of that amount, nearly $208,000 are unitemized small donor contributions, making up 66 percent of her total campaign. She has also received $76,000 in itemized donations from 449 transactions from ActBlue, an online fundraising platform geared toward helping small donors.
Of the 970 itemized donations to Ocasio-Cortez's campaign reviewed by Sludge, 304 contributions came from her home state, totaling roughly $68,300. Excluding the ActBlue donations, which don't contain donor information, roughly 5.75 percent of the itemized donations to Ocasio-Cortez's campaign came from within the 14th congressional district.

The state with the most contributions to her campaign is Massachusetts, where ActBlue is based, but her campaign has also received nearly $19,000 in donations from several individuals from California.

Ocasio-Cortez's long-shot campaign against the New York City powerbroker received a boost in the last month after she called out Sen. Kirsten Gillibrand (D-NY) on Twitter over failing to speak to Ocasio-Cortez before she endorsed Crowley.

Ocasio-Cortez has also received the backing of MoveOn, the largest online progressive organization in the country, which broke with House Democratic leadership in endorsing her.

Despite the gap in fundraising, Crowley isn't taking his challenger lightly. This campaign cycle, Crowley has spent at least $593,000 in media buys and advertising, including a $275,000 media buy earlier this month, according to the most recently available FEC filed in mid-June.
Data methodology: Corporate PAC totals include funds contributed to Crowley's campaign between Jan. 1, 2017 and June 15, 2018 from political action committees tied to corporations and trade associations that represent corporations.