Your Tax Dollars Are Propping Up the Gun Lobby
Some well-known gun makers hold rich contracts with the federal government as they lobby against firearms regulations.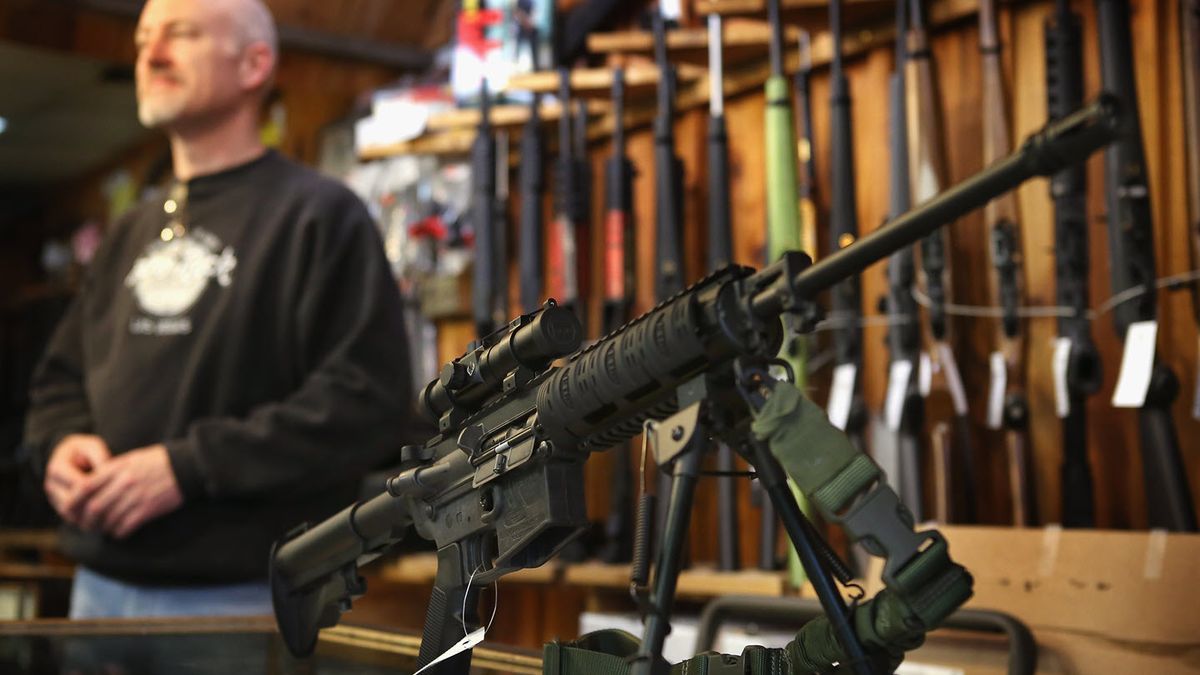 This post is authored by reporter Eoin Higgins.
Firearms and ammunition manufacturers whose factories make weapons that are decried in Congress for the death they cause are paid by the government for arms. In many cases the profits they earn from their taxpayer-funded contracts are being invested in lobbying the government against gun control laws and for marketing their weapons to civilians.
Two massacres in less than two weeks in Buffalo, New York and Uvalde, Texas have the country looking more closely at gun laws and the inaction at the federal level from lawmakers to solve what's become an epidemic of violence. In both cases, an 18-year-old attacked an unsuspecting group of vulnerable people—civilians in a supermarket in New York and children at an elementary school in Texas—killing 10 and 21 respectively. Both shooters appear to have used AR-15 style rifles.
But legislation to curtail the rampant gun violence in America is held up in the U.S. Senate, where the archaic filibuster rule requires 60 votes to advance legislation to a vote and where the bare Democratic majority has not made it a priority to change the rules. The majority of the country is in favor of more restrictive gun laws, but the grip of the gun lobby on Congress means that change is a far way off. And American taxpayers are, unwittingly, paying for their democratic will to be stymied.
Government weapons contracts to gun manufacturers are often in the tens or hundreds of thousands of dollars, and can easily stretch into the millions. The Norway-based company Nammo Defense Systems has been awarded hundreds of contracts from the federal government since 2008, and its contracts that are currently active with the Department of Defense are worth more than $250 million, according to data from the government contracting database USAspending.gov. Its biggest contracts include a $97 million award from the Army for the production and delivery of anti-tank weapons and a $63 million order for bunker-buster weapons. 
Nammo also has several subsidiaries that market ammunition directly to consumers. Its SK Ammunition division specializes in selling .22-caliber ammunition that can be used in the AR-15 style rifles that appear to have been used by the mass shooters in Uvalde and Buffalo. One of Nammo's newest ammunition products is designed for semi-automatic weapons, aiming in the company's sales copy to be top-of-the-line.
"SK's Semi-Auto Rifle is designed to outperform, replace and eventually retire all other inferior semi-auto ammunition offerings currently crowding the market," the company's website states. "It's built to deliver pinpoint accuracy while functioning flawlessly through any 10/22 style firearms, AR's, 597's, 64's, and more."
Nammo's other subsidiaries that make rifle ammo include Lapua and Berger Bullets. The company's ammunition is widely available in the U.S. through big box stores and online retailers, and its lobbying on the issue of "civilian ammunition sales" likely opposes proposals such as the Stop Online Ammunition Sales Act, a bill introduced by Rep. Bonnie Watson Coleman (D-N.J.) that, in addition to banning online sales, would require bulk ammunition sales to be reported to law enforcement agencies.
While it rakes in hundreds of millions of taxpayer dollars through the military, Nammo is simultaneously spending money on lobbying the government to influence firearm policies. The company has reported spending $400,000 on federal lobbying since January 2021. Each of its lobbying reports states that the company lobbied the U.S. House of Representatives and the Senate on Defense appropriations as well as "civilian ammunition sales." The company also employs Geoff Davis, a former Republican representative, as a lobbyist with the bipartisan firm Republic Consulting to "[monitor] munitions policies in Congress."
Nammo also has a PAC that donates to federal representatives and candidates. Its beneficiaries so far this election cycle include Republicans Ken Calvert (Texas), Trent Kelly (Miss.), and Steve Womack (Ark.), as well as Democrats Matt Cartwright (Penn.) and Don Norcross (N.J.). Calvert is the ranking member of the House Appropriations Subcommittee on Defense, which provides the funding for Defense contracts, and Womack is a member of the subcommittee. Nammo PAC donated $1,000 to each of these representatives.
Glock, one of the world's premiere handgun makers, has multiple contracts with the U.S. government spanning a number of agencies. Just since the beginning of April, the company has received nine contracts from the Department of Justice and the Department of Homeland Security ranging in cost to the government from $2,160 to over $1 million. Two of the biggest open contracts—$1.1 million for DOJ that started on April 13 and $536,000 for DHS that started on May 3—are expressly for providing "handguns and magazines," specifically in the former case for G19 Gen5 and GLOCK 17M GEN5 9mm handguns.
To date in 2021 and 2022, the company has received 117 contracts to provide weapons and training to federal agencies, a lucrative market for the handgun manufacturer. DHS gave Glock $2.5 million for 9mm handguns in June 2021, just two years after a $4.2 million contract for the weapons in August 2019.
Government funding forms part of the revenue that Glock uses to pay for lobbying that props up the civilian sales portion of its business. Glock is a proud donor to the National Rifle Association (NRA), still the country's most powerful gun lobbying group, having given $1 million to the NRA as of 2017 and having been inducted into the NRA's Golden Ring of Freedom, and it has connections to and agreements with the National Shooting Sports Foundation and other industry groups. The NRA and its affiliates spend millions of dollars each election cycle on independent expenditures supporting the elections of Republican candidates who oppose gun control laws.
Glock is just one of several government contractors that through organizations like the NRA, American Firearms Association, and the National Shooting Sports Foundation lobby lawmakers to ensure that meaningful gun reform doesn't stand a chance of passing into law. Several gun companies whose executives and employees serve on the board of governors of the anti-gun control lobbying group the National Shooting Sports Foundation are profiting from government contracts. Beretta USA, whose general counsel Jeff Reh is co-vice chairman of the group, has held hundreds of contracts with the Department of Defense and other agencies. Its biggest recent contract was a $11 million order for its M9 semi-automatic pistols. Other federal contractors with representatives on the National Shooting Sports Foundation board include Olin Corporation, Daniel Defense, and Hornady Manufacturing.
The National Shooting Sports Foundation's PAC has donated $330,000 to Republican members of Congress so far this election cycle, according to OpenSecrets. In 2021, it reported spending $5 million on federal lobbying as it opposed regulations of online firearm sales and closing the so-called "gun show loophole" whereby unlicensed gun dealers are able to dodge running background checks. The National Shooting Sports Foundation calls the gun show loophole "a myth."
---
More news from Sludge: