Private Equity-Funded Super PAC Buys Attack Ads Against Progressive Challenger
A new super PAC formed to push back against progressive challengers plans to spend $800,000 on TV ads opposing Jamie McLeod-Skinner through the May 17 Oregon primary election.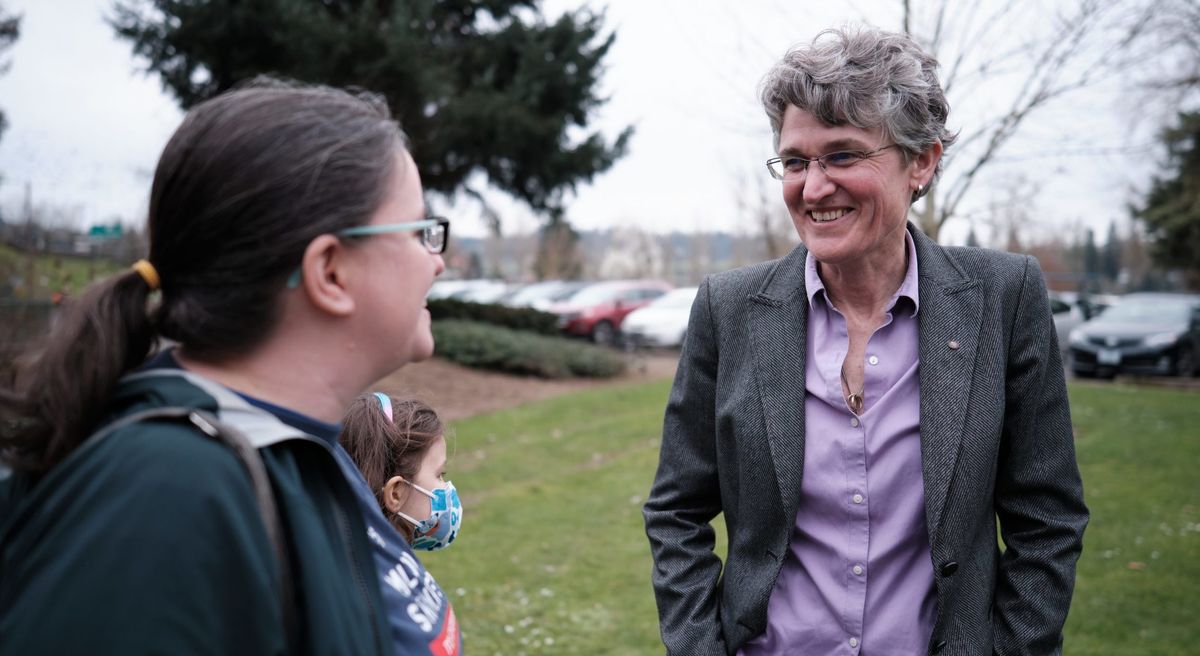 A new super PAC funded by private equity investors is making a major play in the Democratic primary in Oregon's Fifth Congressional District, opposing progressive challenger Jamie McLeod-Skinner as she campaigns against conservative incumbent Kurt Schrader.
Mainstream Democrats, a super PAC formed in February, is out with a new ad on TV attacking McLeod-Skinner. It plans to spend nearly $800,000 on running the ad through the district's May 17 primary election, according to a media monitoring alert viewed by Sludge.
The spot is Mainstream Democrats PAC's first TV ad of this election cycle—and the expenditure is by far its largest so far, taking up the bulk of what the group had raised as of April 13, the date of its most recent disclosure of receipts. The super PAC received at least $1 million in March and April from nine large donors, led by a $500,000 contribution from billionaire Democratic megadonor Reid Hoffman, a tech executive and partner at Silicon Valley venture capital firm Greylock. Its cash on hand as of April 13 was just over $935,000, according to FEC records.
Mainstream Democrats PAC operates as a sibling of a group with deep ties to pro-Israel lobbying group the American Israel Public Affairs Committee (AIPAC), Democratic Majority for Israel (DMFI), which has hopped into Democratic primaries to oppose progressives. DMFI's funding has come from corporate executives and financiers like Stacy Schusterman, the billionaire chairman of Oklahoma-based oil and gas company Samson Energy, and Amnon Rodan, the former chair of the multi-level marketing company Rodan + Fields.
The group's spending so far has been aimed at races where progressive Democratic candidates are mounting primary challenges to incumbents. So far this cycle, its sole spending in elections has been more than $150,000 in three outlays on direct mail opposing progressive U.S. House candidate Nina Turner in Ohio, according to FEC disclosures.
The new ad is the first spot in the contest to criticize McLeod-Skinner, highlighting her 2018 general election loss to incumbent Rep. Greg Walden in Oregon's Second Congressional District—now represented by Republican Cliff Bentz—and touting Schrader as the better candidate to beat whoever becomes the Republican nominee.
Mainstream Democrats' website says it is working against "far-left organizations" attempting to take over the party that make it "more difficult for Democrats to win the swing seats that make a majority and weakens the party's ability to govern."
The Oregon 5th district was recently redrawn to include more areas in rural central Oregon, but one analysis found that the district Biden won by 10 points in 2020 would have been won by nine points in its new incarnation. The Cook Political Report categorizes it as one of 10 "lean Democratic" districts, meaning it will likely be competitive in the general election but favors the Democratic nominee, compared with 18 Democratic-held districts that it considers toss-ups. Elections analyst Nathan L. Gonzales at Roll Call rates the district as "likely Democratic."
Sludge asked Mainstream Democrats if they saw a potential contradiction in emphasizing "the party's ability to govern" while supporting Schrader, who has been at the forefront of centrist efforts to undermine the Democratic agenda in Congress, and did not receive a response by time of publishing.
In February 2021, the seventh-term Schrader was one of only two Democrats to vote against the $2 trillion American Rescue Plan pandemic relief package. A former co-chair of the conservative Blue Dog Coalition and still the treasurer of its PAC, Schrader joined in efforts by a group of holdouts last year to decouple the bipartisan-favored infrastructure bill from the Democrats' sweeping Build Back Better Act, a reconciliation package that included climate investments and social spending, among other items. In September, Schrader voted against the proposed emissions-reducing Clean Electricity Performance Program in the House Energy and Commerce Committee, and against the Democrats' proposed prescription drug pricing reforms, in line with the full-court press lobbying campaigns of the fossil fuel and pharmaceutical industries.
In addition to Hoffman, who co-founded LinkedIn, Mainstream Democrats' donors as of April 13 include the following investors and executives:
David Randolph Peeler Trust, belonging to Randy Peeler, managing director at Stockbridge Partners, the private equities business of firm Berkshire Partners ($100,000). Berkshire's portfolio includes healthcare and wealth management companies.
Paul Finnegan, co-founder and co-CEO of private equity company Madison Dearborn Partners ($100,000). The company's extensive portfolio includes healthcare companies, as well as plastics companies, fast food chains, and broadband and wireless companies.
Alan Schrager, senior partner at hedge fund Oak Hill Advisors ($100,000). One of the alternative investment firm's top holdings is Houston-based energy services company Expro, according to Whale Wisdom, followed by offshore drilling contractor Valaris, credit company FS KKR Capital, and oilfield service company Weatherford International.
Alan K. Jones, senior managing director at asset manager Intermediate Capital Group ($50,000). The company's businesses include financing for the real estate and infrastructure sector.
Roger Evans, partner, Greylock Capital ($50,000)
Daniel Benton, co-founder of former hedge fund firm Andor Capital ($50,000)
Gordon Segal, co-founder and former chairman and CEO of Crate & Barrel ($25,000)
Alfred Clark of investment advisory firm Aberdeen, Inc. ($25,000)
Madison Dearborn Partners is a member of private equity industry trade association the American Investment Council (AIC), which last year promoted a study from the U.S. Chamber of Commerce mobilizing against the proposed tax increases in the Democrats' Build Back Better Act. Last year, AIC's more than $2.5 million in federal lobbying touched most frequently on issues of regulation of private equity, tax issues, and the Build Back Better Act. The securities and investment industry has contributed more than $283,000 to Schrader's campaign over his career, according to OpenSecrets, part of the more than $1.5 million in donations he's received in U.S. House campaigns from the finance, insurance, and real estate sector.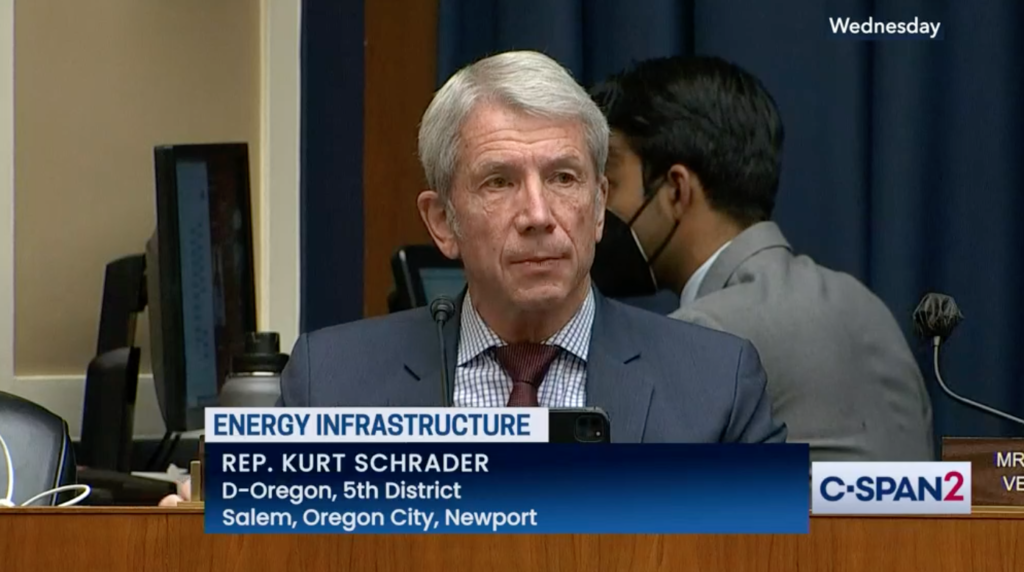 In a rare move, four of the six county Democratic Party organizations in the Oregon 5th, representing over 90% of the district's voters, took the step of endorsing challenger Jamie McLeod-Skinner, a small business owner and emergency response coordinator. McLeod-Skinner's campaign has raised 25 percent of its money from small donors giving $200 or less, according to OpenSecrets, and according to a campaign press release more than 2,000 Oregonians have donated. McLeod-Skinner's campaign highlights that 88% of its donors have been small donors, and that her bid is not accepting corporate PAC money. By contrast, just over one percent of Schrader's donations have come from small donors, according to OpenSecrets, with PAC contributions making up nearly two-thirds of his haul. Schrader's $2.7 million in cash on hand is nearly nine times that of McLeod-Skinner's $310,000.
Schrader has a sizable edge in outside spending in the primary among what has been reported to the FEC, led by hundreds of thousands of dollars worth of ads placed by the super PAC of Center Forward, a "dark money" nonprofit group directed by corporate lobbyists, including numerous clients in the pharmaceutical industry. Another pop-up group led by corporate lobbyists aired ads promoting Schrader, with footage of frolicking puppies, just outside the 30-day window before a primary that would have required it to disclose more info to the FEC.
An April 14 ad paid for by Center Forward Committee displays the text that Schrader is a "Progressive Oregon Democrat," but an analysis of House Democrats' ideology during the 116th U.S. Congress (2019-2020) by the open-data resource GovTrack.us found that Schrader is the 19th most-conservative of 237 House Democrats.
---
Read more: